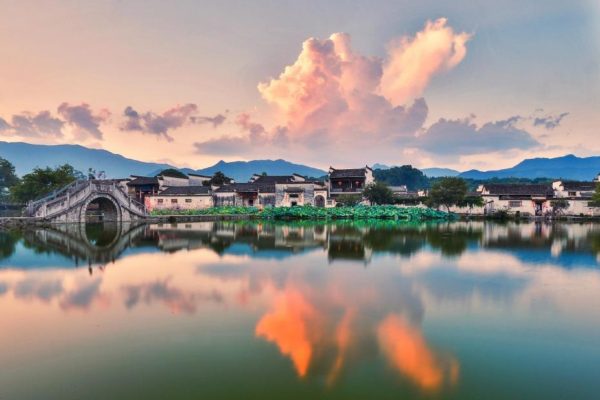 Event details
Date: Friday, 15 October, 2021
Time: 9am-4pm (China)
Huangshan and Online
Type of Event: Forum
The 2021 International Cultural & Creative Economy Forum and the Opening Ceremony of Huangshan Tourism Festival will be held in Huangshan, Anhui Province, China between 14 and 16 October 2021. The Forum is co-organized by the Sino-International Entrepreneurs Federation, with live streaming from the conference on 15 October provided by Dragon Trail International, to enable global audiences to watch online and have real-time interaction with the guests.
The event is being organized to showcase Huangshan City as both a modern, creative and fashionable destination for service industries, and a spiritual retreat for visitors from the fast-paced modern world. By organizing the 2021 International Cultural & Creative Economy Forum, Huangshan is committed to building an ecological, international, and world-class tourist destination.
More than 300 guests in the tourism, cultural and creative industries from 20 plus countries and regions have been invited to gather at the conference venue in Huangshan, and three virtual conference halls will also be set up in South Korea, Spain, and Germany, provided by Dragon Trail International's live platform to connect guests from overseas markets. The conference includes keynote speeches, business leaders' dialogues, and familiarization tours, aiming to exchange, interact and provide advice and suggestions for the recovery and sustainable development of cultural tourism and creative industries.
Please scan the QR code in the poster below to register and attend the event: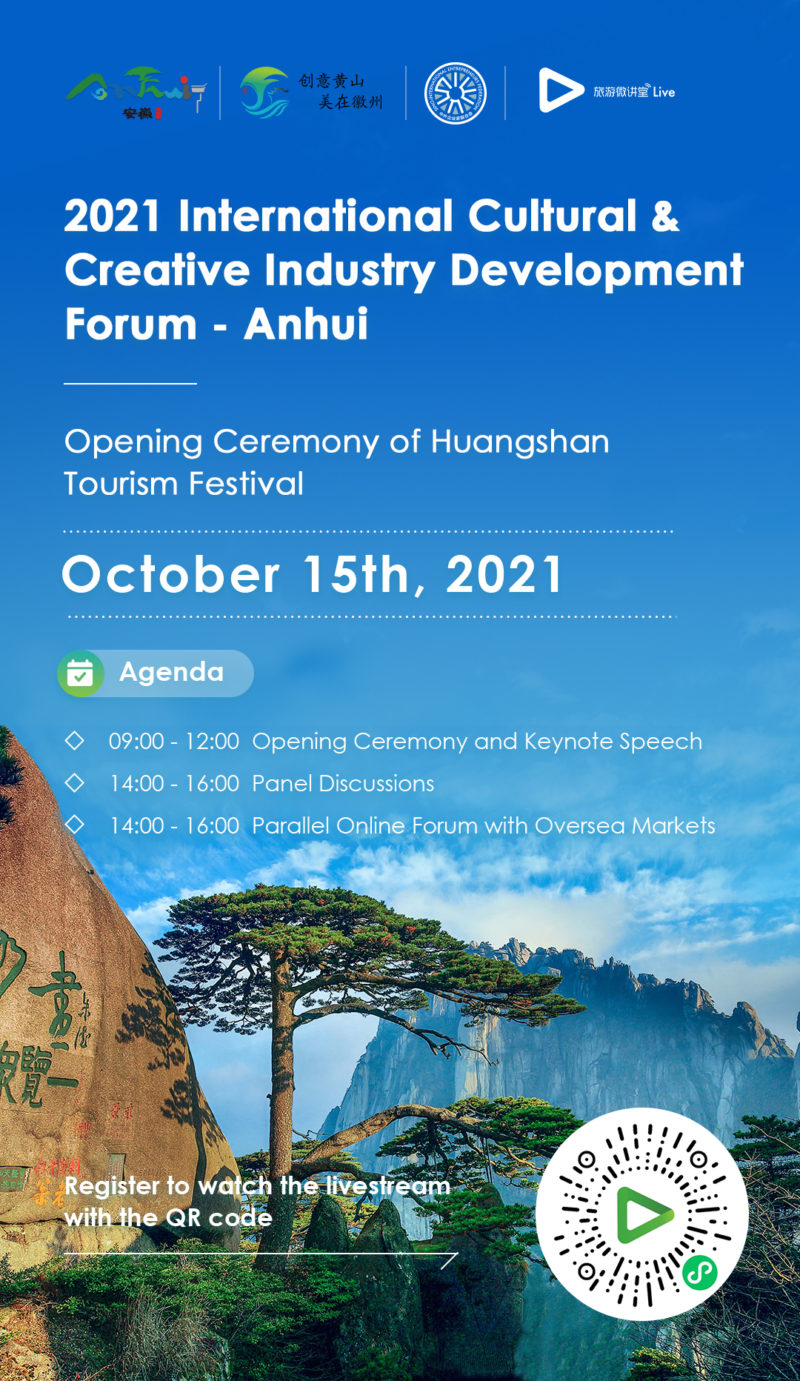 The full agenda for the 15 October conference is as follows, in local (China) time:
9-9:35: Promotion video and welcome address
9:35-9:45: Signing ceremony and inauguration
9:45-10:55: Keynote addresses
Host: Tony Dong, Executive Director and Chief representative of China, Sino-International Entrepreneurs Federation
Speakers:
– Shi Jun, Vice President of China Industry – University – Research Association, Deputy Director of the Economic Committee of the 12th CPPCC National Committee
– Istvan Ujhelyi, Vice-Chair of the Transport and Tourism Committee, European Parliament
– Pansy Ho Chiu King, Group Executive Chairman and Managing Director of Shun Tak Holdings, Co-chairperson & Executive Director of MGM China Holdings Limited, Vice-Chairman & Secretary-General of Global Tourism Economic Forum (GTEF)
– Liu Guoping, Chairman of ORIX (China) Investment Co., Ltd., Member of the Advisory Committee of the SIEF
– John Howkins, Leading Strategist on creativity and innovation
– Qian Jiannong, Global Partner of Fosun International, Chairman and CEO of Fosun Tourism, Member of the Advisory Committee of the SIEF
11:10-12: Dialogue with Leading Companies: Reimagining the Tourism Industry
Moderator: Zoe Zhang, Executive Director and Secretary General, Sino-International Entrepreneurs Federation
Panelists:
– Yu Faxiang, Founder and Chairman of Sunriver Holding Group Co., Ltd.
– Cheng Zongyu, Chairman of Shenzhen Minkave Technology Co., Ltd.
– Tsuyoshi Yasuda, Chief Representative of JTB's Beijing Office
– Dr. Guido Brettschneider, CEO of TUI China Travel Co. Ltd.
– Philipp Graf von Hardenberg, Chairman & President of Thanyapura Sports and Health Resort
– Manoj Mehta, CEO of Naked Group
14-14:10: Speech from Dr. Jean-Jacques de Dardel, Former Swiss Ambassador to China 
14:10-14:50: Panel Discussion – Rejuvenating the Culture and Tourism Sector Through International Collaboration
Moderator: Bora Shnitman, VP Destination Marketing, Dragon Trail International
Panelists:
– Eddie Chen, Senior Partner and Head of China & Asia, Eurazeo Group
– Bernard Hamilton, Consul General of Malta, Shanghai
– Tiago Brito, Director of Visit Portugal's team in China
– Zhao Bingbing, Chief Representative Greater China, London and Partners
– Syeda Saira Raza, Press and cultural attaché of Embassy of Pakistan, Beijing
14:50-15:30: Panel Discussion – Empowering the Culture and Tourism Industry Through Creativity and Technology
Moderator: Fu Hao, CEO of Five Star Culture Media, publisher of LifeStyle
Panelists:
– Xiao Yi, Founder & CEO of JNE GROUP
– John Z.C. Liu, Vice-President, ZVCA, Mentor, Dark Horse, Senior Partner, ChinaEquity Group
– Wang Xiaodong, President of Beijing Phoenix Digital Technology Limited Company
– George Cao, Co-founder & CEO and Dragon Trail International
– Yang Yan, Director of Strategic Ecosystem Research, SenseTime Intelligent Industry Research Institute
15:30-16:10: Panel Discussion – Further Integrating the Yangtze River Delta and Success in the Cultural and Creative Economy
Moderator: Huangshan Radio and Television Station
Panelists:
– Yue Jianming, Chairman of the board, Jiangsu Sanleng Smart City & IOT System Co., Ltd.
– Xin Jie, Board Director & President at LianLian DigiTech Co., Ltd.
– Chen Wei, Researcher of Institute of Economic System and Management, National Development and Reform Commission
– Yin Wenhuan, Chairman and Founder of Humble House Tourism Investment Management Group Co., Ltd.
– Wang Anqi, Secretary General of cultural tourism lighting professional committee of China Illuminating Engineering Society
– Li Chen, Member of the CPC Committee, Vice President and Chairman of the Trade Union of China Minsheng Bank Hefei Branch
Parallel Online Roundtable: Strengthening International Cultural and Creative Industries and Cultural Tourism Cooperation in the Post-Epidemic Era
14:00-14:50:  Korea
15:00-16:00:  Germany & Spain