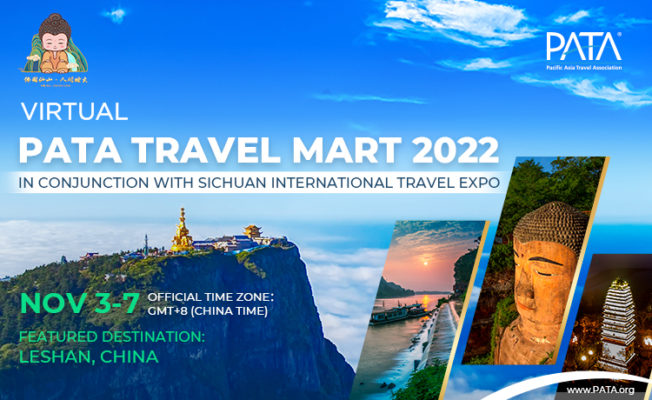 Event details
Date: 3-7 November, 2022
Type of Event: Exhibition
The Pacific Asia Travel Association (PATA) will hold its 3rd Virtual PATA Travel Mart (PTM) November 3-7, 2022. The event is being organized in conjunction with the Sichuan International Travel Expo (SITE) with the support of Official Event Partner, the Leshan Culture, Radio, Television and Tourism Bureau, and is powered by Official Virtual Event Partner, Dragon Trail International.
Virtual PATA Travel Mart (PTM) is a business-to-business travel contracting and virtual networking event that both mirrors and enhances the features of the long-standing PTM, which boasts over four decades of experience in connecting qualified international buyers and sellers from all of Asia and the Pacific region.
The event will offer two full business days of one-to-one business appointments from November 3-4. There will also be three trade visitor days on November 5-6.
Virtual PATA Travel Mart is your one-stop-service to market to over +75,000 Chinese and international travel trade professionals, contract valuable new business and consolidate existing business relationships.
PATA is offering complimentary registration for the buyer/seller package, which includes:
– Pre-scheduled appointments (per request) for buyers and sellers
– Flexible appointment scheduling to meet and manage your time
– Meeting chat rooms and video call functionality
– Chat messaging
– Opportunity to earn prizes by engaging in activities and completing event activities (Applicable to buyers only)
To register and find more information, please visit the Virtual PATA Travel Mart 2022 website