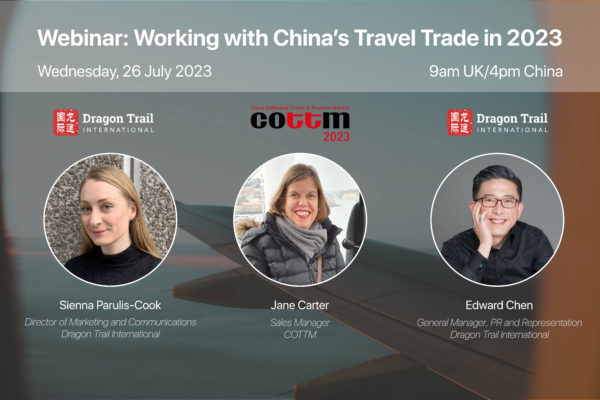 Event details
Date: Wednesday, 26 July 2023
Time: 9am UK/4pm China
Type of Event: Webinar
Dragon Trail's July webinar is a must for any travel brand or business working with the Chinese travel trade. We'll reveal original survey data to give you the latest insights on the Chinese travel industry, share expert advice for post-pandemic travel trade marketing, and bring you face to face with Beijing's leading travel trade event.
Speakers
– Jane Carter, Sales Manager, COTTM
– Edward Chen, General Manager, PR and Representation, Dragon Trail International
– Sienna Parulis-Cook, Director of Marketing and Communications, Dragon Trail International
Registration
Registration is required to access this free webinar, and a copy of the presentation will be shared with attendees.
Date: Wednesday, 26 July, 2023
Time: 9am London (4pm Beijing)
Register