Although more than half of the nearly 4 million annual visitors to Canada's Banff National Park are Canadian, and the rest are mostly from the US and Europe, China is the destination's fastest growing international market. According to Banff & Lake Louise Business Development Manager (Asia), Lukas Prochazka, the number of Chinese visitors has increased by roughly 25-30% every year since 2010, with 50,000 Chinese visitors in 2016 – a higher increase than the 23.6% uptick of Chinese visitors to Canada as a whole in 2016 (Destination Canada). This increase can be attributed to a number of factors, including a growing niche market for outdoors and sports tourism from China, as well as improved ease of travel, but the dedicated, long-term and multi-faceted marketing strategy on the part of Banff & Lake Louise cannot be overlooked.
Appeal
Banff National Park is Canada's oldest national park, located in the Canadian Rockies. Popular activities include hiking, skiing, golf, hot springs and horse-riding. The 6,641 sq. km park also boasts stunning natural scenery. Afflicted by pollution and overpopulation in big cities, Chinese tourists are increasingly keen to travel overseas to visit pristine and remote destinations to enjoy the landscapes or to practice outdoor activities– in fact, a 2014 report by Destination Canada revealed that the aspect of traveling to Canada that most intrigued or excited potential Chinese tourists was the natural scenery (51%).
Adventure and sports tourism is a small but developing niche area of the Chinese outbound tourism market, and Prochazka explains that the park focuses its marketing efforts on tour operators that sell outdoor activities such as hiking, skiing, golf and photography tours. They also connect with Chinese outdoor enthusiasts by sponsoring the Banff Mountain Film Festival World Tour in China. However, as this market is a relatively new one, Prochazka notes that Banff's ski resorts offer a special learn-to-ski package aimed at Chinese skiers, who are "in vast majority first timers and beginners.
Getting there
Located 110-180km from Calgary, in the province of Alberta, Banff and Lake Louise are not near to any Canadian cities or other popular tourist destinations. However, Hainan Airlines launched a year-round direct flight from Beijing to Calgary in 2016, and this has resulted in the rapid growth of Chinese visitors. "Having direct air access is very important, and we work closely with Travel Alberta and Hainan Airlines on making the new flight successful and ensure that it continues and increases frequency in the future," says Prochazka. Negotiations to launch the flight route were long and difficult, according to local airport officials, and Banff & Lake Louise were important factors in securing Hainan Airlines' interest – when the route launched, the airline said they expected 60 percent of business from China to be from tourism, specifically citing Banff National Park as a destination of interest.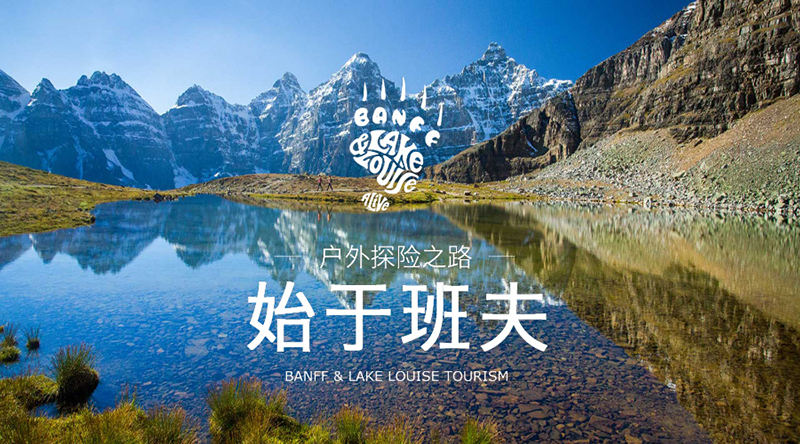 Digital approach
Working with Dragon Trail, Banff launched its Chinese website the very same day that Canada got Approved Destination Status (ADS) for Chinese private tourism, in 2010, and was the first Canadian destination to do so. The website has also undergone a major upgrade just this year. The result is a comprehensive and visually stunning resource that covers Banff & Lake Louise's attractions, outdoor and indoor activities, festivals, accommodation, travel information, suggested itineraries, photo galleries and social media links. It even has a link to book on Chinese travel website Ctrip, unlike many other smaller destinations.
Prochazka says that one of the biggest lessons learnt during his time marketing the park to Chinese visitors "is definitely the importance of being present on China's major social media sites, WeChat, Weibo and Youku, to be able to reach Chinese travelers that rely heavily on social media when searching information on their next potential vacation destination. This can only be achieved by working with a company based in China, the way we do with Dragon Trail. Working with an agency based in China is the only way to overcome the Great Firewall, which blocks most of the Western social media platforms, and present engaging and relevant content to Chinese online audience.
Banff's website has a dedicated page where its WeChat articles are published, and users are also encouraged to follow Banff National Park on WeChat – China's most active social media channel. The WeChat account offers a travel guide and information on attractions and activities, as well as monthly articles. The most popular posts include practical information, such as a five-day itinerary in Banff, and visually pleasing content including an article on Canada's top 10 most beautiful attractions, and another about how Banff boasts the "world's most beautiful marathon." The WeChat account encourages user interaction, with a recent digital campaign that asked questions about skiing, with tailored recommendations and a contest to win souvenirs if the user shared their results with friends.
Banff also has a verified and branded account on Weibo, the Chinese micro-blogging platform similar to Twitter, which is updated daily. Popular posts have included useful tips for backpackers, beautiful scenery pictures, and guides to planning a Banff visit. Messages are retweeted and comments replied to, in order to build conversations with fans.
Building on the success of video for many destinations, especially those with impressive natural scenery, including Canada, Australia and New Zealand, Banff has its own Youku video channel. Finally, the park commissioned Dragon Trail to created an E-magazine with high-quality images and content to engage with young and affluent Chinese travelers to inspire them to spend a winter holiday in Banff.
Non-digital marketing
On the non-digital side, many of the Banff & Lake Louise area's local hotels, attractions, activity providers and transportation companies regularly go to China to attend trade shows and meet with Chinese travel trade partners to learn more about the market, says Prochazka. There is now a Chinese tour operator based right in downtown Banff that provides transportation, guiding services and local sightseeing tours in Mandarin and Cantonese, and some Banff-area hotels offer Chinese breakfast food items to groups, and have amenities preferred by Chinese travelers, such as slippers, tea kettles, and hotel information brochures in Chinese. Banff & Lake Louise's own marketing – in partnership with Travel Alberta – also regularly organizes 'China Ready' workshops for local tourism providers.
Banff attends Chinese trade shows itself, and cooperates with both Chinese and local tour providers, for example, providing financial support for itineraries that include overnight stays in the Banff and Lake Louise area, and organizing FAMs (familiarization tours) for tour operators to allow them to experience the area's attractions and activities themselves, and thus be more enthusiastic and informed when it comes to selling them.
With China becoming Canada's second biggest overseas inbound market in 2015 (Destination Canada), plus the opening of the new Hainan Airlines routes to Calgary, Chinese travel to Banff is set to grow at an even faster rate in the years to come. And equipped with both a comprehensive array of digital tools and resources as well as dedication to developing and supporting industry relations both locally and in China, Banff & Lake Louise market is poised and ready for the future influx.