Dragon Trail's WeChat Rankings Report for Q1 2022 examines and analyzes the performance of six categories of travel brands on WeChat: national tourism organizations (NTOs), destination marketing organizations (DMOs, referring to regional and municipal tourism boards), airlines, cruise lines, museums and attractions, and hotels.
On one hand, this quarter saw high viewership for inspiring content featuring videos and interactivity. But practical travel information about entry requirements and changes to flight schedules also attracted large audiences. Chinese New Year was a time for peak readership for many accounts, with festive WeChat stickers standing out this year alongside digital red envelopes and more traditional greetings.
NTOs
Ranked by total number of article views, the top national tourism board accounts are similar to those from 2021. Visit Japan ranks in top place for total views, in part because the account posted more than 4.5 times above the industry average, but ranked 6th for average views per post. With more than 15k views, the most-read article focused on the cultural question of why Japanese girls rarely eat ramen alone, attracting high engagement from readers who shared their own stories of solo dining in Japan.
Following Japan were the Tourism Authority of Thailand's three separate WeChat accounts. The tourism board's Shanghai office got the highest average views per post among NTOs. Its top-performing article, with almost 31k views, launched Thailand's Amazing New Chapters campaign with a WeChat Channels video. The Chengdu office's top post, with more than 27k views, was a highly creative and interactive virtual Lantern Festival.
The highest-ranking European tourism board was once again Turespaña, whose most-viewed article shared the NTO's top 10 Instagram photos of 2021. Norway also ranked high on the list, with popular articles on the country's strength at the Winter Olympics, and its queen.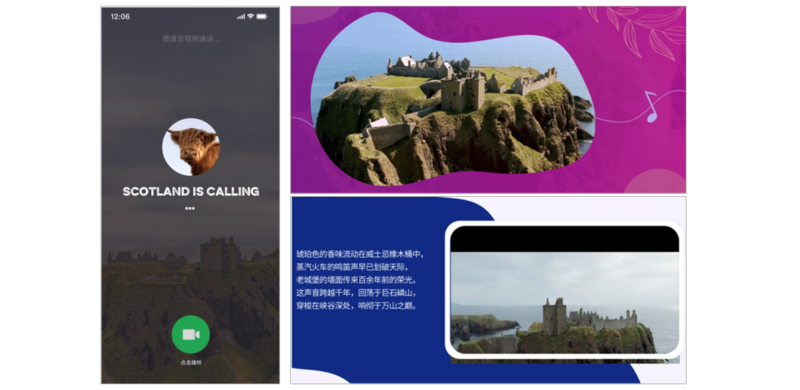 Scotland Is Calling, the most-viewed WeChat post by a national tourism board in Q1 2022
This was VisitScotland's first quarter in the top 20 national tourism board accounts – with nearly 45k views the week it was posted, an interactive, video-laden post on 7 March for the Scotland Is Calling campaign was the most-viewed NTO article on WeChat in Q1. Within less than a month, views of the post had surpassed 75k.
DMOs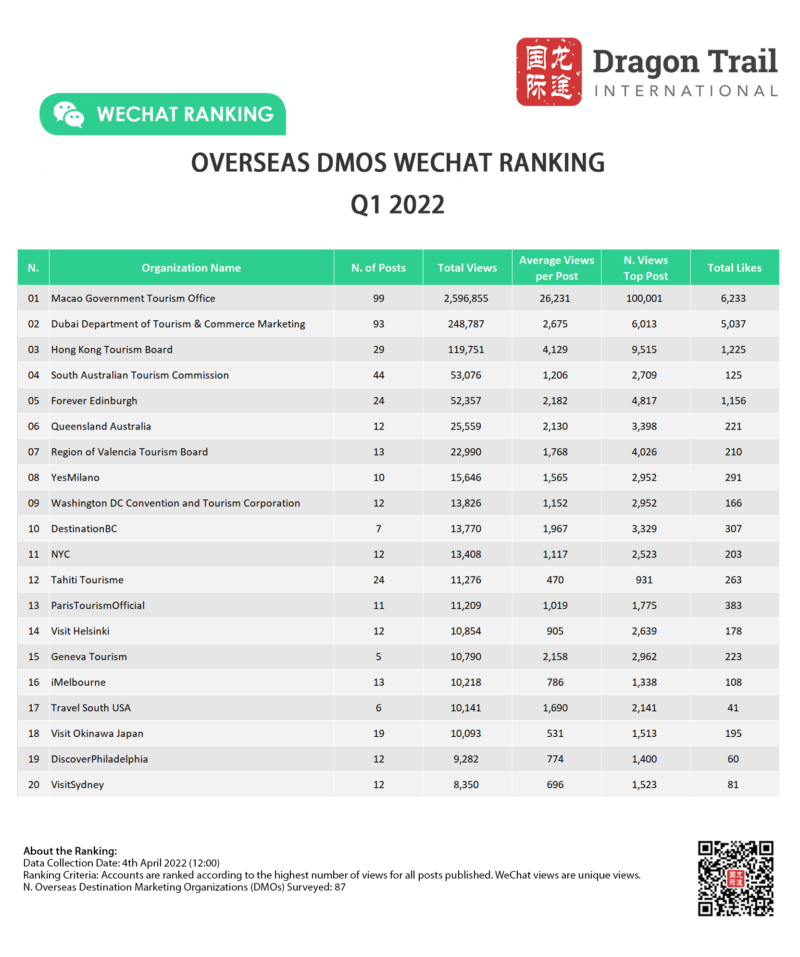 As per usual in the pandemic era, Macau – the only outbound destination to which mainland Chinese can travel with no quarantine on return – strongly led the DMO category, with six times more posts and 37 times more views than the average. The tourism board's top article was an informational piece on testing requirements for Zhuhai-Macau border crossings, followed by a promotion on hotel vouchers, and a post on Olympic mascot Bing Dwen Dwen.
The most-read DMO article posted by an account that wasn't Macau was Hong Kong Tourism Board's Year of the Tiger digital red envelopes, with 9,515 views. The DMO ranked third for total views this quarter.
Dubai ranked in second place for total views and third for average views. Videos of Burj Khalifa's New Year fireworks are always popular for this account, this year attracting more than 6k views.
Airlines
The most-read WeChat article published by an airline in Q1 was AirAsia's post about "experiencing Japan and the Maldives in Thailand," a fun look at themed hotels and cafes in Thailand, which attracted almost 51k views. Apart from this, all of the top content from the airline category was informative rather than inspirational or promotional – Emirates' post on updated entry rules for Dubai, and articles from Lufthansa, Air France, and KLM about updated flight schedules due to needing to avoid Ukrainian and Russian airspace. Long-haul airlines frequently topped the rankings each week with information about flight cancellations due to China's strict COVID prevention policies.
One glimmer of hope in the midst of so much disruption was Virgin Atlantic's March announcement about the resumption of direct flights between China and the UK, which attracted more than 25k views.
Cruise Lines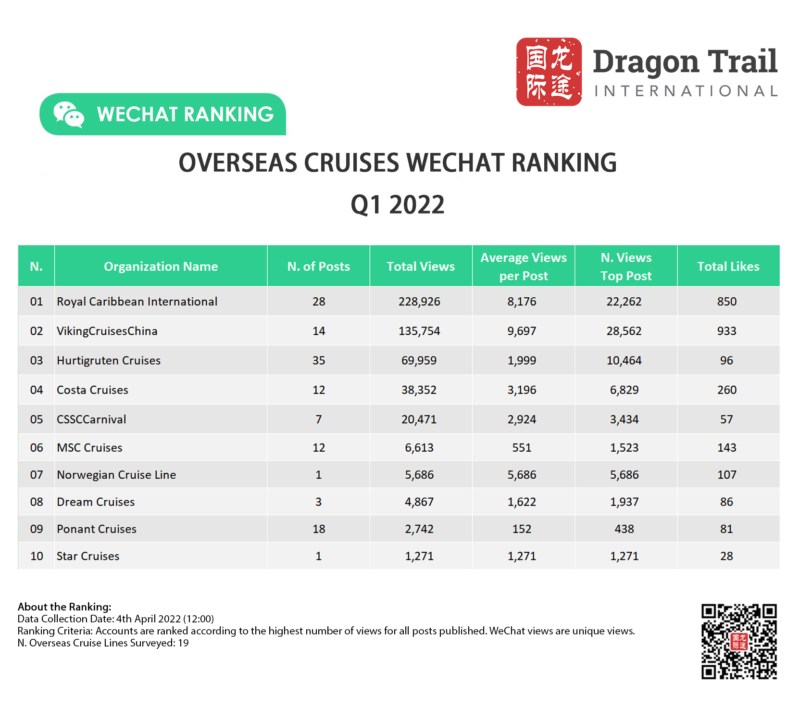 The most-read WeChat article by a cruise line this last quarter was posted by Viking Cruises during the first week of the year, announcing a new cruise route from Shanghai to Shenzhen starting in April. Viking's joint venture with China Merchants is operating the only sea cruises available that depart from mainland China, but presumably any April departures have been postponed by now due to Shanghai's lockdown.

Around the world or pole to pole? WeChat readers were attracted to big-time adventure cruises from Royal Caribbean (left) and Hurtigruten
The other top cruise line posts of the quarter were about epic cruise adventures – Royal Caribbean's 275-day around-the-world cruise (22,262 views) and Hurtigruten's 94-day Arctic-to-Antarctic cruise (10,464 views). Readers are evidently dreaming of large-scale adventures once they can travel internationally again.
Museums and Attractions
Posting just five times during Q1, Hong Kong Disneyland once again ranks first for this category. Although the theme park has been closed since the first week of January, it publishes posts at holiday times, with its most popular a Chinese New Year greeting with 11,870 views.

Chinese New Year greetings from Hong Kong Disneyland, and Year of the Tiger stickers from MoMA
The top article by a museum was also Chinese New Year-themed: New York's Museum of Modern Art got 4,760 views for its Year of the Tiger stickers – the first instance we've seen of an overseas museum publishing a WeChat sticker collection.
Much of the overseas museum content for the quarter focused on new exhibitions, and another top article was the British Museum's 2022 exhibition guide, with 3,554 views.
Hotels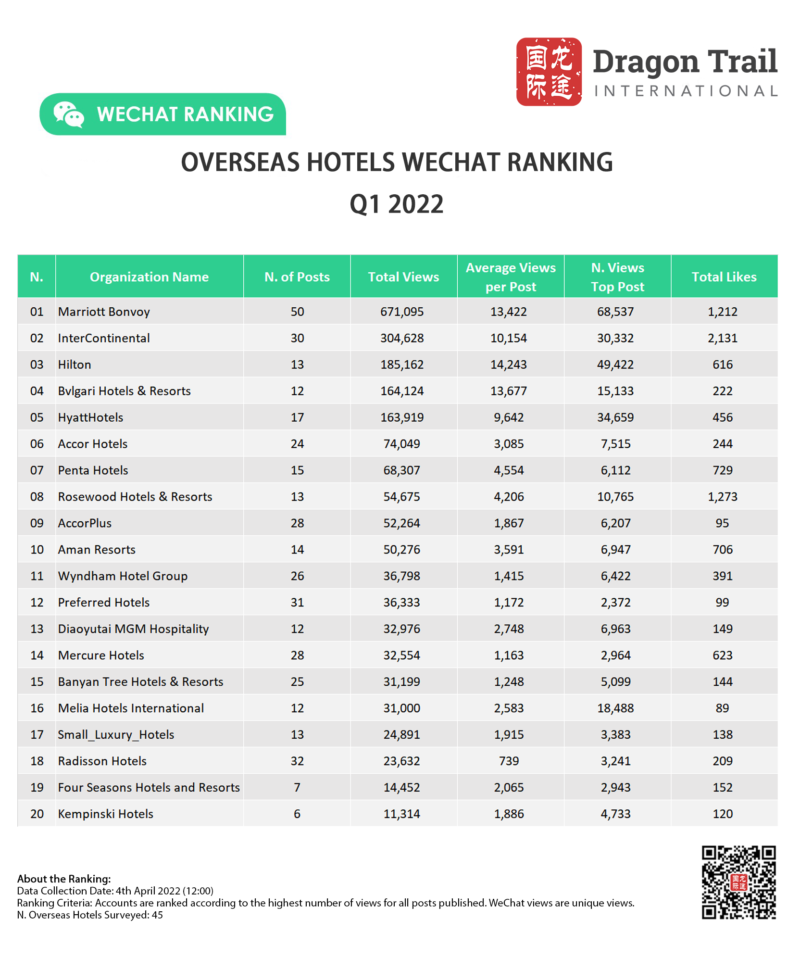 As the world's largest hotel group, Marriott topped the WeChat Rankings for international hotels, with more than three times more posts and 10 times more views than the average. Marriott's top post for the quarter was a Chinese New Year special featuring actor David Wang in a series of short videos, as well as a set of WeChat stickers.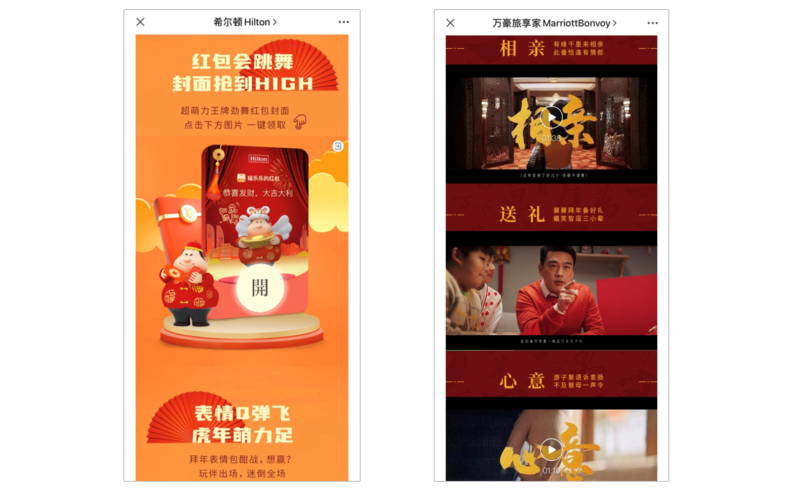 Top WeChat posts from Hilton (left) and Marriott came out for Chinese New Year, with video content, digital red envelopes, stickers and more
With the highest average reading rate in the hotel category, Hilton's most popular post also included WeChat stickers and a digital red envelope cover for Chinese New Year, alongside a giveaway of Transformers and My Little Pony gifts for children.
Methodology
The quarterly rankings are based on the cumulative total of Dragon Trail's weekly WeChat rankings, which collect data on the number of unique views per article posted during that week. Data is collected each Monday, about the previous Saturday-Friday period.