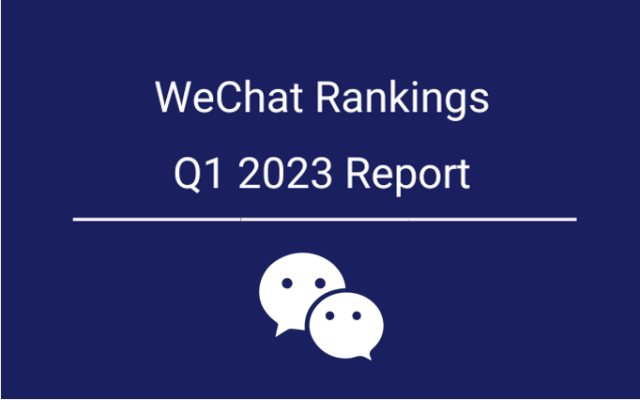 Dragon Trail's WeChat Rankings Report for Q1 2023 examines and analyzes the performance of six categories of travel brands on WeChat: national tourism organizations (NTOs), destination marketing organizations (DMOs, referring to regional and municipal tourism boards), airlines, cruise lines, museums and attractions, and hotels.
Three years after the COVID-19 pandemic halted international travel from China, Q1 2023 marks an enormous shift for Chinese outbound tourism marketing. Now that borders have reopened for leisure travel, reading rates have soared for most categories. Content relating to destinations' entry policies, as well as relaunched international flight routes and cruises, was especially popular. But even when content was much less explicitly tied to reopening – as in the case of attractions and hotels – average views per post were still higher than in 2022, showing renewed interest in travel among WeChat users.
Reading Rates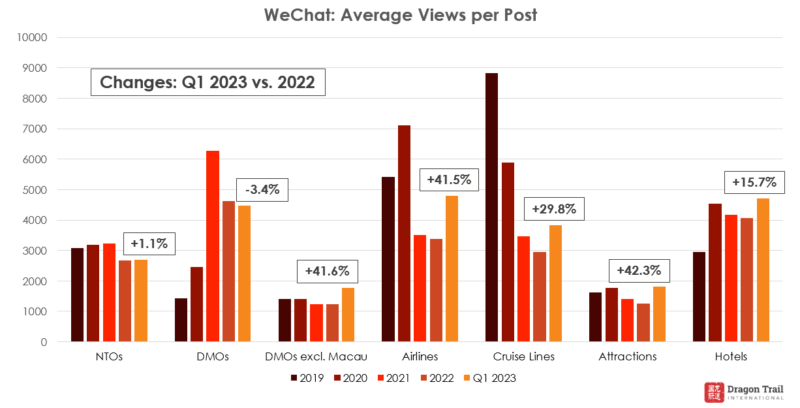 Comparing the first quarter of 2023 with the data from 2022, we generally see a very significant increase in the average views per article published on WeChat. This increase is still fairly small for NTOs, at only 1.1%, and readership numbers have not recovered to pre-pandemic levels yet. For DMOs, when we look at the category as a whole, average views have actually gone down by 3.4% compared to last year. But this is caused by just one account – Macau. If we take Macau's account out of the picture, the average views for articles in the DMO category is much smaller, but there's an increase of more than 40% compared to the 2022 average. Similarly, airlines are up by 45.1%, cruise lines around 30%, attractions more than 42% and hotels nearly 16%.
NTOs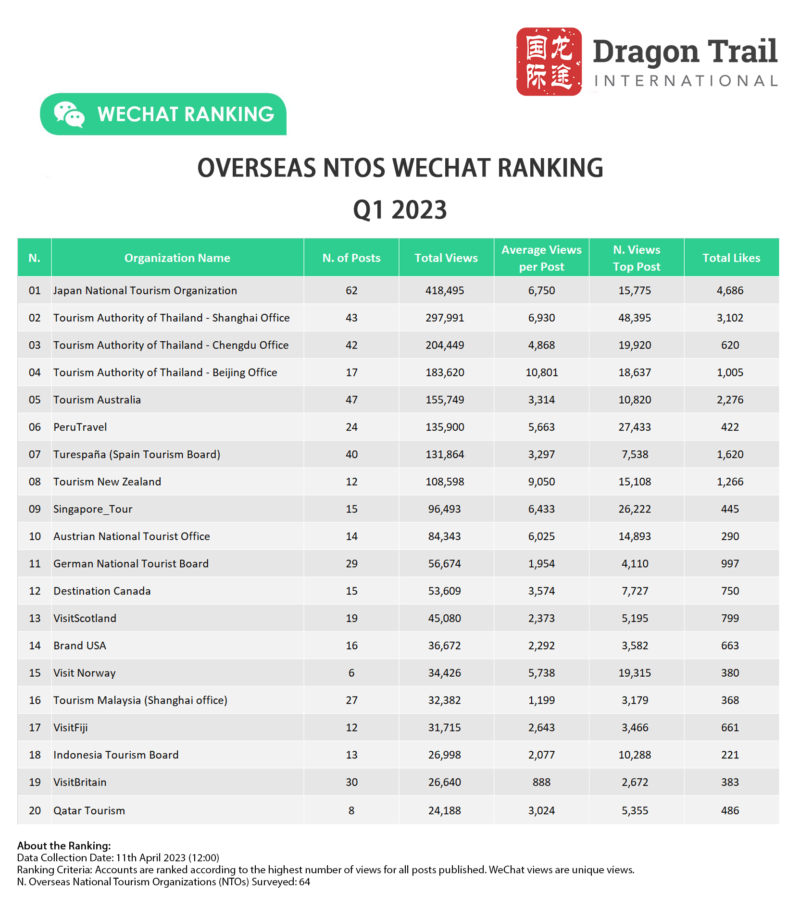 Top articles by national tourism boards on WeChat in Q1 2023 were often practical guides to entry rules – this was the case for Thailand, Singapore, Japan, New Zealand, and Australia, to name a few of the leading accounts.
As in 2022, the Japan National Tourism Organization ranked 4th for average views per post, but came first for total views, since this account posts more content than any other NTO. The tourism board's second most-read post was about entry rules, but the article with the most views was a guide to Japan in 2023, including theme parks, new attractions opened in the past three years, and other attractions set to open this year.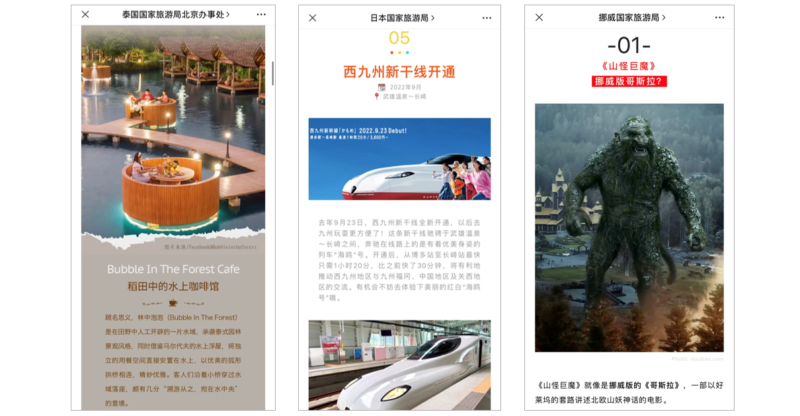 Most top WeChat articles for NTOs were practical entry guides, but other popular content included a guide to cool cafes in Thailand, new attractions in Japan, and the Norwegian film Troll
Top article content from Thailand's three WeChat accounts was primarily practical, relating to policies on vaccinations, COVID testing, and resumed flights. Other top Tourism Authority of Thailand articles all came from the Beijing office, including a guide to cool cafés, a romantic guide to Thailand for Valentine's Day, and Lantern Festival riddles.
Beyond Asia, the most-read WeChat NTO article of the quarter, with 19,315 views, was a Visit Norway post about the Norwegian movie Troll, available on Netflix.
DMOs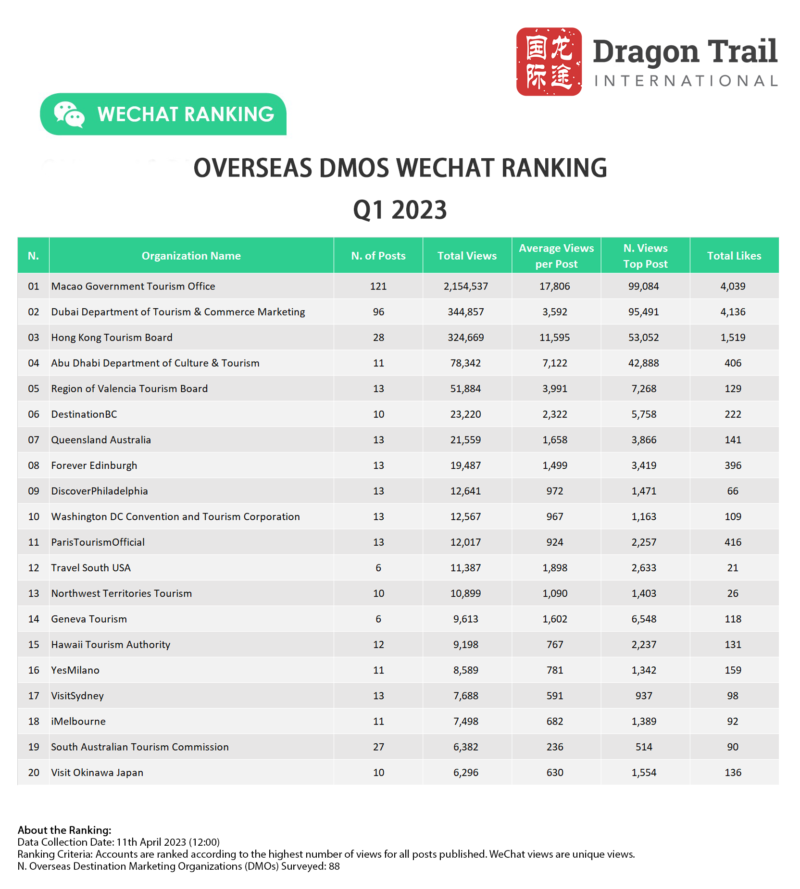 As usual, Macau was still firmly at the top of the DMO rankings. But average views per post were down by 45.2%, while the DMO category without Macau saw a 41.6% increase in average views per post during the same time. What happened? In 2022, most of Macau's most-read articles were updates on border entry rules, testing requirements, quarantine requirements, and other information related directly to China's COVID prevention policies. In 2023, these constant changes in rules are no longer something that travelers need to check – for tourism, this is obviously a very good thing, even if the result is fewer article views on WeChat. Apart from one article to outline the new travel rules from the start of January, Macau's most-read posts have been on other topics: Hotel vouchers, concerts, restaurant recommendations, and the restart of group tours.
Now that Macau isn't the only outbound destination in the world where mainland travelers can go without quarantine on return, there's also much more competition – this also explains the sharp rise in views for other accounts. Average views per post for Hong Kong, for example, were more than double in Q1 2023 compared to 2022. Hong Kong's top content included a must-see/must-do guide for 2023, a photography guide, information about the Hong Kong Arts Festival, and information on the full reopening of high-speed rail services.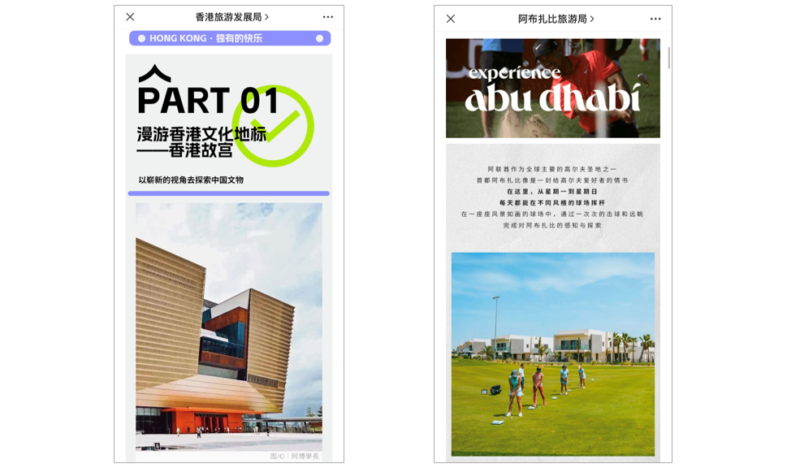 Q1 2023 saw strong WeChat performance for Hong Kong and Abu Dhabi
Outside of Greater China, the United Arab Emirates boasts a particularly strong performance on WeChat. In 6th for average views per post and 2nd for total views, Dubai's top articles were an entry guide and information on visa-free travel for Chinese passport holders, and updated flight schedules. Abu Dhabi, which we added to our rankings at the end of October 2022, ranked 3rd behind Macau and Hong Kong for average views. Its top article was a Chinese New Year guide, and the second most-read post was about golf.
Top WeChat articles from European DMOs were about cultural tourism in Valencia, Spain, and a post from the Geneva tourism board stressing that no COVID tests or quarantine was required for travel from China to Switzerland.
Airlines
The first quarter of 2023 has been a major period of recovery for international flights to and from China, and this is set to continue through the rest of the year. Unsurprisingly, this has led to surging engagement with WeChat content.
AirAsia, which only posted 11 times in all of 2022, is strongly in the lead for total views and average views per post. The low cost carrier had three articles that surpassed 100k views – all about heavily discounted flight tickets. Apart from low prices, AirAsia's top content emphasized food and activities in Southeast Asian destinations, like durians, seafood, and diving.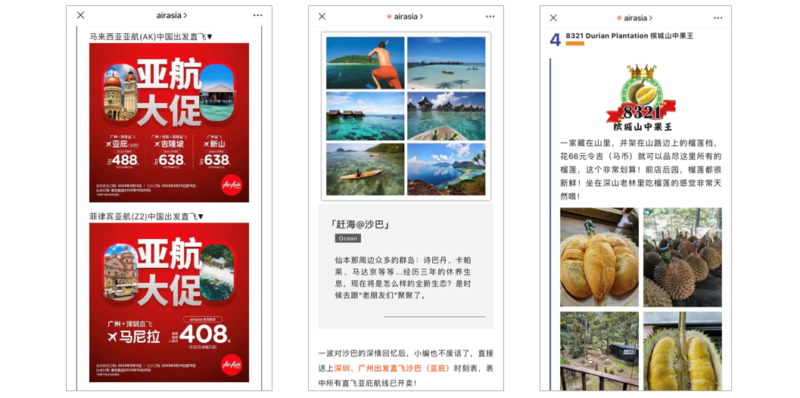 AirAsia promoted flights to Southeast Asia with low prices, water activities, and local food
All other top airline content announced resumed international routes connecting China with the rest of the world. The most-read articles came from Cathay Pacific, Air France, Emirates Airline, British Airways, and All Nippon Airways.
Cruise Lines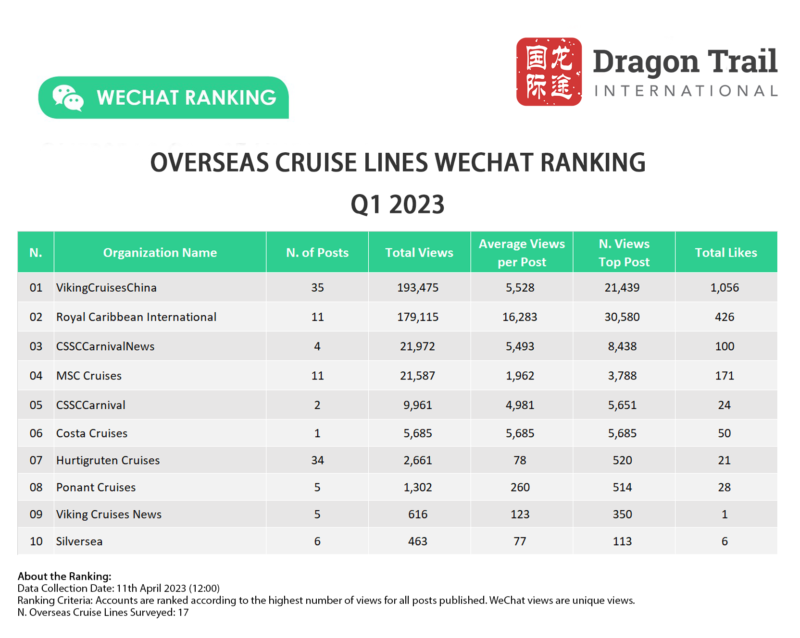 Although international cruises from China are not restarting until Q2 2023, cruise lines wasted no time in starting to promote international travel once more – and the increase in content views was significant.
The top articles from Royal Caribbean International were about discounts on October holiday cruises in Europe, and fly cruises from Singapore. The cruise line also promoted South America and New Zealand. Meanwhile, Viking Cruises attracted views with discounted European river cruises, and an announcement about the resumption of China Merchants cruises from Shanghai and Shenzhen to Japan, starting 18 April 2023.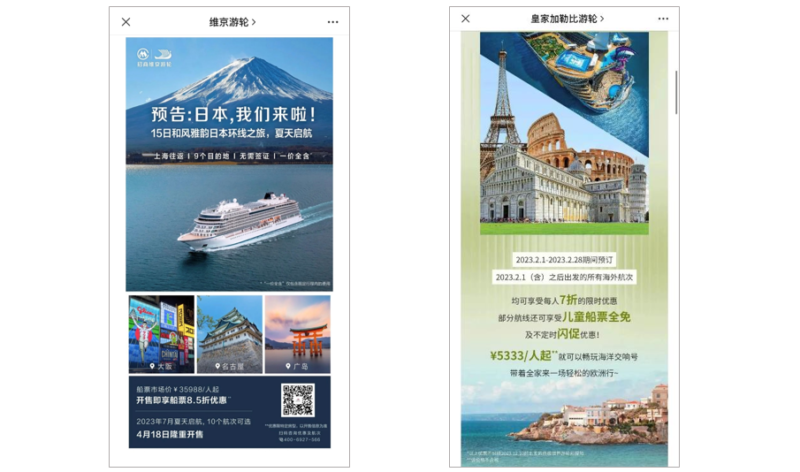 Cruise lines jumped right back into promoting international routes. Left: China Merchants/Viking Cruises to Japan; Right: Royal Caribbean offers for October holiday
Notably absent from WeChat for most of the quarter was Costa Cruises, one of the original cruise operators to enter the Chinese market. Costa waited until 30 March to post on WeChat, returning with a celebration of the brand's 75th anniversary.
Museums & Attractions
Museums & Attractions saw the biggest increase in average views out of any category of account tracked on WeChat. Views in Q1 2023 were actually higher than in any year tracked, including pre-pandemic. One thing that's interesting about this is that the type of content didn't change much in 2023. Whereas 2022 saw announcements from Hong Kong attractions about their reopening dates, the most popular articles in the first quarter of the year make no reference to any changes in visitor access.
The top articles were published by Hong Kong Disneyland, but average views per post for this account were actually slightly lower in Q1 compared to 2022. They include WeChat stickers for Chinese New Year, a 2023 guide, and several articles about the highly popular Duffy and Friends (a set of characters than includes LinaBell). Hong Kong's other major theme park, Ocean Park, significantly increased WeChat activity and views in Q1.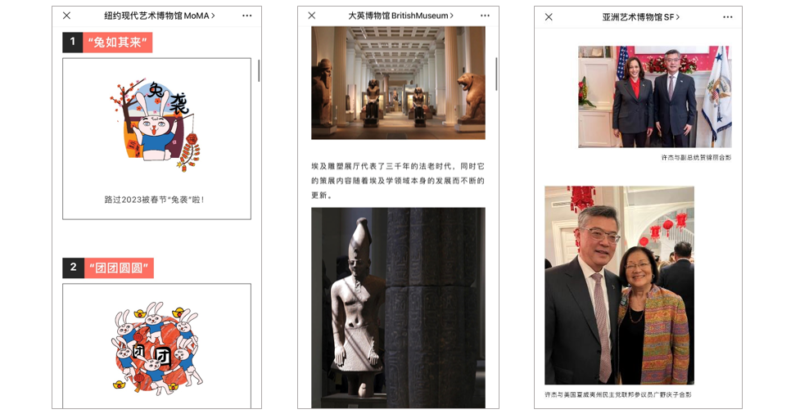 Popular museum content: MoMA WeChat stickers, the British Museum's Ancient Egyptian collection, and the Asian Art Museum's director in Washington DC
San Francisco's Asian Art Museum had a particularly strong quarter. Their director, Xu Jie, traveled to Washington DC to be part of the consulting committee on the proposal to open a National Museum of Asian Pacific American History and Culture. This article received more than 5,000 views and lots of positive support. Other top museum articles include a post on Ancient Egyptian history from the British Museum, an article on the role of curators by the Museum of Modern Art (MoMA), and WeChat stickers, also from MoMA.
Hotels
The increase in average views per post for international hotel brands was more modest than some of the other categories, at 15.7%. But average views in Q1 2023 for this category were actually higher than they were before the pandemic. Actually, hotels maintained readership rates above 2019 levels throughout the entire pandemic, thanks in large part to the fact that most brands could promote domestic Chinese properties during this time.
In the start of 2023, the most popular hotel content on WeChat continued to mostly focus on domestic travel, with peaking views for Chinese New Year promotions, and specials for members. Finally, the 11th most-read article of the quarter was entitled "I have a date with Hong Kong," published by InterContinental.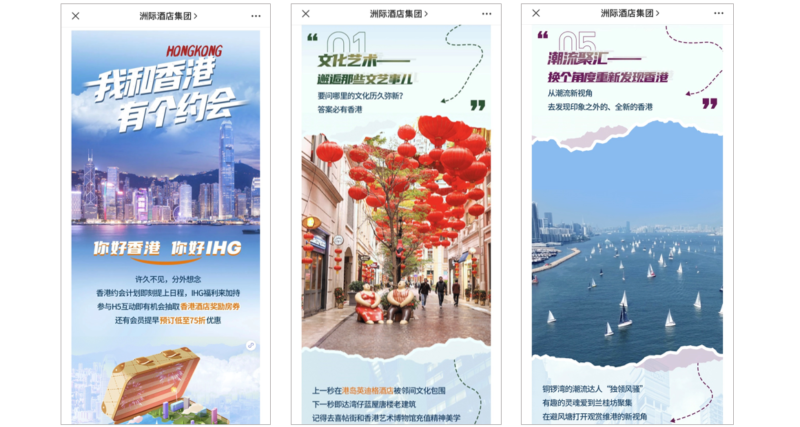 InterContinental's "I have a date with Hong Kong" promotion
Hotel content pre-pandemic also tended to emphasize domestic properties rather than international ones, and promotion of loyalty programs at home can certainly influence consumer behavior abroad without needing an explicit call to action. It will be interesting to see if there is much more coverage of overseas properties over the summer and looking towards the 2023 October holiday.