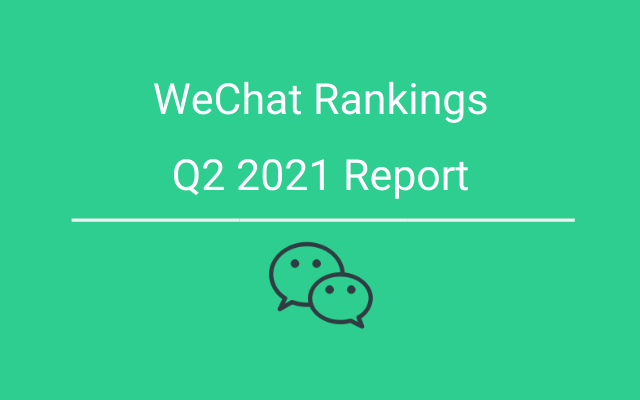 Dragon Trail's WeChat Rankings Report for Q2 2021 examines and analyzes the performance of six categories of travel brands on WeChat: national tourism organizations (NTOs), destination marketing organizations (DMOs, referring to regional and municipal tourism boards), airlines, cruise lines, museums and attractions, and hotels. With little to promise the return of international tourism in the short-term, reading rates across most categories declined this spring, though a few popular destination and cruise line posts offer positive examples of what recovery could look like.
Introduction
One year ago, Q2 2020 was an unprecedented period in WeChat marketing for travel, as the first quarter in which there was no outbound tourism from China. By the end of June 2020, however, there seemed to be signs of optimism, with international flights restarting, and destinations eager to welcome back Chinese tourists – and average reading rates on the whole had not declined.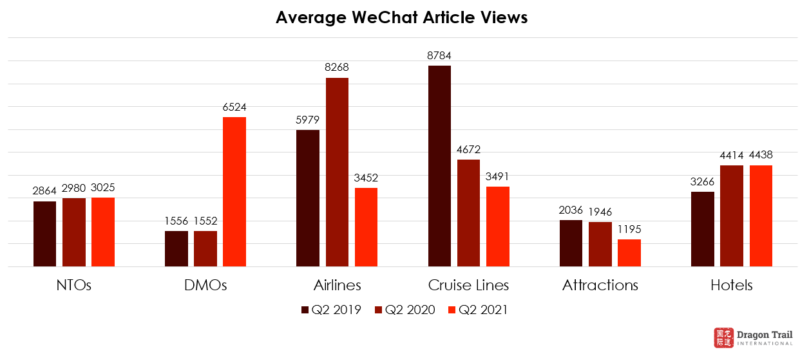 With exception of Macau, there has been almost no recovery for Chinese outbound tourism since the start of the pandemic. Reading rates for NTO content have remained stable during this time, likely propped up in the last quarter by very active marketing from the Tourism Authority of Thailand. DMO reading rates on average look like they have soared compared to the last two years, but this is entirely supported by heavy promotions for Macau – without that one account, average reading rates have declined 25% from last year. Airlines, cruise lines, and attractions have also all seen declines in reading rates. Meanwhile hotels – which have largely focused on domestic tourism promotion – have stayed steady since last year.
NTOs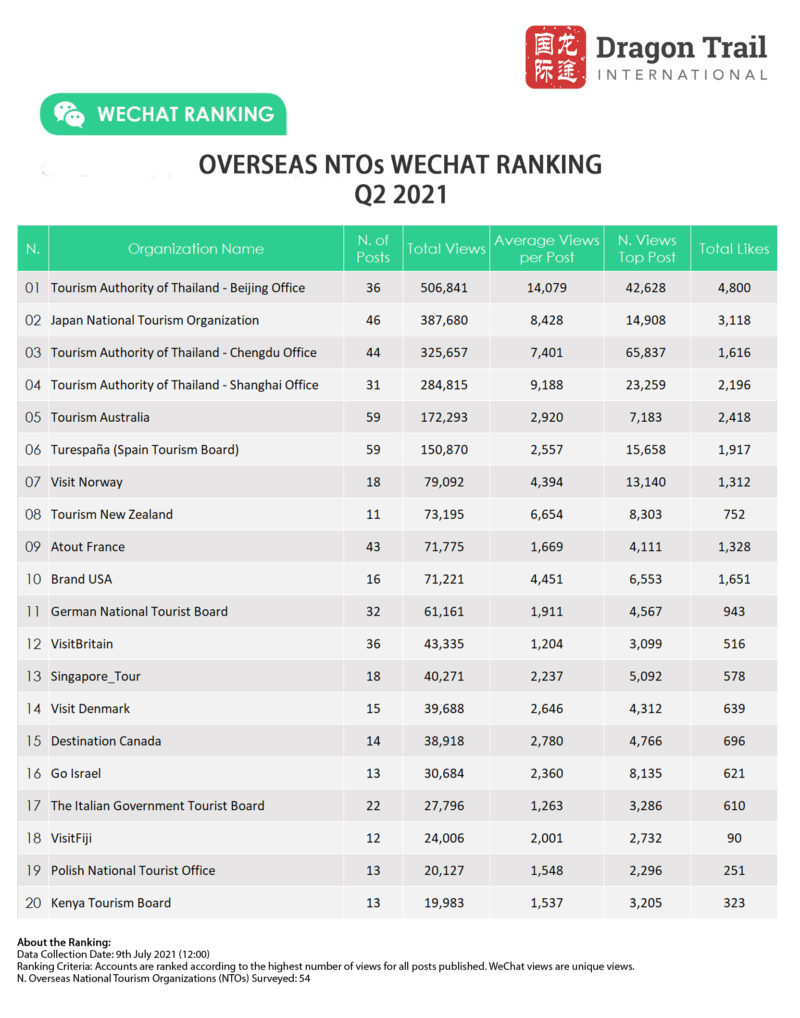 Like last quarter and last year, the Tourism Authority of Thailand dominates the WeChat rankings for both total and average views per post, with its three different regional accounts. The most-read article of the quarter was the TAT Chengdu's late May announcement about the Phuket "sandbox plan" to open to fully vaccinated tourists from 1 July. Although mainland Chinese have been Thailand's no. 1 tourism source market for years, it's not expected that many will take advantage of this arrangement while the 14-day quarantine-on-return is still in place in China.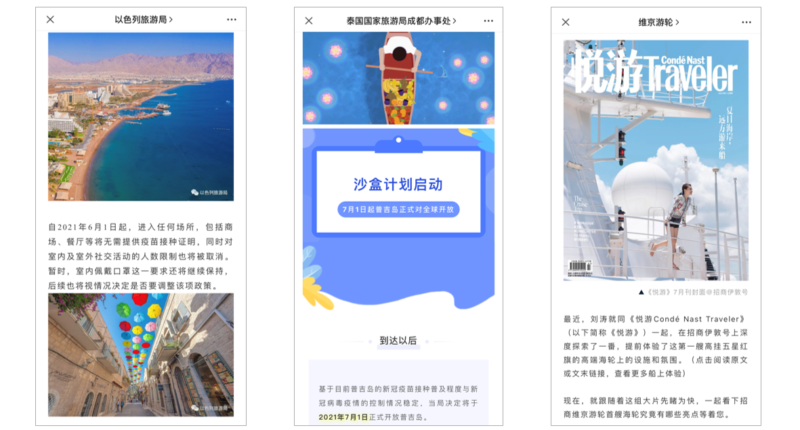 Hints at the reopening of travel attracted high reading rates on WeChat. From left to right: Israel shares news of its national reopening, Thailand announces the Phuket sandbox plan, and Viking Cruises' announcement of their new luxury domestic coastal cruise with China Merchants
Outside of articles about Thailand, the most-read NTO post from Q2 2021 was from Turespaña, about architecture by Gaudi. Newcomers to the top 20 accounts since last year were Israel in 16th place, Fiji in 18th, and Kenya in 20th. Israel's most-read article shared news about the country's success in controlling the pandemic and reopening from 1 June.
DMOs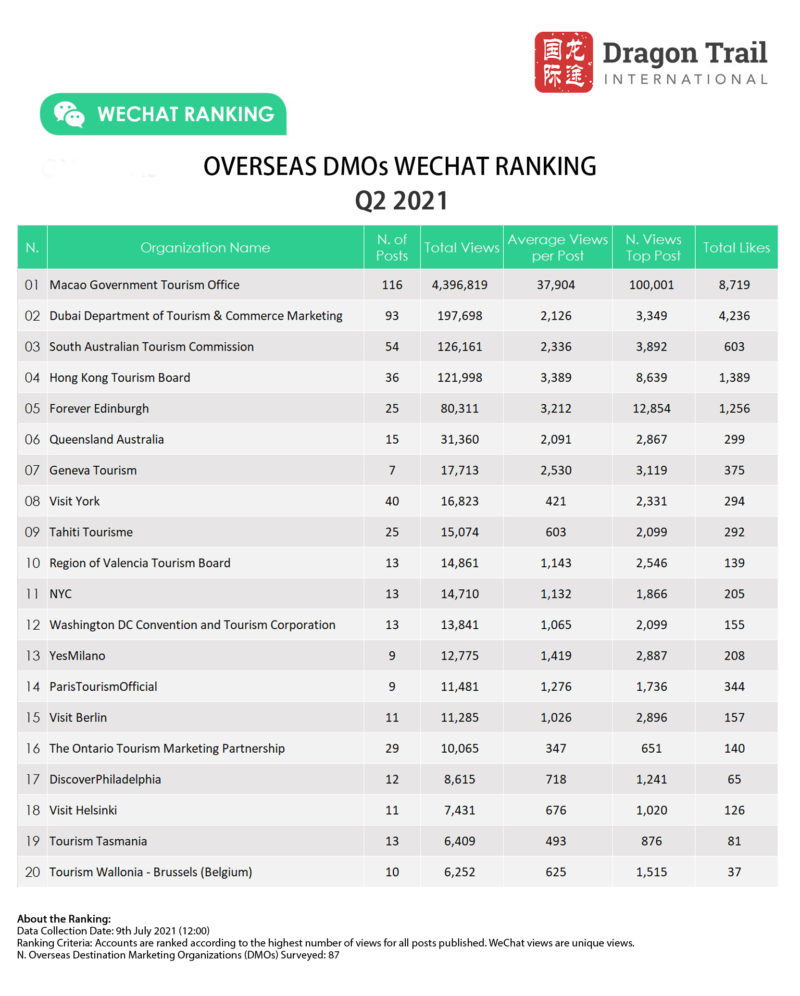 Similar to what we've seen since Macau opened to mainland tourism in Q3 2020, the territory is a significant outlier in the DMO category, getting 3,714% more article views than the average. Not only is it the only place that mainland Chinese can travel without quarantine on return, but the staggeringly high numbers of views indicate that the posts are being heavily promoted.
Taking Macau out of the picture, DMOs got an average of 1,164 views per post in Q2 2021 – a decline from previous years. The most popular article of the quarter, with 12,854 views, was a post by Forever Edinburgh, featuring a local Chinese student's original song about living in the Scottish capital, "Hollyrood Farewell".
Airlines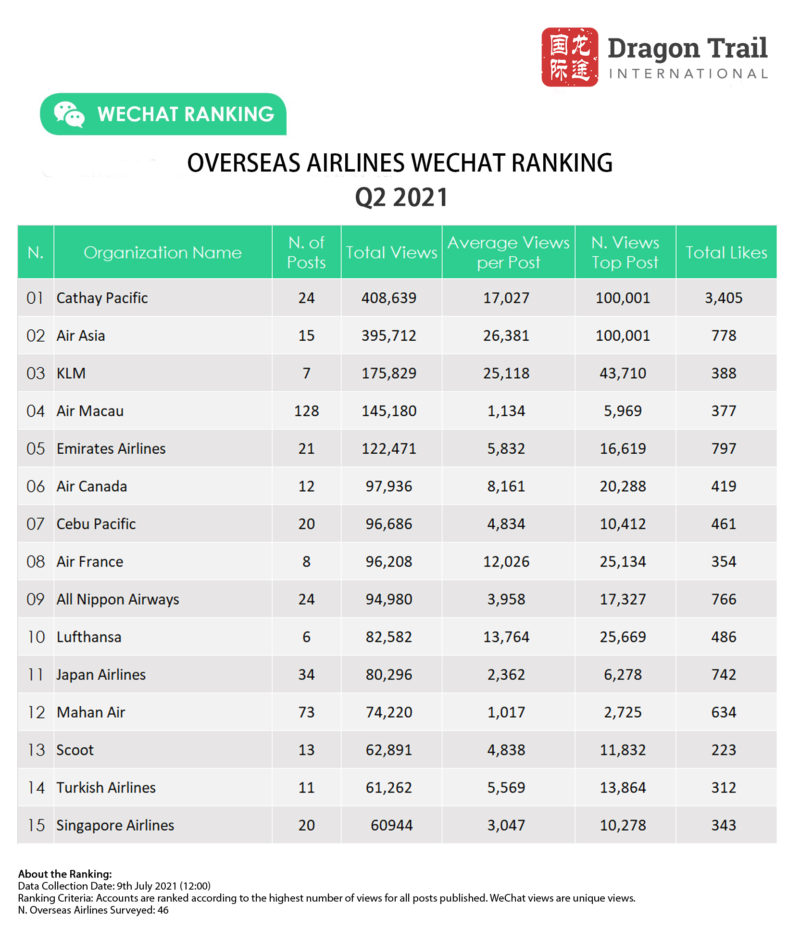 Airlines have seen a major drop in average views per post compared to pre-pandemic levels, with many of the most-read articles in Q2 2021 about flight cancellations and updated travel restrictions. Cathay Pacific, however, received more than 100,000 views for a recent article aimed at students, announcing student flight packages and increased flights to the US and the UK in time for the start of the academic year. The only other airline to surpass the 100,000 view mark was AirAsia, for one of its "Virtual flydays" to Bali. Apart from this kind of online "cloud travel", AirAsia has shifted slightly from travel to e-commerce in the last quarter, with promotions on makeup and medicines.
Cruise Lines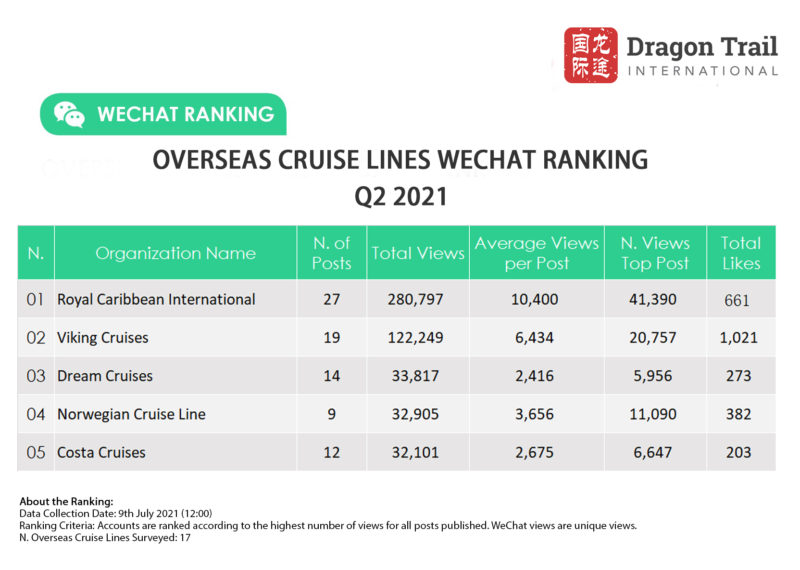 Only 10 cruise lines posted on WeChat in Q2 2021. Princess Cruises, for example, hasn't been active on the platform since February. Still, this past quarter saw the promotion of new ships and some glimmers of recovery with "seacations" around Singapore and Hong Kong. Royal Caribbean International's top post announced a live streaming session and introduced its new ship, Wonder of the Seas. And the quarter ended with promising news and a popular article from Viking Cruises – the cruise line has partnered with China Merchants to launch China's first luxury cruise ship to fly the Chinese flag, with a stylish photo and video feature courtesy of Conde Nast Traveler's Chinese edition.
Museums & Attractions
Average views per post for all accounts in the museums and attractions category fell to just under 1,200 this quarter – a noticeable drop since before the pandemic. For museums specifically, average views didn't even reach 1,000. The most popular posts of the quarter were beautiful springtime photos at Hong Kong Disneyland, and an announcement about the Louvre's new Chinese website.
Hotels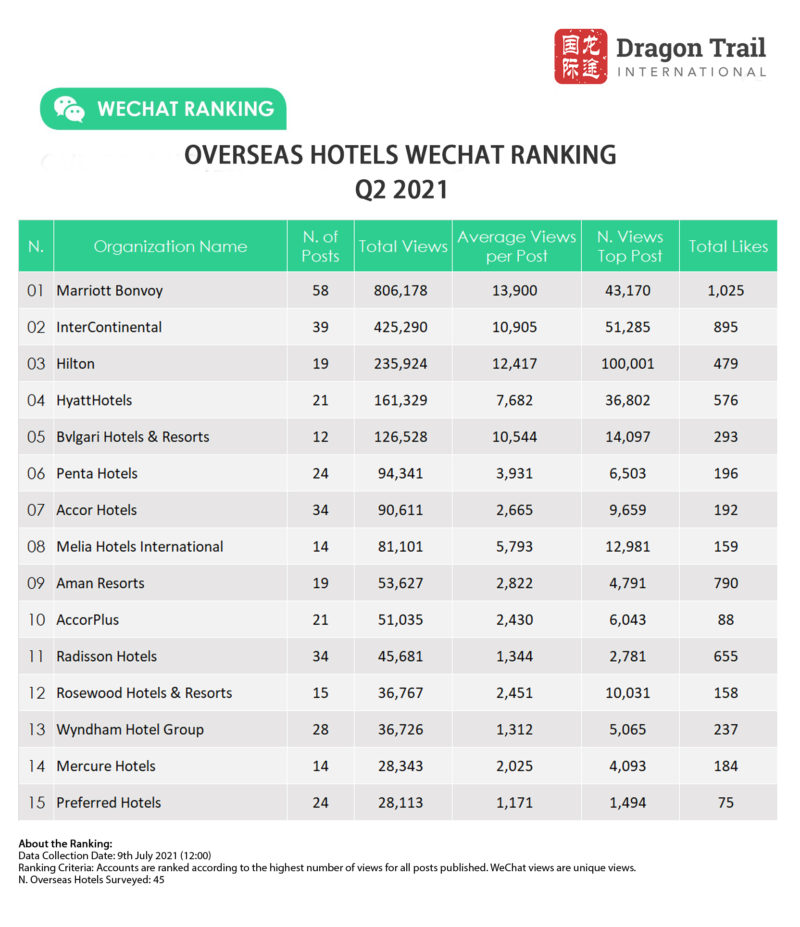 With most hotel brands on WeChat able to promote domestic properties, they've fared better than overseas accounts – average views per post are up compared to before the pandemic, and almost exactly the same as they were last year, when domestic tourism recovery had already begun.
Hilton received more than 100,000 views for its summer family promotion, featuring My Little Pony, Monopoly, and Transformers. Other popular posts included a buy-one-get-one-free room night offer from InterContinental, and a summertime members' day promotion from Marriott Bonvoy.