Dragon Trail's WeChat Rankings Report for Q3 2021 examines and analyzes the performance of six categories of travel brands on WeChat: national tourism organizations (NTOs), destination marketing organizations (DMOs, referring to regional and municipal tourism boards), airlines, cruise lines, museums and attractions, and hotels. Amid continuing international travel restrictions, WeChat stands out as a communications channel for important information on changing rules, cancellations, and safety protocols, as well as a source of inspiration for destinations and attractions.
Introduction
Comparing the same time period over the last three years, WeChat reading rates – based on average views per article – have stayed relatively stable for NTOs, DMOs, and museums and attractions. Reading rates have fallen drastically since the pandemic for cruise lines, with a significant drop for airlines as well. Hotels, which generally have domestic properties and so have been less impacted by travel restrictions, are the only category with consistent year-on-year growth since 2019.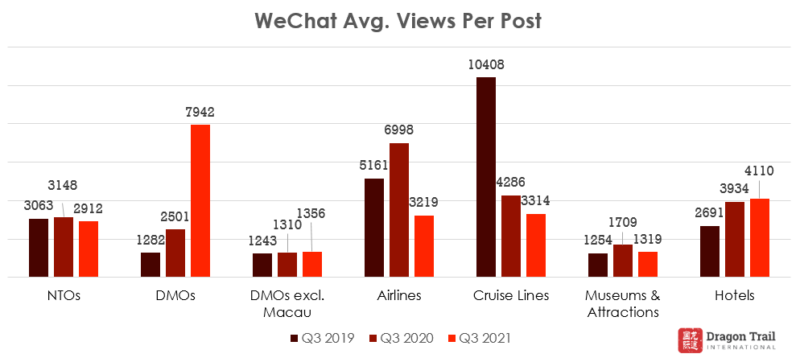 Content themes that stood out in Q3 2021 include essential information about travel restrictions, the Olympics, Qi Xi (Chinese Valentine's Day), local lifestyles and dining, and museum exhibitions with a tie to China. The tourism boards with the most article views offered a wide variety of content, and tended to be destinations that are traditionally most popular with Chinese tourists.
NTOs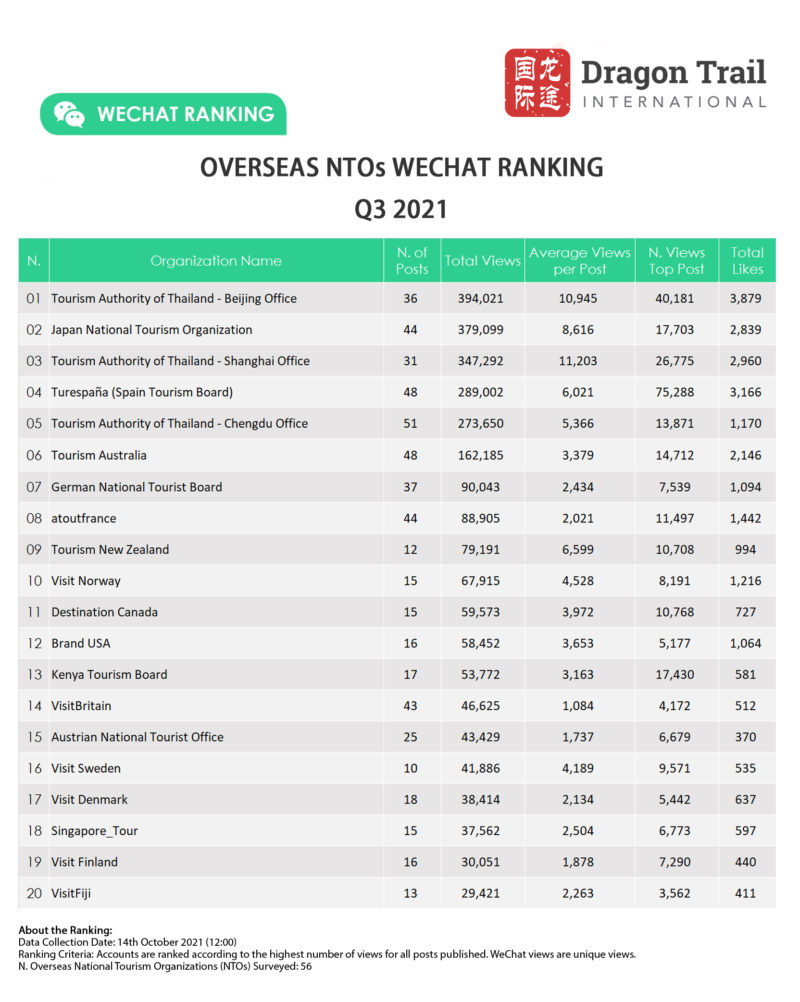 Thailand's three WeChat accounts continued to stand out for highest total views and average views in Q3, as did Japan, which held steady in second place for total views and fourth for views per post. Pre-pandemic, Japan and Thailand were the two most popular countries for Chinese tourism, so these accounts continue to benefit from this popularity and presumably high follower numbers. Both Thailand and Japan offered diverse content selections in Q3. While many of Japan's top articles focused on food (including several posts about noodles, a guide to Wagyu beef, and information on trendy cafés), some of the other most popular content included articles on castles, islands with large cat populations, off-the-beaten track hotels, and stationery.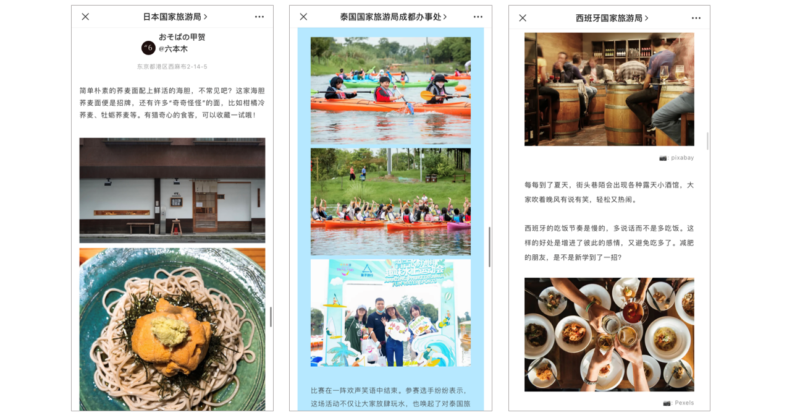 Left to right: A feature on soba noodles in Japan; One of the Tourism Authority of Thailand's offline events in Chengdu; A popular article on life in Spain
Thailand's three separate accounts also published diverse content. Some of it was practical – for example, announcements about Koh Samui reopening or visas on arrival, and some of it was inspirational – from cafés to national parks, to sports and wellness tourism. With outbound travel still off limits, Thailand also promoted events in China, such as a Thailand festival in Chengdu, or a photo exhibition in Beijing.
Beyond Asia, Spain ranked high this quarter, with a particularly popular article on Spanish lifestyles, and other standouts including aerial photos of Spain, a quiz of Spain-related knowledge, and a guide to small towns in autumn.
DMOs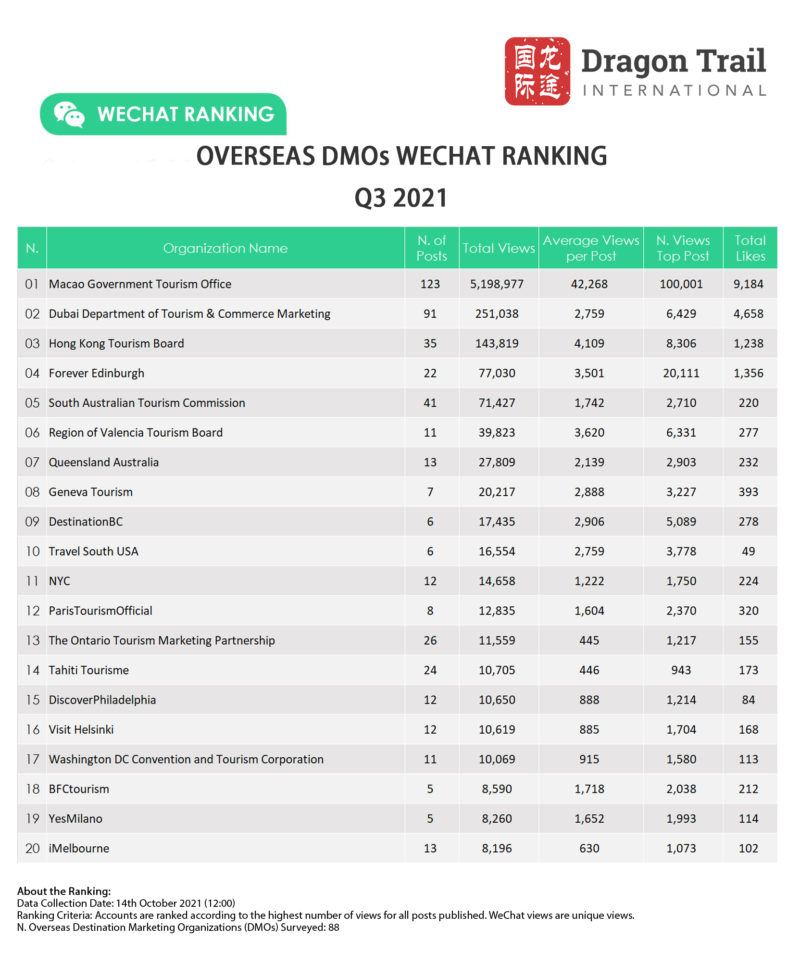 Macau remains a serious outlier for DMOs in terms of number of posts and average views. For this reason, to give a more accurate picture of the category, we've included average views per post without Macau – this shows a slight year-on-year increase in readership, compared to one of more than 150% with Macau factored in. Most of Macau's most-read articles were regular updates about travel restrictions, helping mainland Chinese visitors to plan their trip to the one outbound destination where they wouldn't have to quarantine in either arrival or return.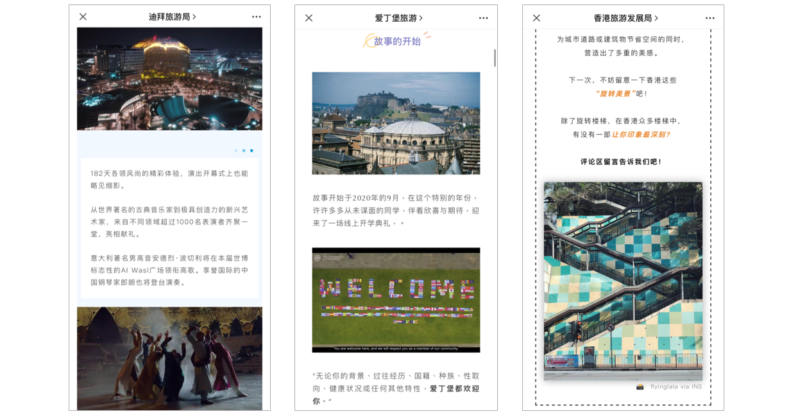 Left to right: Dubai promoted Expo 2020 in the lead up to the exhibition's opening; Edinburgh's student- and UCG-centered post attracted more than 20k views; Hong Kong revealed artsy spots for photography around the city
Hong Kong published a series of articles tied to exploring the city through the MTR metro system, with an emphasis on photography and artsy spots, as well as content on nature outside the city center. Another top account, Dubai shared plenty of dining recommendations, before shifting over to heavy promotion of the Dubai Expo 2020, which opened on 1 October.
Outside of Macau, the most-read DMO article of the quarter came from Forever Edinburgh, with a post aimed at Chinese students in Edinburgh, with plentiful UGC photos and advice.
Airlines
The state of international airline accounts on WeChat remains virtually unchanged since last quarter – many of the most-read articles are about cancellations, which happen as a result of there being COVID-positive passengers on previous flights, as per China's "Five Ones" rule. Student travel from China gave the airline category a small bump, especially Cathay Pacific – you can click here to learn more about this topic. As in Q2, AirAsia engaged readers with a mix of "virtual fly days" to various Southeast Asian destinations, as well as e-commerce promotions on consumer goods rather than air travel.
Cruise Lines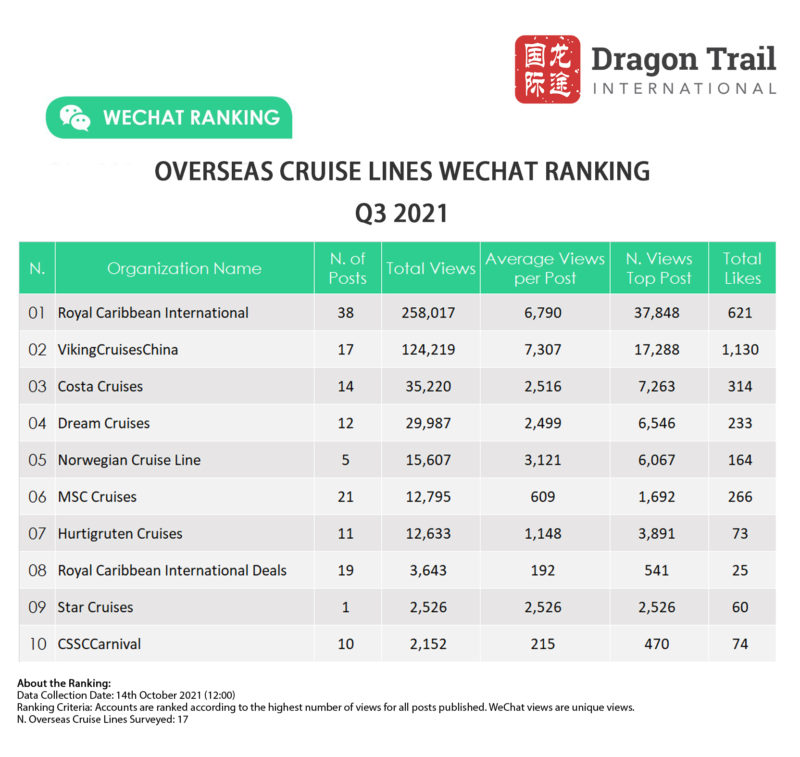 Most international cruise lines continue to focus on giveaways, big promotions for future travel, and articles about cruises that do not depart from or go to mainland China – such as "seacations" from Singapore or Hong Kong. An exception to this is Viking Cruises, which received the highest average views per post this past quarter. Their new ship, a partnership with China Merchants called China Merchants Yidun, launched from Shenzhen during the October holiday. As the first-ever luxury cruise ship to fly the Chinese flag, Yidun has seen a good balance of informative and aspirational marketing. The former includes multiple articles on health protocols onboard and regular updates about when sailings could begin, and the latter includes media and KOL features.
Museums & Attractions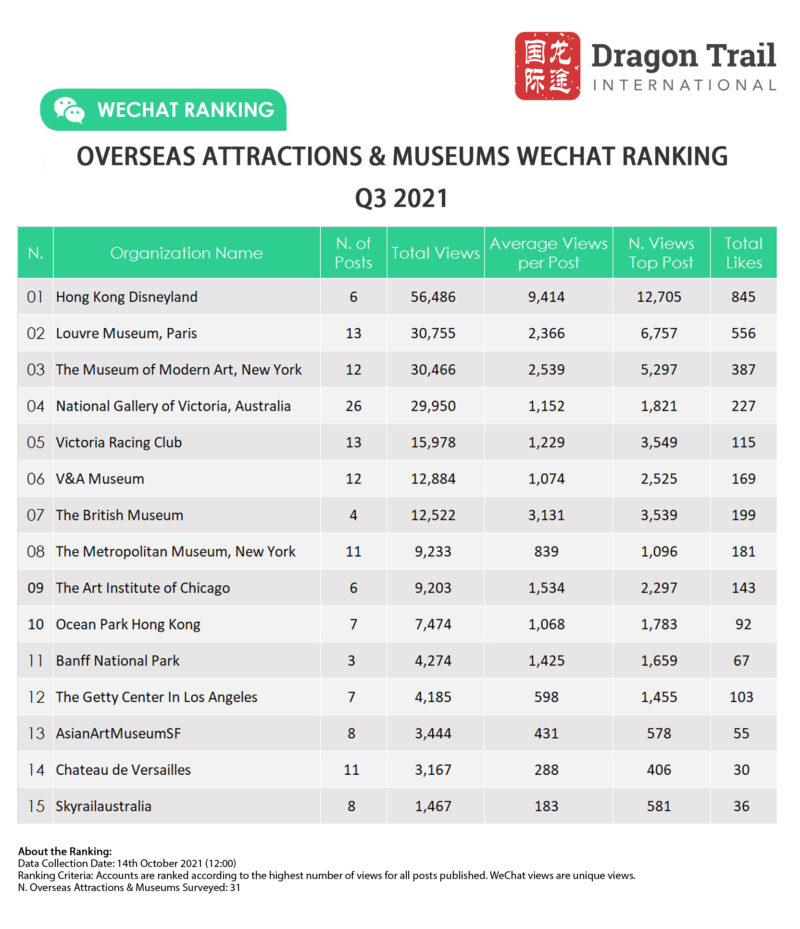 While average views for the museums and attractions category were down compared to the same period in 2020, they actually increased compared to 2019, and this past quarter shows some promising trends. One major factor that brought down average views per post was that these fell for Hong Kong Disneyland, the standout account in the category. But average views were up for a number of major international museums – such as the V&A, Museum of Modern Art (MoMA's), and Art Institute of Chicago. Last year at this time, the Louvre's account was inactive, whereas this past quarter the Parisian museum ranked second, with 6,757 views for a post celebrating its 228th birthday. Another attraction account that stands out is the Victoria Racing Club, which focuses on glamorous equestrian events in Melbourne and has increased average views per post by 42% compared to Q2 2021.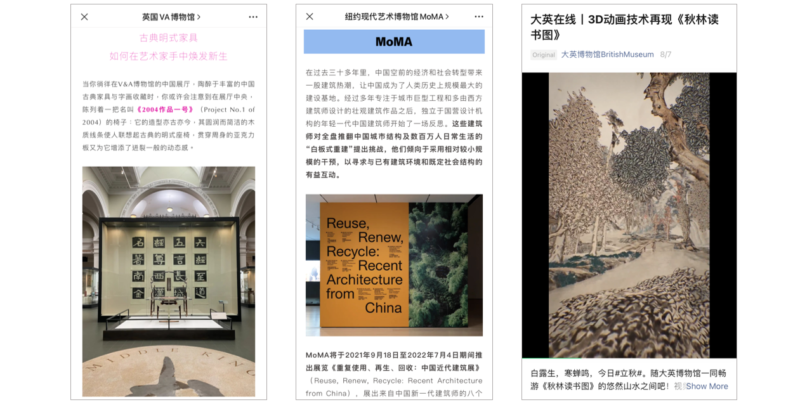 WeChat readers responded positively to international museums engaging with Chinese art and design. From left to right: V&A Museum, Museum of Modern Art, British Museum
One theme that proved particularly popular in Q3 2021 was exhibitions or other content from international museums that connected to Chinese art and design. For example, MoMA's most-read article was about a new exhibition of Chinese architecture, while the V&A shared contemporary reinterpretations of Ming dynasty furniture, and the British Museum used 3D animation to bring a Ming painting to life.
Hotels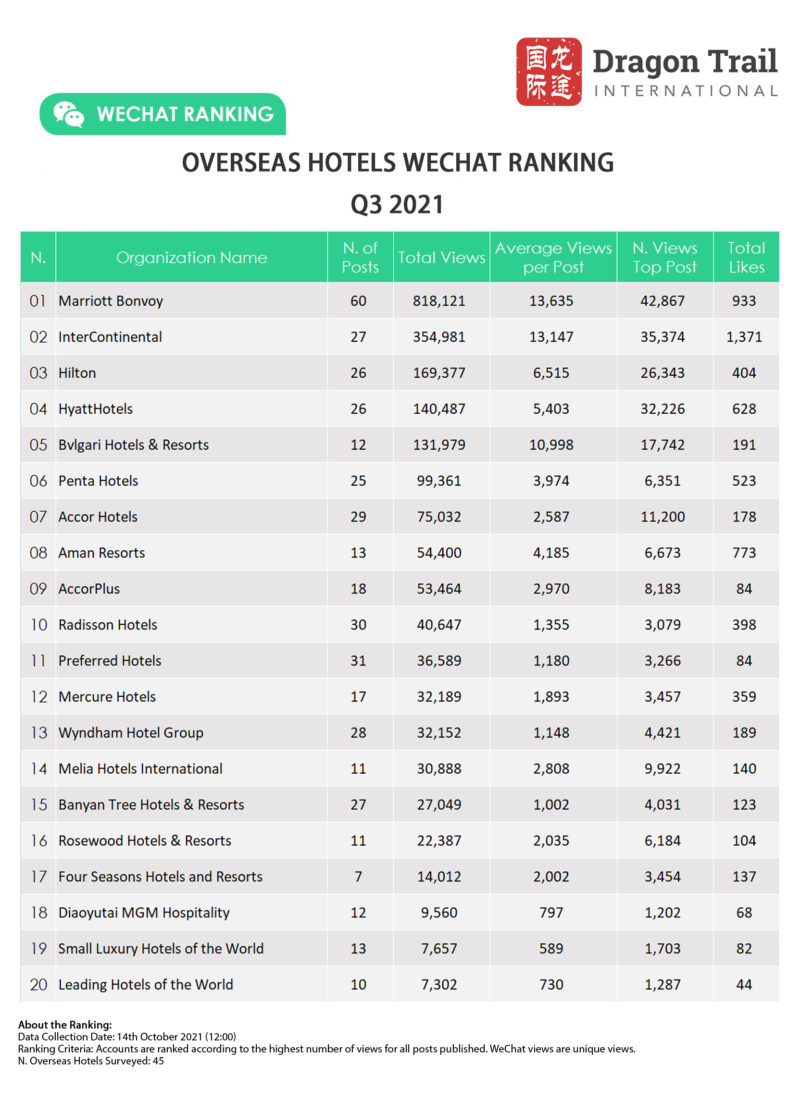 International hotel brands have continued to serve Chinese tourists at domestic properties throughout China, with continued increases in WeChat readership. Hilton continues to stand out for family travel promotions, and there were also a number of special love- and romance-themed promotions from hotel groups like Marriott and Bulgari for the Qi Xi festival in August. But the most-read posts were Marriott Bonvoy's monthly members' week promotions, members' promotions for InterContinental, and an article on the opening of the new Park Hyatt Changsha.