Dragon Trail International's Weibo Rankings Report tracks and analyzes performance for national tourism organizations (NTOs), destination marketing organizations (DMOs), airlines, cruise lines, museums & attractions, and hotels. The annual Weibo report builds industry benchmarks and uncovers best practices in digital marketing in the travel sector.
By the end of 2021, the pandemic is still deeply affecting China's travel policies. This has led to most travel brands reducing posting frequency. Just 87% of travel accounts active in 2020 continued to actively post content in 2021. Successful marketing tactics range from cloud tourism to short video series, from news about resumption to destination recommendations.
Continue reading to find out where your brand stands within the sector.
Top Takeaways
– In 2021, five out of six travel sectors had fewer active accounts on Weibo, which partly led to a decrease in total engagements with the exception of hotel brands. Hotels tend to do better on Weibo (as well as WeChat) because many brands have properties within mainland China.
– Weekly engagement rate is highest for the attractions & museums sector, but this is only attributable to one account: Hong Kong Disneyland Resort. Without it, the sector's engagement rate would be average.
– Besides attractions & museums, DMOs and NTOs had higher weekly engagement rates in 2021 compared to other sectors.
– Cloud tourism and re-opening related news are the most engaging content on Weibo.
– Short videos in the form of mini series or short films do better than images in generating engagements.
Methodology

This report is based on published content data from 249 accounts, of which 189 were active accounts. Data was collected from the week of 2 January 2021 to 1 January 2022.
Total engagement varies by sector. Some sectors with more active accounts could generate higher engagement levels. To understand the difference, we looked at total engagement by sector. Total engagement includes shares, likes, and comments.
To identify travel industry benchmarks on Weibo, we define weekly engagement rate as weekly total engagement divided by follower base multiplied by 100.
2021 Weibo Performance by Sector
In 2021, the only travel sector that has an increased engagement level is hotels. This is attributable to Bulgari Hotels & Resorts and Marriott Bonvoy, which accounted for 76% of hotel engagements in 2021.
Other sectors saw different levels of decrease in total engagement. This is partly due to the reduced number of active accounts. With the exception of cruises, which maintained nine active accounts, all other sectors (NTOs, hotels, airlines, attractions, and DMOs) had fewer active accounts in 2021.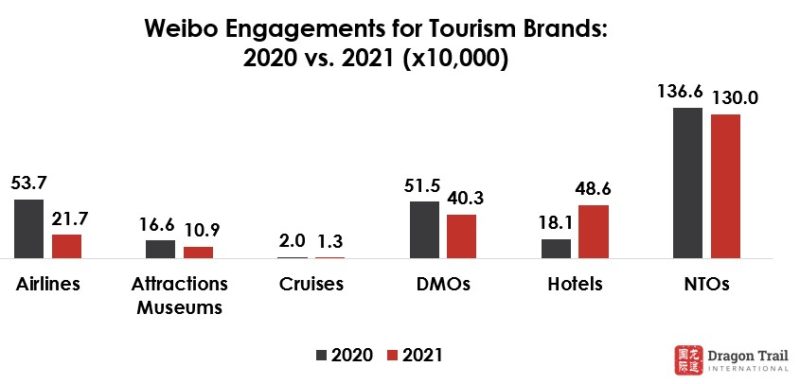 The attractions and museums sector achieved the highest weekly engagement rate in 2021. This is attributable to the new Hong Kong Disneyland Resort account, which just opened in November 2021 and still has a relatively small follower base. Without this account, the average engagement rate for attractions and museums would be 0.20% in 2021.
DMOs and NTOs tend to have higher engagement rates.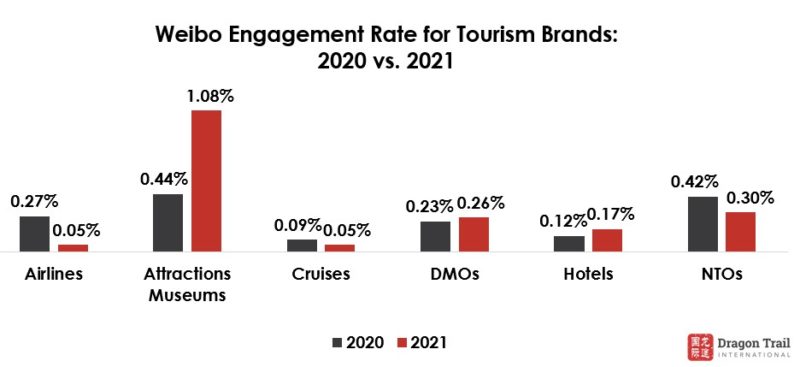 NTOs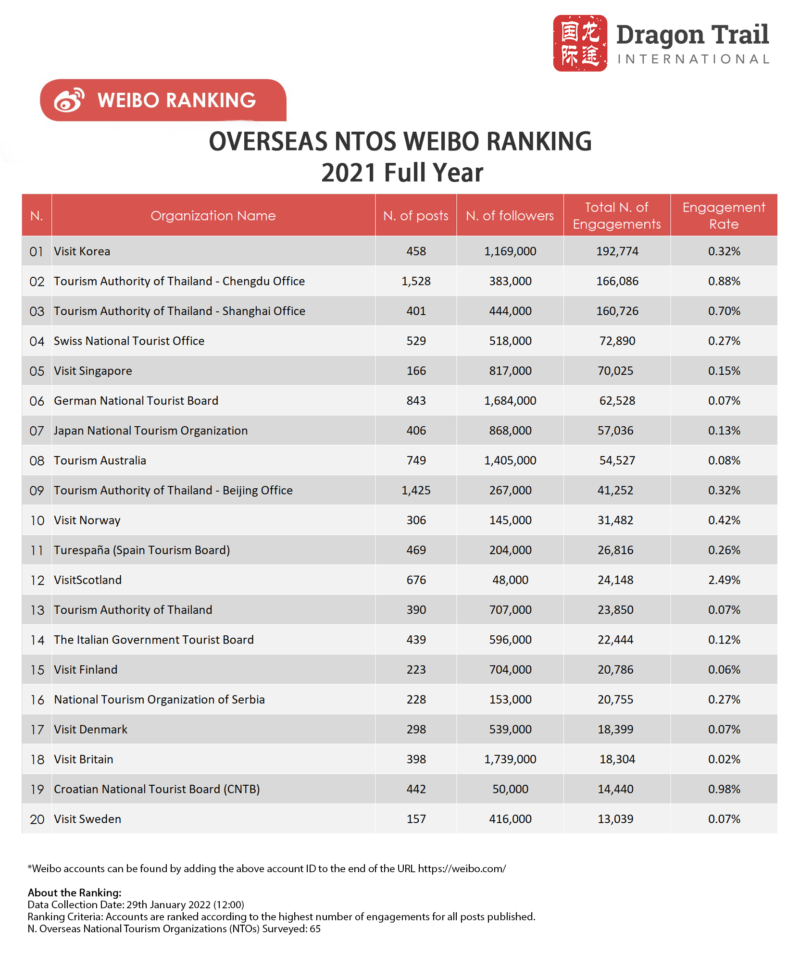 The NTO sector had fewer active accounts and generated fewer engagements in 2021. Looking at posts with highest engagements, we noticed a strong Q1, though this was due to an online spat with South Korea at the time, about origins of cultural heritage. Politics have been known to generate high engagement levels for other industries and on other social media platforms.
News about re-opening, such as the re-opening of Samui and Phuket in Q3 and instructions to apply for a Thailand Pass in Q4, also generated strong interest.
Cloud-tourism was embraced by multiple top NTO accounts in Q4, such as Visit Korea's campaign featuring K-Travelog and K-Vibe Concert, Tourism Authority of Thailand – Chengdu Office's cloud tourism themed music video, and VisitBritain's Christmas live stream with a travel influencer.
Lastly, destination-related news always generates strong engagement, such as the news that the Thai dance 'nora' was awarded UNESCO world heritage status, or when Croatia was featured in Conde Nast Traveler's Readers' Choice Awards 2021 as #9 in the top 20 countries in the world.

Left to right: Tourism Authority of Thailand – Chengdu Office sharing details on applying for Thai Pass; VisitBritain's live stream with a travel influencer; Croatian National Tourist Board sharing news about the Conde Nast Traveler award.
Hotels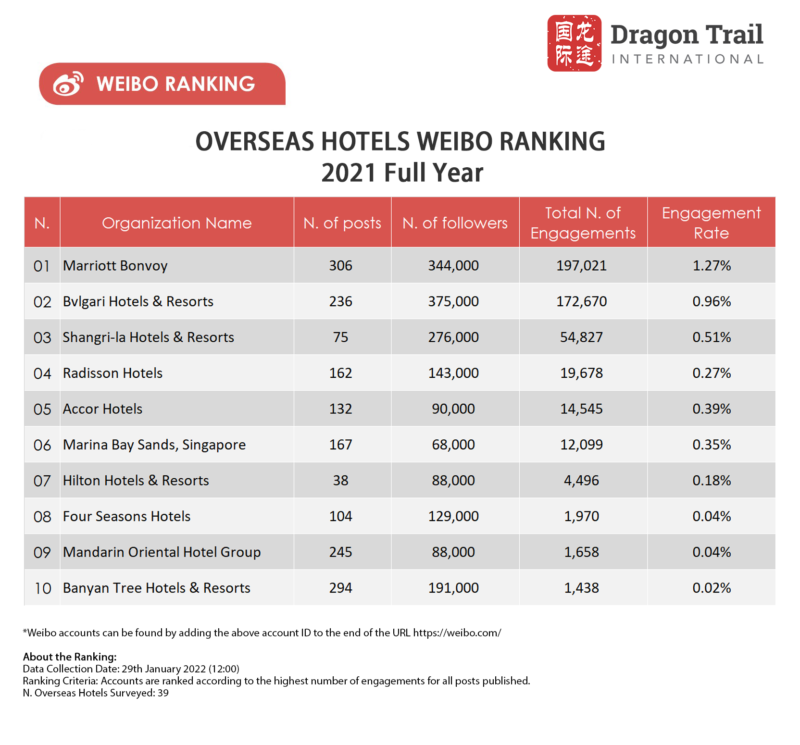 Hotel brands with high engagements in 2021 have fully embraced short videos or video series. In Q1, Marriott Bonvoy kicked off the new year with a 3:43-minute short film depicting three scenarios where having a membership would save the day. Engagement peaked in Q3 with Marriot Bonvoy's #旅行让我们 ("travel allows us to") video promotion featuring Mani Fok (@霍汶希 Mani), celebrity manager, producer, and COO of Emperor Entertainment Group. Shangri-La Hotels & Resorts' mini series #香亲相爱 ("Love each other") also generated strong engagement with illustrations of how the brand plays a role in Chinese family dynamics, such as Chinese grandparents' busy life in helping to raise grandchildren. Shangri-La continued to publish mini-series in Q4. With a 50-year anniversary short-film celebrating six outstanding men and women in Asia, including designers, artists, chefs, Shangri-La jumped from 12th place in 2020 to 3rd in 2021's rankings.
Offline events also generated strong engagement, which is an advantage for hotel sectors because many brands have properties in mainland China. In Q4, Bulgari Hotels & Resorts' video recap of 2021 Christmas party "More Than A Wish" generated the second highest engagement of the year in the hotel sector.

Left to right: Bulgari Hotels & Resorts' video recap of 2021's Christmas party; Hilton Hotels & Resorts' promotion of a standup comedy event at Conrad Shanghai; Shangri-la Hotels & Resorts' mini series celebrating six outstanding characters in Asia.
Attractions & Museums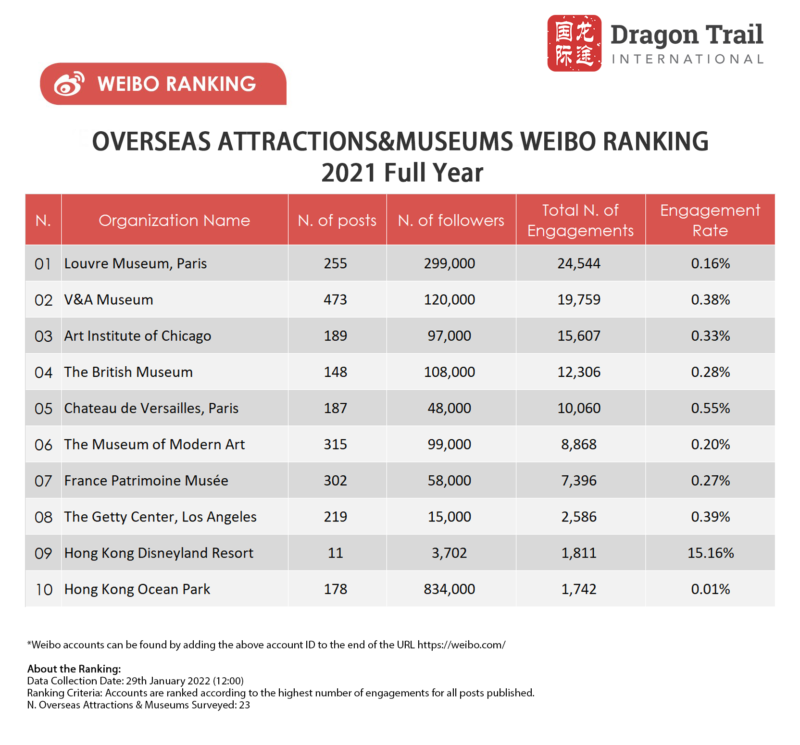 For museums and attractions, publishing stories behind collections tends to drive up engagements. Art collections that have an additional context, such as mystery, controversies at the time of release, or mythical legends generate higher engagements. For example, one of the V&A Museum's top posts was about the significance of painting plant classifications on hand-held fans for women's education in the 18th century.
New ways of studying art and restoring art also generate high engagements, such as Louvre Museum's video showcasing the work of an archeological illustrator.
Lastly, news about future exhibitions or virtual exhibitions in China also generated interest, such as Chateau de Versailles' virtual exhibition in Shanghai. Comments on this post were mostly asking about the details and future locations of the exhibition.

Left to right: Louvre Museum's post about the work of an archeological illustrator; launch of Chateau de Versailles' virtual exhibition in Shanghai; V&A Museum's post about women's education via plant classifications painted on hand-held fans.
DMOs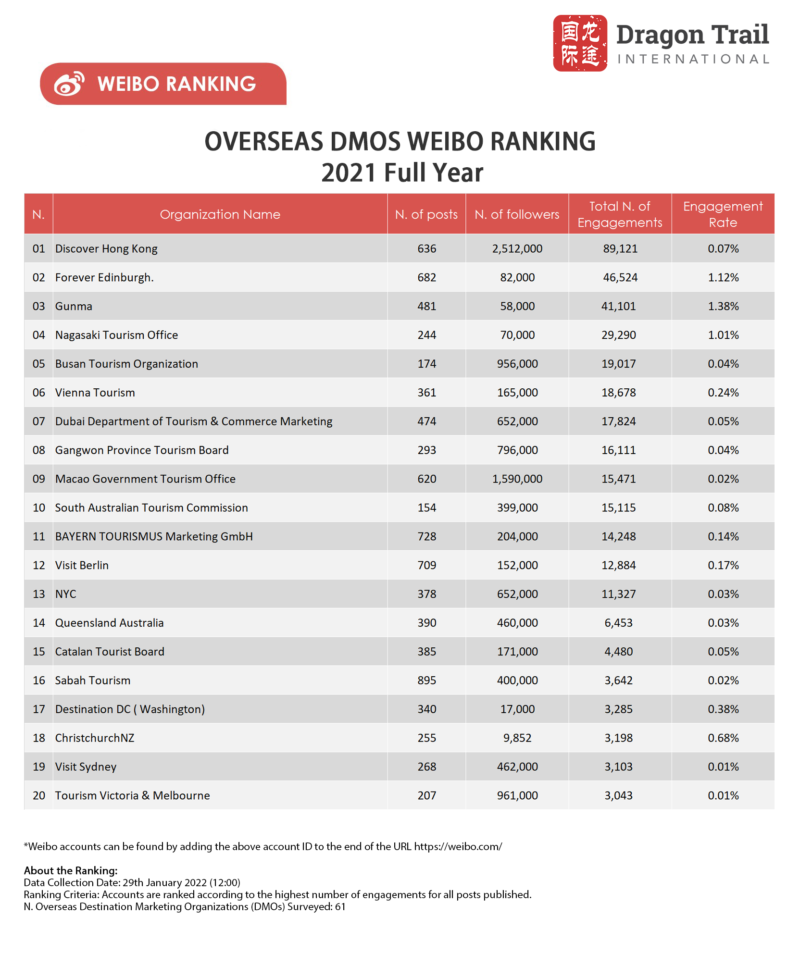 Top DMO accounts tend to publish three types of content: celebrity-related news, scenery recommendations, and holiday giveaways.
Celebrity-related news generated the highest engagements, such as the online K-ost Concert Snow Festa published by Gangwon Province Tourism Board, and Cai Xukun's wax figure added at Madame Tussauds by Discover Hong Kong. Discover Hong Kong's top posts were also video content.
For destinations that don't always have celebrity-related news, scenery recommendations that show a different way of enjoying destinations also work in inspiring interest from followers. Visit Busan highlighted travel themes in scenery recommendations, such as where to stay for the best views of the Diamond Bridge and travel while wearing uniforms from the same high school as BTS member Jimin. These posts listed detailed information with the address, how to get there, and highlights of each location – a good resource for itinerary planning. The account jumped from 14th to 5th in the rankings in 2021.

Left to right: Madame Tussauds added a wax figure of Chinese celebrity Cai Xukun; Gangwon Province Tourism Board's online K-ost concert – Snow Fest; Visit Busan highlighted different locations to visit wearing a BTS member's high school uniform.
Airlines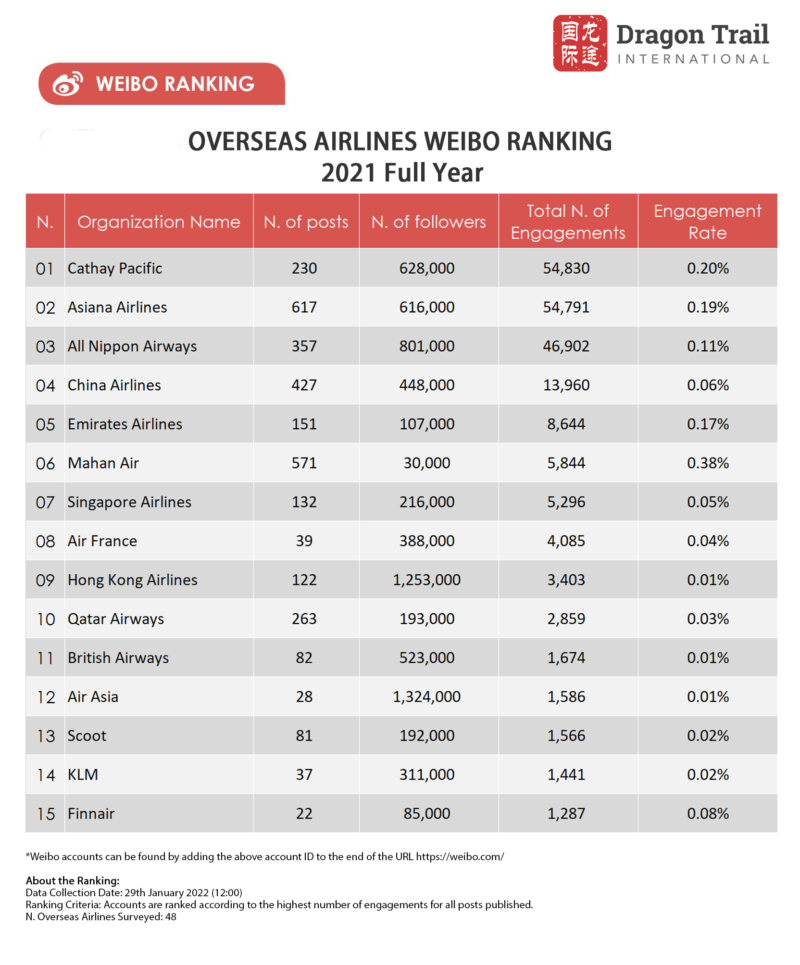 Top airline accounts frequently share news about changing routes, resumptions, and pandemic control policies. The most notable account in 2021 is Cathay Pacific, which published the most about these topics. Other top content included airline merger news, retirement of aircraft, and announcement of new aircraft – such as a Q4 post about a new A380 fleet by All Nippon Airways (ANA).
Airline accounts also generated engagement via giveaways in every quarter.
Lastly, celebrity-related video content drove engagements for ANA. In Q4, the account published a video featuring Japanese figure skater Yuzuru Hanyu flying for competitions. This post generated significantly more engagement than another post in Q1 that included only one image of Yuzuru Hanyu.

Left to right: ANA video featuring Japanese figure skater Yuzuru Hanyu; Cathay Pacific's new routes and promotions for international students; Singapore Airlines' merger with Silk Air
Cruise Lines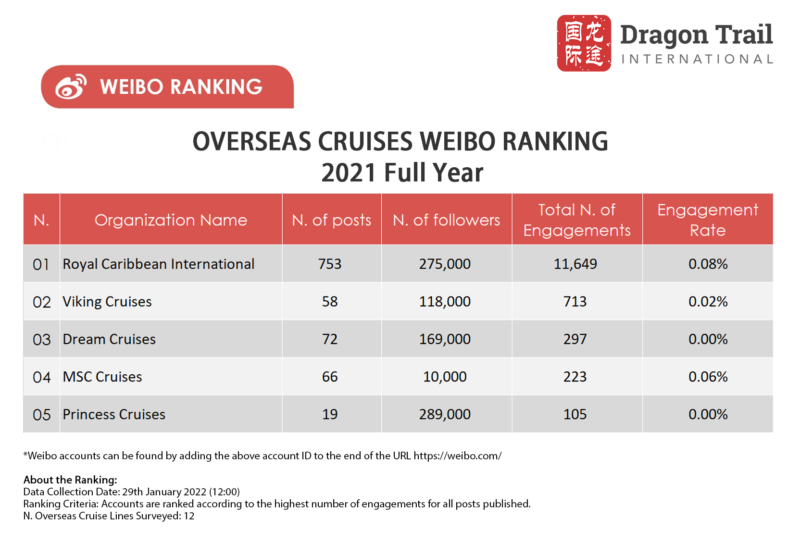 The cruise sector is dominated by Royal Caribbean International, which generated 89% of engagements for the sector. The account consistently posted content involving interactive quizzes and giveaways to maintain engagement levels.
In 2021, Royal Caribbean International and Viking Cruises both announced new ships on Weibo, which generated the highest engagements for the accounts.

Left to right: Royal Caribbean International's announcement of new ship Wonder of the Seas via live stream and giveaways; Regular quizzes published by Royal Caribbean International; Viking Cruises' announcement of new ship China Merchants Yidun, China's first domestic luxury cruise line.