Dragon Trail International's Weibo Rankings Report tracks and analyzes performance for national tourism organizations (NTOs), destination marketing organizations (DMOs), airlines, cruise lines, museums & attractions, and hotels. Like the weekly rankings reports, the quarterly report builds industry benchmarks and uncovers best practices in digital marketing in the travel sector.
In Q1 2021, Weibo accounts in almost all six categories posted about Chinese New Year celebrations, and some also posted about Valentine's Day, which generated very high engagement levels. Despite the ongoing pandemic, travel and tourism accounts are engaging with followers by communicating via KOLs, creating short films, and putting on virtual events.
For quarterly reports, we look at engagement rate for each category, then dig into specific categories to review top content themes and high performing posts.
Methodology

The Q1 report is based on data from 180 active tourism accounts on Weibo, posted between January 2 and April 3, 2021.
Engagement rate is engagement divided by follower base. Starting from the Q1 2021 report, engagement rate is adjusted to only include weeks when posts were published, to more accurately reflect each account's content performance. This method has been applied to historic data when comparing time periods.
2021 Q1 Weibo Category Engagement Rate
The figure below illustrates engagement rate for each category. DMO and NTO accounts both have higher follower bases, and tend to generate higher engagement overall. Airlines have relatively high follower bases as well, but reached only around the same engagement rate as cruises. On the other hand, the attractions and museums category has a comparatively small number of followers, but generated very high engagement with its active accounts.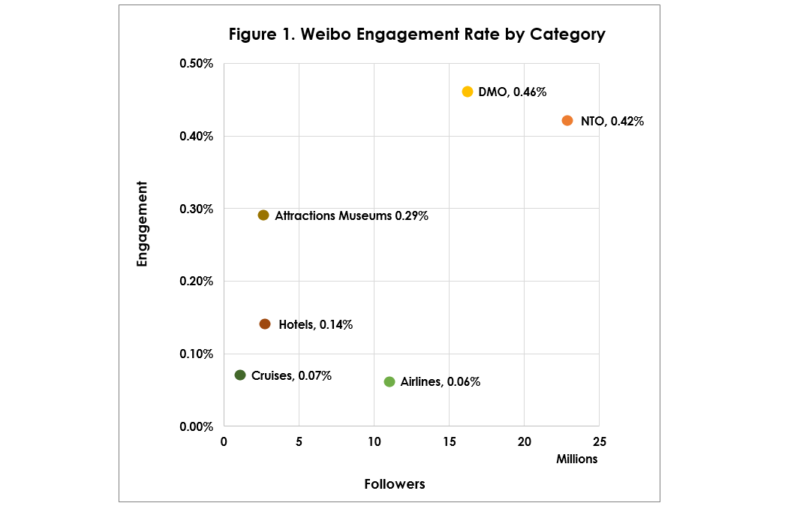 Looking at engagement rate over time, most categories saw an increase in engagement rate in the first quarter of 2021, with DMOs generating significantly higher engagement compared to Q4 2020.

NTOs
In Q1, 52 out of 64 NTO accounts tracked were active, up 4% from the previous quarter. Total engagement grew 40% from Q4 2020, leading to an increase in engagement rate.
Besides celebrity endorsements, political tensions also boosted engagement in this category, though most of these engagements were negative and less relevant to tourism. For example, Visit Korea generated the highest number of engagements among NTOs due to an online spat between social media users in China and South Korea during the time. Similarly, Tourism Australia also generated high engagements in Q1, but comments often showed strong resistance due to political tensions.
Regardless, we saw other high tourism-related engagements generated by posts that appealed to audiences with Chinese New Year messages and on the topic of local culture, including giveaways and KOL videos.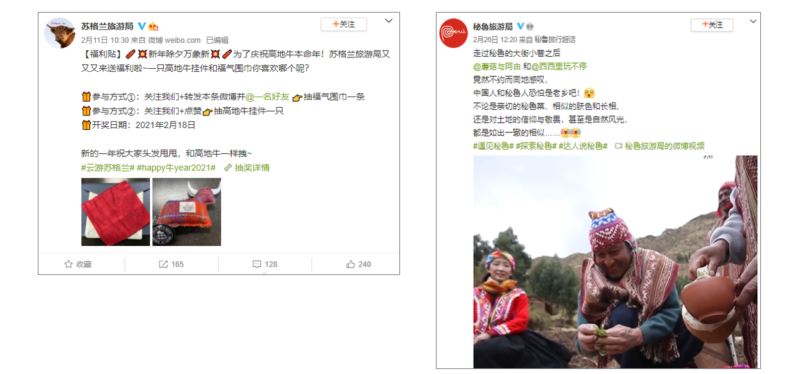 Left: VisitScotland's Chinese New Year giveaway. Right: PeruTravel invited KOLs to introduce Peru and cultural practices that are similar to China.
Hotels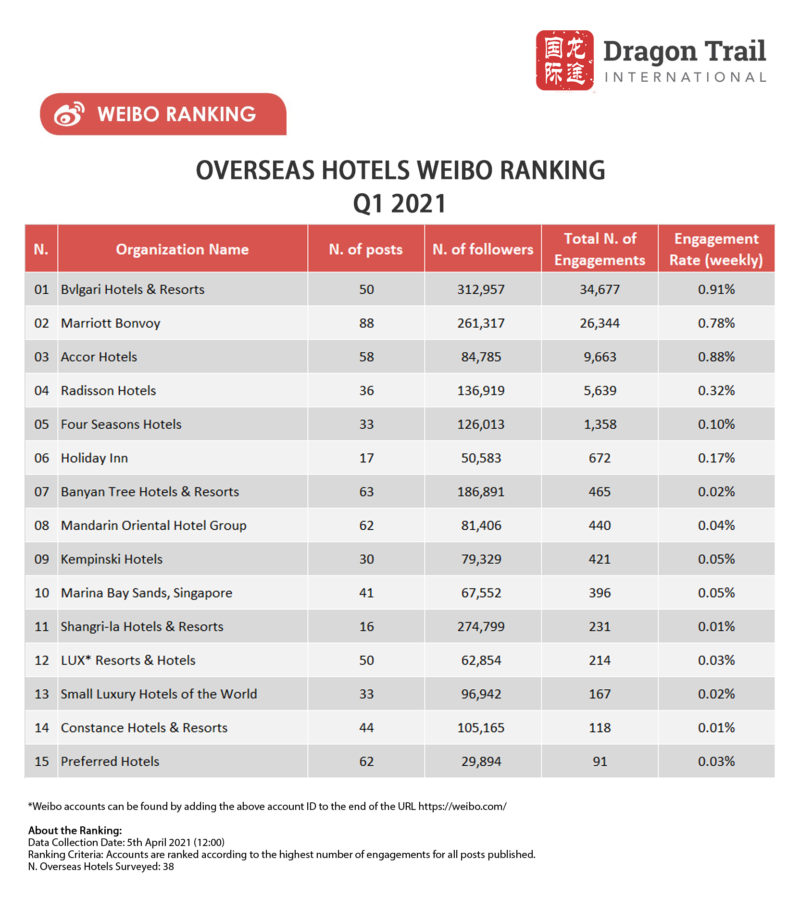 In total, 26 out of 38 hotel accounts were active in Q1 2021, down 4% from the previous quarter. Total engagement grew 131% since the previous quarter.
During this quarter, top hotel accounts came up with creative ways to engage followers. Marriott Bonvoy promoted the brand through product placement in a series of short films released for Chinese New Year, with themes that highly resonate with typical Chinese customs. Accor Hotels partnered with fitness brand Les Mills to recruit ambassadors, giving away a free-night's stay and training for winners.

Left: Marriott Bonvoy's short film for Chinese New Year featuring actress Jackie Li (辣目洋子). Middle: Marriott Bonvoy's voting for top travel themes, with prizes for the most interesting story about destinations. Right: Accor Hotels partnered with Les Mills to recruit "Pullman workout ambassadors".
Attractions & Museums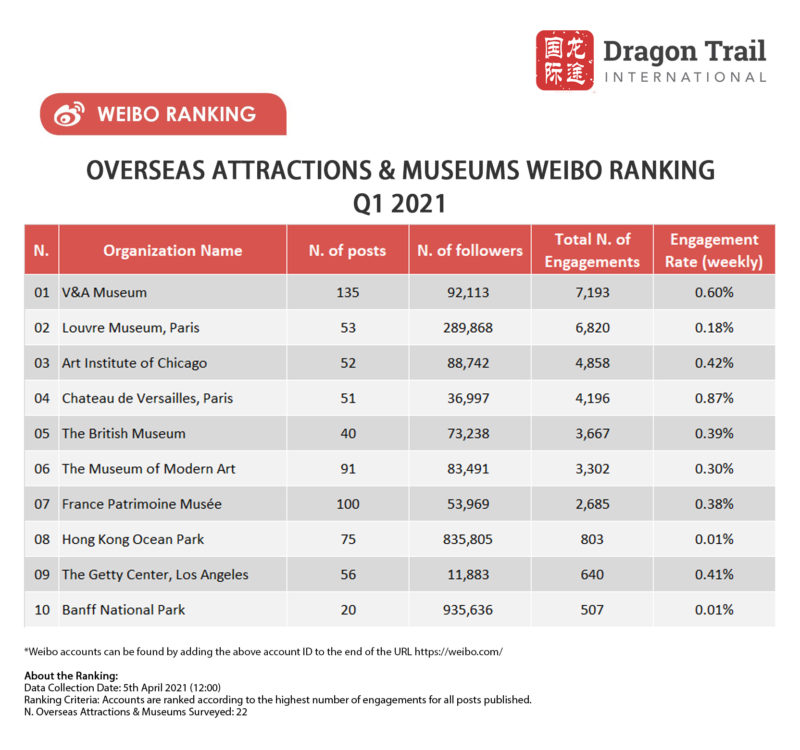 In Q1, 15 out of 22 attraction and museum accounts were active, the same as in Q4 2020. Total engagement saw a small 2% decrease compared to the previous quarter.
For museums, publishing stories behind collections always drives engagements. Mysteries behind paintings, controversies at the time of release, and mythical legends around collection items generate higher engagements. For example, one of the top posts by V&A Museum is about the significance of painting plant classifications on hand-held fans and their relation to women's education in the 18th century.
Videos about studying art with new techniques from the Art Institute of Chicago continued to generate high engagements. News about virtual exhibitions in China, such as one from Chateau de Versailles in Shanghai, also generated interest from followers – most asked about the details and future locations of the exhibition.

Left: Launch of Chateau de Versailles' virtual exhibition in Shanghai. Middle: V&A Museum's post about women's education via plant classifications painted on hand-held fans. Right: Art Institute of Chicago on new techniques to learn the secrets behind Vincent van Gogh's The Bedroom.
DMOs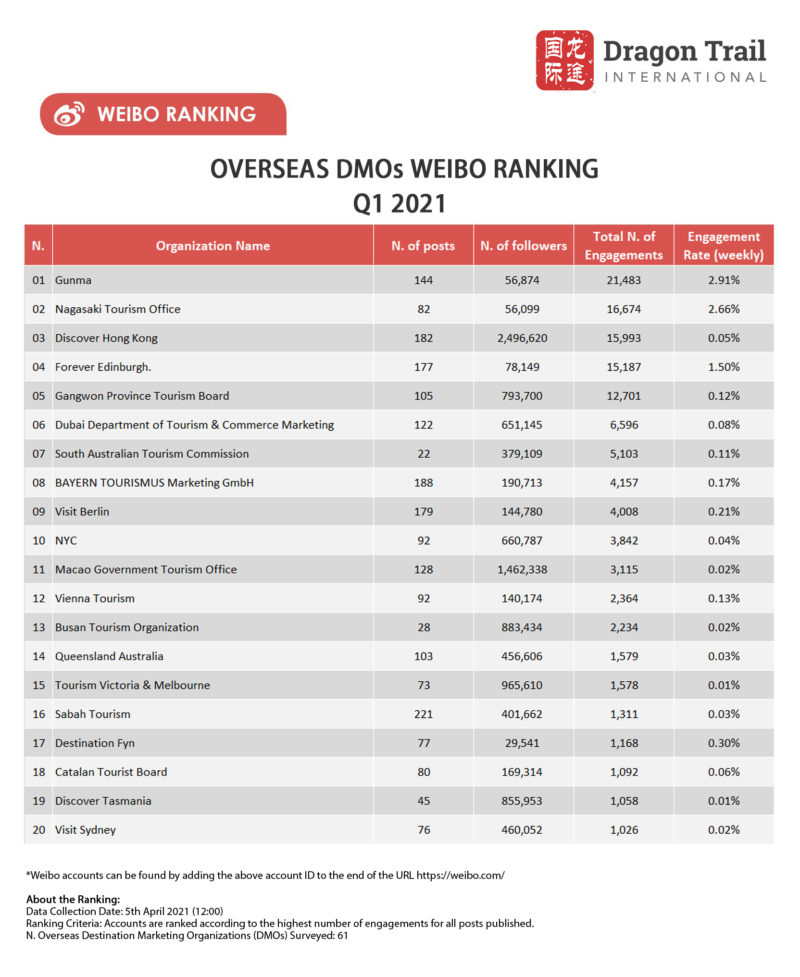 In total, 43 out of 61 DMO accounts were active in Q1 2021, down 4% from Q4 2020. Total engagement was 15% up from the previous quarter.
DMOs raised engagements significantly in Q1. Top content includes Chinese New Year giveaways from Nagasaki Tourism Office and Forever Edinburgh, as well as celebrity-packed On:Tact online music festival posted by Gangwon Province Tourism Board.
Left: Forever Edinburgh's Chinese New Year giveaway. Middle: Nagasaki Tourism Office's Chinese New Year giveaway. Right: Gangwon Province Tourism Board on the On:Tact music festival.
Airlines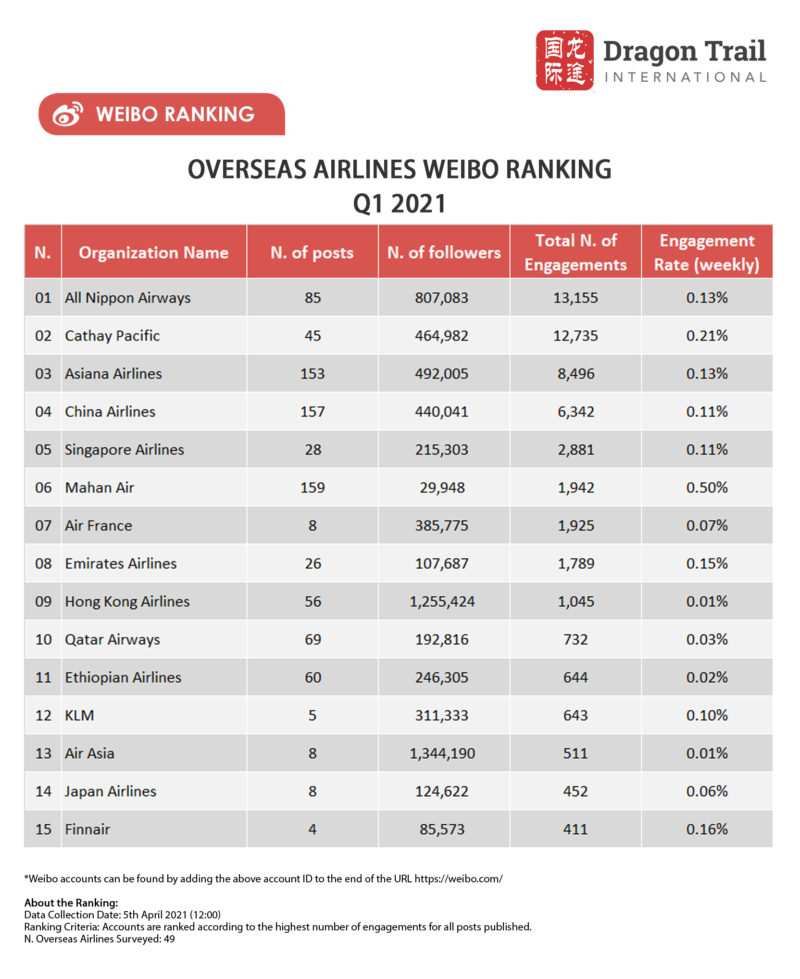 In total, 35 out of 49 airline accounts were active in Q1 2021, up 6% from the previous quarter. Total engagement was down 15% from Q4 2020.
Compared to the previous quarter, top airline content was not just news about flight resumption, but also continuing frequent flyer membership during the pandemic, and Chinese New Year wishes. Additionally, some content with high engagement levels was more related to destination news as opposed to airline news, such as Mahan Air's post about the restoration of Bam Citadel.

Left: Air France's Chinese New Year wishes. Middle: Mahan Air on news about the restoration of Bam Citadel. Right: Cathay Pacific on resumption of flights between Hong Kong and Chengdu.
Cruise Lines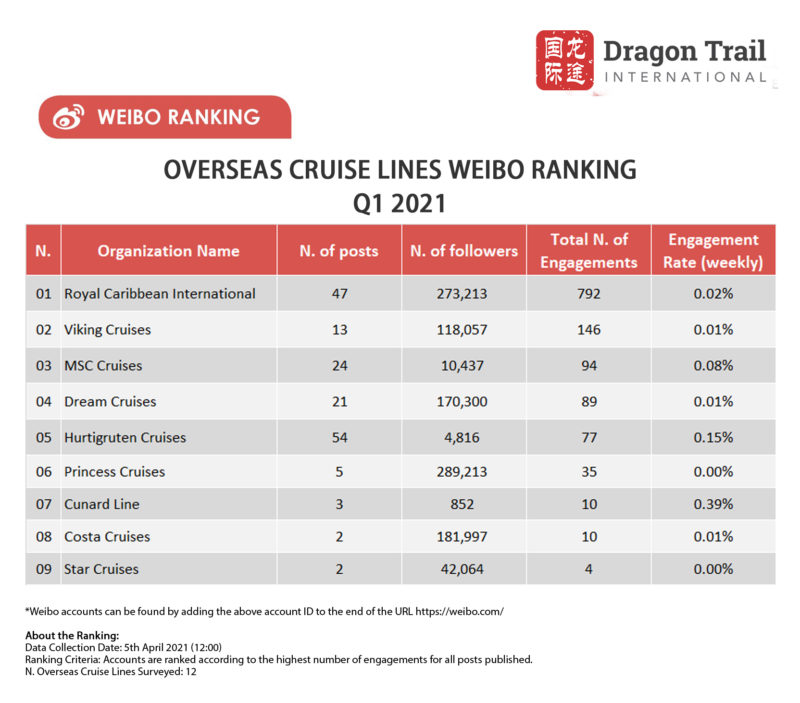 In Q1, 9 out of 12 cruise accounts were active, the same as in Q4 2020. Total engagement saw a 26% drop from Q4 2020.
Despite the decrease of total engagements in the category, the engagement rate for the cruise category increased slightly by 1%. This is attributable to the higher engagement rate from Cunard Line and Hurtigruten Cruises. However, both cruise lines have relatively smaller follower bases, leading to a smaller engagement level compared to other accounts.
The top posts were Chinese New Year wishes from Royal Caribbean International and Viking Cruises, as well as news about resumption of cruises and celebrity endorsements.
Left: Viking Cruises' Chinese New Year wishes. Middle: Royal Caribbean International on actor Zhang Han's (张瀚) role as a ship captain in Chinese TV drama "City of the Sea". Right: Royal Caribbean International on the resumption of cruises in the Caribbean region beginning in June.