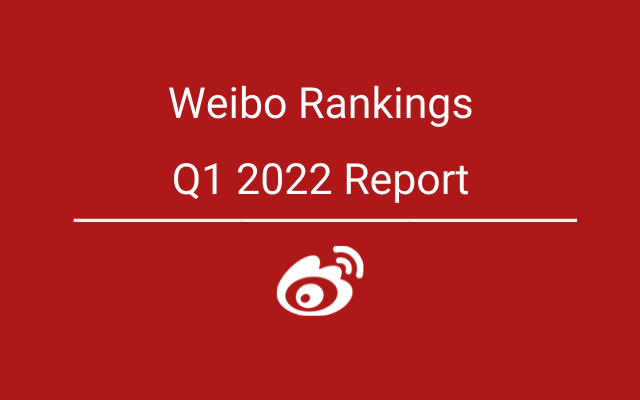 Dragon Trail International's Weibo Rankings Report tracks and analyzes performance for national tourism organizations (NTOs), destination marketing organizations (DMOs), airlines, cruise lines, museums & attractions, and hotels.
In the first quarter of 2022, we found that the kinds of Weibo content that generate the highest number of likes and comments include live streaming and videos – especially "behind the scenes" videos, giveaways, collaborations with KOLs and celebrities, posts that gave readers the opportunity to vote, and Chinese New Year greetings, promotions, and giveaways.
Engagement rate
Engagement rate is calculated weekly by dividing the number of engagements by the number of followers for each account. The quarterly engagement rate is the average of each week's engagement rate.
The engagement rate for each category is lower than it was during Q1 2021, as well as 2021 as a whole. Following a consistent trend over the past years, attractions, NTOs and DMOs are the categories with the highest engagement rate – the attractions category has also seen the smallest decline in engagement rate compared to Q1 2021. This is then followed by hotels, while airlines and then cruise lines have the lowest category engagement rates.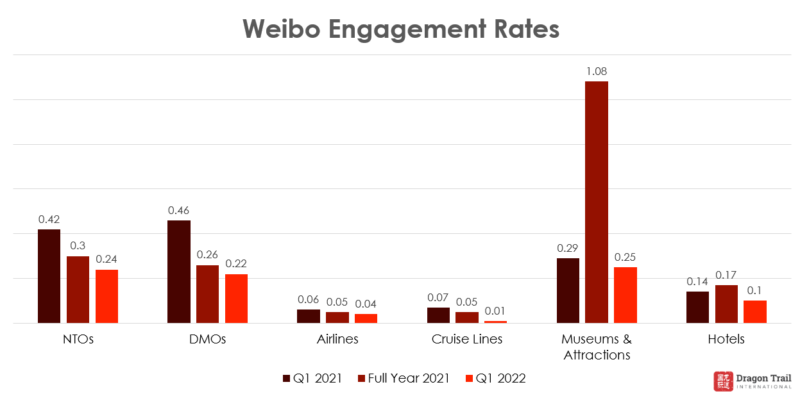 NTOs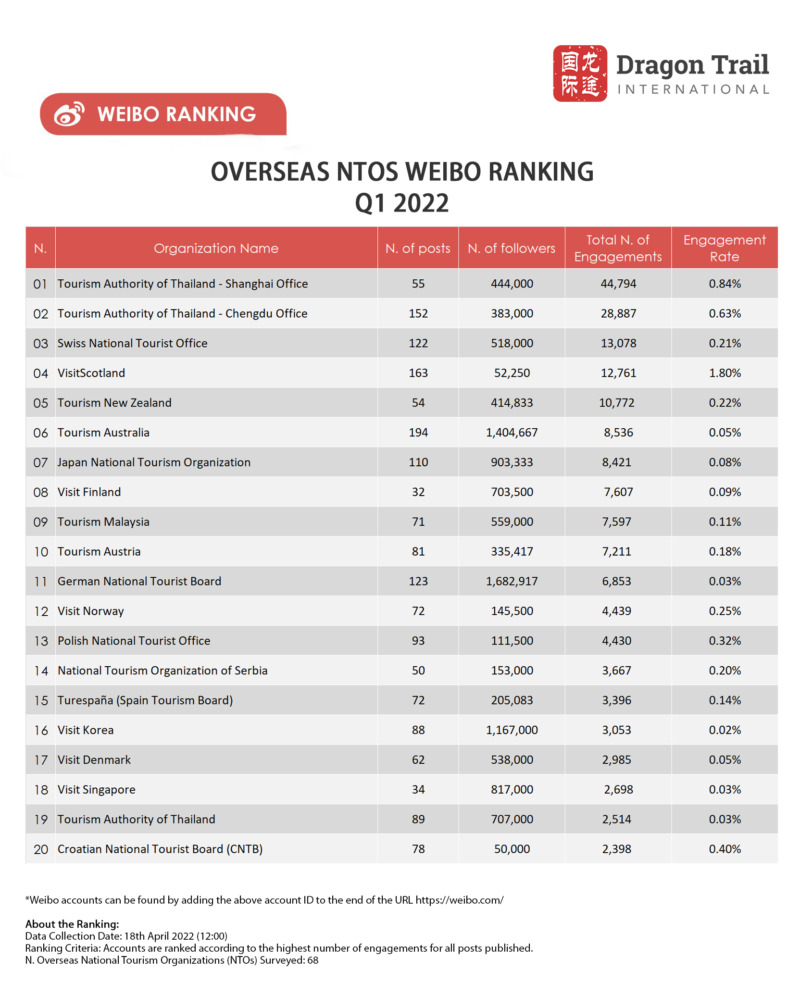 The Weibo posts that received both the most comments and the most likes this quarter came from VisitScotland and Visit Finland. Scotland boasted one of the highest engagement rates in the NTO category, with a strong performance for its Scotland Is Calling video campaign. The first of Finland's top two posts was about seeing the Northern Lights from a small airplane, while the second shared photos of the country's Winter Olympic team.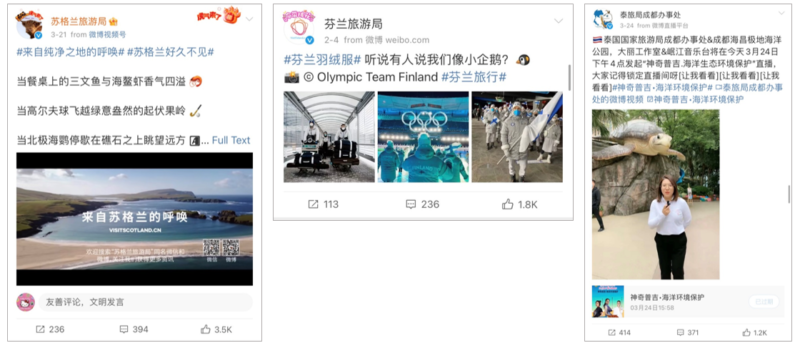 Left to right: Scotland's video campaign, Finland's Olympic team, Thailand's responsible tourism-themed live streaming
The Tourism Authority of Thailand Shanghai and Chengdu offices got the highest number of engagements, for posts including Chinese New Year greetings, photos of cherry blossoms, and a responsible tourism-focused live stream called Amazing Phuket to Save the World.
Other notable posts for the engagements they attracted included: a VisitBritain live streaming from London's Chinatown; New Zealand's poll to choose a name for a baby kiwi bird; a giveaway to win Airpods from Tourism Malaysia; a KOL collaboration to promote solo travel on International Women's Day from the Polish National Tourism Organization; and Croatia's announcement that they had won an award from OTA Tuniu for most popular travel destination.
DMOs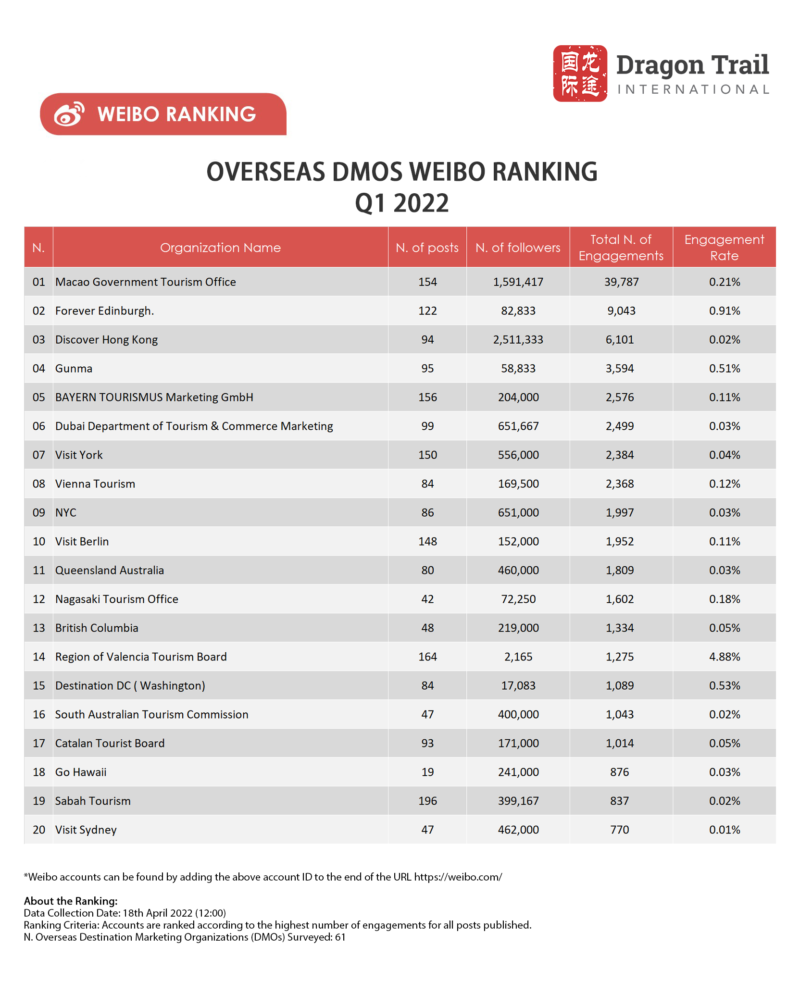 Edinburgh published the DMO Weibo posts with the most comments (a whisky-themed live streaming) and the most likes (photos of cats in Edinburgh for the Year of the Tiger). Hong Kong also received a very high number of both comments and likes for its short video of a celebrity cooking challenge featuring five comedians.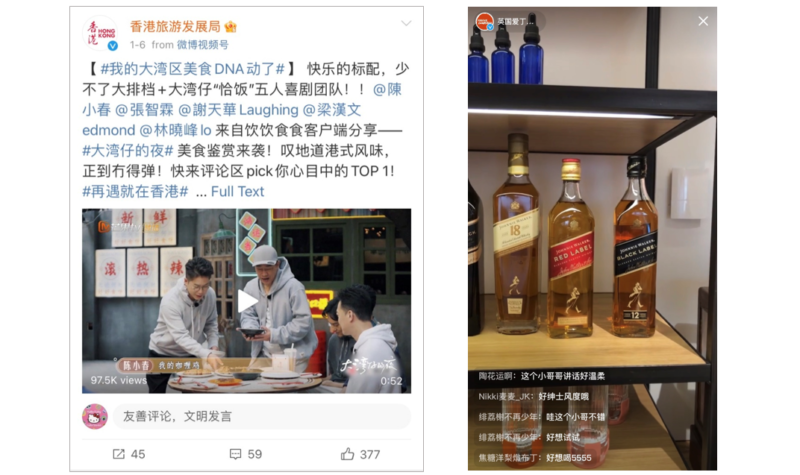 Top DMO content included a cooking challenge for comedians in Hong Kong (left) and a live streaming from Edinburgh's Johnnie Walker Princes Street (right)
The DMO category revealed two strategies that result in high engagement: The first is giveaways, including those from Nagasaki, Gunma, and Macau. The second is using Weibo's polling feature, as Hong Kong did on several occasions to run quizzes about the destination, and Nagasaki used to ask followers to vote for their favorite seafood dish.
Airlines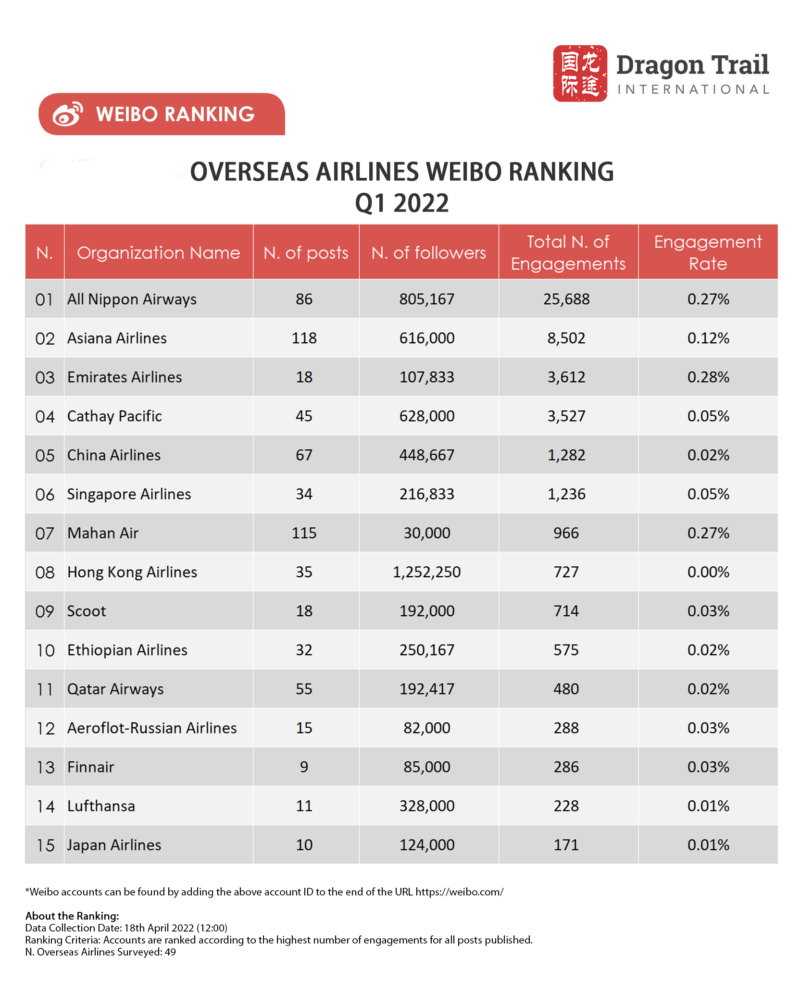 This quarter, All Nippon Airlines had by far the most engagements per post out of any airline account. In total, it received almost 18 times the average number of engagements for this category. It's also one of the most active accounts, with the 4th highest follower numbers. In Q1, ANA benefitted from its partnership with Japanese figure skater Yuzuru Hanyu, who has a huge following in China. The airline's top post, published during a men's figure skating event at the Beijing 2022 Winter Olympics, asked "Are you ready for the show to start?" ANA's promotional video of Yuzuru Hanyu getting ready for a flight was a hit in late 2021, and the behind-the-scenes video that showed the making of this piece proved just as popular in Q1 2022.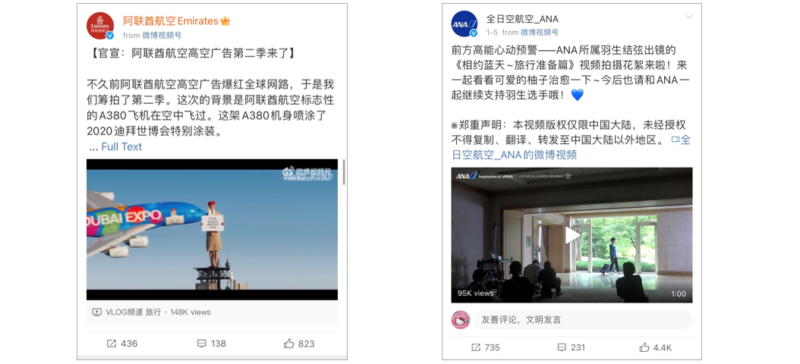 Promotional videos and their making-of videos proved brought high engagement to Emirates Airline's (left) and All Nippon Airways' (right) accounts
Another airline that published an incredibly successful "behind-the-scenes" video was Emirates. Their promotional video for Expo 2020 Dubai, featuring a flight attendant standing atop the Burj Khalifa as a plane flew by, was popular – but the "making of" video got more likes and comments.
The airline Weibo post with the most comments in Q1 2022 was Singapore Airlines' Chinese New Year giveaway of snack foods – also shared by other Singapore-based accounts, this giveaway generated a high number of engagements for Marina Bay Sands hotel as well.
Cruises
The cruise category has a very low engagement rate compared to other categories on Weibo, which is consistent with previous quarters. The posts that performed best in terms of comments and likes were a Chinese New Year giveaway from Viking Cruises, and a number of posts – including photos and a video – from Royal Caribbean International to announce the launch of their new Wonder of the Seas.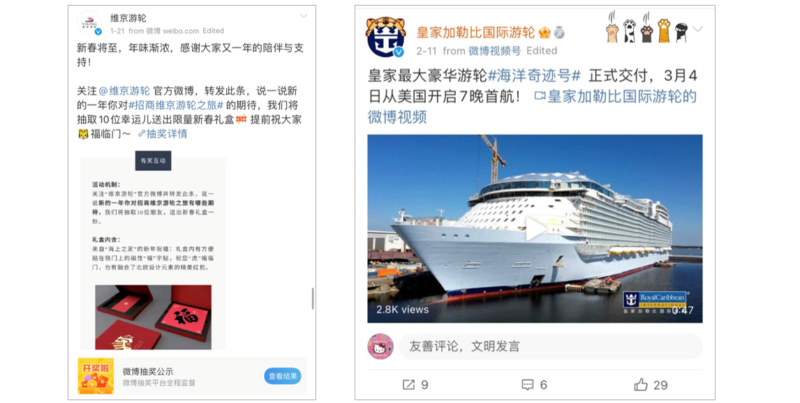 Viking Cruises' Chinese New Year giveaway (left) and a video introducing Royal Caribbean's Wonder of the Seas (right)
Museums and Attractions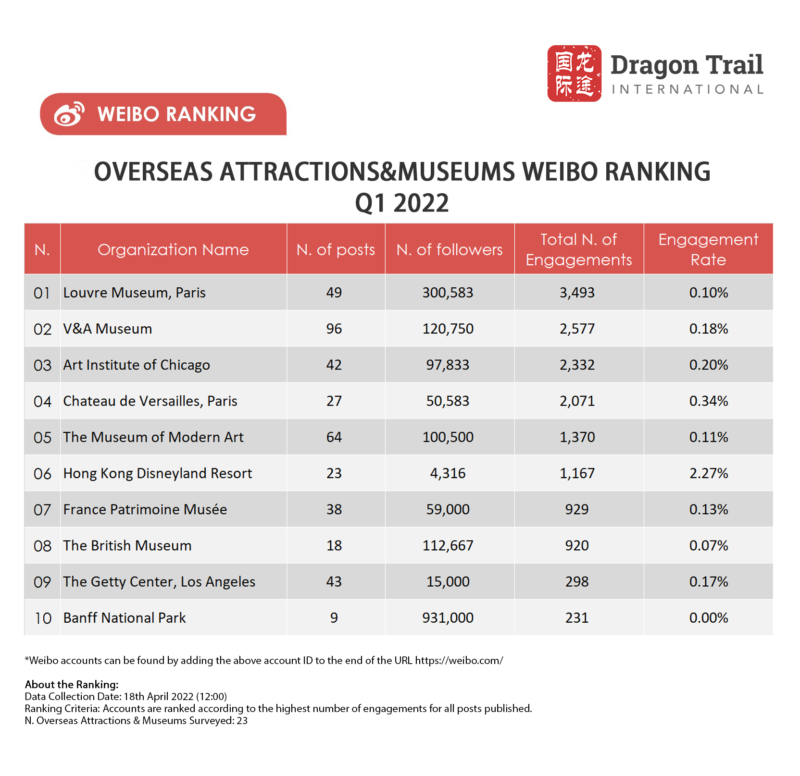 In the Museums and Attractions category, the Chateau de Versailles attracted the most engagements per post, followed by the Louvre. Popular posts from Versailles included voting for the account's new cover picture, a news piece about the opening of Campus Versailles, a Women's Day feature on female artists, and old photos of the Chateau and its grounds during WWII. The most engaging post of the quarter came from the Louvre Museum, telling the story of Pisces illustrated with artwork from the museum.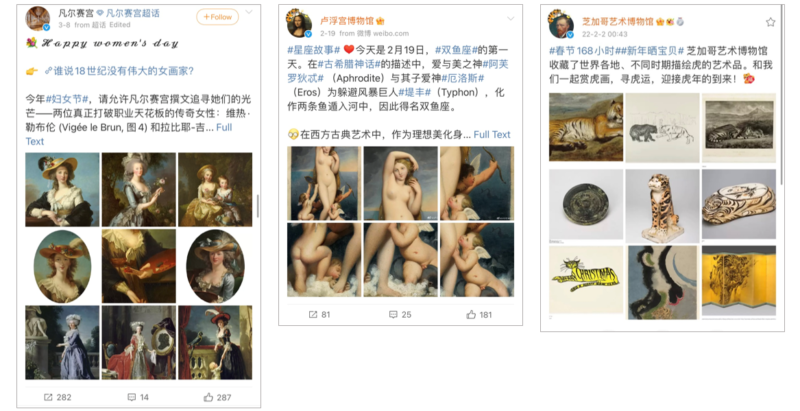 Left to right: Portraits by female artists at the Chateau de Versailles, the story of Pisces at the Louvre Museum, and tigers for Chinese New Year at the Art Institute of Chicago
Other popular posts included Chinese New Year greetings featuring pieces from the V&A and Art Institute of Chicago's collections, and Chinese New Year greetings from Hong Kong Disneyland and the Museum of Modern Art.
Hotels
Hilton had an extremely high engagement rate this quarter, driven in part by an immensely successful online stand-up comedy event at the start of the year. Live streamed through Douyin, the event was promoted with a video and giveaway, and generated thousands of likes and comments.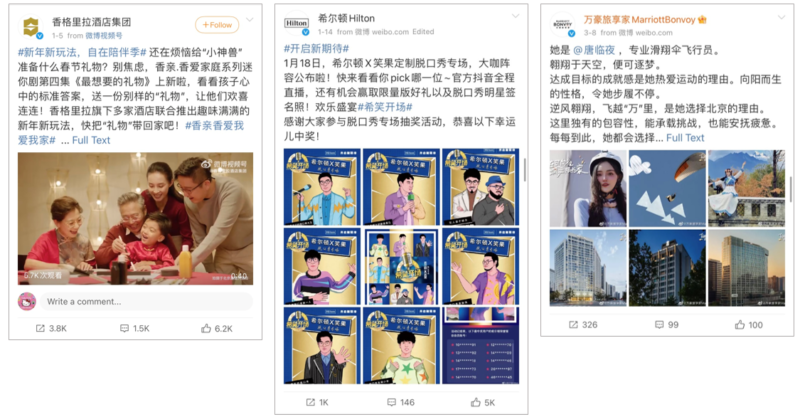 Left to right: Shangri-la's family-oriented Chinese New Year video, Hilton's stand up comedy live streaming, Marriott's promotion with KOL Tang Linye
Another hugely popular post was a short video by Shangri-la Hotels about what children want for Chinese New Year, promoting all of the child-friendly and family fun activities on offer.
Bulgari generated high engagements with posts on afternoon teas and spas at properties both in China and abroad, and Marriott ran a successful promotion with KOL and parasailer Tang Linye.