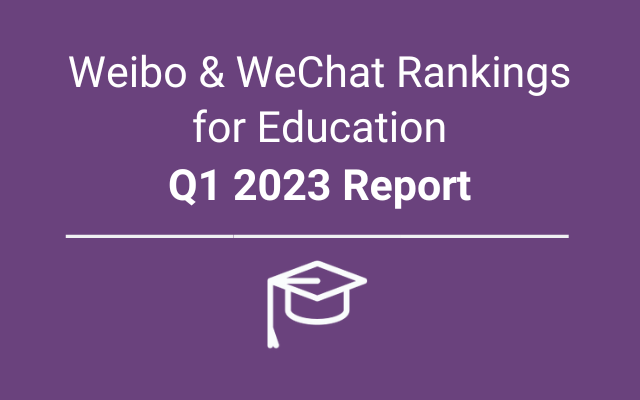 Dragon Trail's Q1 2023 University Rankings Report for WeChat and Weibo assesses Chinese social media marketing by overseas universities in the first quarter of 2023. Our analysis reveals the leading universities, countries, posts, and types of content for attracting views and engagement on China's two top social media platforms.
Top social media content in Q1 2023 included posts relating to Chinese New Year, information about policies that impact students, academic programs, and international university ranking results such as the QS World Rankings.
Q1 Rankings and Top Content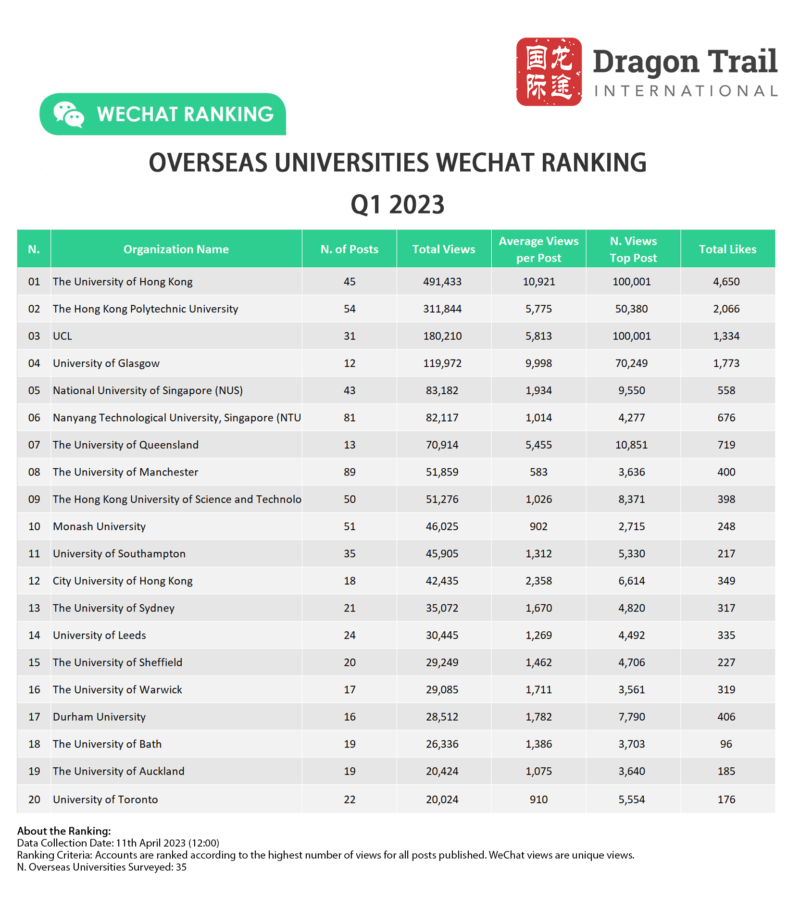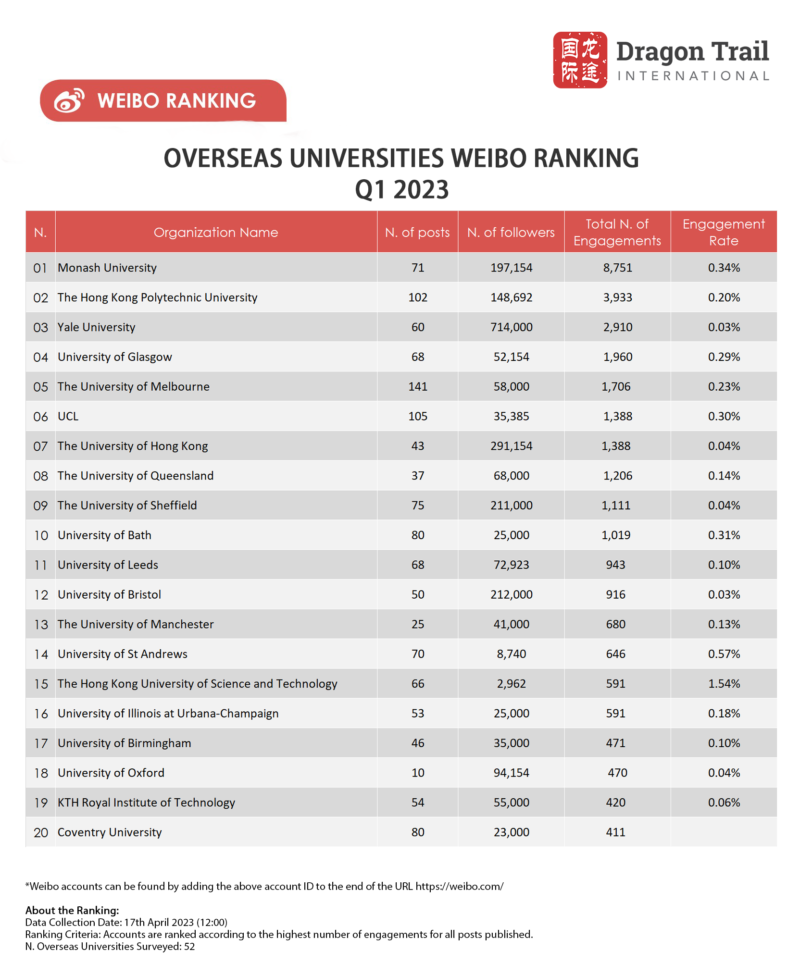 The rankings tables for the first quarter of 2023 are fairly consistent with results from the last seven months of 2022, with especially strong performance by several universities in Hong Kong, and a list featuring a significant number of British universities, as well as some stand-out accounts from Australia. The WeChat Rankings also have two Singaporean universities in the top 10.
Since the 2023 rankings do not include any data from Q1, are there any obvious seasonal trends that set this quarter apart? Chinese New Year was a top theme for posts with the highest views and engagement. On WeChat, this included digital red envelopes from the University of Hong Kong and Hong Kong Polytechnic University. On Weibo, all three posts with the most likes were related to Chinese New Year. The first was a short video by Yale University of Winter Olympic figure skating champion and Yale class of 2023 member Nathan Chen at a White House reception to celebrate the Lunar New Year. The second most-liked university Weibo post was a Chinese New Year message in Mandarin, from an assistant dean at the University of Melbourne. Third, Hong Kong Polytechnic University wished followers a happy new year, followed by information about their 6th place ranking in the Times Higher Education's list of most-international universities.


Popular Chinese New Year content from universities: Digital red envelopes from the University of Hong Kong, an address in Mandarin from Melbourne University, and Yale student and Olympic champion Nathan Chen at the White House Lunar New Year celebration
Ranked no. 1 in 2022, Australia's Monash University continued its strong performance on Weibo. Its top posts were an announcement about the Australian government's decision to extend the post-graduation period in which international students are allowed to work in Australia; a video about Monash's study abroad program in Malaysia; and a video about the university's communications and media studies program.
Popular on both social media platforms was the University of Glasgow's post about its 572nd anniversary in January. With 70,249 views, this was the third most-viewed WeChat post of the quarter. Two universities posted content that surpassed 100k views. The University of Hong Kong published a formal statement addressing false information online about being able to apply through an agency, stressing that all students must fulfill the same application requirements and submit their own applications. The other article with more than 100k views came from UCL, announcing its historically strong results in the QS World Rankings. The University of Hong Kong and Queensland University also published popular posts about the QS World Rankings.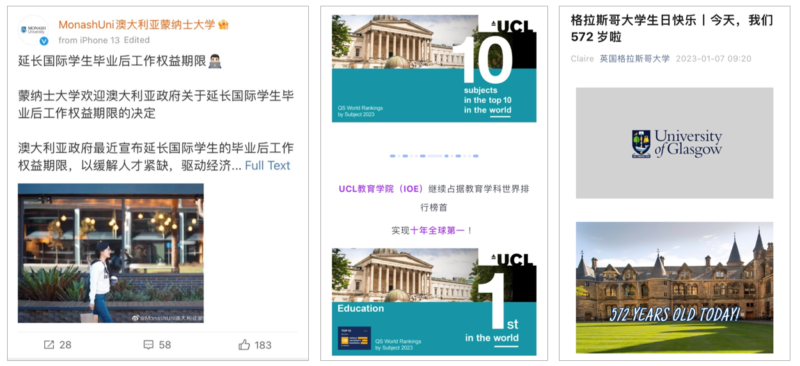 Left to right: Monash University announces new rules for international students staying in Australia, UCL celebrates its best-ever QS rankings, and the University of Glasgow celebrates its 572nd birthday
With more than 50,000 views, Hong Kong Polytechnic University's top WeChat article promoted the school's summer term – this was also the topic for several of their other leading articles.
On WeChat, average views per post in Q1 2023 for overseas universities were up by 9.1% compared to the last seven months of 2022. Weibo engagement rates were down 17.6%.
Methodology
Dragon Trail's Q1 2023 University Rankings Report analyzes data collected weekly from the Chinese social media accounts of overseas universities, on the platforms WeChat and Weibo. As with our rankings for the tourism industry, WeChat accounts are ranked by total number of article views for the week, and Weibo accounts are ranked by total number of audience engagements (likes, reposts, and comments) for the week. Data is collected each Monday, for the previous week's Saturday-Friday.
Universities who would like to be added to the list should contact Dragon Trail directly at communications@dragontrail.com.