Dragon Trail's WeChat Rankings Report for Q1 2021 examines and analyzes the performance of six categories of travel brands on WeChat: national tourism organizations (NTOs), destination marketing organizations (DMOs, referring to regional and municipal tourism boards), airlines, cruise lines, museums and attractions, and hotels.
Introduction
One year into the coronavirus pandemic, what changes have there been in WeChat marketing content from international travel brands, and reader engagement with this content? While views of posts by international airlines and cruise lines have dropped significantly below pre-pandemic levels, national tourism boards, attractions, and hotels all enjoyed encouraging growth.
Video content, youth-oriented posts on daka destinations, post-pandemic travel trends like self-driving and camping, and hotel loyalty club promotions all stood out this quarter. While brand rankings remain fairly stable, the start of 2021 has seen strong performances by European DMOs, with Peru emerging as a dark horse among NTOs.
NTOs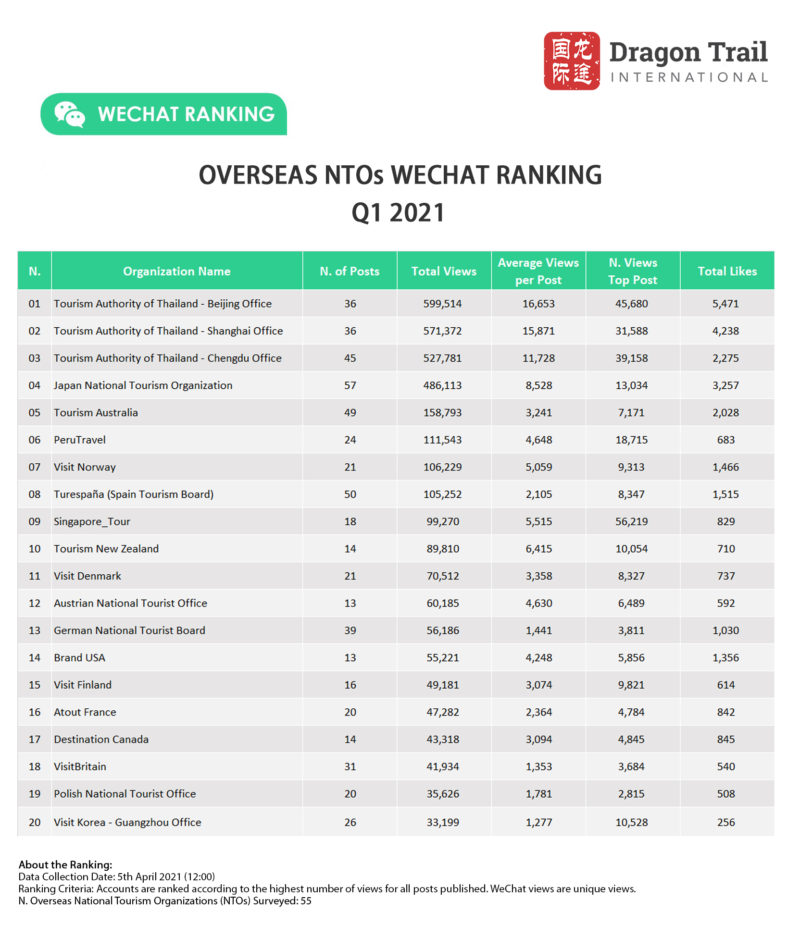 With an average of 4,133 views per post, views of NTO content on WeChat in the first quarter of 2021 were up by 32.4% compared to the same period in 2020, and by 24.7% compared to Q1 2019 – long before the pandemic began. That after a full year of no outbound tourism, engagement with destination WeChat content has increased by this much should be very heartening to tourism boards, and one more sign of the Chinese travel market's appetite for seeing the world.
At the top of the rankings are familiar accounts: Thailand's three WeChat accounts holding the first three spots for both total views and average article views, followed by Japan, and then Australia. Among the Tourism Authority of Thailand's three accounts, the Beijing-based one gets the biggest readership, with top articles in Q1 including a camping guide, self-driving guide, and thank you to followers for their support in 2020 – most of the top posts include some kind of giveaway, which obviously drives opens and shares.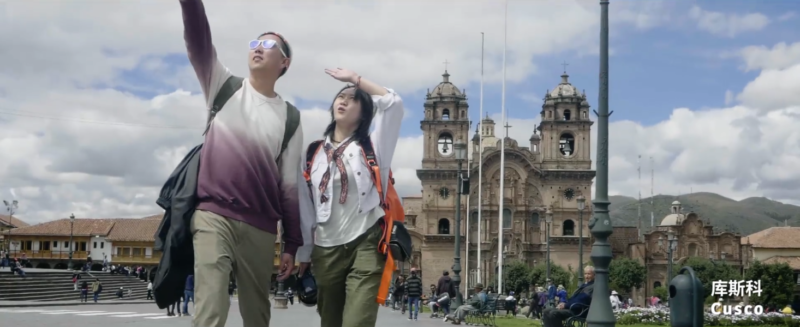 Peru's short video content helped it to become the best performing Latin American NTO in WeChat history
What's newer and more surprising about the quarterly results is finding Peru in the 6th spot by total article views. Peru became the first Latin American tourism board to rank in the top 20 WeChat accounts last year, and has been climbing up the rankings, with video content one key to their success. In Q1, Peru's top WeChat post was a 3-minute video on culture in Peru, which received 18,715 views the week it was released, and has more than 22,700 views as of mid-April.
DMOs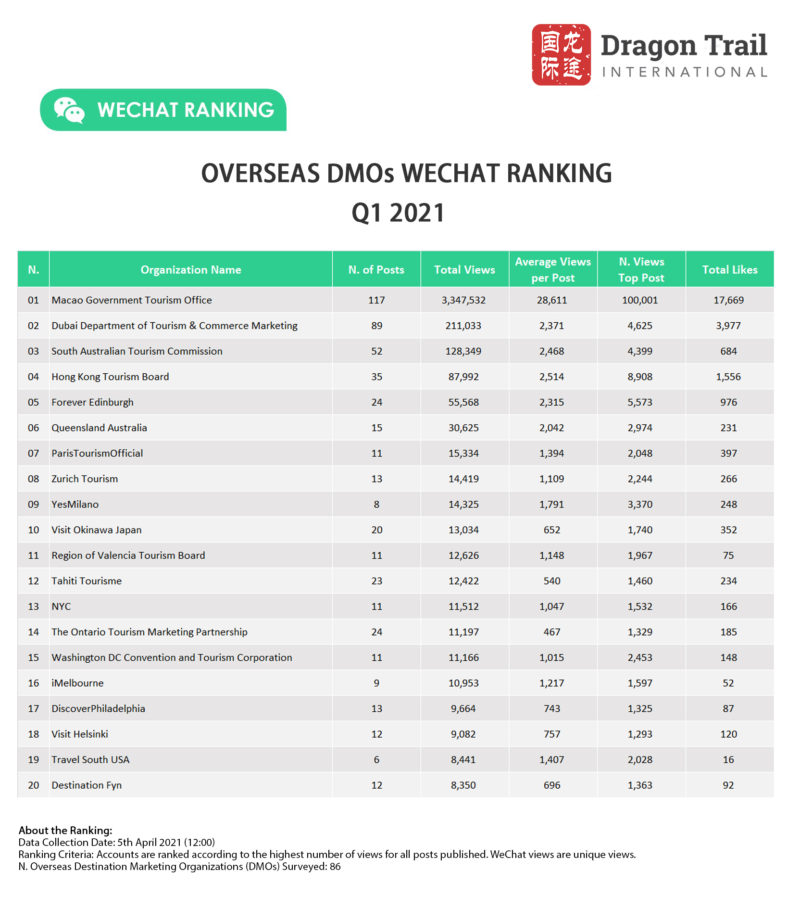 The five DMO accounts at the top of the WeChat rankings in Q1 2021 are the same as in the last quarter and in 2020 as a whole. But there are a few changes in the top 20 list. First, there's been a reduction in content from Canadian accounts, with 2020's strong British Columbia and Tourism Vancouver WeChat accounts posting just twice and not at all in Q1 2021, respectively. We also see a further reduction in the number of US DMOs in the top 20 list, opening up room for more European DMOs to climb up the rankings, as well as Visit Okinawa. A newcomer to WeChat in January 2021, Spain's Region of Valencia Tourism Board account made its WeChat debut this quarter ranked 11th for total views.
Macao remains an outlier, posting 7.3 times more than the average DMO account, and attracting 81.2% of the total article views in the DMO category. Macao achieved more than 100,000 views for two articles during Q1: The first was a giveaway of 50% off hotel vouchers, and the second was an article about the new The Londoner Hotel. Looking at the DMO category as a whole, average views per post were 215% higher in Q1 2021 compared to the same period the previous year. But if we remove Macao's results, then average views per post for DMOs actually declined by 31% year on year.
Hong Kong has increased its frequency of posting since last year and can once again be found regularly in the top accounts every week, after major reduction in activity in the second half of 2019. The SAR is due to reopen to mainland visitors from mid-May this year. Hong Kong's most-viewed post was right at the end of the quarter, about an online concert to pay tribute to late Cantopop icon Leslie Cheung. A tourism marketing video clearly aimed at younger Chinese visitors was also a popular WeChat post for the quarter.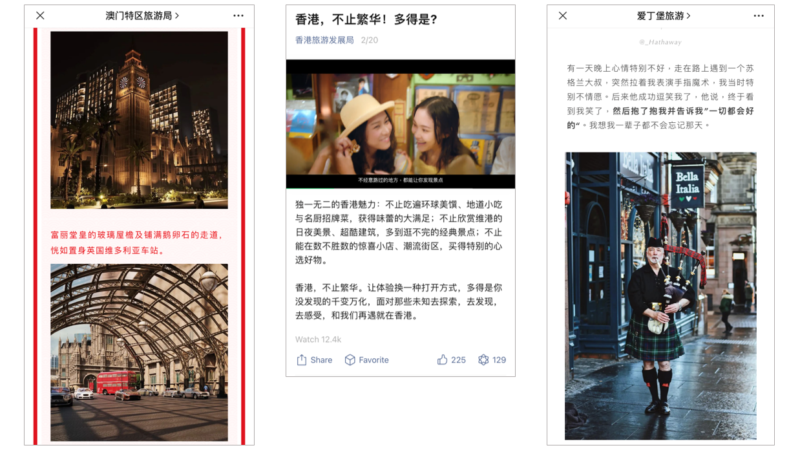 Top DMO posts for the quarter included Macau's profile of The Londoner Hotel, a short video from Hong Kong, and readers' stories of kindness in Edinburgh
Beyond Greater China, the most-viewed DMO post of the quarter was published by Edinburgh in January. Titled "If you're upset, come to Edinburgh," the article was a very touching compilation of stories from followers about friendliness and kindness they had experienced from locals while in Edinburgh. This kind of organic, emotionally-driven post is at the core of Edinburgh's highly successful WeChat marketing strategy, and provides an excellent model for demonstrating that a destination is friendly to Chinese – a major concern among Chinese travelers at present.
Airlines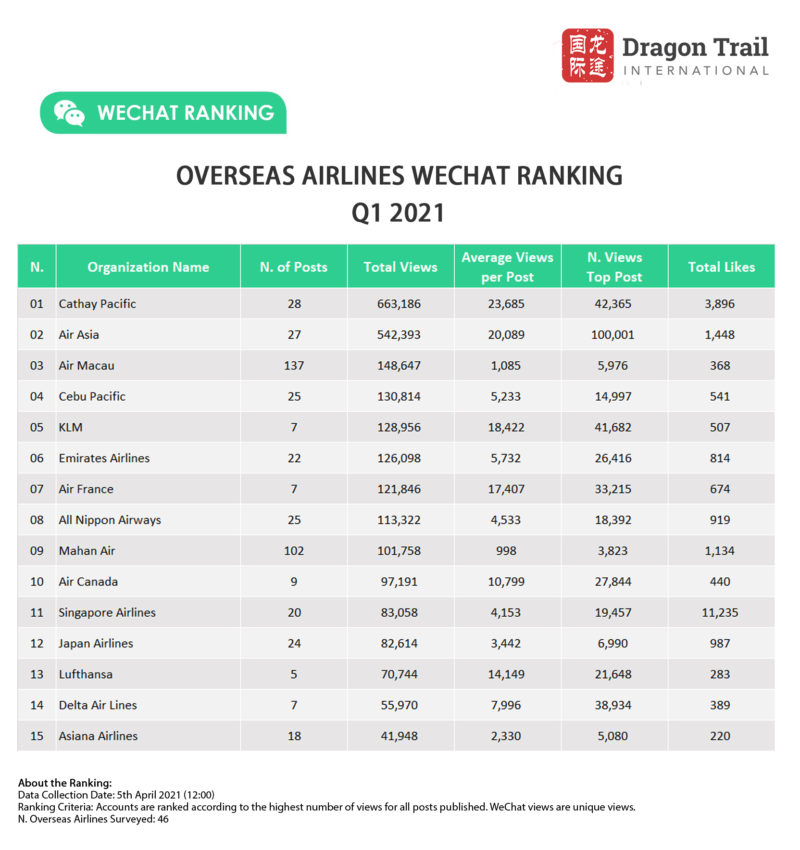 When the coronavirus pandemic first started in Q1 2020, views of WeChat posts by airlines surged due to travelers looking for news about canceled flights and refund policies. As time went on, views of content by international airlines dropped off, and average views per post in Q1 2021 (3,946) were 23% lower than in Q1 2019 (pre-pandemic).
The most-viewed articles of the last quarter were mostly pandemic-related. AirAsia surpassed 100,000 views for a video from its CEO, asking for patience in issuing refunds. The comments on this post were very positive and sympathetic. Cathay Pacific's most-viewed post was about transporting the first shipment of vaccines to Hong Kong. KLM's and Air France's most-viewed posts were about the single-ticket policy for passengers traveling to China via Schipol and Charles de Gaulle airports, respectively. And one of the other most-viewed posts of the quarter was an announcement about a change in departure airport for Delta flights from the US to China.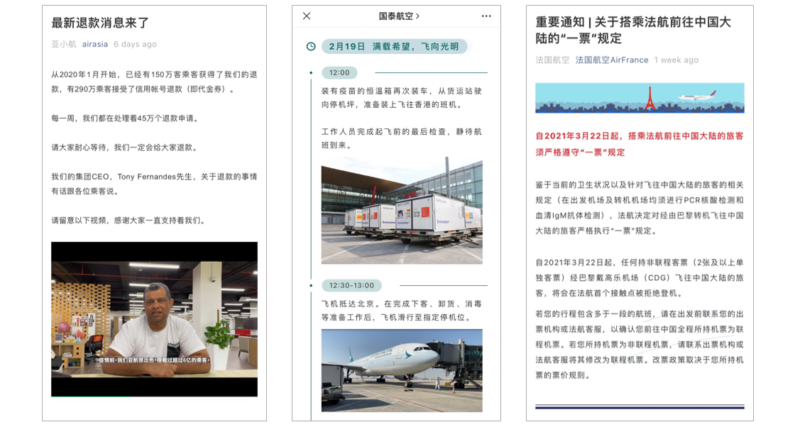 Q1's most-viewed airline posts included a video from AirAsia's CEO about refunds, updates from Cathay Pacific about transporting vaccines, and announcements about new travel rules from Air France and others
Cruise Lines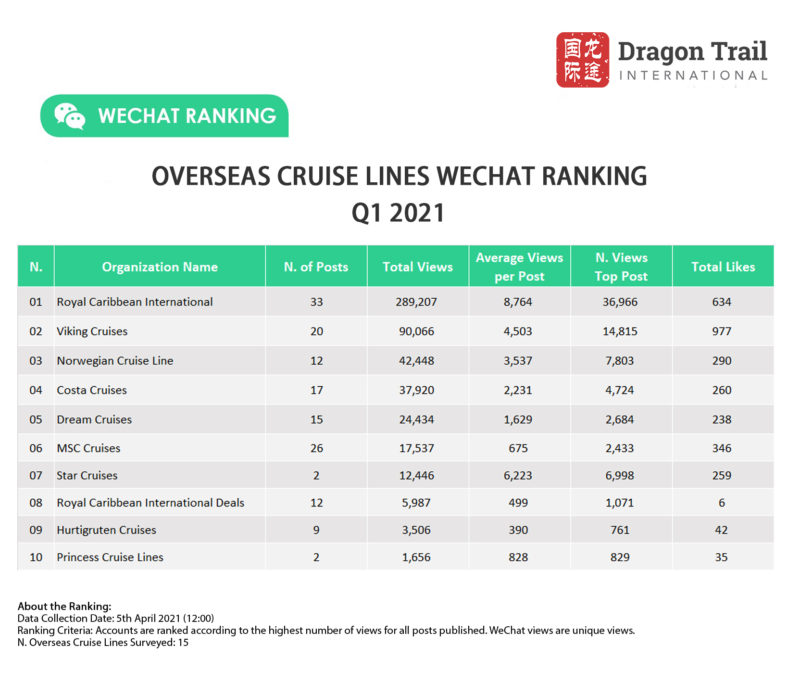 Like airlines, cruise lines also saw a surge in views in Q1 2020, as the pandemic first hit China and then the rest of the world. And like airlines, cruise lines have seen a major reduction in views since then, with average views per post in Q1 2021 less than half of what they were during the same quarter last year.
The top articles of the quarter were about a buy-two-get-two-free offer from Royal Caribbean International. Another top-performing post offers some optimism for the cruise industry: Viking Cruises' recent announcement that their ship, Viking Sun, is out of quarantine in Shenzhen, and planned to be put back into use for domestic cruises along China's coast. Another interesting development for cruise marketing in Q1 2021 is the return of Norwegian Cruise Line, which had stopped posting on WeChat back in March 2019, but resumed activity in January this year. They ranked third for total views for the quarter.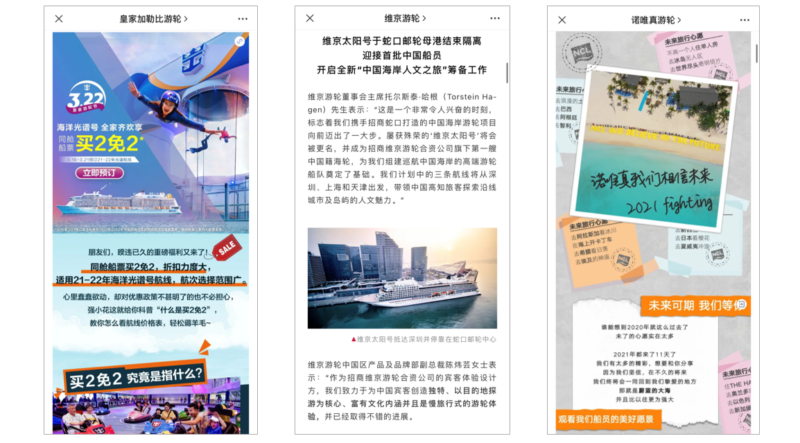 Cruise line content in Q1 2021: Royal Caribbean International attracted attention with discounts, Viking Cruises announced plans to start domestic coastal routes, and Norwegian Cruise Line returned to WeChat
Museums and Attractions
In the Museums and Attractions category, it's Hong Kong Disneyland that's the outlier, with total article views 9.6 times above the category average. However, with or without this account factored in, the category did see a year on year increase in average views – by 27.9% with Disneyland, and by 17.6% without. Disneyland's most-viewed article of the quarter was a set of WeChat stickers released for Chinese New Year.
Looking specifically at museums, the British Museum continues to attract the highest average views – its top posts for the quarter included a 2021 exhibition guide, an article on museum shop products for Chinese New Year and Valentine's Day, and a feature on women working at the museum for International Women's Day. Other top museum content in Q1 included a Women's Day article on female photographers at the Museum of Modern Art in New York, and a Chinese New Year post on cows in artworks at the Art Institute of Chicago.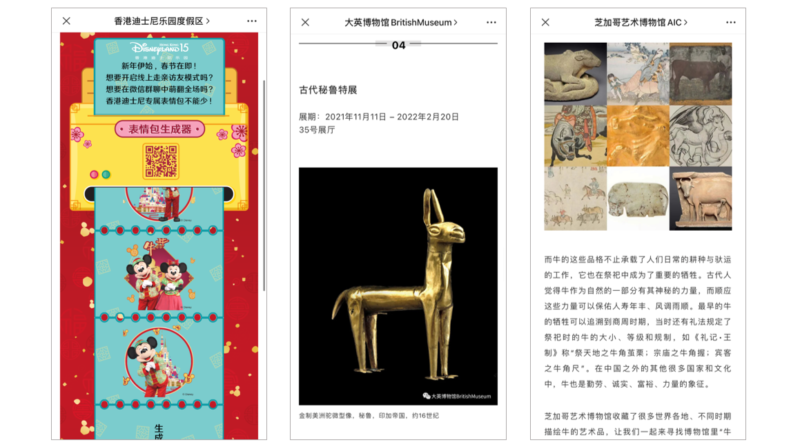 Top posts from attractions and museums around the world: WeChat stickers from Hong Kong Disneyland, 2021's exhibition schedule at The British Museum, and cows at the Art Museum of Chicago for Chinese New Year
Hotels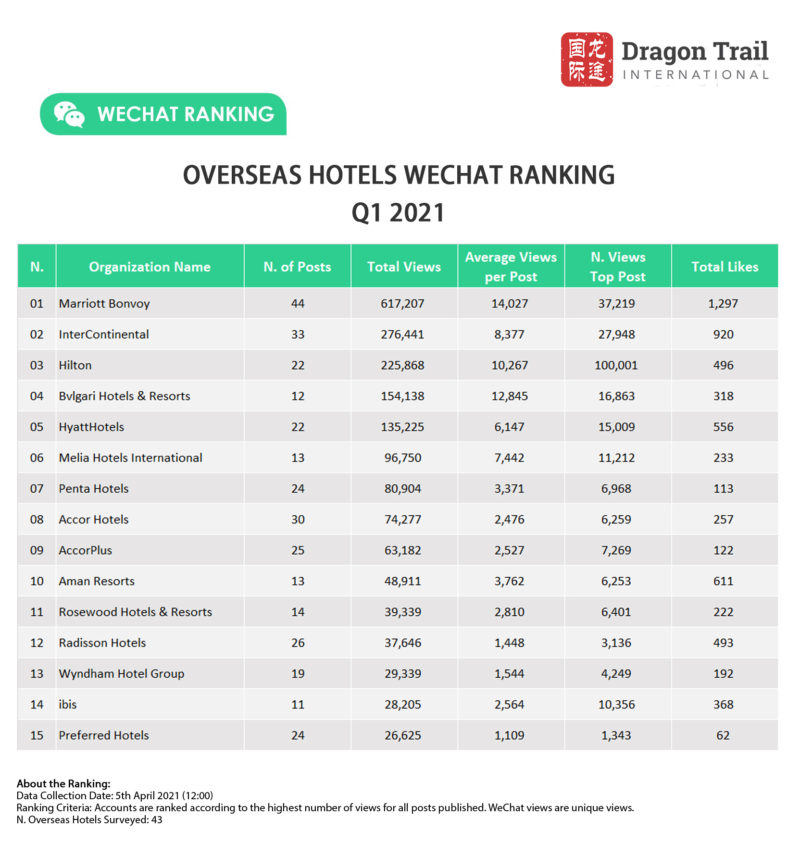 Similarly to airlines and cruise lines, hotels got a boost in views per post at the start of the pandemic because of information on closures, cancellations, and refunds. While the attention has subsided from that crisis period, we can see healthy growth for hotels on WeChat compared to pre-pandemic – average views per post in Q1 2021 were 22.5% higher than they were in Q1 2019. Given that even international hotel chains with properties in China faced a challenging quarter due to domestic outbreaks and travel restrictions in January and well into February, this is very positive.
Much of the top content was aimed at loyalty club members, including a members' giveaway promotion from Hilton and Fliggy (100,000+ views), and several monthly members' day posts from Marriott (the most popular got 37,219 views). A January article from InterContinental on winter travel inspiration also stood out, with nearly 28,000 views.