Executive Summary:
Dragon Trail Interactive's WeChat Rankings Report for Q2 2019 reveals the top travel brands and overall trends on WeChat in terms of national and regional tourism boards, airlines, cruise lines, museums & attractions, and international hotels. The top four national tourism boards remain unchanged from Q1, but Q2 2019 was the first quarter in two and a half years where a European account made the top five. 2019 has also seen major gains for several other European countries, as well as accounts from outside of traditional Chinese tourism destinations. Municipal and regional tourism board (DMOs) rankings continue to see strong performances from Hong Kong, Dubai, Macau, and a large number of US accounts, as well as Australia and northwestern Canada. Airline, cruise, and hotel rankings have remained stable in 2019, while London's V&A is a notable addition to the museums & attractions category.
NTOs:
Japan has retained its dominant position among national tourism boards – on the few occasions it was not the 1st place account for the week in the first half of this year, it's come in 2nd. The account's top content has been less flower-themed than it was in 2018, focusing instead on articles that would help independent travelers, including area guides, accommodation and dining recommendations, and travel tips on topics like etiquette, traveling alone, and essential words.
In 2nd place for the second quarter in a row is the Tourism Authority of Thailand's Beijing office. This account has a different strategy from others. They post significantly more articles than the other leading accounts do, and the top content is almost entirely event-related. This includes posts on trade shows and travel fairs, a May events calendar, music festivals, the Songran and Krabi Naga festivals, and a Muay Thai event. Like in Q1 2019, the Tourism Authority of Thailand's Chengdu and Shanghai office accounts also made the top 10.
As in Q1 2019, New Zealand ranked 3rd, with the highest average views per article. They've maintained their strategy of focusing on the country's natural beauty, which continues to do well with their fan base.
What's new in the NTO category?

France jumped from 10th place in Q1 to 5th in Q2, the first time a European national tourism board has made the top 5 in our quarterly WeChat Rankings.
Tourism Ireland, which made the top-20 quarterly list for the first time in Q1 2019, is also climbing the rankings. The tourism board is working towards a goal of doubling Chinese tourism arrivals by 2020, and the new attention to the market is reflected very clearly in WeChat performance – they reached 15th place in Q2, up from 20th in Q1. Tourism Austria is another European account to watch, rising from 18th place in Q1 to 7th in Q2.
As Chinese tourism spreads beyond more traditional destinations, this is reflected in the WeChat rankings. Since Q4 2018, there have been two African accounts on the quarterly top-20 tables: Kenya and South Africa. Previous to this, Kenya was the only African country to make the quarterly rankings table. Although it didn't reach the top 20 for the quarter, Peru's WeChat account did make the rankings for four weeks in Q2 2019, a first for any South American account.
Another account that's been very successful in Q2 is Visit Fiji. The island destination has been working with Chinese actor/singer Leo Luo, and not only ranked in 16th place this quarter, but got the 6th highest average article views.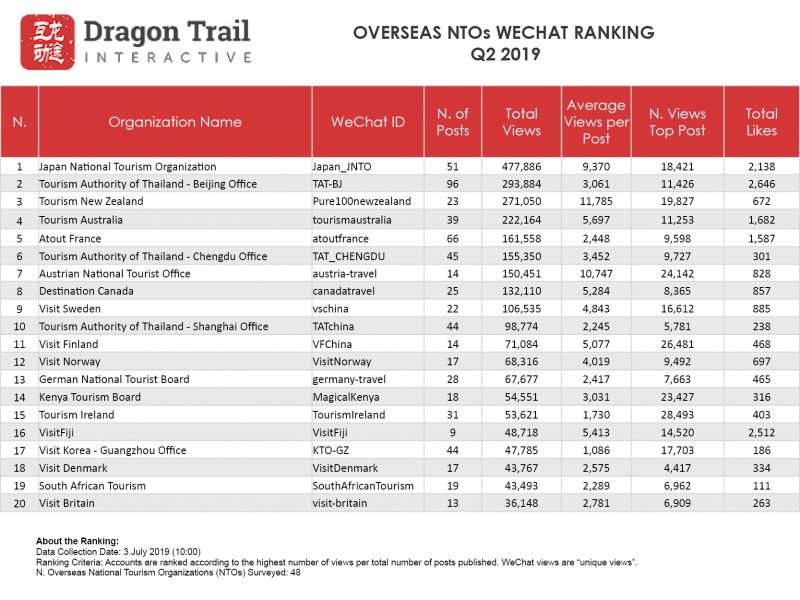 DMOs
From week to week, the three destination marketing organizations nearly always at the top of the WeChat rankings are Dubai, Hong Kong, and Macau. With Hong Kong and Macau the world's top two destinations for Chinese outbound tourism, this makes Dubai's success all the more impressive – especially as they got nearly double the average article views that Macau did in Q2. The city's account works extensively with Tencent and has a strong, multi-faceted marketing strategy that targets different demographics (e.g., families with children, groups of girlfriends) and interests, with plenty of celebrity partnerships as well.
These top accounts publish lots of practical guides around various themes, and dining recommendations. Dubai frequently writes about shopping, while Hong Kong and Macau feature more arts-related content. Municipal DMOs, especially Hong Kong, also attract views for their guides to taking the best photos – especially important to the WeChat Moments/Instagram/selfie generations.
But what's happening outside of these three accounts? Since Dragon Trail started tracking WeChat accounts at the start of 2017, the other places on the DMO top-20 list have been dominated by US, Australian, and Canadian accounts. Nearly every week, we can see three or four Australian accounts on the list. There are more accounts from the US – in Q2 2019, the median number was seven accounts out of the top 20 every week. Canada does not have as many top DMO accounts as it used to – Ontario and Quebec once featured prominently – but British Columbia and Tourism Vancouver are nearly always close to the top of the rankings chart.
Looking at the cumulative Q2 data, there are eight US accounts in the top 20, with Tourism L.A. leading in 3rd place, up from 6th in Q1. Vancouver and British Columbia have both performed even better in Q2 than Q1, and British Columbia's articles actually had the second-highest average views for the quarter.
European DMO accounts lag behind those in North America and Australia, but there are actually more accounts that always or sometimes make the weekly rankings than there used to be. The strongest of these are Edinburgh, Bavaria, and Geneva – the three accounts to make the quarterly top-20 rankings in 2019. Looking at the weekly data, we see some appearances by Bordeaux, Zurich, and Helsinki. Visit York is a newcomer to the DMO rankings this year and sometimes features in the weekly tables, but their average views per post are still very low compared to other accounts, although their frequency of posting is the highest of any DMO on our list (they posted 118 times in Q2, and came in 21st place).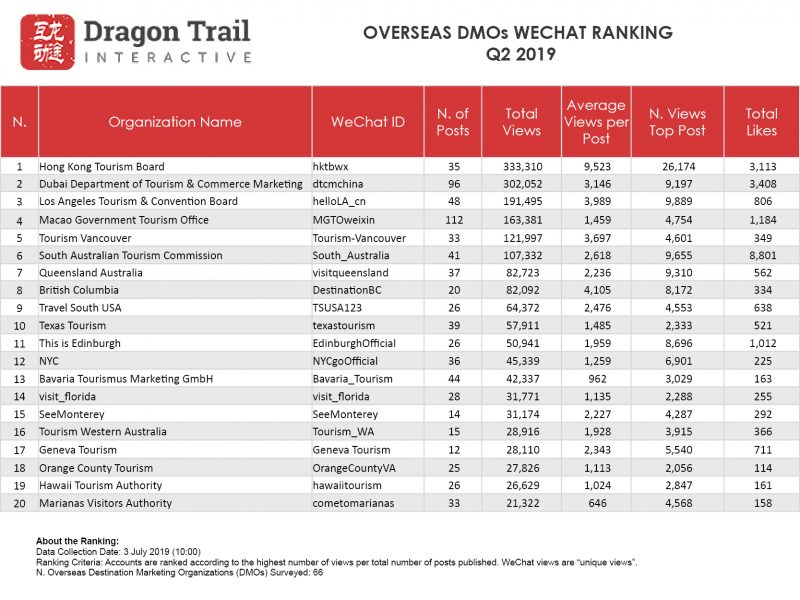 Airlines
Non-Asian carriers made the top three airline accounts three times in Q2 2019 after not featuring at all since October 2018. The posts were an article on Father's Day by KLM, a feature on celebrity pianist Lang Lang's wedding by Air France, and an article on reducing single-use plastics by Emirates Airlines. While the top airline posts tend to be promotions and offers, these examples show that WeChat users are interested in other topics as well. Japanese airlines also stood out for interesting short-video content in the first half of 2019.
The rankings tables for Q1 and Q2 are very similar – the same five non-East Asian carriers (Air New Zealand, KLM, Emirates Airlines, Air Canada, and Air France) made the top-15 in both quarters. After only posting once in Q1, Cathay Pacific was back to a normal posting schedule in Q2, and achieved 4th place. Always strongly in 1st place, AirAsia actually increased both its average article views and total article views in Q2.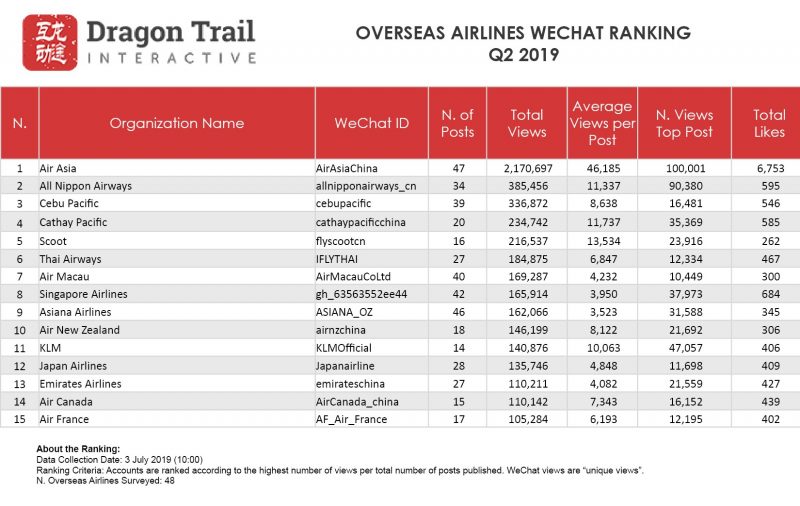 Cruises
Norwegian Cruise Line's ship, Norwegian Joy, left China in April and relaunched in North America. The cruise line also stopped posting on WeChat at the end of March, and has therefore dropped out of the rankings completely in Q2, from fifth place in Q1. The top four accounts – Royal Caribbean International, Dream Cruises, Viking Cruises, and Star Cruises – are unchanged since Q1. Cruise lines' articles focused on deals and promotions, dining, and introducing ships and itineraries. The top article for the first half of the year was Royal Caribbean's May 28 post on deals and promotions, with over 100,000 views.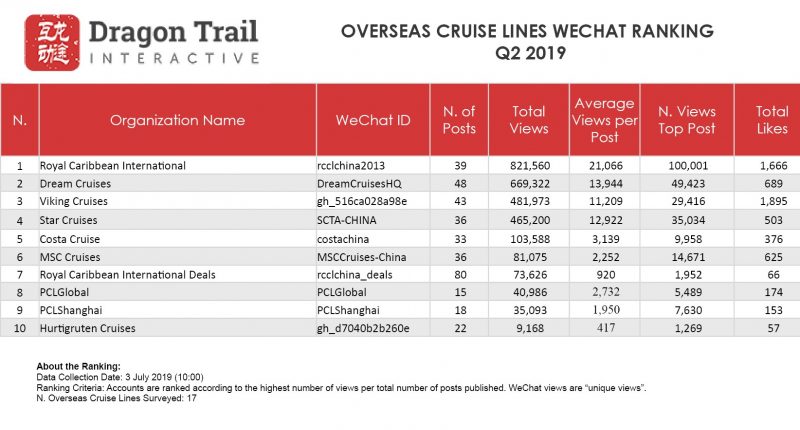 Museums & Attractions
New international museums are becoming active on WeChat this year, with the Metropolitan Museum relaunching its account in April, and the V&A launching a new account in June. The British Museum has maintained its particularly strong performance since it started posting towards the end of 2018, with an average number of views per post that's nearly twice as high as the Louvre, the top museum on the list by total article views, and second for average article views. Melbourne's NGV and New York's Museum of Modern Art are also both still strong, and the first half of 2019 saw top posts from the V&A, the Met, the Asian Art Museum, the Getty Center, and the Chicago Art Institute.
There's a slight rearrangement in the order of the top 10 accounts for Q2 compared to Q1, but no dramatic changes. Hong Kong Disneyland remains far ahead of any other museum or attraction in terms of both total views and average views. The V&A was the only newcomer to the top 10 list this quarter, and considering they only posted four times to get there, we'll expect to see them rise in position later this year.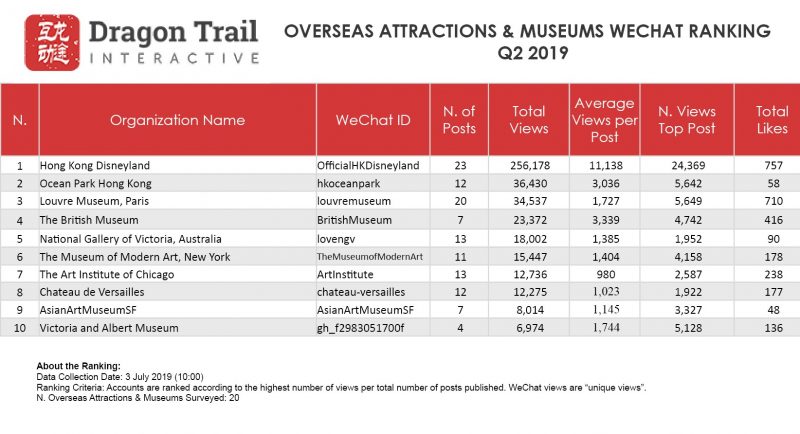 Hotels
One big change to the hotel rankings is the disappearance of the Starwood account – instead, the Marriott Bonvoy account now represents the whole of the world's largest hotel group. Apart from that, Melia Hotels have shown a strong performance in 2019 so far, rising from 3rd place in Q1 to 2nd in Q2. Unlike most other hotel brands, Melia Hotels frequently post about international rather than domestic properties.
The top post from a hotel brand for this quarter was Melia Hotels during the first week of June, with 43,766 views for an article on Melia's 25th anniversary and a 25% discount offer. The top hotel post from the first half of the year was from Marriott, announcing the new Marriott Bonvoy program. The mid-January post got 83,315 views.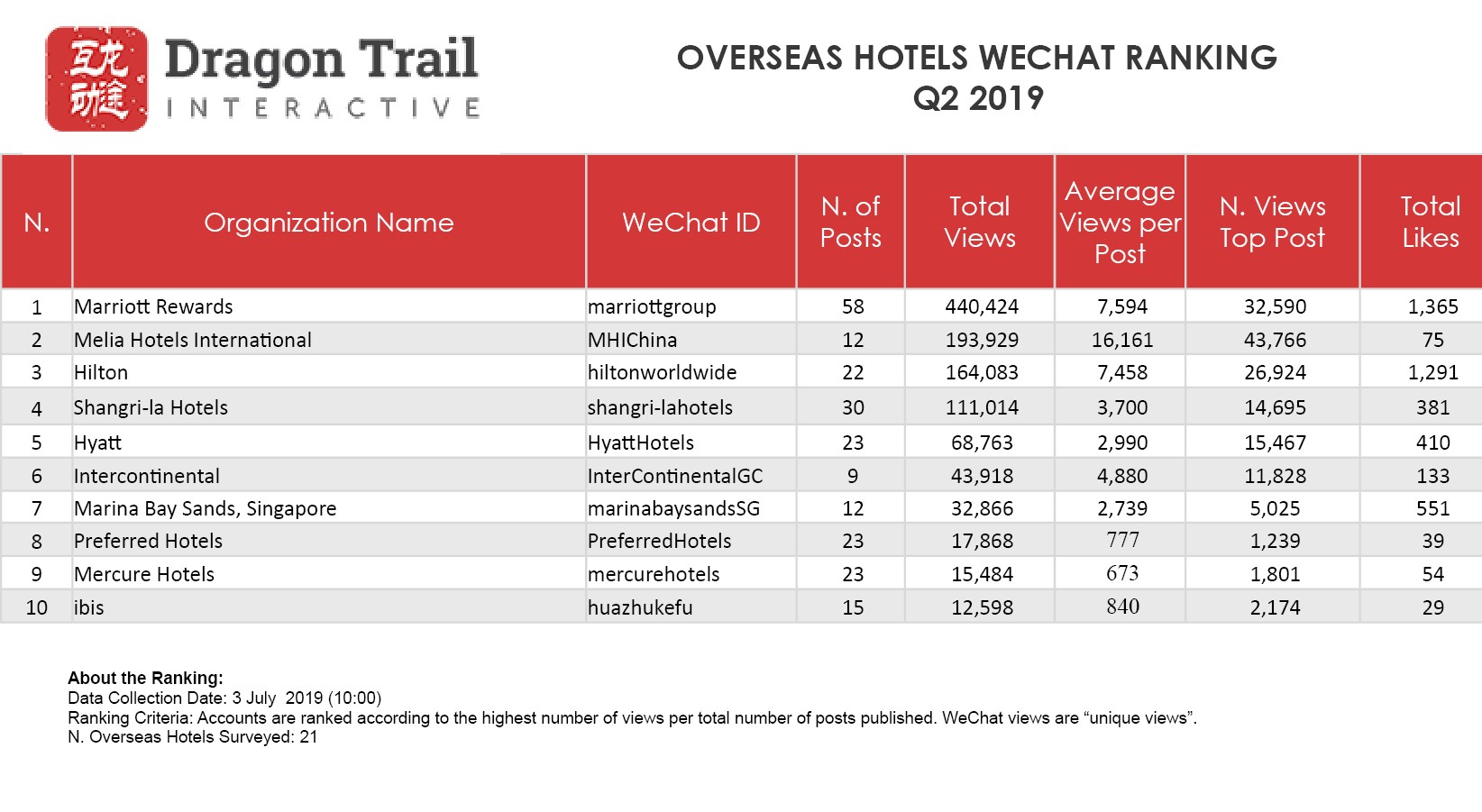 Click here for our complementary report on the top WeChat article themes of H1 2019