Based on our weekly WeChat rankings for travel brands in six categories – national tourism boards, regional destination marketing organizations, airlines, cruise lines, museums & attractions, and hotels – we've compiled overall rankings for Q3 2018, based on the overall number of article views per account. Each category is analyzed below, looking at any changes in the top accounts, as well as the most popular article themes.
More so than any other time of year in China, Q3 offers a number of events and holidays that can be used to promote tourism. The most important is the week-long National Day holiday, starting on October 1, but Mid-Autumn Festival (a three-day weekend in 2018) and Chinese Valentine's Day were also used in promotions by destinations, attractions, cruise lines and airlines. This year, Chinese Valentine's Day fell on a Friday and led to higher tourism consumption than in past years.
NTOs
Japan has been in the lead for NTOs' official accounts on WeChat for all of 2018, and very comfortably held on to its first-place ranking in Q3. Earlier in the year, their top posts were dominated by food- and flower-related content, but Q3's most popular articles were much more mixed, including several area guides to different cities in Japan, B&B recommendations, and even an article about seaside train stations.
Japan was the number one destination for Chinese outbound tourism for the National Day holiday in 2018, and their top WeChat article of the quarter, with over 18,500 views, was published the week before the holiday – potentially when tourists were going online to research things to do on their trips. The article also had a fun and creative theme: Japan's top convenience store snacks. The topic is quirky, food-related, and also relevant no matter where one is visiting in Japan. It's also a great example of how a destination can take something quite mundane and everyday and turn it into a cultural – and even culinary – draw for tourists.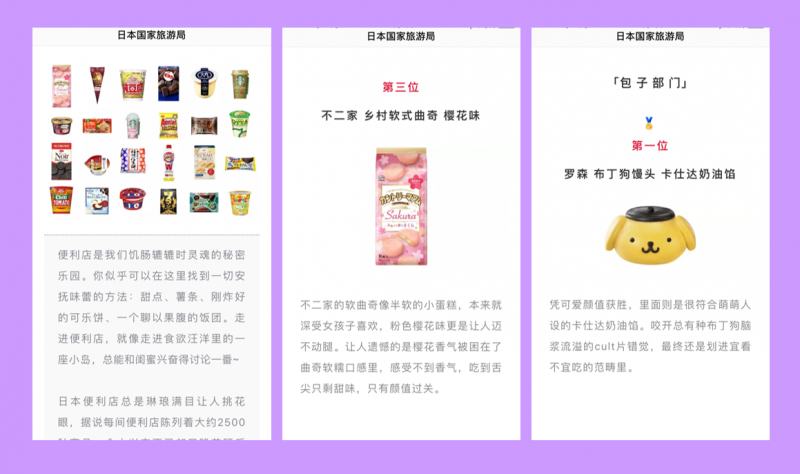 Japan's post on convenience store snacks was its most popular of the quarter, with over 18,500 views

Canada rose up the rankings from 5th place in Q1 2018 to 3rd place in Q2 and 2nd in Q3. Like Japan, Canada also attracted readers with area guides, including two posts on Toronto, a travel guide to Quebec, and their most-viewed post: a Banff travel guide, with 14,464 views during the week of 10-16 September. Canada had a strong nature and rural theme, too, with popular articles on hotels with forest views, maple leaves, self-driving routes and "the five most relaxing towns in Canada".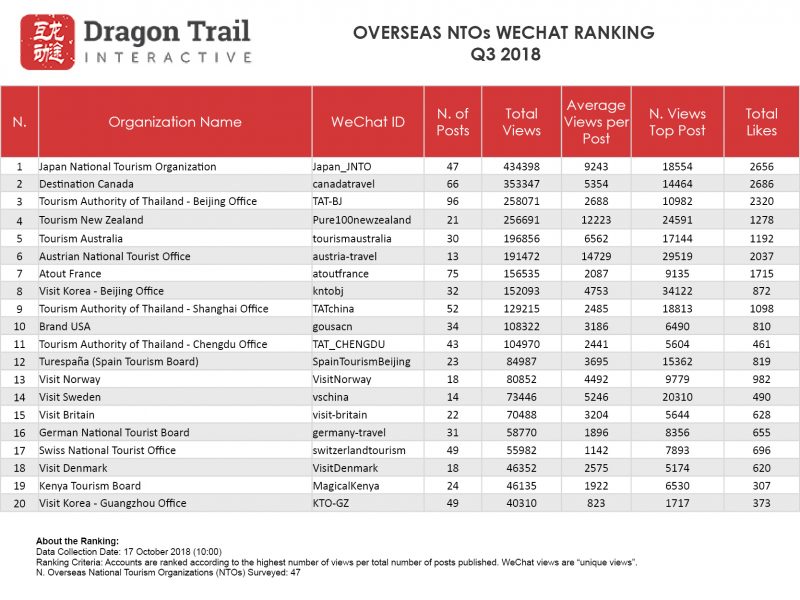 DMOs
Dubai reached the first-place ranking for DMOs in Q3 2018, a first for the city, which has generally ranked in 2nd or 3rd place since Dragon Trail started compiling its WeChat rankings at the start of 2017. The city's most-viewed post was on Chinese actor Deng Chao's visit, which was seen around 32,000 times during the week of 17-23 September. Other famous visitors all helped to give Dubai – and the Burj Khalifa – a boost in Q3, with visits by K-pop band Exo and Chinese President Xi Jinping both making for popular WeChat content. Dubai also went with a good balance of activity-related content, with several successful posts on shopping malls, but an even more popular article on free things to do in Dubai, which got around 22,000 views.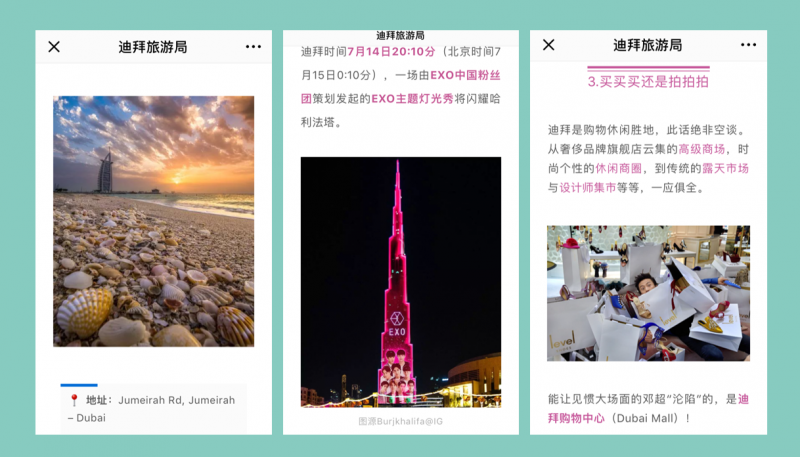 Dubai topped the DMO rankings, with articles on celebrity visits, shopping malls, and free things to do
Macau also rose up the rankings to secure 2nd position in Q3, leaving Hong Kong in an uncharacteristically low 3rd place. However, Macau has worked hard for this ranking, publishing 142 articles in Q3 (up from 125 in Q2) compared to Hong Kong's 45 articles over the same time period.
Another success story in Q3 2018 is the South Australian Tourism Commission, which has climbed from 10th place in Q1 and 9th in Q2 to 5th place in this last quarter. Their content strategy emphasizes food, wine, wildlife and landscapes, with posts featuring their official Chinese celebrity spokesperson Huang Xiaoming, as well as other influencers, and a popular campaign to win RMB4,999 in travel money.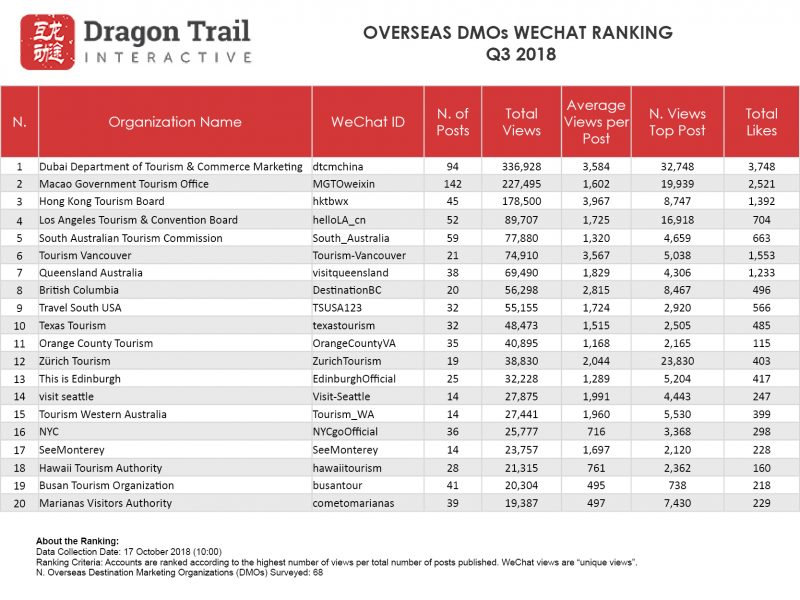 Airlines
The airlines rankings haven't changed dramatically this year, with the same accounts in the top four places. Top airline articles were mostly all for regional or seasonal promotions, with the exception of posts about typhoon-related flight cancellations – which certainly isn't a marketing strategy, but shows that passengers will be looking for and accessing this kind of practical travel information on WeChat. Eight out of the top 10 airlines in Q3 were Asian airlines, up from seven in Q2.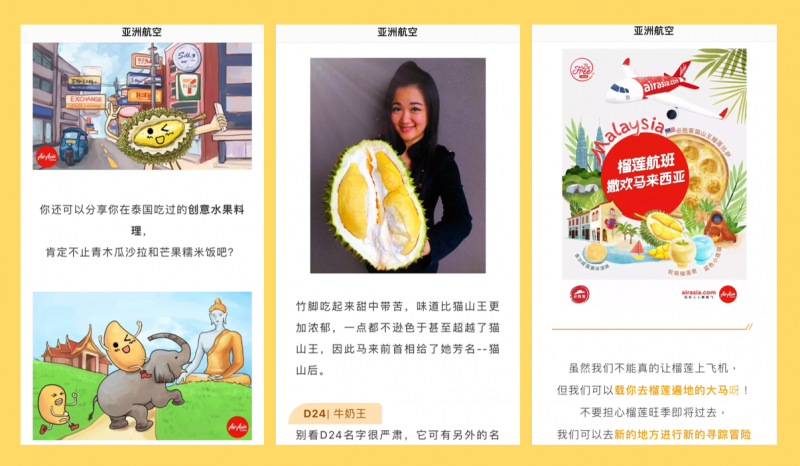 Top airline account AirAsia posted a significant amount of durian-related articles in Q3
Always in the lead for airlines, AirAsia had two top articles in Q3 on the topic of durians, using the pungent fruit to promote flights to Malaysia. They also had several popular Thailand promotions (also featuring durian), a Southeast Asia promotion, and an islands promotion.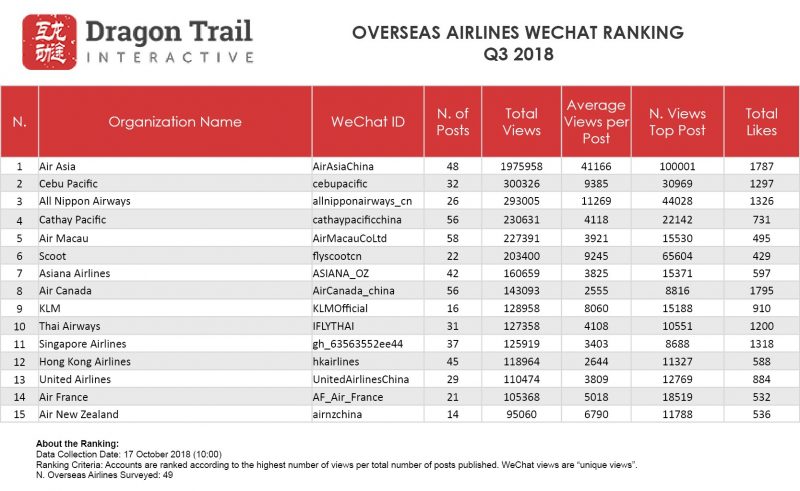 Cruise lines
It was a good quarter for cruise lines, with summer and autumn holidays bringing more viewership to WeChat – the average number of post views for the top 10 accounts in Q3 was 22% higher than in Q2. The top four accounts (Royal Caribbean International, Norwegian Cruise Line, Dream Cruises and Viking Cruises) all maintained their ranking positions from last quarter.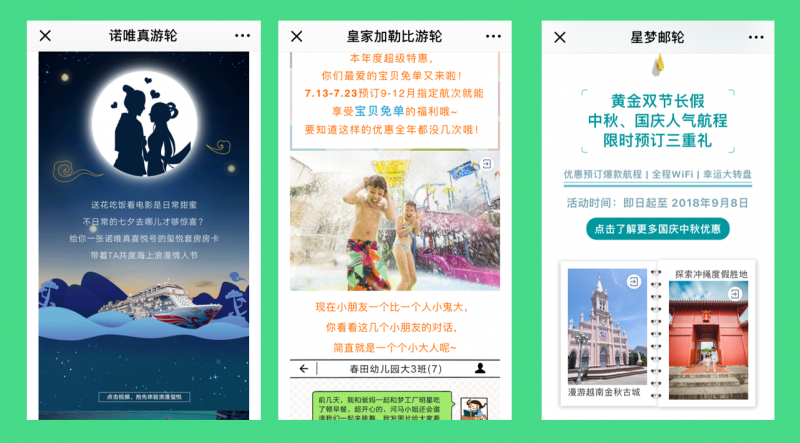 From left to right: NCL's Chinese Valentine's Day promotion; Royal Caribbean's top Q3 post on free cruises for kids; Autumn holiday promotions from Dream Cruises
During the summer months, the top cruise articles often focused on traveling with children, shifting more towards autumn deals and giveaways later in the quarter. Chinese Valentine's Day, Mid-Autumn Festival and National Day all came with promotional deals.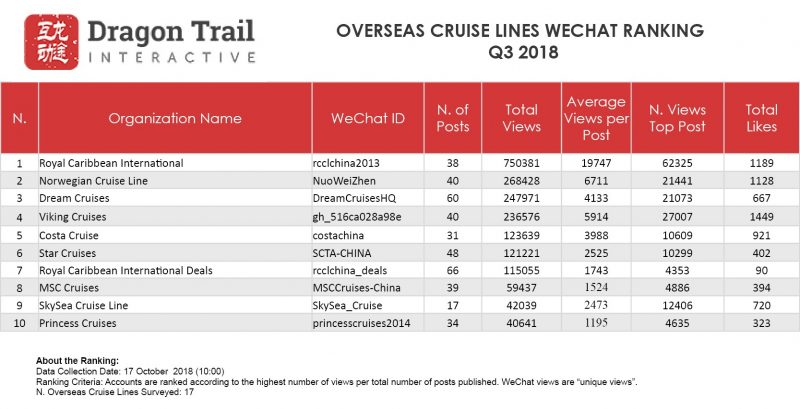 Museums and attractions
This is the second WeChat Rankings quarterly report to include museums and attractions, and Hong Kong Disneyland and Hong Kong's Ocean Park continue their significant lead over more high-culture attractions farther afield.
Like its home city Dubai, the Burj Khalifa saw success in Q3 2018, with a special light show for K-pop band Exo, and a Chinese flag design for Xi Jinping's visit the following week.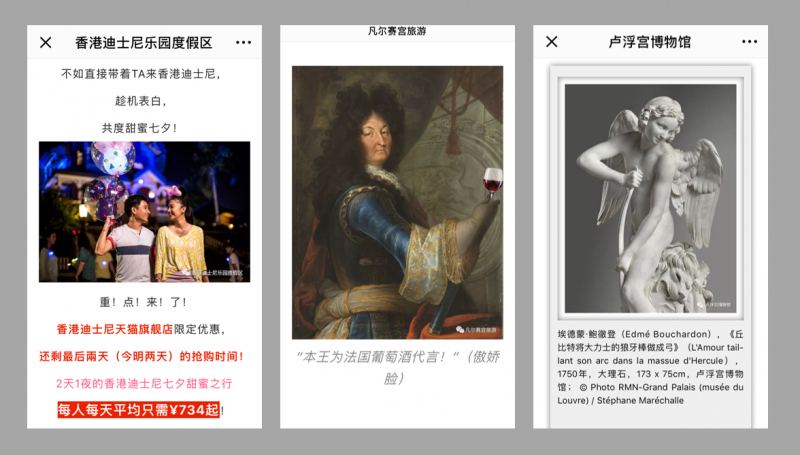 As well as Hong Kong theme parks, Paris-area attractions also did well on WeChat in Q3 2018
Paris-area cultural attractions have also had a strong performance in Q3, with both the Louvre and the Chateau Versailles often making the top three accounts for the week. The British Museum, which did not make the top 10 museums and attractions in Q2, launched a new Chinese website in Q3 and reached 6th place.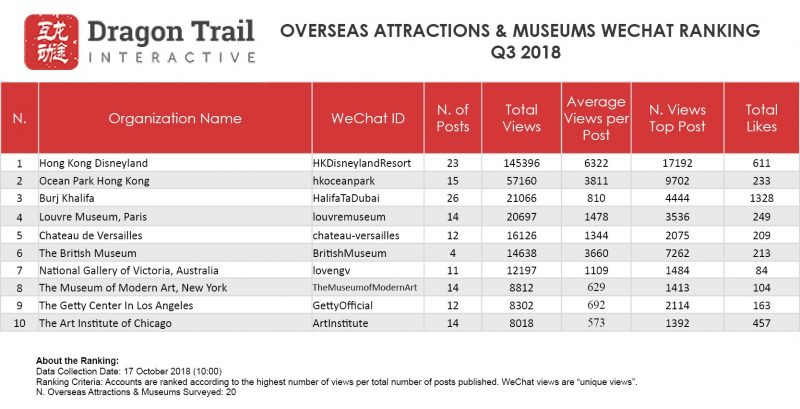 Hotels
International hotel brands, which Dragon Trail has tracked since April 2018, are different from the other categories in that these accounts generally promote domestic properties rather than international ones. However, their results do shed some light on overall brand popularity and recognition in China, which can then affect bookings abroad. The rankings for the top 10 accounts in Q3 have barely changed since Q3, with Marriott, Starwood and Hilton at the top.
There has, however, been a 12.6% drop in average views per post from Q2 to Q3 for articles published by hotel accounts. In general, we have noticed average reading rates in nearly all categories declining since last year, and will provide a fuller analysis of this trend after we have gathered data for 2018 as a whole and compared it with 2017's numbers.