Executive Summary
Dragon Trail Interactive's Weibo Rankings Report for Q2 2020 tracks and analyzes performance for national tourism organizations (NTOs), destination marketing organizations (DMOs), airlines, cruise lines, museums & attractions, and hotels. Dragon Trail Interactive has been tracking these six categories of travel brands since September 2019. Like the weekly rankings reports, the quarterly report builds industry benchmarks and uncovers best practices in digital marketing in the travel sector. The report uncovers top performing accounts, content types and engagements from followers on Weibo, to provide a big picture of the second quarter of 2020. In Q2, half of the six categories tracked continued to post more content and generate higher engagement, despite a decrease in the number of active accounts. Celebrity-related content continued to be popular, though giveaways, quizzes, and other types of content surfaced to boost engagement rates.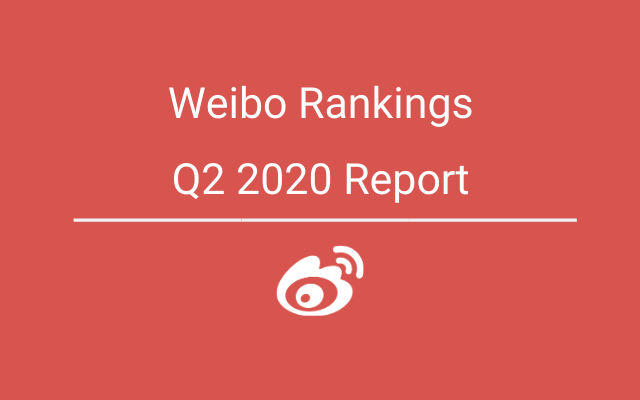 Introduction
As we move forward in 2020, the pandemic continues to affect the global economy and challenge public health systems in many countries. Although China's domestic travel market is slowly recovering, traveling outside of China is still not a reality. In Q2, there were 10% fewer active international tourism accounts on Weibo, compared to the previous quarter. Among the total 232 accounts monitored over six categories, 203 were active in Q1, and 181 were active in Q2. Our Q2 report focuses on active accounts only.
Despite the overall drop in active tourism accounts, some accounts are maintaining or even increasing engagements with followers. For the remaining active accounts across six categories, half increased weekly posts and generated higher engagements. The other half decreased activities and engagements.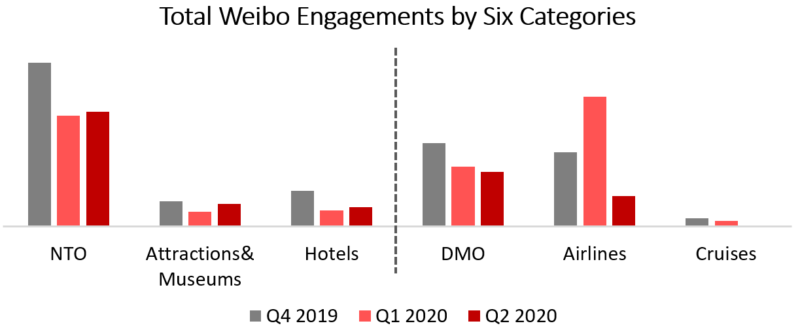 Categories that published more content in Q2 saw healthy growth in engagement. Among these categories, attractions & museums generated the highest engagement rate despite the decreasing number of active accounts. For categories that published less content in Q2, engagement decreased and DMO is the only category that maintained the same engagement rate. Content wise, celebrity-related posts continue to be popular. Other popular posts include hot topics such as video games. COVID-19 related posts such as what organizations are doing to help travelers are also popular, though many travelers are still concerned about situations related to refunds and bookings. This report will look at each category individually.
NTOs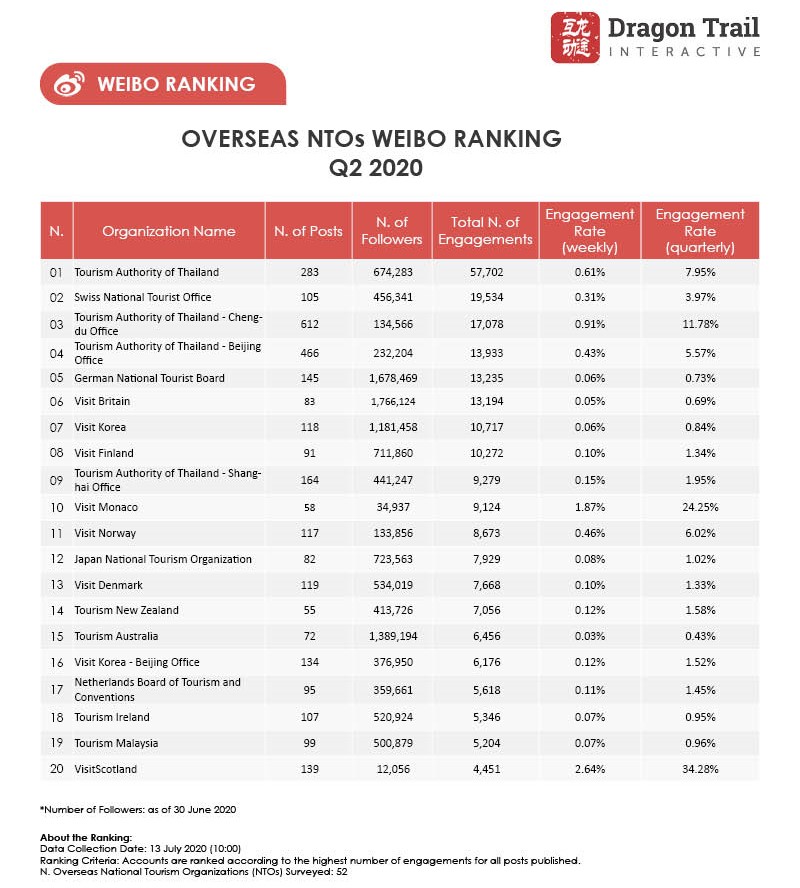 With fewer active accounts in Q2, the remaining active accounts saw healthy performance. Active accounts posted 7.4 times on average, and generated higher total engagement compared to Q1. The active accounts also continued to grow the follower bases in Q2.

Posts that stood out in Q2 for generating engagements were related to fun quizzes and celebrity-related content. As usual, celebrity-related content has a significant impact on engagement levels. Those that are more personable and relevant, with a clear message, are likely to generate higher engagement levels.
For VisitBritain, a series of quizzes related to pop culture and English idioms received high engagement levels. In Q2, weekly engagement for VisitBritain increased by almost 160% compared to Q1.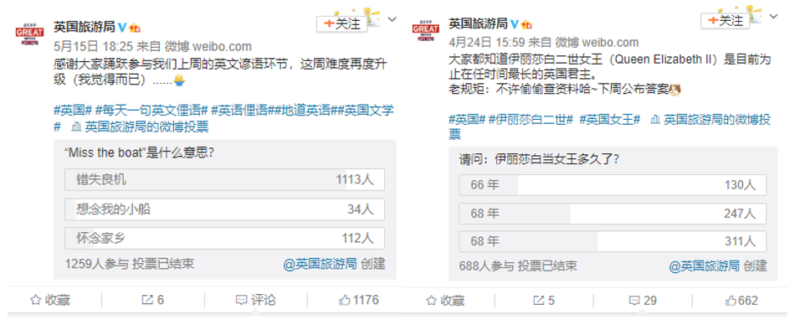 VisitBritain used quizzes to significantly increase engagement on Weibo in Q2 2020
Celebrities with larger follower bases do not necessarily have a larger impact on engagement levels. Visit Monaco published a video about sustainable tourism featuring popstar G.E.M, which generated over 8.5k total engagements. But when Visit Finland published an article featuring Angelababy, the post generated just over 1.5k engagements. Though Visit Finland's follower base is many times larger than Visit Monaco's, and Angelababy has almost three times more followers than G.E.M on Weibo, this didn't translate into higher engagements.

Left: Visit Monaco's video of G.E.M featured the celebrity speaking about her own experience cleaning up beaches and urging fans to help preserve natural habitats together. G.E.M also promoted Monaco as a vacation getaway spot. Right: Visit Finland posted on May 20 (Chinese Valentine's Day) promoting a romance film that took place in Finland.
Lastly, celebrities could even have an unexpected negative impact, especially during sensitive times such as the COVID-19 era. On April 12, the Tourism Authority of Thailand published an article about #Amazing Thailand, which generated over 27k engagements. However, comments under these posts were predominantly negative, centering on perceived unfriendliness to China voiced by Thai celebrities on social media. The prevailing negative comments started around April 7 and lasted until April 20.
DMOs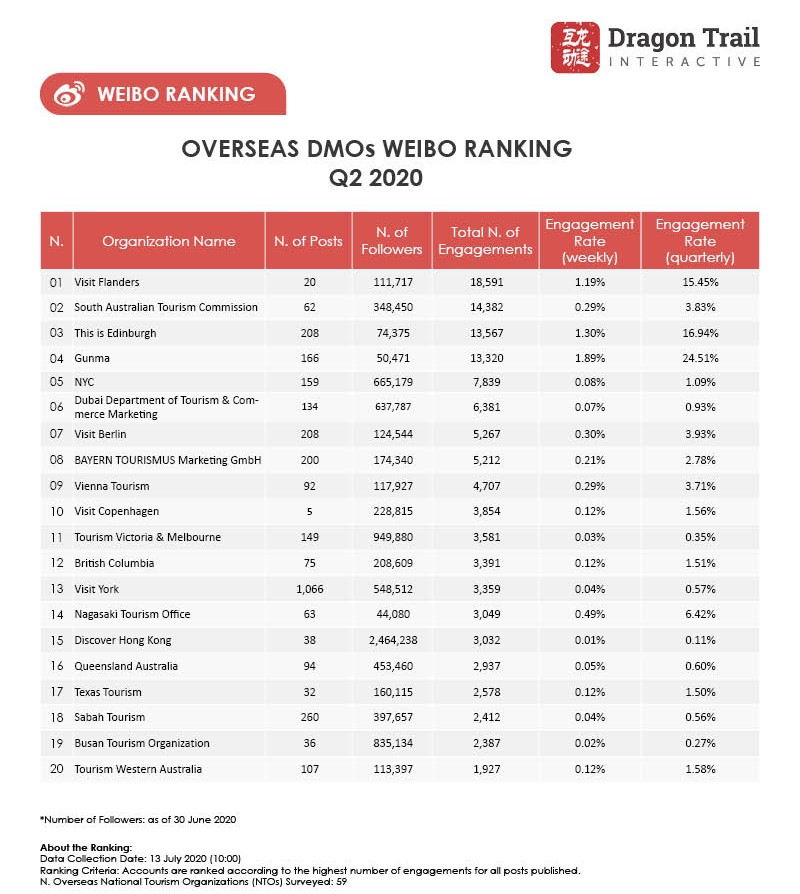 Fewer active DMO accounts and decreased post frequency could both explain the smaller number of engagements and followers for DMOs in Q2. However, engagement rates have remained the same compared to Q1, meaning followers are still engaging with content at a stable level.

In Q2, DMO posts that generated the highest engagements were all related to sweepstakes. Some sweepstakes were intended to boost fan numbers, while others promoted summer travel.
Left: Visit Flanders published a giveaway asking fans to share their stories about Belgium during summertime. This post generated the highest engagement among DMO posts in Q2. Center: Queensland Australia partnered with GoPro on an Easter Sunday sweepstakes, generating over 2k engagements. Right: Gunma published about a giveaway to boost their follower base to 50k, promising fans the biggest giveaway ever. This post generated over 500 shares and over 600 comments. The majority asked for a photo album by Mai Shiraishi, a Gunma-born actress, model and member of the Nogizaka46 girl group.
Attractions & Museums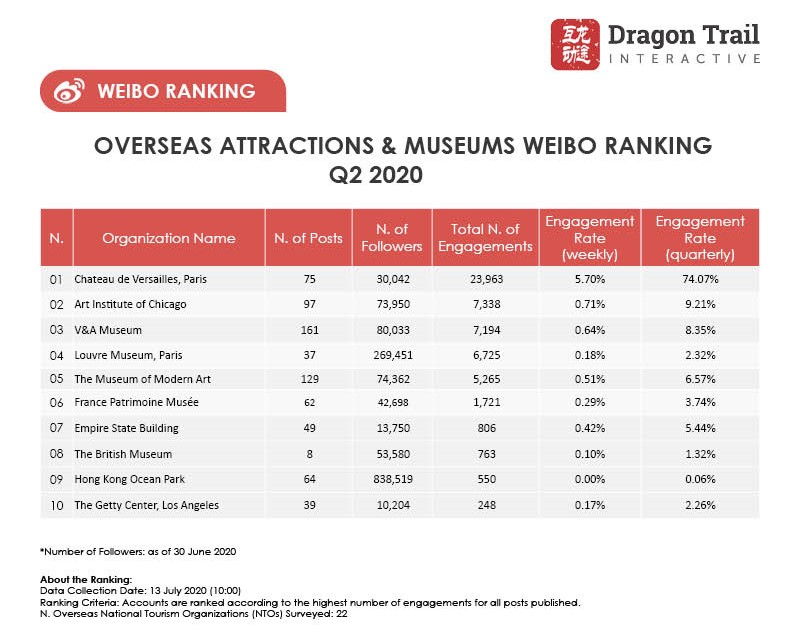 With fewer active accounts, the total follower base decreased in Q2. However, the remaining active accounts were able to increase total engagement compared to Q1.

Attraction and museum accounts continued to generate high total engagements by sharing knowledge about art and culture. In Q2, top engagements were generated by live-stream videos shared by Chateau de Versailles. Additionally, museums and attractions have been riding the wave of popular video games with elements featuring museum collections in Q2.
Chateau de Versailles generated significantly higher engagement than all the other attraction & museum posts with the video of a live-stream featuring the Head of Museum, Laurent Salomé. In the live stream session, Salomé walked through some of the most important collections. This post used the hashtag "cloud travel" and generated over 19k engagements. One of the reasons this video in particular attracted so much engagement – and close to 1 million views – is that it featured a French-to-Mandarin interpreter with extraordinary language skills. Most comments on the post praised her fluency in Chinese.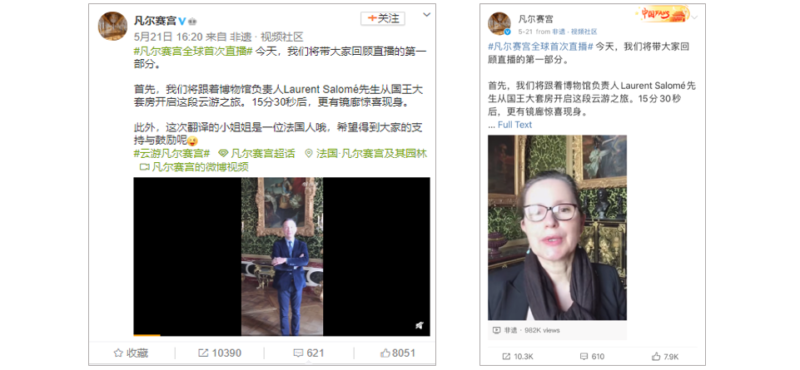 Chateau de Versailles' live streamed tours with Mandarin interpretation drew huge audiences
Other posts that generated high engagement levels are related to a new top-listed Nintendo game Animal Crossing: New Horizons. The life simulation game was released on March 20 by Nintendo and has taken the #1 top-selling spot. The game ascended at a time when the stay-at-home order was implemented, and played into the overall sentiment of escapism with its theme. The highly customizable modifications such as wall papers and paintings became relevant for many attraction and museum accounts.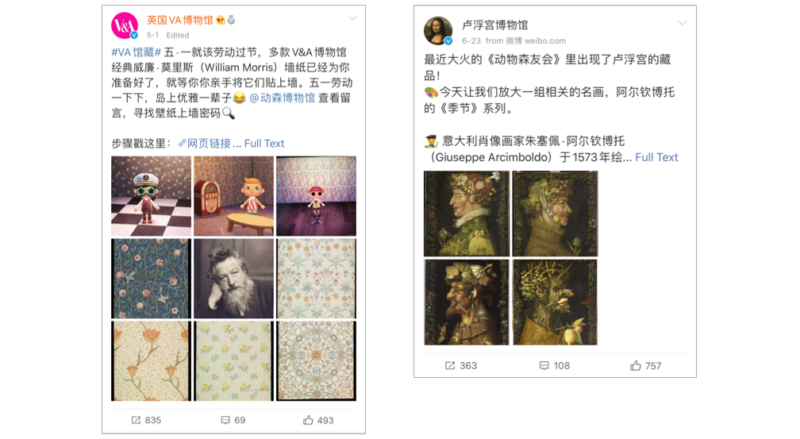 Left: on May 1, V&A Museum posted about a collection of wallpaper patterns by William Morris that appeared in the game. The post ultimately generated more than 1.4k engagements. Right: On June 23, Louvre Museum posted about a collection of paintings by Giuseppe Arcimboldo. The post generated more than 1.2k engagements.
Hotels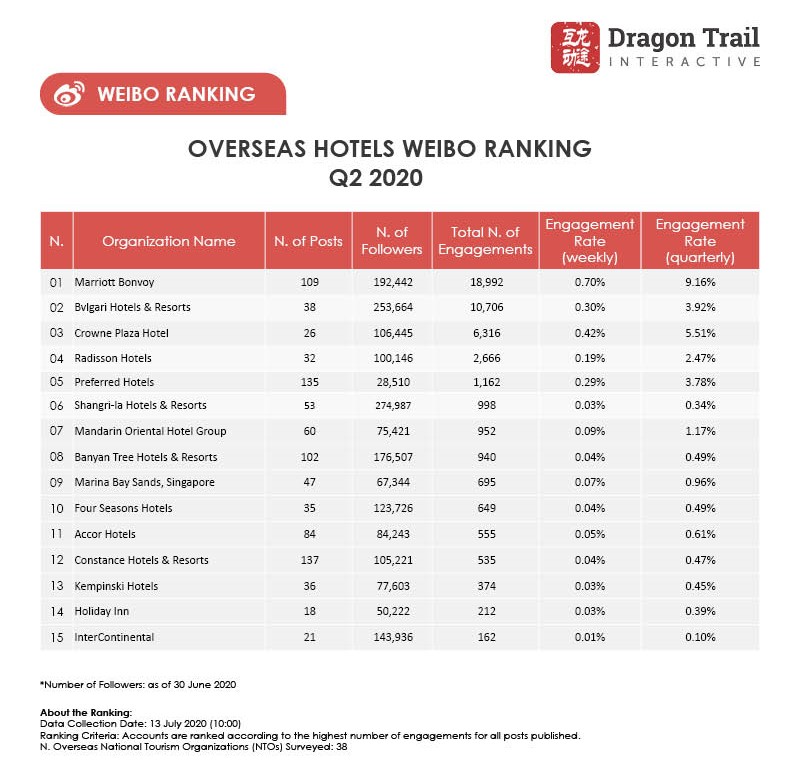 Hotel accounts had fewer active accounts in Q2. Accounts with large follower bases such as Marriott International* and Ibis Hotel did not post content in Q2, leading to a significant drop in total followers for the whole category. These two accounts did not generate high engagement levels in Q1, so they therefore do not have an significant impact on hotel engagement levels in Q2. The remaining active accounts have published a average of 3.3 posts weekly, leading to increased total engagement.
*A different account from the very active Marriott Bonvoy, Marriott International has posted on Weibo at least a few times a year over the past two years.

Posts that generated the highest engagements were sweepstakes and celebrity-related video content. Among all posts, giveaways from Marriott Bonvoy were most popular with Weibo users. These posts generated higher engagement compared to celebrity-related content in the category.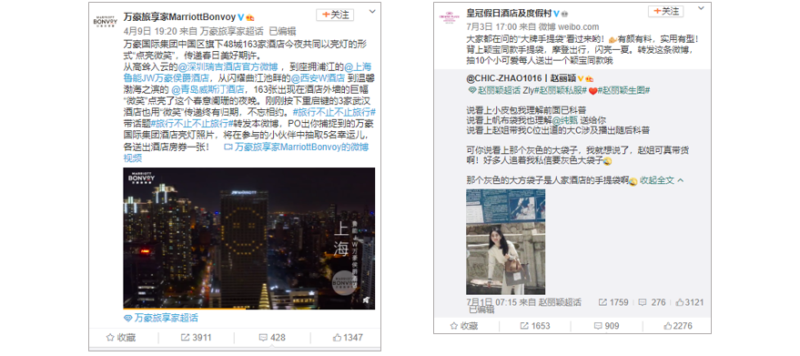 Left: on April 9, Marriott Bonvoy posted about a recent campaign where 163 properties in 48 cities were lit up with smiley faces. The giveaway encouraged fans to take pictures in exchange for hotel stays, and generated over 5.6k engagements. Right: Another giveaway was by Crowne Plaza Hotel featuring actress Zhao Liying, who was spotted carrying a bag with the hotel logo. The post generated over 4.8k engagements.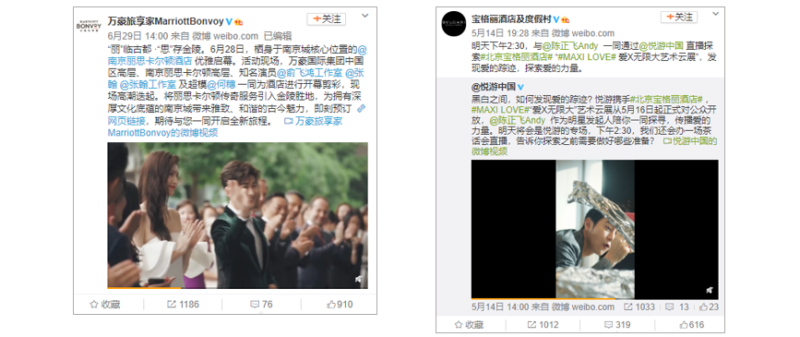 Left: on June 29, Marriott Bonvoy posted a video about the opening party for Ritz-Carlton, Nanjing, where actor Zhang Han, actress Feihong Yu, and model Sui He were invited. The post also generated over 2k engagements. Right: Bvlgari Hotels & Resorts published a video about a cloud exhibition of "Maxi Love" hosted by Andy Chen. The video generated over 1.9k engagements.
Airlines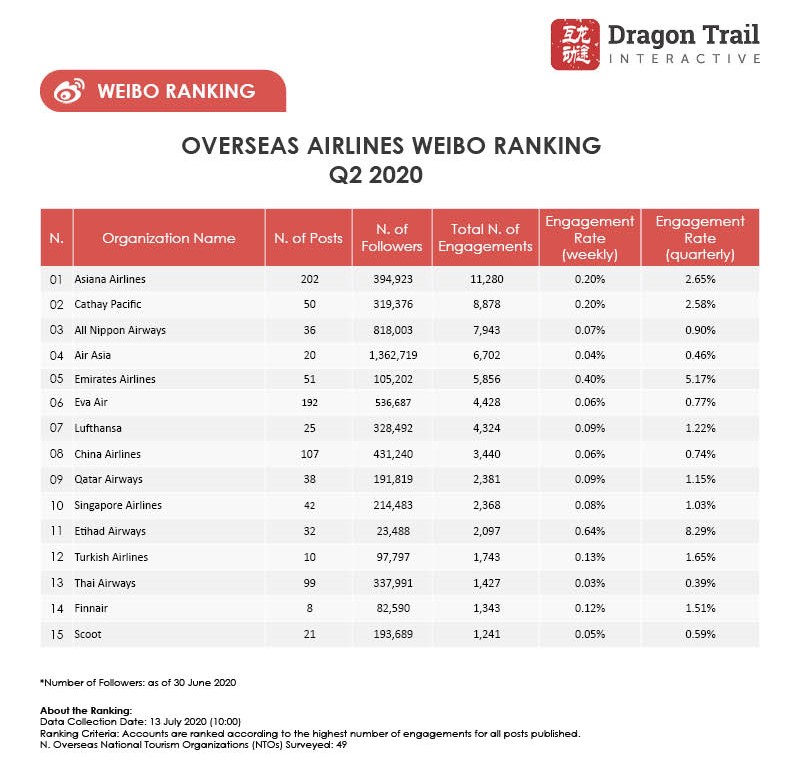 Airline accounts have been posting less content on a weekly basis. This, along with fewer active accounts in Q2, has led to a lower total engagement level for the quarter. Note that the 142.3k increase in followers of airlines accounts can be attributed to Thai Airways' doubling of its follower base at the end of Q1. This drove up the average follower base for Thai Airways in Q2. Airline accounts are also generating smaller weekly engagement rates, meaning there were no large fluctuations in engagements in Q2.

For the accounts that generated higher-than-average engagement, content was related to what the airlines are doing for travelers during the pandemic. We noticed that content related to credit accounts tends to receive negative responses from followers, many of whom are still trying to get a refund from previously booked tickets and booking return flight tickets.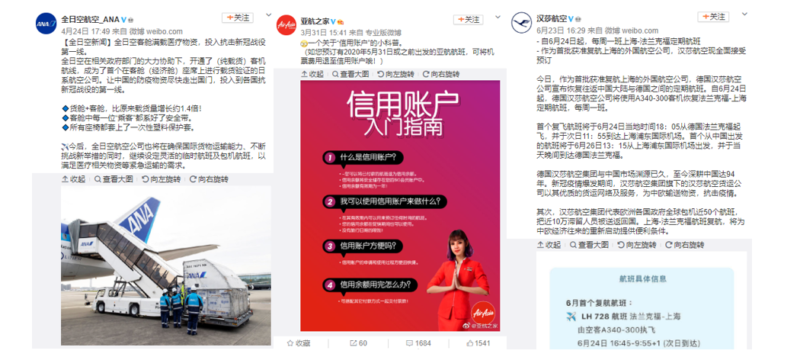 Left: On April 24, ANA published a post about using its planes to transport medical resources. The post generated more than 600 engagements, mostly supporting the effort. Center: On March 31, AirAsia published about its credit account, and generated over 3k engagements. However, this triggered a series of negative comments asking for actual refunds instead of credit refunds. Right: On June 23, Lufthansa posted about resuming flights between Shanghai and Frankfort, generating over 900 engagements. Many followers asked about ticket prices and how to book.
Cruise Lines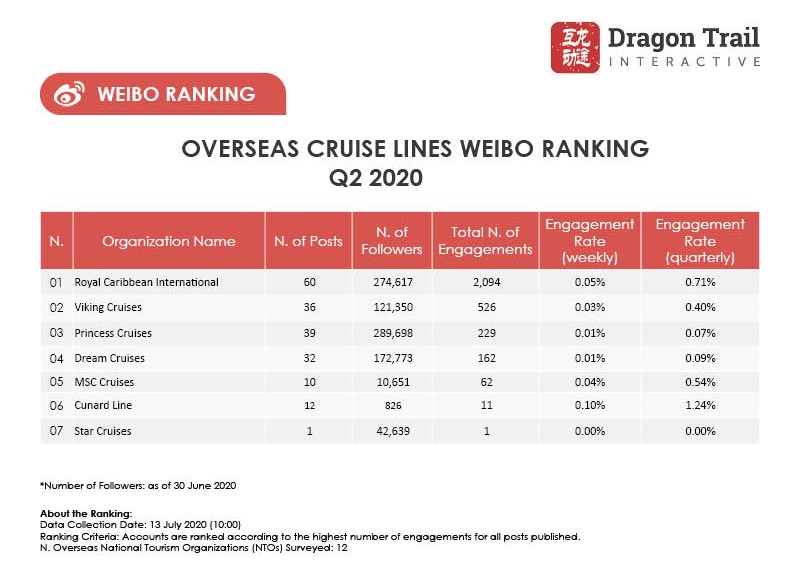 Only 58% of tracked cruise accounts were active in Q2. One of the larger accounts – Costa Cruises – was not active during the quarter. Fewer accounts and smaller posting frequency led to an overall decrease in total engagement and total followers. Cruise accounts also generated lower weekly engagement rates, similar to airlines, meaning the engagement level is stable and there were no peaks in engagements from active cruise accounts.

Of all seven accounts, Royal Caribbean International and Viking Cruises posted the most engaging content. Top posts from Royal Caribbean were primarily about news related to the pandemic, preparation for when travel restrictions are lifted, and live streaming sessions promoting the brand. Viking Cruises has been posting about its live streaming series, featuring content related to art, cuisine, and classical music.