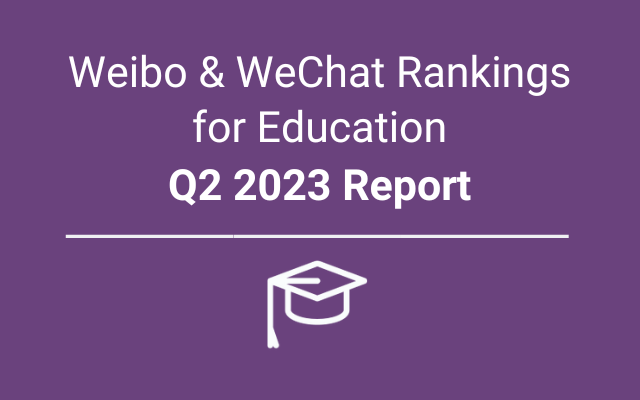 Analysis of overseas universities on Chinese social media platforms WeChat and Weibo in Q2 2023 emphasizes the importance of global university rankings for a Chinese audience. At the same time, we continue to see the strength of Hong Kong, the UK, and Australia as the places with the most significant outreach to mainland Chinese students.
Methodology
As with Dragon Trail's rankings for the tourism industry, WeChat accounts are ranked by total number of article views for the week, and Weibo accounts are ranked by total number of audience engagements (likes, reposts, and comments) for the week. Data is collected each Monday, for the previous week's Saturday-Friday.
In Q2 2023, we tracked 35 universities on WeChat (33 of which were active), and 54 universities on Weibo (37 of which were active). This list includes universities in 13 countries and territories in Asia, Europe, Oceania, and North America.
Universities who would like to be added to the list should contact Dragon Trail directly at communications@dragontrail.com.
QS World University Rankings
The theme that dominated the most-read WeChat posts and the Weibo posts with the most engagement in Q2 2023 was the QS World University Rankings, released in June 2023.
Articles announcing and celebrating the latest QS Rankings attracted top WeChat reading rates for UCL, the University of Hong Kong, the University of Queensland, Monash University, the University of Leeds, Hong Kong Polytechnic University, the University of Glasgow, University of Durham, University of Sydney, University of Manchester, and others. On Weibo, many of the most-liked posts of the quarter were also about the QS Rankings, including the University of New South Wales in Sydney, University of Leeds, Hong Kong Polytechnic University, University of Warwick, University of Melbourne, Monash University, University of Bristol, and University of Glasgow.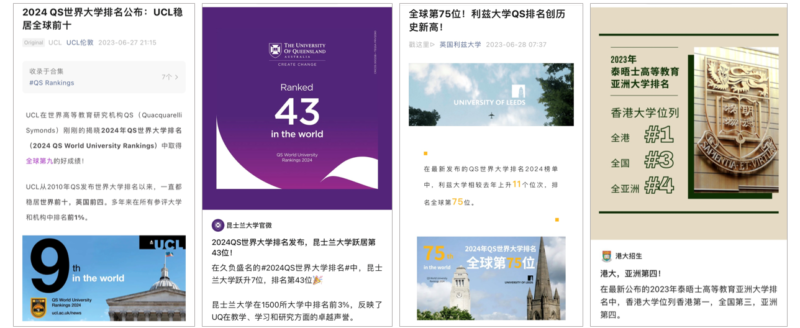 QS World University Rankings announcements from (left to right) UCL, University of Queensland, University of Leeds, and University of Hong Kong
The university that saw the most views and engagements for its QS Rankings-related content on both WeChat and Weibo was the University of Sheffield, and this case is different than the rest. Ranked 104th this year, Sheffield has fallen out of the top 100 universities in the world – as ranked by QS Quacquarelli Symonds. The university shared a statement in both Chinese and English by the President and Vice-Chancellor, acknowledging the fall in rankings and affirming their commitment to regaining a place in the top 100.
Weibo Content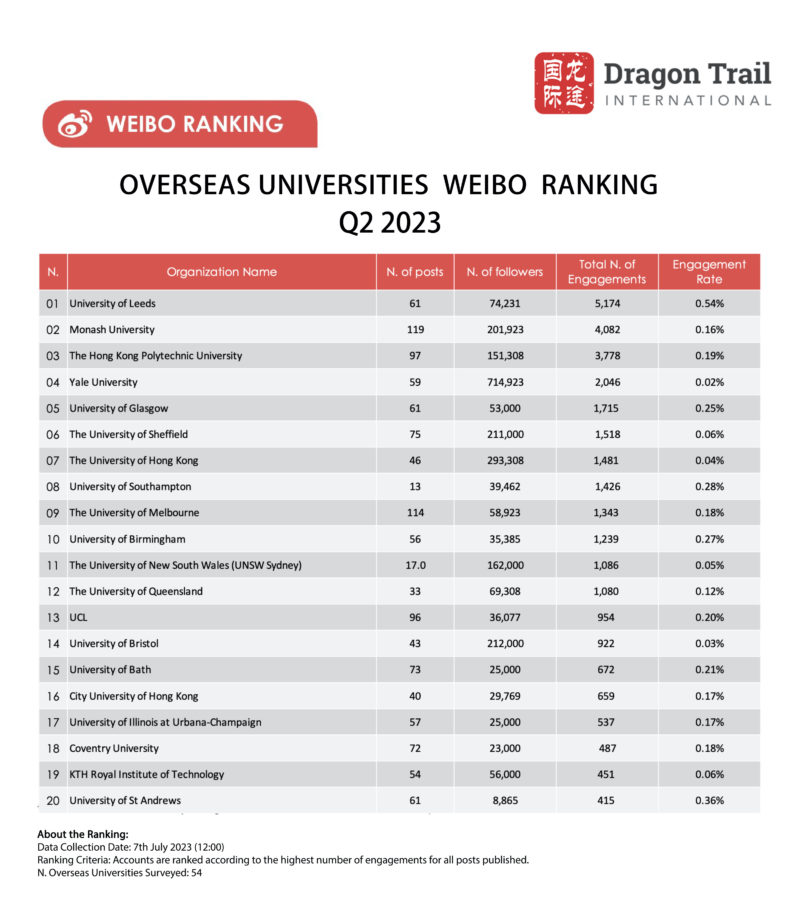 While universities are much less likely than tourism brands to get big engagement boosts on Weibo because of mentioning celebrities, we can see this phenomenon happening this quarter. The University of Leeds is at the top of the rankings table thanks to one post commemorating the 20th anniversary of the death of beloved Hong Kong singer Leslie Cheung. This post got nearly 3,500 likes the week it was published, making it by far the most-liked university Weibo post of the quarter.
With more than 1,000 likes, the University of Southampton also had a very popular Weibo post, celebrating Earth Day with information about the university's commitment to sustainability, and a giveaway of bags made from recycled plastic bottles.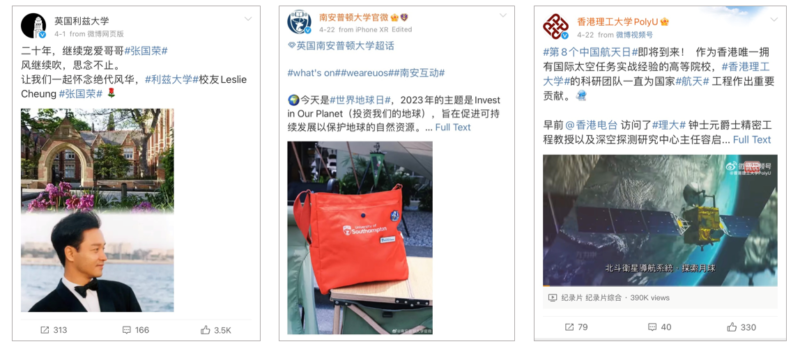 Top Weibo posts from (left to right) the University of Leeds, University of Southampton, and Hong Kong Polytechnic University
Other top Weibo posts that weren't QS Rankings announcements included:
– Honorary doctorates awarded by the University of Hong Kong
– A TV documentary about deep space research scientists shared by the Hong Kong Polytechnic University, and PolyU's online lecture series
– A clarification from the University of Birmingham that they were not associated with an education company claiming to run an official bridge program with them
– A video about Monash University's Victorian Heart Institute for the study of cardiology
– A pretty UGC photo of the University of Glasgow in springtime
WeChat Content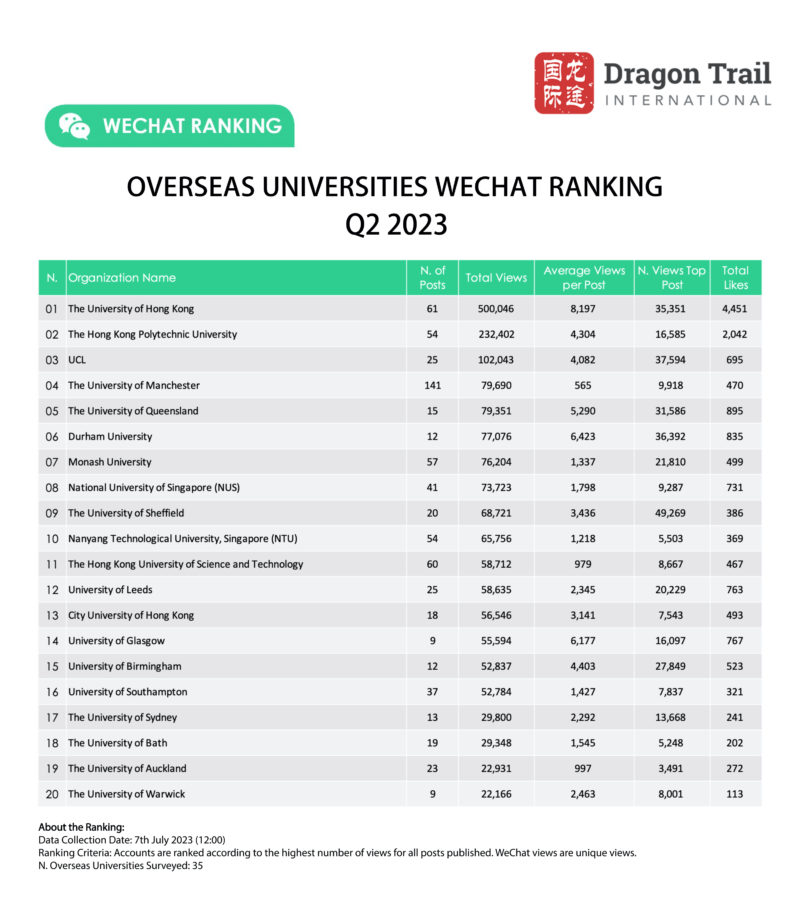 Most of the top WeChat articles by universities centered around the QS Rankings this quarter, but there were a few exceptions. The University of Durham received more than 36k views for an article about the coronation of King Charles III. Last year, we saw that content posted by British universities relating to Queen Elizabeth II was also very popular.
The University of Hong Kong continues to rank highest for both total views and average views per post. Their top articles this quarter included practical information about registration deadlines and application processes, as well as how their curriculum works – stressing that students can choose any of the university's 40 majors and will not be limited by their Chinese college entrance exam topics in choosing their coursework at HKU.