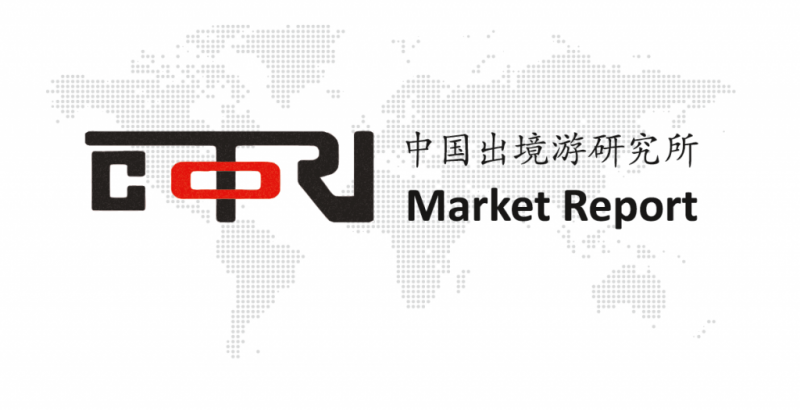 The COTRI Market Report – Autumn 2018 takes a comprehensive look at the Chinese outbound tourism market in H1 2018, including data on Chinese arrivals around the world; updates on visa regulations and new flight routes; in-depth reports on select destinations and market segments; and insightful data from two of China's leading OTAs and travel websites: Ctrip and Qyer.
Here are 10 things we learned from the report:
1) 2018 has been a particularly strong year for Chinese outbound tourism growth, with 42 million border crossings outside of Greater China (Hong Kong, Macau and Taiwan) in H1 2018 alone, accounting for 53% of Chinese outbound tourism. COTRI predicts that destinations beyond Greater China will receive 60% of Chinese arrivals by 2024, and 66% by 2030.
2) Most of the top 15 arrival destinations for Chinese outbound tourism in H1 2018 have seen double-digit year-on-year growth. The three exceptions are Indonesia (-0.7%), which has suffered from volcanic activity; South Korea (-3.7%), which is still recovering from last year's group tourism ban; and the US (-9.5%), which has ended a decade of positive growth.
3) Most of the highest growth destinations worldwide have enacted visa reforms to benefit Chinese tourism in the past three years. These include Morocco, Serbia and Bosnia Herzegovina, which all offer visa-free travel for Chinese tourists.
4) In H1 2018, 42% of leading Chinese OTA Ctrip's sales have been for FIT products, with 44% for package group tours, and 14% for private group tours and customized travel. Strong growth in FIT to destinations like Australia necessitates the development of services to cater to independent travelers, such as Chinese mobile payments and the availability of Chinese-language information, accessible through QR codes.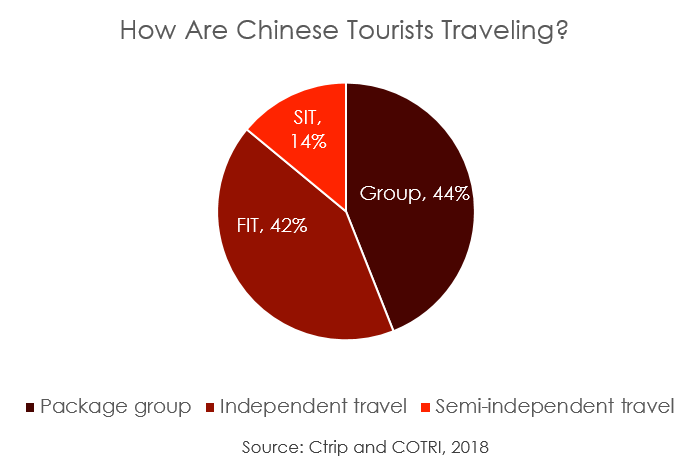 5) At nearly 15% of Ctrip's market, customized tours and private group tours continue to grow as an important outbound market segment. This kind of travel is more expensive than package group tours or FIT, and the travelers that opt for it tend to be wealthier and more sophisticated, looking for a local, unique and in-depth travel experience, as well as greater privacy.
6) There are 50 million Chinese nationals living overseas, outside of Greater China, and they attract VFR (visiting friends and relatives) travelers. VFR tends to be one of the most stable segments of the Chinese outbound tourism market, less affected by seasonality or politics. While 70% of Chinese living overseas are in Asia, the top 15 countries for VFR travel are more spread out, with a preference for English speaking countries including the US, Australia and the UK, in the top three positions, respectively. VFR travelers tend to spend longer in a destination, with more potential for dispersal and visiting surrounding areas.
7) Chinese travel website Qyer saw a 180% increase in searches for Paris in H1 2018, making the French capital its second most searched-for destination after Tokyo. "97% of Chinese travelers to Paris last year were drawn to museums, monuments and other cultural attractions," says the report, with 71% joining site seeing tours, and just 55% shopping. This interest in Parisian cultural attractions matches up with how well they have done on WeChat in 2018 – the Louvre, Versailles and the Musee d'Orsay all made the top 10 list for museums and attractions on WeChat in Q2 2018.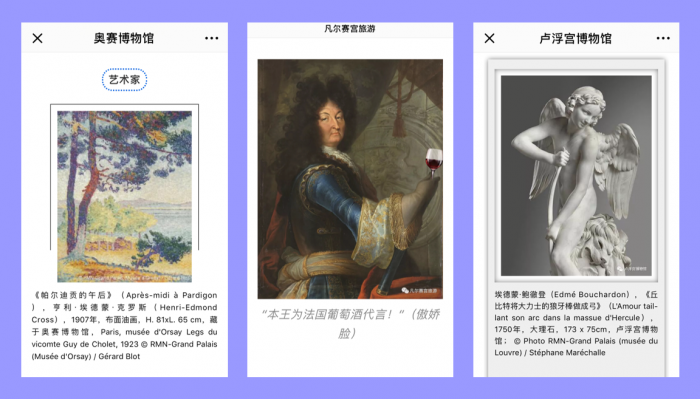 Parisian cultural attractions are a major draw for Chinese tourists – WeChat posts from the Musee d'Orsay, Chateau de Versailles and the Louvre
8) There's been very strong growth for niche, "final frontier" destinations that offer bragging rights to experienced travelers. Peru has enjoyed a 40% growth in Chinese arrivals in the first half of 2018, and bookings to Africa on Ctrip were up 70% in the first seven months of 2018, compared to the previous year.
9) Another type of adventurous, "final frontier" travel destination is the arctic and Antarctic. While Chinese outbound travel to arctic areas – including Finland, Norway and Russia – is dominated by millennials, 58% of Chinese visitors to Antarctica are over the age of 45.
10) The top 10 most-downloaded guides on Qyer in H1 2018 were: Tokyo, Kyoto, Osaka, Bangkok, Paris, Barcelona, Phuket, Hong Kong, Rome, and Los Angeles.

The top 10 guides downloaded on Chinese travel website Qyer in the first half of 2018
To learn more, and download the full COTRI Market Report, please visit their website