Released on 17 October, 2018, CBNData's 2018 Chinese Travel Consumption Trends Report uses survey data, official figures from the Chinese Ministry of Tourism and Culture, and H1 data from Chinese OTA Fliggy to reveal new trends in outbound travel, important demographic differences, the most popular and up-and-coming destinations, and more.
With permission from CBNData, we've translated highlights from the report. The full report, in Chinese, is available here.
1. Demand: Growth, demographics and destinations
Travel demand in China has been very strong in the first half of 2018, with significant growth in overseas tourism. Compared with the same period in 2017, outbound trips have increased 15%, according to the Chinese Ministry of Tourism and Culture. Data from Fliggy also shows an 8% increase in per capita consumption for outbound tourism.
Even though the generation born in the 1980s continues to be the main force in China's outbound travel market, the growth of those born after 1995 is not negligible – it's noticeably higher than for tourists born between 1980 and 1994.

Looking at outbound trips by those born between 1990 and 1999, there has been an increase in outbound travelers from 3rd and 4th-tier cities in 2018.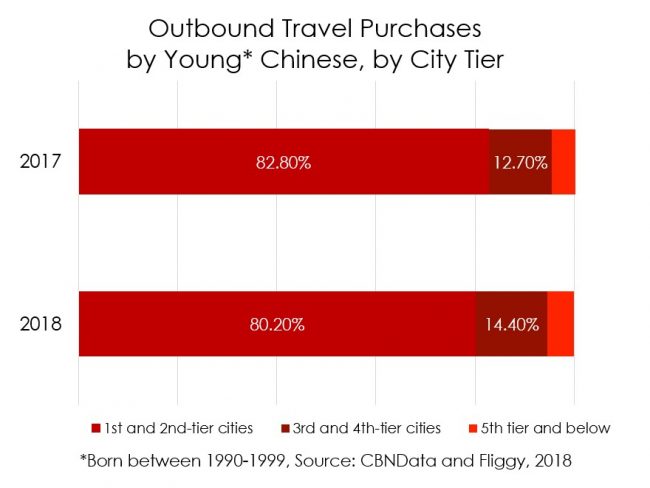 Destinations within a four-hour flight from China continue to be popular, but a number of long-haul destinations are also in the top 20 countries visited in 2018, led by the US and Australia.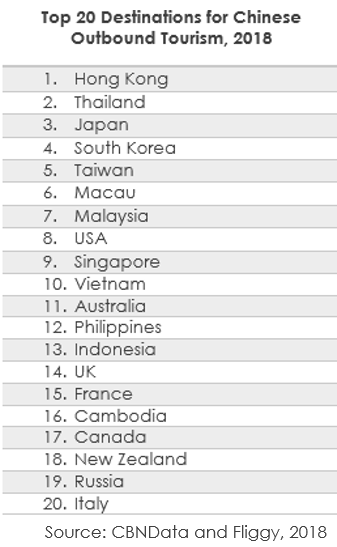 Perhaps more interesting is that young people – which in the case of this report refers to those born between 1990 and 1999 – prefer to visit destinations which are not on the top 20 list. 57% of interviewees said they had already been to these destinations.
Many niche outbound destinations are now on more and more young tourists' wishlists, and the 10 countries with the highest growth rate on Fliggy in 2018 are: Azerbaijan, Serbia, the Vatican, Georgia, Croatia, Portugal, Turkey, Ethiopia, Brazil and Peru.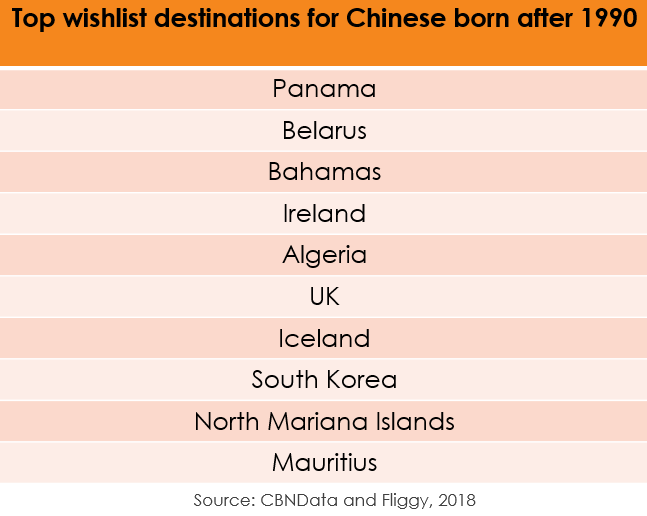 The influence of KOLs on social media like Douyin is also very important among travelers born in the 1990s, and they can make niche destinations popular within a very short time period. The report found that demand for travel products endorsed by KOLs ("网红款") increased by 722%.
2. Trips are getting shorter
For Chinese born in the 1990s, travel is no longer a luxury, but a lifestyle. The survey found strong growth in the number of Chinese who travel outside the country at least three times per year, especially for younger travelers. This familiarity with outbound travel then changes the way in which travelers approach their trips and what they hope to get out of their travel experience.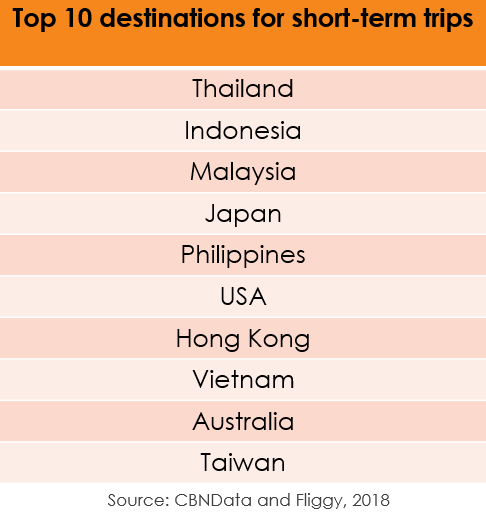 While the number of trips is increasing, the report found that the length of each outbound trip is getting shorter, with 89% of respondents traveling for a maximum of four days and three nights in a destination, compared to 86% in 2017.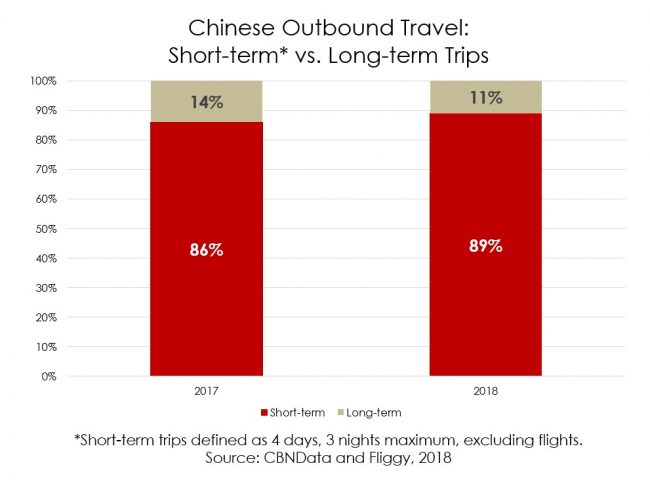 3. Younger tourists are embracing interest-driven travel
Shopping and leisure are the main purposes for Chinese travelers, but the younger the traveler, the less interested they are in shopping and leisure, and the more interested they are in traveling to explore their personal interests.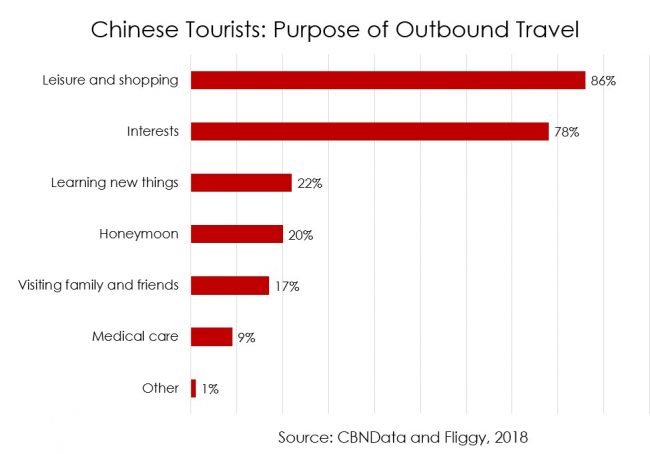 With interest-driven travel now a key travel trend, traveling for food, art and culture is getting more popular. TV shows and celebrities have a large impact on young people's travel trends, and the report noted that staying at hotels recommended by KOLs has also become a trend.
Another interest that's driving outbound travel in 2018 is sports. During the World Cup in Russia this summer, there was a remarkable growth in purchases of flights to Russia on Fliggy, especially during the World Cup opening ceremony.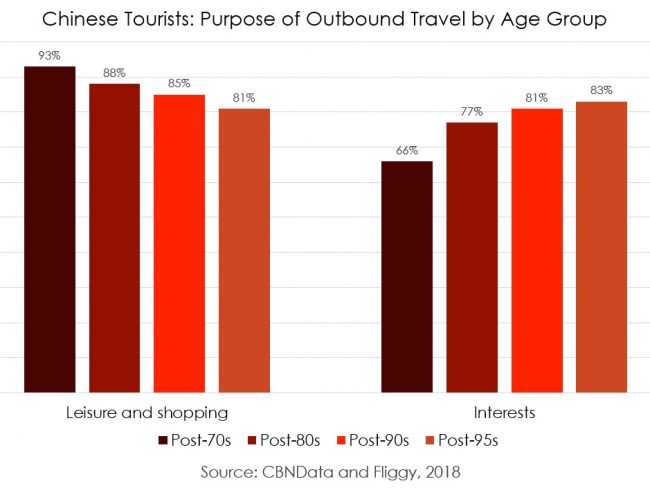 4. Travel planning is becoming more last-minute
While Chinese travelers are known for making travel plans very far in advance, this is changing as the market becomes more experienced. Over 40% of outbound travelers surveyed booked their flight tickets two weeks before the trip, and hotel reservation tend to be made closer and closer to the departure date. Chinese born in the 1990s were the most willing to make plans after having already arrived at their destination, as traveling without a plan gives them incredible flexibility.
5. Motivations for rural tourism
Compared with Chinese tourists born in the 1970s, those born after 1980s are more likely to discover small towns or rural areas. Most of the tourists surveyed said they liked to visit rural areas because of the nature. Younger tourists showed a greater preference for visiting rural areas to avoid crowds and experience local culture, such as going to local festivals or markets.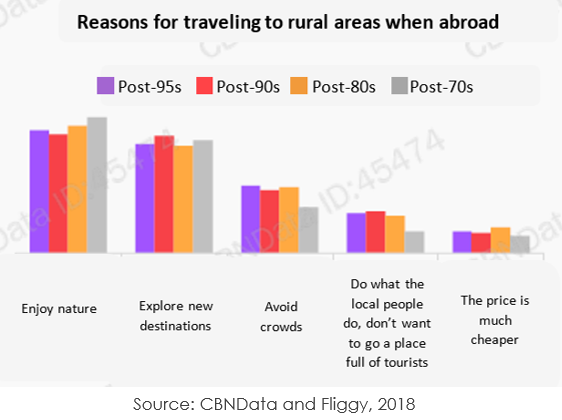 6. Top choices for traveling with parents
Affluent Chinese born in the 1980s are the most likely demographic to travel together with their parents. The most popular destinations for traveling with elderly parents are in Asia, and include Thailand, Japan, Malaysia, Singapore and Cambodia.
7. Top destinations ranked by different generations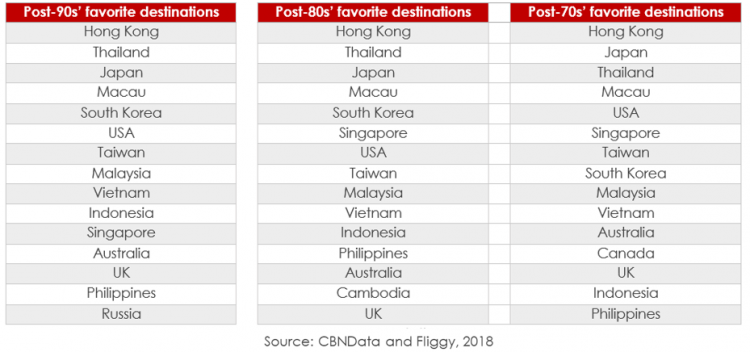 8. Top destinations on WeChat Moments