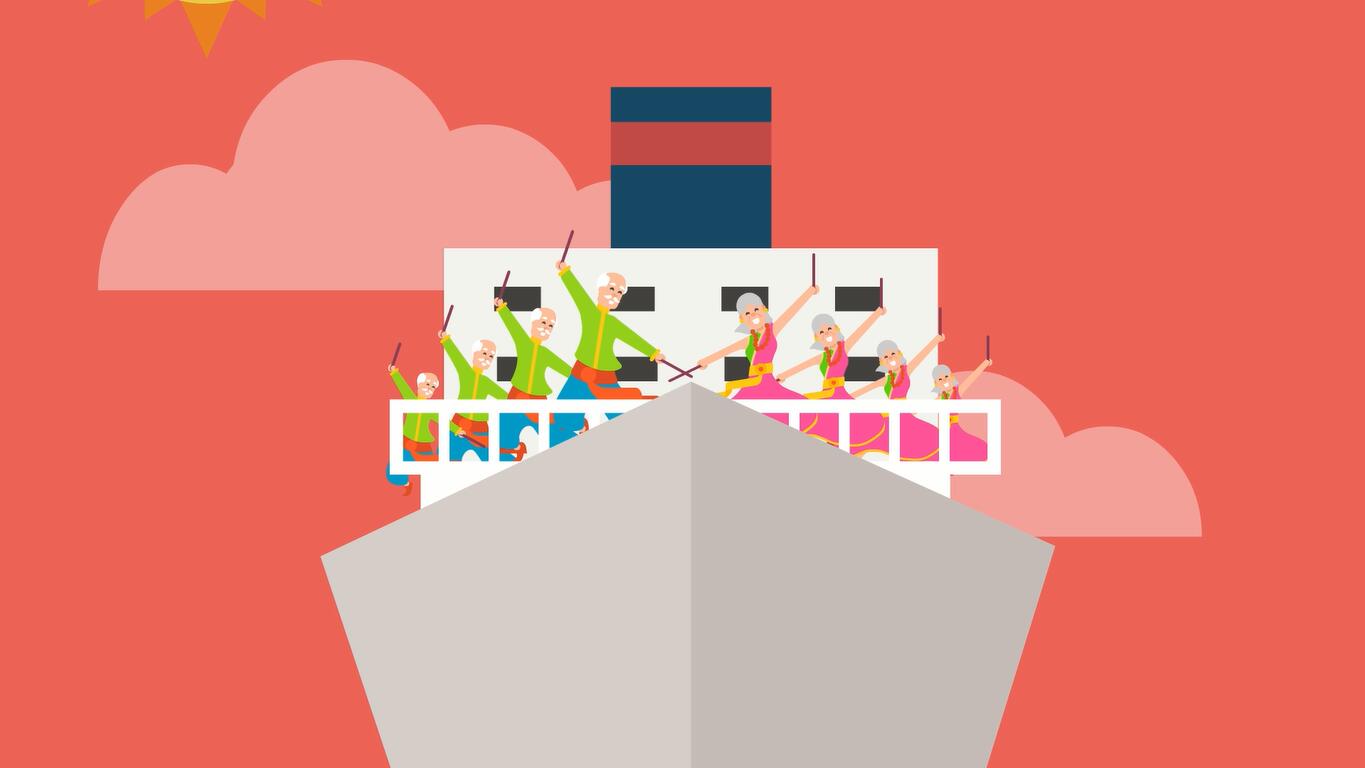 Last year the number of Chinese cruise passengers reached 2.8 million, and by 2030, China is expected to become the world's largest source market for the international cruise industry. Learn about the most popular and fastest growing cruise destinations and routes, what kinds of Chinese travelers go on cruises, and how cruise companies have adapted their products for the Chinese market.
Click here to view the video.
If you are unable to view the video, please change your location in the top right corner of the navigation menu.
Video Transcript
Prof Outbound
Today we are talking about cruises. More and more Chinese outbound travelers are choosing to go on cruises. Last year the number of Chinese passengers reached 2.8 million and by 2030, China is expected to become the world's largest source market for the international cruise industry.
Interviews with Chinese Travelers
Have you ever been on a cruise?
— Yes, in the Mediterranean. I went from Venice, Italy to Greece, and then back to Venice. Normally after a cruise, we go travel somewhere else. Last time after the cruise, I took [my mom and daughter] to Switzerland.
— In Egypt I went on a cruise! We started off in the south and headed to the northeast and ended in Cairo. The cruise lasted about 3 days, on the Nile, and we finished on the Red Sea. Every day we got off and visited many temples and the Sahara Desert.
— I have never been, but would very much like to go soon! Cruises are very enticing!
— I have been on cruises in China, but never on international routes.
— Yes, I went on a cruise in Egypt in 2009. [The ship] was much bigger than I expected. It really felt like a hotel inside.
— On a cruise? Not yet! I suffer from seasickness, so I don't know if I would feel very well!
Did you enjoy the experience?
— It's much more comfortable than traveling by road. When I went to Turkey, I was on the road for 6 hours each day. It was very tiring.
— [Cruising] was great. They had a lot of activities for kids. I left my kid at the childcare center a few times! Once I took my kid on a cruise, and once I took my mom. [I took my mom] so that she could visit a few countries without getting tired. Each time we docked, my mom could get off and visit a bit without having to worry about meals or accommodation.
What other destinations would you like to visit on your next cruise?
— I would consider going on a cruise to Japan.
— I would not consider going on a cruise again. When traveling overseas I'd rather be on dry land, and visit the most characteristic places.
— Our colleagues have recommended the 7-day cruise from China to South Korea and Japan.
— The first destination that comes to mind is the South Pole!
Animation
Since the Italian cruise liner Costa Cruises came to China in 2006, annual growth for the cruise tourism market has exceeded 40% per year.
Seeing the industry potential, a number of international players have made their entry into China, creating intense competition with decreasing prices for tourists. Chinese outbound cruise travelers reached 2.8 million in 2017, and are forecasted to reach 5 million by 2020 and 8 to 10 million by 2030.
Japan and South Korea account for over 85% of all cruises departing from China. The trips last 3 to 6 days and cost around 500 USD.  Other popular destinations include fly cruises, which depart from outside China around South-East Asia, Alaska and Europe; exclusive cruises to the Antarctic start from 15,000 USD. Cruises to far away destinations are normally part of a broader itinerary.
Who are the tourists going on a cruise?
— Families  taking young children to see the world.
— Wealthier couples taking their older parents to spend some quality time together. This way older parents can visit multiple destinations without getting too tired.
— Cruises are also popular among older people travelling in groups.
— Travelers are mostly from Beijing, Shanghai, Tianjin and Guangzhou, and from smaller cities such as Chengdu, Qingdao and Xiamen.
— Popular ports of departure in China include Shanghai, Tianjin, Dalian, Guangzhou, Shenzhen, Xiamen, Sanya and Hong Kong.
After a few faux pax in the early days of cruises, Chinese travelers can enjoy plenty of tailored services during their cruises. Last year Norwegian Cruise Line launched a series of traditional music performances and dancing competitions in styles popular with China's older generation. Congee is more readily available than a burger and fries on board of the Royal Caribbean Ovation of the Seas.
Prof Outbound
As Chinese travelers are increasingly familiar with cruises, we are likely to see more Chinese outbound cruise travelers opting for fly cruises. If you are catering to Chinese travelers, make sure to plan activities for the whole family, from kids' mini clubs to mahjong tournaments for the grandparents.