Chinese New Year may not be the peak travel period it usually is in 2021, but it's still a peak season for marketing promotions, special campaigns, and social media use in China. To share examples of what travel brands have done to celebrate the Year of the Ox, let's look at three very different travel brands that work with Dragon Trail Interactive on B2C marketing: Small Luxury Hotels of the World, PromPeru, and VisitScotland.
Small Luxury Hotels of the World
As a hotel group with properties in China, Small Luxury Hotels of the World (SLH) is one of the rare travel brands that Chinese tourists can access right now. But with travel restrictions dampening hopes of even a domestic tourism surge for the holiday, hotels have had to change their messaging to focus on staycations and future inspiration. As this is the second Spring Festival to be affected by COVID-19, marketing messaging for the holiday has become more emotional than promotional this year.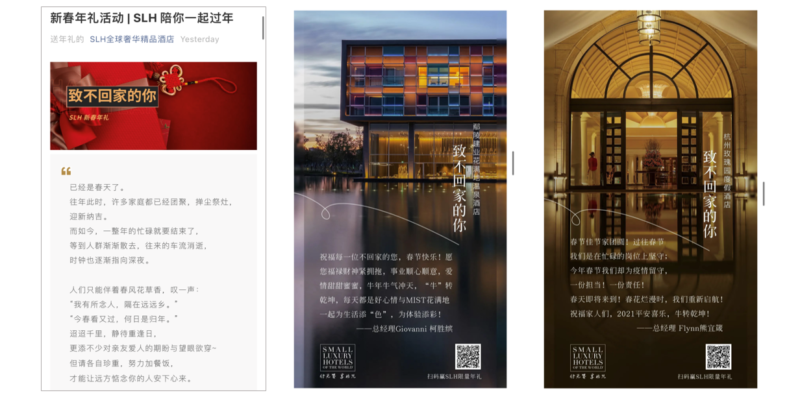 SLH's 10 February WeChat article took a personal tone, addressing followers who can't return home for Chinese New Year, with messages from each of the hotel group's Chinese properties
SLH's 10 February WeChat article was titled "SLH celebrates New Year together with you," with a sincere and emotional message about the importance of Chinese New Year and the fact that many will not be going home for the holiday. The post included posters for all of SLH's China properties, with the phrase "to you who cannot go home," and a unique New Year message from each hotel. The article also included details on a giveaway of 66 prizes – readers enter the competition by messaging the SLH WeChat account, thus driving follower numbers.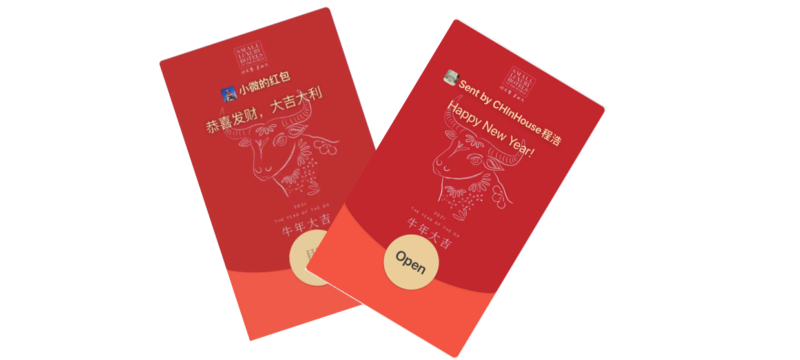 Digital red envelopes designed for SLH for the Year of the Ox
One important Chinese New Year promotion is the giving of hongbao, or red envelopes, containing cash. These days, this exchange has also gone digital, with WeChat launching a red envelope function in 2014. In 2019, 823 million people sent or received red envelopes via WeChat during Chinese New Year. WeChat users can now select and save specially designed digital red envelopes to use when sending these gifts, and Dragon Trail designed a Year of the Ox digital envelope branded for SLH that can be saved, sent, and received by anyone.
PromPeru
A niche but emerging destination for Chinese tourism, Peru had a particularly strong 2020 on WeChat, becoming the first South American country to rank among the world's top WeChat accounts for national tourism boards. This was driven by a multi-media, engaging approach that included short video, KOL promotions, WeChat stickers, and the launch of a WeChat Channels account. Peru's Chinese New Year campaign combines all of these things.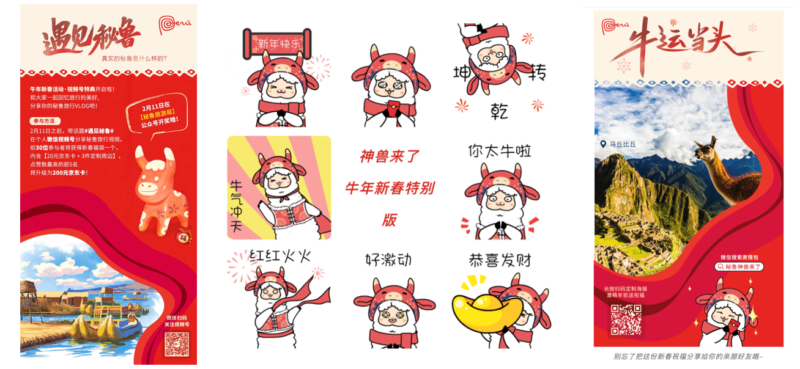 (Left to right) Peru's UGC video campaign, WeChat stickers, and interactive poster competition for Chinese New Year 2021
Peru is one of just a few international tourism boards that its own collection of WeChat stickers, launched in August 2020. For Chinese New Year, they added eight new stickers for the holiday, featuring an alpaca with both traditional greetings and puns using the word for ox. The WeChat stickers were introduced and could be saved from an article that also included a fun, interactive giveaway. Readers could make their own Chinese New Year poster by sliding different parts of the image with their fingers to choose a greeting, an image of Peru, and alpaca character. To enter the giveaway, they had to save the poster they created, and send it to PromPeru's WeChat account in a message.


A travel KOL video series launched on PromPeru's WeChat Channels account just before Chinese New Year
Especially with the dramatic drop in travel for this Spring Festival, many will undoubtedly be looking for entertainment on their phones over the holiday period. Anticipating this, Dragon Trail created a series of new short videos for Peru's WeChat Channels account, featuring travel KOLs responding to questions such as "What was the most local experience you had in Peru?" interspersed with video clips that illustrate their answers.
Finally, Peru also launched a UGC campaign on WeChat Channels. To enter, participants need to share a Peru travel video, using the hashtag "see you in Peru." The first 30 to post receive small prizes, with bigger prizes reserved for the five who get the most likes on their posts.
VisitScotland
In the Year of the Ox, Scotland has the advantage of the fact that Highland cattle are an essential element to the tourism board's marketing on both Chinese and English-language channels. This meant they already had lots of photos and video footage of beautiful bovines to use for Chinese New Year. They created a special Chinese New Year Highland cattle video shared on WeChat channels and on Weibo. The tourism board partnered with Sina Weibo for a special Year of the Cow poster featuring Highland cattle, and shared a number of cow-related photo posts – including one of steaks in Scotland! The Scottish Government's international office at the British Embassy in Beijing also made a fun video of a Highland cattle toy pictured all over China, which VisitScotland shared through their own channel.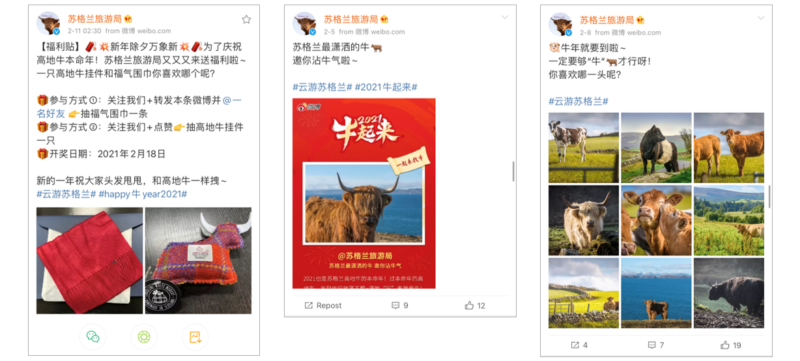 The Year of the Ox was an easy theme for VisitScotland, which regularly features Highland cattle in its marketing campaigns
In one Chinese New Year post unrelated to Highland cattle, Dragon Trail created an animation for VisitScotland's WeChat Channels account that showed Chinese New Year greetings and exploding fireworks with a backdrop of Edinburgh at night.
Looking to launch or enhance your B2C marketing for China? Dragon Trail offers services in social media account creation and management, KOL marketing, short video production, website development and more. Contact us to discuss how we can help you reach future visitors from China.