This article was originally published on Seatrade Cruise News. Click here to view.
From 2013-2016, the Chinese cruise market was booming, enjoying 70% growth every year. But this growth slowed in 2017, and the market was even predicted to decline in 2018. One of the greatest impacts was the 2017 ban on Chinese cruises to South Korea, one of the most popular destinations. Earlier this year, Royal Caribbean and Ctrip ended their SkySea Cruise Line joint venture, and Norwegian Cruise Line moved its built-for-China ship, Norwegian Joy, to Alaska after less than a year in China. However, there are still significant reasons to be optimistic about the future of the Chinese outbound cruise market, both in the APAC region and farther afield.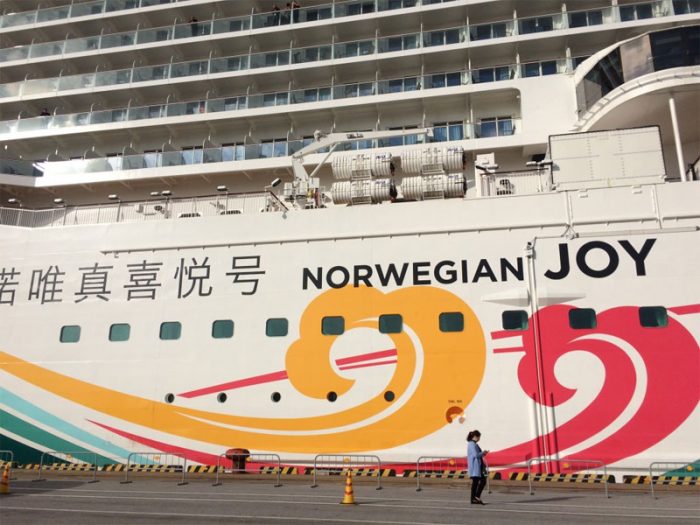 Norwegian Joy left China after less than a year, but new ships custom-built for the Chinese market are being launched in 2019

1) Ongoing Developments
Despite gloomy predictions, Royal Caribbean recently revealed surprisingly strong results from China in 2018. The company may have ended its joint venture with Ctrip, but it certainly doesn't seem to be in the process of getting out of China, and has received significant buzz on WeChat already for Spectrum of the Seas, the new ship for the Chinese market, which will be introduced next year. At the same time, Costa – like Royal Caribbean, one of the first cruise lines to enter the Chinese market – is also launching a new ship in China in 2019. Not only do these developments show ongoing commitment to the Chinese market, but promotion of the new luxury cruise ships custom-made for the Chinese market can help excite passengers, too.
2) Family Tourism
Chinese outbound family tourism is continuing to grow, and there's great potential for the cruise industry here, especially for multi-generational travel. Family tourism accounted for 58% of Chinese outbound travel in the summer of 2018, and an August 2018 report from Agoda revealed that Chinese families go on more holidays together than families in the UK, Australia or the US. Cruises are especially suitable for families traveling together with both elderly grandparents and small children. On WeChat, we often see cruise lines promoting themselves as a way to travel with older parents, as well as boasting about their facilities for children. Read Dragon Trail's interviews aboard Norwegian Joy to learn more about cruises' appeal for family travel.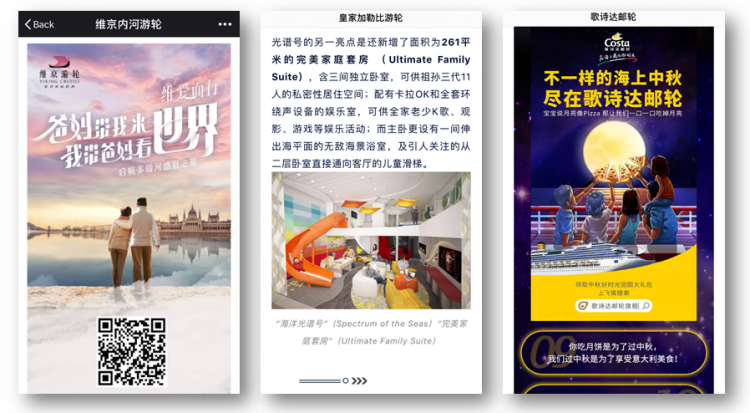 WeChat posts from (left to right) Viking Cruises, Royal Caribbean and Costa Cruises, promoting cruise travel with elderly parents, children, and multi-generational groups
3) Lower-Tier Cities
Lower-tier cities are already a major source of growth for the Chinese outbound tourism market, and will continue to be so in the coming years. These tourists are less experienced than those from major cities like Shanghai and Beijing, so they are not only more likely to first travel to nearby destinations in Asia – such as those reachable by a cruise from China – but they may also enjoy the comfort of traveling on a cruise, where all travel arrangements, meals, entertainment etc. are taken care of. Lower-tier cities are expected to drive two-thirds of China's increase in national consumption from 2017-2030 and are likely to also be a major contributor to cruise industry growth.
4) New Destinations
While first-time cruise passengers will probably opt for cruises that depart from China, there's also increasing interest in fly cruises for more experienced travelers. These include European river cruises, which are already on the rise among Chinese travelers who want to enjoy the comforts of a cruise farther afield – Viking River Cruises, for example, have risen significantly in Dragon Trail's WeChat Rankings since the start of 2017. At the same time, there's great potential for more adventurous, luxury cruises, with increased demand and an expanding market for Arctic and Antarctic cruises, as well as Amazon cruises in South America.
Learn more about the Chinese cruise market in the China Outbound Travel Pulse video series, and download Dragon Trail's Best Practice for Cruise Marketing to China guide here.