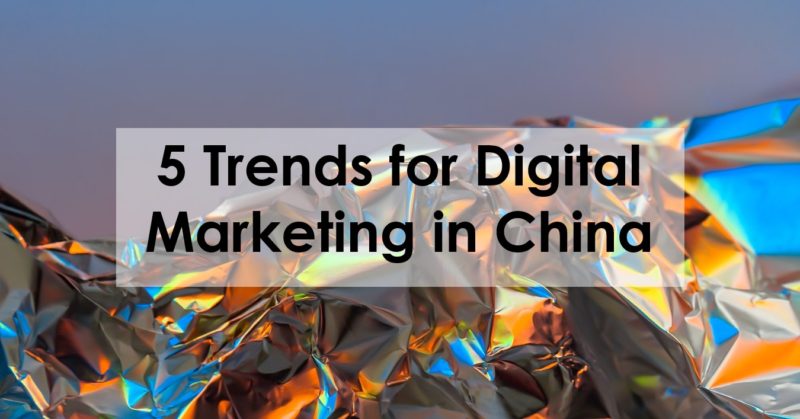 Following our June 2022 webinar for City Destinations Alliance on China's must-know digital trends, we've put together a list of 5 important digital marketing trends in China right now, particularly for tourism marketing. How many have you tried when promoting your destination or business in China?
1. Live Streaming
If we need to name the most popular trend in destination marketing, it would definitely be live streaming. Live streaming was already very popular in China pre-pandemic, especially for e-commerce and for entertainment, but it was not used for tourism marketing. Live streaming is still huge for e-commerce, with viewership numbers growing significantly since the start of the pandemic, and 480 billion USD in retail sales from live streaming projected for 2022.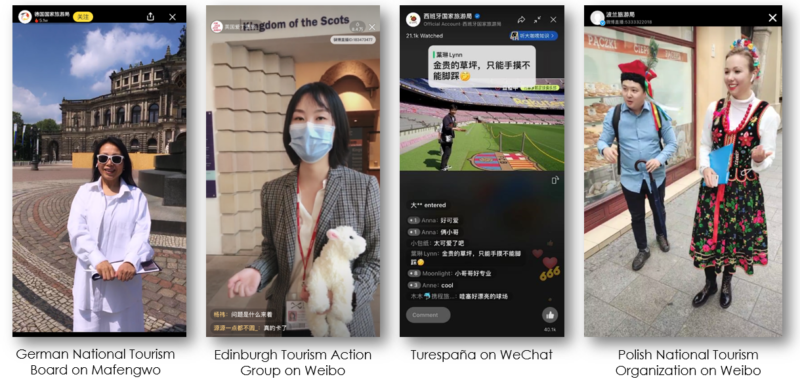 But another result of the pandemic on live streaming is that it suddenly became something used to promote tourism. With viewers stuck at home and tour guides with no clients, we very quickly saw the development of so-called "cloud tourism", where Chinese people could consume live streaming and other online content to travel virtually. Travel website Mafengwo launched a live streaming platform in March 2020, and tourism businesses like OTAs and airlines also started e-commerce style live streaming events around the same time. Since then, live streaming for tourism has continued to be popular, and it's become a new way for overseas destinations to do tourism marketing for China, too.
While there are many different live streaming platforms, those most commonly used by overseas tourism boards are WeChat Channels, Weibo, and Mafengwo.
Click here to learn about the first-ever WeChat live streaming event from the Americas, organized by Dragon Trail
2. Virtual Hosts

Virtual hosts are now being used in China for both media and e-commerce. Virtual hosts can be designed according to the brand image and the preferences of the target audience, with many different options. Introduced in 2021, "Xin Xiaowei" is a virtual anchor for China's Xinhua News Agency. She is the world's first 3D AI synthetic host, with a natural but flawless 360-degree appearance, and no errors in delivery. Some advantages of virtual hosts include being able switch between various scenes at any time – especially in the case of news reporting, change clothes in seconds, and they have no potential for scandal or negative image.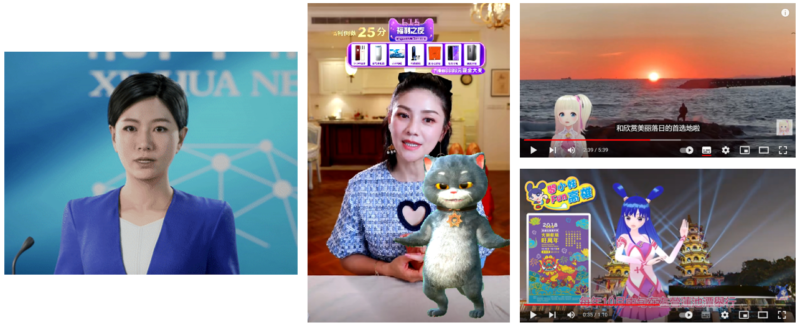 Virtual hosts Xin Xiaowei (Xinhua News), Banbu Cat (e-commerce), Nicole and Yameme (travel vtubers)
In contrast to the human look of Xin Xiaowei, other virtual hosts can look like animals, anime characters, or other types of mascots. Banbu Cat, for example, was the first virtual idol to join e-commerce live streams. He's been used to sell food, toys, cosmetics, electronics, and other consumer goods. Although virtual hosts have not yet been used extensively in the travel industry, there are some cases of anime-style travel video hosts, including Nicole in Melbourne, Australia, and Yameme in Taiwan.
3. Virtual Events

COVID has obviously changed B2B tourism marketing, with industry events pushed into the virtual space. Even when in-person events return, the virtual events are likely here to stay as a complement, making the event more accessible to a larger audience, as well as extending the time period of an event to allow for continued business matchmaking and meetings.

Prior to the pandemic, Dragon Trail had already developed a platform for virtual trade events that's optimized for China, since it works both via web browser on mobile or desktop computer, as well as through a WeChat mini-program. Since 2020, we've run more than 30 virtual exhibitions, roadshows, and other events, including major industry events like IT&CM, and roadshows for the European Tourism Commission, Greek National Tourism Organization, the Philippines Department of Tourism, Atout France, and many others.
4. Interactive Campaigns
More and more, we're seeing destinations and travel brands inspire future travelers through interactive campaigns that allow users to create personalized content, and reward sharing to drive higher exposure and engagement. One way to run this kind of campaign is with Face Fusion technology, where users upload or take a photo of themselves, then generate a personalized poster using a WeChat H5 page or mini-program. Face Fusion was used in 2022 by the China Media Group and Beijing 2022 Winter Olympics, and from the end of 2021 by Dragon Trail as part of a B2B mini-program for Experience AlUla.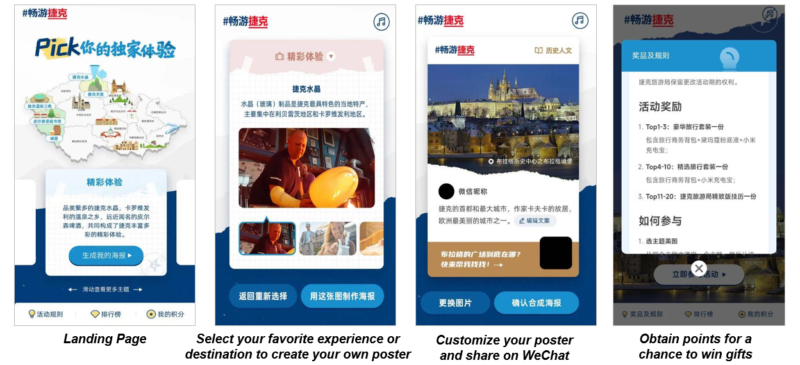 Face Fusion is just one way to allow users to create personalized images. Many other campaigns use H5 campaign pages to allow users to generate customized posters by uploading their own photos or choosing from an image database. In April 2022, Dragon Trail helped Czech Tourism to launch the interactive campaign: "Create your own travel story in Czech" (pictured, above). The campaign invited users to explore a Czech map on a specially developed H5 campaign page, then select their favorite spots for their next trip, and generate a customized poster and share with their WeChat contacts. Those users that contributed the most to the exposure of the campaign through creating and sharing posters, were awarded points that could be exchanged for gifts.
We also ran poster campaigns for VisitScotland (B2C) and Tourism New Zealand (B2B) at the end of 2021.
5. Specialized Training
Many travel brands have kept the Chinese travel trade engaged and up-to-date over the past several years by launching new online training programs through Dragon Trail's CTA platform, which has been used by more than 40 travel organizations, destinations, airlines, cruise lines, and hotel groups.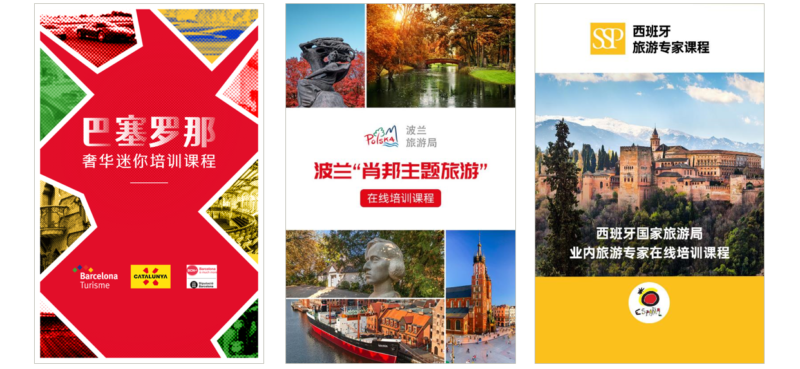 Lately, several destinations, like Poland or Barcelona, that had already developed general training courses in the past, have created more specific modules for Chinese trade. These include a Chopin-related course for the Polish National Tourism Organization, and a luxury travel course for Turisme Barcelona.
Click here to learn about how Dragon Trail can adapt SCORM e-learning courses to the WeChat ecosystem for online training for the Chinese market.
Please email us at communications@dragontrail.com to request a copy of our June 2022 presentation, "China's Must-Know Digital Trends"