There are many social media platforms in China that support video, with new ones emerging every year. The following platforms are the leaders of the pack, for their number of followers and their relevance for tourism marketing.
This article is based on Dragon Trail's April 2021 webinar on video marketing for Chinese tourism. Click here to view, and contact us to request the presentation slides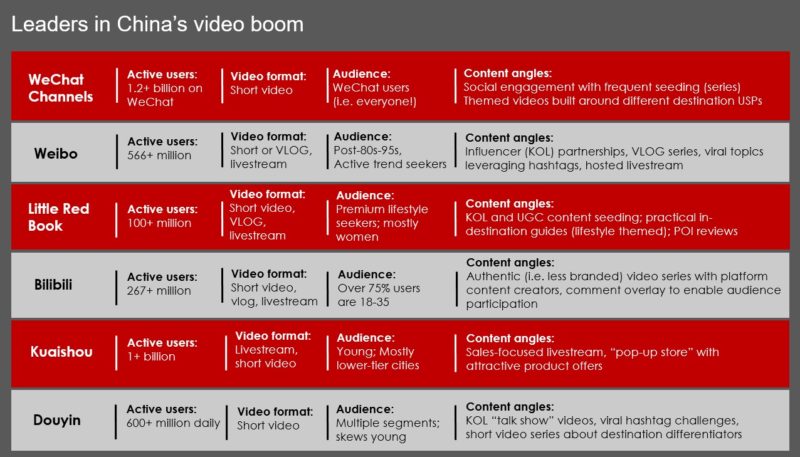 WeChat/WeChat Channels
Not only is it increasingly popular for tourism brands to include video content in their official account posts, but WeChat launched its own video platform called WeChat Channels in early 2020. Channels can support short videos, and for some accounts, longer videos up to 30 minutes, and even live streaming.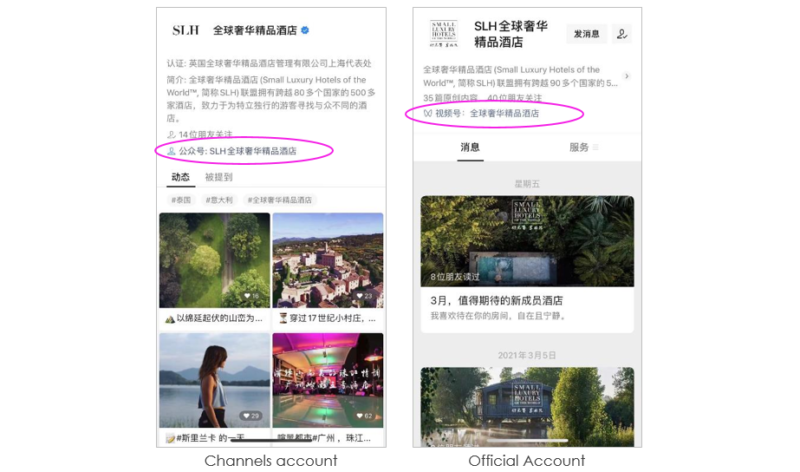 WeChat Channels accounts and Official Accounts are now linked (Pictured: Small Luxury Hotels of the World)
Previously, Channels accounts were totally separate from Official Accounts, but WeChat has recently connected the two, so your official account profile has a link to your Channels account and vice versa – this is much better for attracting people to both accounts. For brands that already have a WeChat Official Account, opening a Channels account is easy to do through the same username.
One of WeChat's key advantages is that almost all internet users in China are already using this platform regularly, and the social nature of WeChat means that content can be shared easily within peer groups – either directly, or through the Channels feed that shows users videos that their friends have liked. Another advantage for overseas travel brands is that Channels is still a relatively uncrowded field, and WeChat has been helping to provide promotional support for overseas tourism boards on Channels to help develop the platform.
Click here to learn more about WeChat Channels for tourism marketing
Sina Weibo



Popular video content on Weibo from (left to right) Tourism Australia, the Louvre Museum, and Visit Florida
The microblogging platform supports short video and live streaming. Here, it's even easier than WeChat to open an account and post video content on it, and because it's a more open platform, exposure will be higher, too. Like with WeChat Channels, Weibo has provided a lot of support in the last year to overseas tourism boards doing live streaming, to promote this relatively new function.
Douyin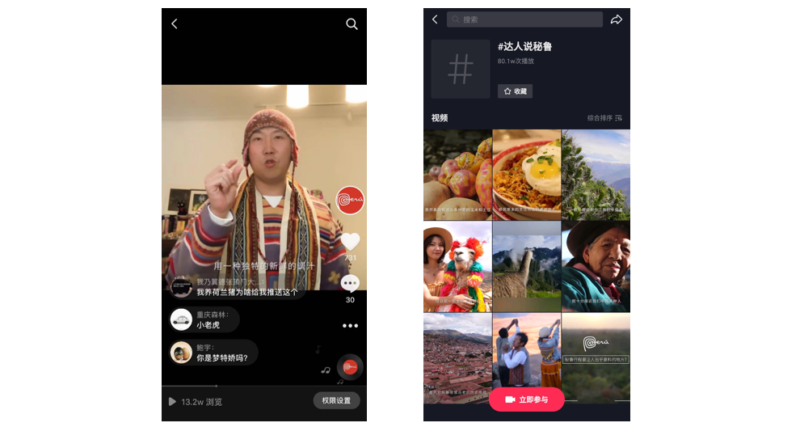 PromPeru's videos with KOLs on Douyin

The original, Chinese version of TikTok, this platform is for short videos of a minute or less, and is especially popular with younger users. In 2020, Douyin had 330 million viewers of travel content. While exposure can be very high, Douyin is a competitive space, and opening an account or sharing content from overseas can take some time and effort to get set up. This is one platform where working with a KOL could deliver more immediate results.
Kuaishou
Douyin's biggest rival, Kuaishou (sometimes referred to as Kwai) is another short video platform popular with younger users in China. Kuaishou's large user base in lower-tier cities means that it is not the ideal platform for reaching a target audience of outbound travelers – though this could always change in the future.
Bilibili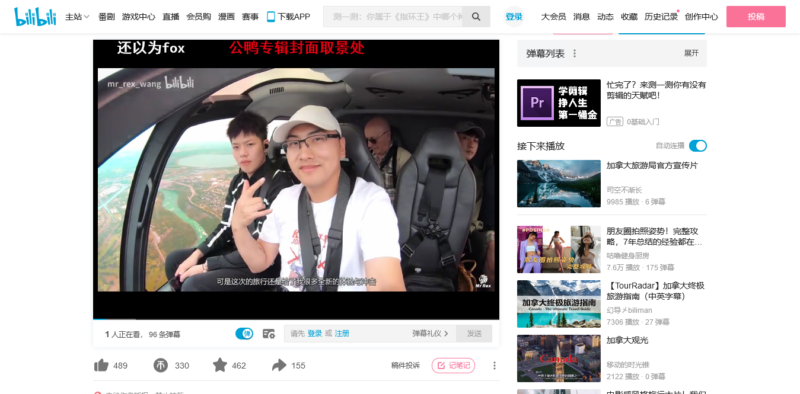 Professionally edited video about a trip through Canada on Bilibili (view)

An online platform for games, animation, and video. Video content ranges from a minute or two to 1.5 hours or more, and most travel videos are between 5-10 minutes and of professional quality in terms of content and editing. This is a platform where it's not about opening your own account, but rather working with travel KOLs who already have a good following there.
Xiaohongshu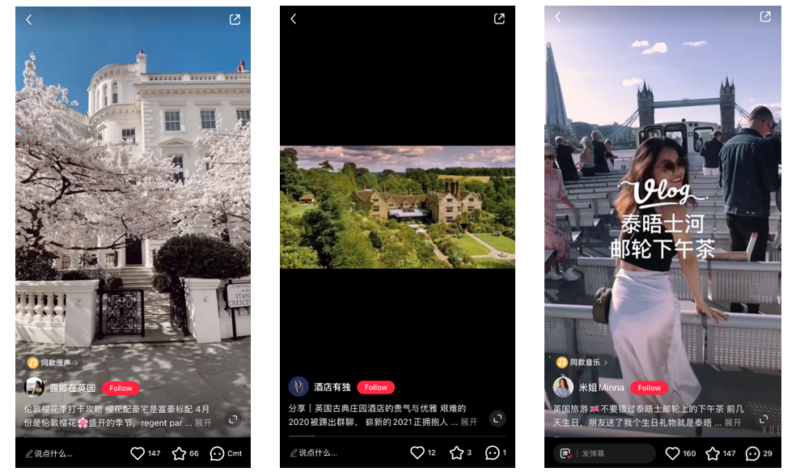 A mix of UGC and professional marketing videos on Xiaohongshu
Also known as Little Red Book, this is an aspirational lifestyle platform with video and photo content, and a majority female, first-tier city audience. There's a real mix here of professional, brand-created video content and amateur user content, so it could be a good place to encourage UGC as well as posting your own videos and photos.
Which Platform Is Right for Me?
Rather than worrying about opening accounts on each one, we recommend first creating good video content for the Chinese market, and then sharing this on the platforms where you're already active, including your website. To reach a larger audience, you should consider sharing video content through collaboration with KOLs who will already have sizable followings online, as well as with Chinese travel agents, who can learn from the video content and share it directly with interested clients.
How Can Dragon Trail Help?
Dragon Trail has a full video production team that can organize entire on-site filming trips, edit and localize pre-existing footage, create animation, help you to get set up on different platforms, and coordinate KOL campaigns. Please click here for more information about our video marketing and production services, or get in touch directly about specific video requests and questions that we can help with. Click here to learn more about our 2021 Chinese New Year video marketing campaign for PromPerú.