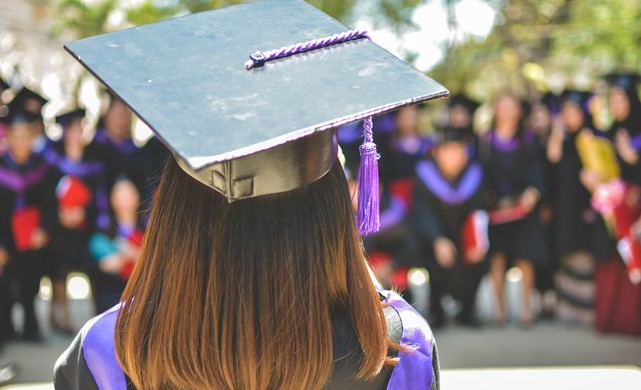 China is by far the world's largest outbound education market, with Chinese students comprising the number one source market for international students in countries including the US, Australia, UK, Japan, Germany, and New Zealand.
Following our June 2022 webinar with Venture Education (watch here), we've put together a list of six ways that educational and travel-related institutions, organizations, and businesses can effectively reach and communicate with the Chinese market.
As we look to the new academic year in September, please feel free to contact Dragon Trail to discuss any ways we can assist – be it accessing our virtual event tools and B2B platforms or working with our social and website teams to make sure your communications are hitting the right mark with your target audience.
1. WeChat

China's "super-app" and number one social media platform, WeChat can be used in many ways for both B2C and B2B outreach, and serves as the online platform for most of the examples in this article. One way that WeChat can be used by universities overseas is by opening an official account and publishing useful and inspiring news on a regular basis to communicate with prospective and current students, and alumni. As of 2022, around one-third of the QS World Rankings' top 100 universities have their own WeChat accounts, and Dragon Trail is currently tracking these on a weekly basis (view our rankings here). Based on our first five weeks of data, we can see that popular content themes based on number of article views include news about QS or Times rankings, China's gaokao university entrance exam, and application guides for incoming students.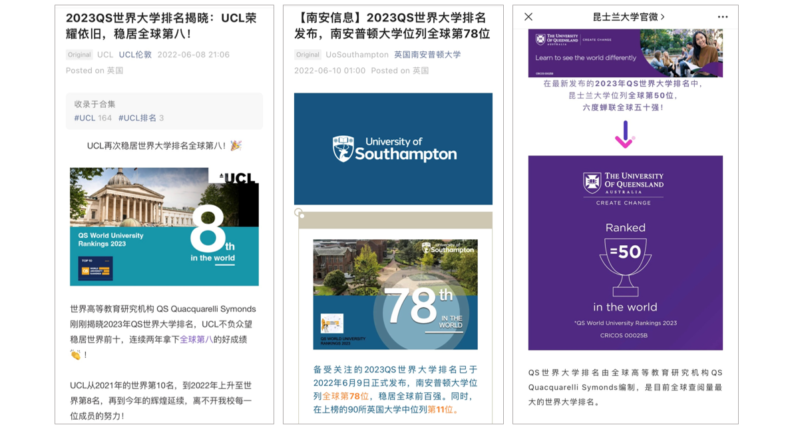 Popular WeChat posts by UCL, University of Southampton, and The University of Queensland about their QS World University Rankings 2023
Another basic but extremely effective way of using WeChat is through its chat function, as the app allows for group chats of up to 500 members. Tourism marketing organization Edinburgh Tourism Action Group has been doing excellent outreach to local students for years. They organize events for incoming Chinese students at universities in Edinburgh, and from these, create WeChat groups which they can use later to find student volunteers and drive engagement with their social media accounts.
2. Weibo
Weibo is another of China's leading social media platforms, used by around half of the top 100 universities outside of China, as ranked in the QS World Rankings 2022. Here, some of the topics that generate high engagement are similar to WeChat, including university rankings news and posts about the gaokao exam. Giveaways also drive up engagement, as does the use of "supertopics".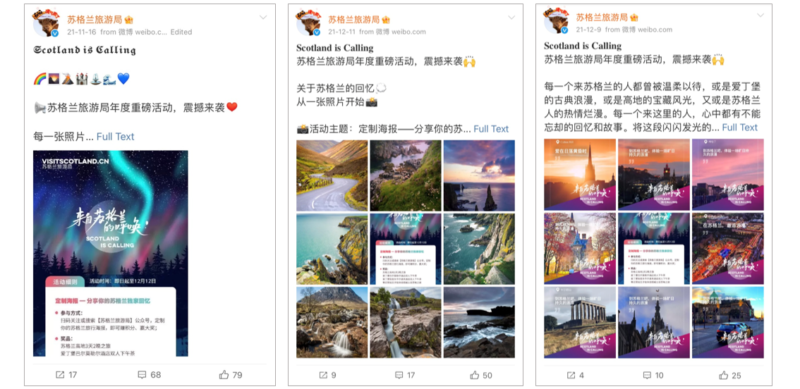 VisitScotland's Weibo campaign targeting Chinese students in the UK
A "supertopic" is a special kind of hashtag on Weibo, which has a dedicated landing page where you can see all of the posts, and who else is following the topic, creating a community of interest. They can be used effectively by universities themselves – such as the University of Glasgow, which always tags posts with its own supertopic – or by others who would like their content to be seen by followers of a particular university. In a 2021 social media campaign executed by Dragon Trail for VisitScotland, we targeted Chinese students currently in the UK both through ads aimed at users based in the UK, and organically by using supertopic hashtags for Scottish universities such as the University of Edinburgh, University of Glasgow, University of Aberdeen, University of Dundee, University of St Andrews, and University of Strathclyde.
Universities who would like to be added to our WeChat and/or Weibo rankings list should contact Dragon Trail directly at communications@dragontrail.com.
3. Online Informational Events
Live streaming is one of China's biggest digital trends, and a great way to deliver information to and answer questions from Chinese students, their parents, and education agents. In the summer of 2021, airline Cathay Pacific organized a live streaming with representatives from British, Hong Kong, and US universities. The event was promoted on WeChat and Weibo, and attracted 18,000 viewers. In June 2022, Cathay Pacific organized another live streaming aimed at students and their parents, with information on how to arrange their flights overseas, get ready for the trip, and get involved in student life. Guest speakers from the University of California Berkley and University of Toronto St. George's Campus joined other presenters from Cathay Pacific, and the event got 11,000 live viewers.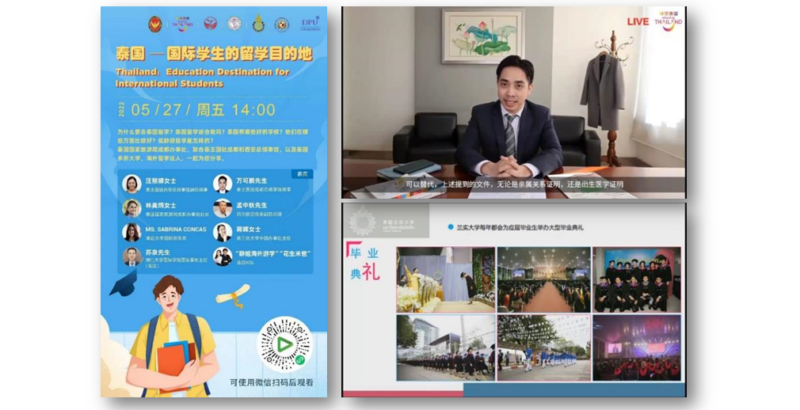 Tourism Authority of Thailand's education webinars on Dragon Trail's CTA Live WeChat webinar platform
This year, Dragon Trail has been running a series of education-focused webinars for the Tourism Authority of Thailand and the Thai Royal Consulate. Event speakers include local Thai universities, KOLs who focus on promoting overseas study, and travel partners such as Sichuan Airlines. These events utilize Dragon Trail's CTA Live WeChat webinar platform, which allows for in-webinar activity like polling and live chat.
4. Online Informational Portals


The Philippines Department of Tourism's education portal
Students planning study abroad will have a lot of questions, and easily accessible information can help to guide their decisions about where to study. Partnering with the country's education department, the Philippines Department of Tourism who enlisted Dragon Trail's help in creating a dedicated website to act as the official education portal for Chinese students, where all key resources for the market are gathered in an easily accessible place.
5. Hybrid Events

With many Chinese students and their families impacted by travel restrictions, the need for interactions through virtual events is still high. Dragon Trail recently worked with the University of Karachi to hold a hybrid event honoring their Mandarin-learning students with a virtual graduation. In partnership with Visit Beijing, we created an online quiz-based competition to learn more about Beijing as a destination. The students were then invited to a hybrid award ceremony held on campus in Karachi, while an offline event in Beijing with city officials and local media was also organized. Dragon Trail provided all the tech solutions, offline event management and after-event PR. Quirky add-ons to the hybrid event included virtual graduation photos and digital trophies shared across the screens. The event utilized Dragon Trail's China-friendly, WeChat-enabled virtual event platform and was broadcast live for students, faculty, and family to join in.


The University of Karachi's hybrid graduation ceremony for Mandarin-learning students, held in Beijing and Karachi
As we look to head into another academic year in which parents and in some cases, students might not be able to make graduation ceremonies, this kind of solution should be a consideration for any faculties with a high percentage of Chinese students. But making the streaming easy and accessible for Chinese parents is key, and many standard virtual event platforms fail to address China's firewall issues, as well as catering for a mobile and WeChat based setup. Dragon Trail's platform ensures that viewers in China can join hybrid events easily and by using the apps and devices where they are most comfortable.
6. Virtual Trade Exhibitions

In China, educational agents play an important role, and are seen by many prospective outbound students as the best way to organize their educational plans because of the agents' knowledge, connections, and accountability. A very effective way to reach these agents on a large scale is through a virtual exhibition, such as Education NZ's annual China – New Zealand Education Week, which was held on Dragon Trail's virtual platform to showcase New Zealand's tertiary, vocational and early childhood education industries to Chinese education agents and industry professionals.

This 5-day forum included a conference and networking sessions, coupled with a trade show element organizing 1-on-1 appointments with 45 New Zealand educational institutions and Chinese education agents. Across the 5 days, more than 1,200 attendees and over 350 meetings were held. The forum encouraged Chinese education agents to promote and sell New Zealand as an overseas study destination for their clients and the creation of business connections on both sides, at a fraction of the cost of a traditional offline event.
With topics such as "Vocational Education" and "Early Childhood," the conference content positioned Education NZ as experts in these fields, establishing the foundation for business investment opportunities. Furthermore, the extensive data collected allowed New Zealand institutions to facilitate long-term business development and partnership opportunities. For now, global events involving China will need to be digital, but even as global travel reopens, the considerations of digital or hybrid models for student recruitment should be discussed when looking at budgets, audience reach and accessibility.