From rising OTAs and market demographics, to booking behavior and new technologies, there's a lot happening in hotels for the Chinese travel market. Following up on Dragon Trail's June 2018 webinars on hotel trends and WeChat for hotels, we've put together a list of 7 things everyone in the hotel industry should know about Chinese travelers. Click here to catch up on our introductory hotel webinar, and here for our hotel masterclass.
1. The market is young
Millennials – that is to say, those between 18-35, or 'post-80s' and 'post-90s' generations, as they are referred to in China – make up 60% of Chinese outbound travelers. Consumers born in the 1980s are now the main force for the hotel industry, and around 35% of hotel loyalty program members in China. Last year, the 90s generation surpassed the 70s generation to become the second largest age group for hotel bookings. "Hotel brands big and small, this is your cake," says Chief Commercial Officer for TravelDaily China, of China's 400 million millennials.
Unsurprisingly, millennials are also dominating online, with 75% of online hotel bookings in China. 71% of users of rising OTA and lifestyle brand Meituan-Dianping were born in the '80s and '90s, and 90% of hotel bookings made on Meituan-Dianping are by consumers under the age of 35. To meet the demands of these crucial demographics, says Wang, hotels are changing the way they interact with guests, offering all kinds of services on mobile devices with 24-hour availability.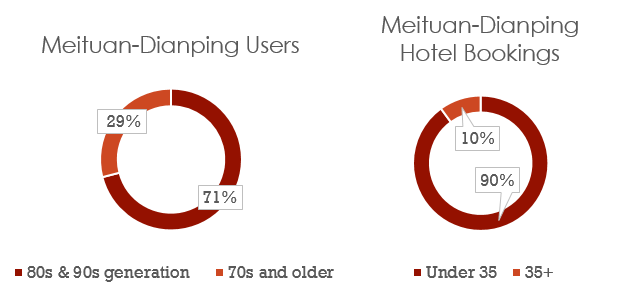 2. The rise of Meituan-Dianping
In 2015-2016, Chinese OTA Ctrip got over half of all online hotel bookings in China, and Meituan-Dianping wasn't even a contender. Flash forward to Q1 of 2018, and Meituan suddenly has over 57.7% of hotel bookings by room nights, with Ctrip at only 22.1% (Trust Data). At the same time, Meituan-Dianping is filing for a US$6 billion IPO in Hong Kong that would make the Tencent-backed company twice the value of Ctrip and seriously shake up the Chinese online travel market – something that seemed inconceivable even a year ago. And although Meituan's dominance for hotel booking is currently reliant on domestic bookings, and Ctrip is still ahead for international travel, Meituan is pushing hard to expand into the outbound market as well. 81.8% of Chinese born in the 80s and 90s reported using Meituan-Dianping to book hotels, compared to only 68.9% for Ctrip – even Mafengwo was ahead of the OTA giant, with 77.4% (Trust Data). Meituan-Dianping's growth is being driven by its young user base, and its popularity in lower-tier Chinese cities, which are a major potential growth market for the outbound tourism industry.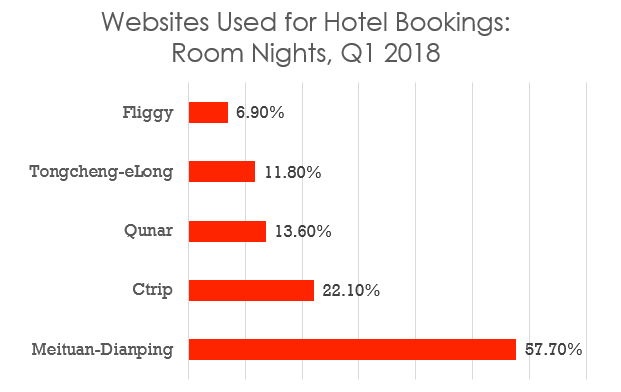 3. Going mobile
Chinese mobile bookings alone would be the third largest travel market in Asia, and these are growing fast, too. In 2016, 53% of Chinese online hotel bookings were made on a mobile device; by 2017, this number had grown to 79%. Within the hotel, services are also going mobile, with online customer surveys replacing the old paper ones, 24-hour mobile ordering instead of the traditional mini-bar, and local transport all booked through the traveler's phone.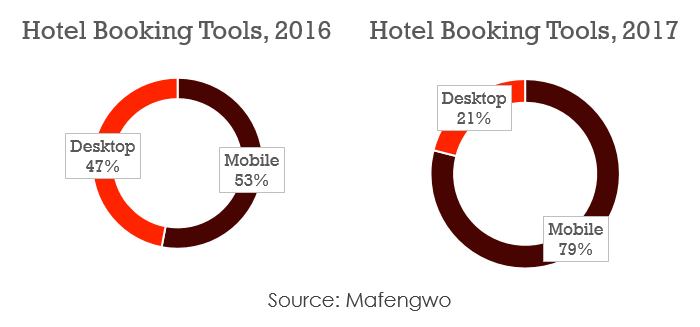 4. Booking is becoming more spontaneous
The Chinese outbound travel market is known for booking very far in advance, but lead times are shrinking considerably as the market becomes more experienced and increasingly mobile/online. According to Mafengwo's Global Independent Traveler Report in 2017, while 40% of outbound travellers booked their hotel one month or more before their trip, 25% waited until their week of departure to book accommodation. That said, while lead times might be shrinking, customers are still doing a lot of research. Travelers looked at an average of 8 hotels online before making a decision for domestic trips, and an average of 19 hotels for international trips.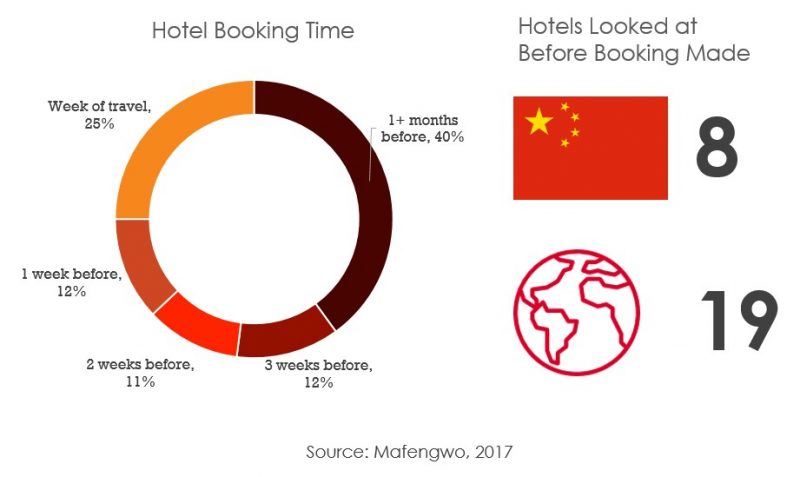 5. Hotels are embracing mini-programs
When WeChat launched mini-programs in January 2017, they were quickly written off as over-hyped and doomed to failure. But then they started to get traction with retailers, grew as an in-destination travel tool, and are now being embraced by hotels both inside and outside of China.
In March 2018, Martim Hotels became the first overseas hotels to launch a mini-program, available at 47 properties in 7 countries. The mini-program not only gives guests information about hotel services through scanning QR codes around the properties, but also offers in-destination guides – for example, the Berlin mini-program has a number of suggested walking routes mapped out around the city.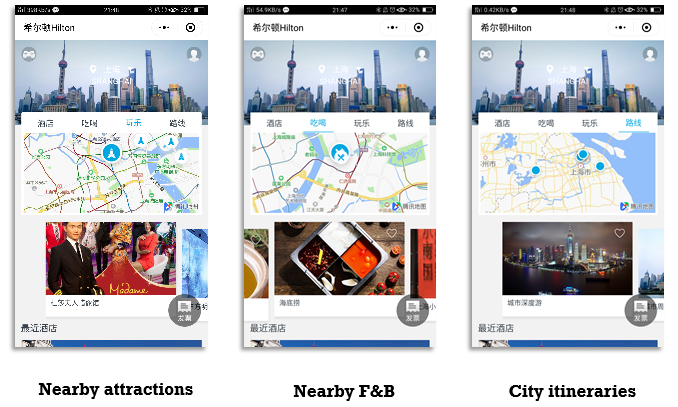 Hilton's mini-program in Shanghai

Hilton launched their mini-program in May 2018, and it was an instant hit – the 11 May WeChat announcement for it got over 10,000 views. The mini-program includes interactive maps of the area around the hotel, with recommendations for nearby attractions, restaurants and city itineraries. Plus, users stay connected to the concierge the whole time. In Beijing, the Peninsula hotel uses their mini-program to upsell guests with promotions to their F&B venues, offer room deals and even attract locals to the hotels with discounts on gym memberships.
6. WeChat has to extend beyond inspiration
So you've set up an official WeChat account, and you publish a few articles every week highlighting your properties. Unfortunately, this just isn't going to cut it anymore. The WeChat environment is increasingly crowded, and it's also evolving beyond passively consuming content, especially when it comes to a service provider like a hotel. The good news is, WeChat itself is also evolving, and there's a lot more that hotels can do with the app to engage with their consumers. From check in to concierge services, booking and mini-programs that serve as local guides, or even unlocking the hotel room door, hotels can set up touch points all along the way. Use QR codes to capture customer Open ID and get them to connect to your account. Then stay connected after their hotel stay to bring them back with personalized recommendations, loyalty program offers and more.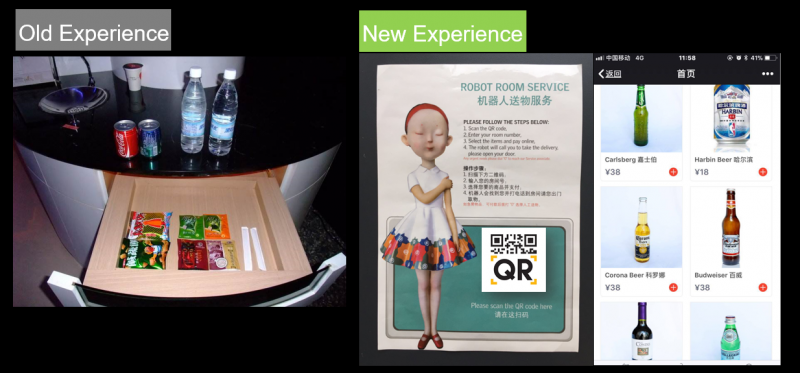 New technology not only brings convenience for guests, but is also good for generating word of mouth promotion

Joseph Wang points out that having intelligent guest services – including things like WeChat room access, and facial recognition check-in, as well as gimmicks like robots that deliver mini-bar items – also functions as a good, indirect way of getting exposure. Guests are likely to share about innovative services online, acting as influencers and driving more potential business.
7. Don't underestimate loyalty programs
Hotels are leveraging loyalty programs as a tool to drive brand engagement with consumers in a competitive field, and their potential shouldn't be overlooked. Connecting to customers directly through loyalty programs is a promising strategy for retaining them after their stay, and encouraging direct bookings, which are exceedingly difficult to get for first-time guests, thanks to the dominance of OTAs and consumer propensity to use price-comparison sites.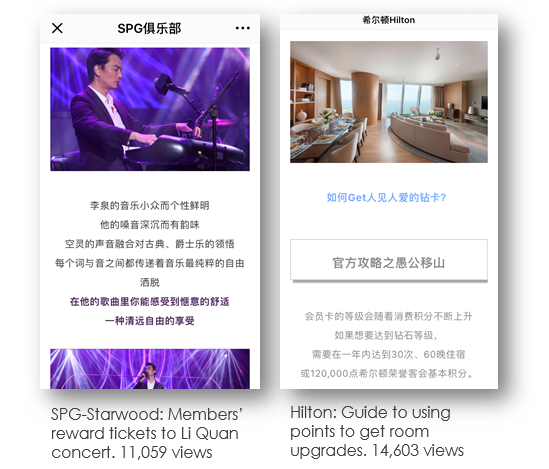 Membership promotion posts on WeChat

Loyalty programs are also a good way to engage with guests through WeChat official account content. Top hotel brands on WeChat, especially Marriott and Starwood, often rise to the top of the WeChat rankings with posts about member's rewards – such as tickets to Chinese pop concerts – points promotions and other deals for loyalty club members. The content of the posts is sales-driven and might not be too exciting to read, but it succeeds in getting followers to take action, actively follow the brands and stay loyal – and don't forget, those coveted post-80s and post-90s generations are now the largest age groups when it comes to hotel loyalty programs in China, too.