Published in July 2021, China Tourism Academy and Mafengwo's "China Sports Tourism Consumption Data Report (2021)" analyzes 2019-2021 data from leading Chinese online travel platform Mafengwo in order to track the development of sports tourism in China.
Between an increase in health consciousness and popularity of outdoor activities prompted by the pandemic, and a number of major international sporting events such as the Tokyo Olympics and upcoming Beijing 2022 Winter Olympics, sports tourism is on the rise, according to the report. In the first half of 2021, searches for "sports tourism" on Mafengwo were up 115% year on year.
However, the report encompasses a very wide range of activities under the umbrella of "sports tourism", and in many ways goes beyond participation in or spectatorship of traditional sports, to look more broadly at Chinese tourism and leisure trends in the post-pandemic era. This includes activities like yachting, hot air ballooning, camping, escape rooms, petting zoos, hot springs, bowling, and going to sports-related museums, such as Shanghai's Ping Pong Museum, and the Chinese Fishing Culture Museum in Sichuan.
These are eight major takeaways from the report. For more detailed information, please click here to read the original report in Chinese.
1. The pandemic has helped increase sports tourism, but it's not the only reason
The pandemic has pushed Chinese people – and many others around the world – to focus more on outdoor activities, and emphasized the value of good health. But sports tourism was already growing before the pandemic, according to Mafengwo data, and its rise is not down to COVID alone. There have been numerous official pushes to improve health and fitness in China, as well as the development of sports facilities and sports tourism infrastructure – such as a boom in new ski resorts as the country gets ready to host the 2022 Winter Olympics. The popularity of international events including the Olympics, World Cup etc. have put sports center stage for years, while product offerings for both participatory and spectator sports have improved.
Click here to read more about pre-pandemic Chinese outbound sports spectatorship tourism.
2. China's most popular sports tourism activities are…
Sports tourism on Mafengwo is divided into participation (62.8%) and spectatorship (37.2%). For participation, the most popular activities are hiking, marathon, cycling, water sports, and walking. For spectatorship, the Olympics, World Cup, and visiting iconic athletic architecture like Beijing's "Bird's Nest" stadium and "Water Cube" aquatics center are most popular.
The activities that are growing the most in popularity now are scuba diving, going to the beach, and walking.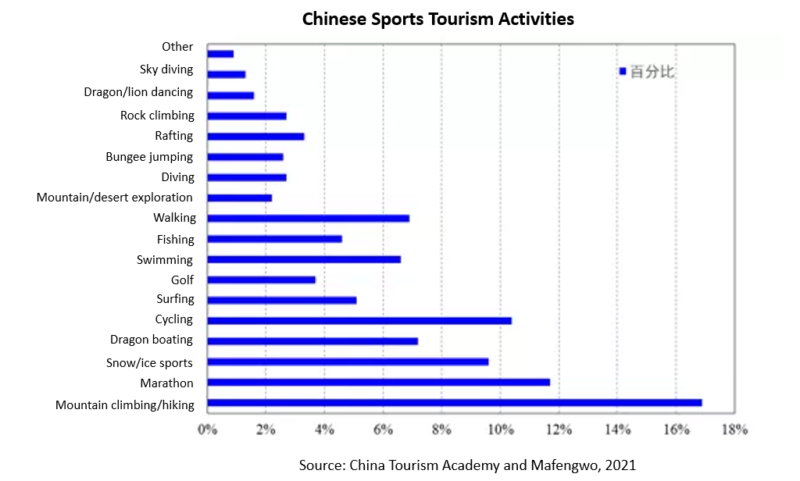 3. China's most popular sports tourism cities are…
Hainan's Sanya is China's post-pandemic sports tourism hotspot, rising from 4th place in 2019 to 1st in the first half of 2021. Somewhat displaced by Hainan's popularity, but still the 3rd place destination is Qingdao, a coastal city boasting lots of sailing and other water sports facilities, as well as an Olympics museum. As a "dual Olympic city" Beijing is another top destination for sports tourism, with visits to Olympic Park especially popular.
4. International travel restrictions fuel domestic tourism development
Pandemic-related travel restrictions have meant that travelers who might have otherwise gone overseas for certain activities are now doing them domestically. This has especially driven the development of activities like diving, surfing, yachting, snorkeling, sky diving, and hang gliding in Hainan, but also includes skiing in Zhangjiakou, and cycling, camping, and stargazing in the Zhangbei Grasslands. While perhaps not a "sport" in the traditional sense, hot air ballooning has taken off domestically in the last two years, with places like Guangdong's Qingyuan vying to become"China's Cappadocia".
5. Sports are social, and social media-worthy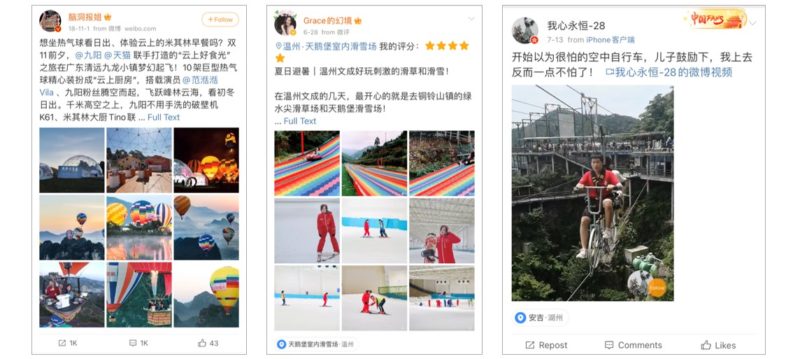 Some of the trending activities included as "sports tourism" in the report are: hot air ballooning, rainbow slides, and "sky cycling". Images from Weibo.
The report stresses the popularity of sports tourism as a group activity, explaining that it's a social trend for young people who want to try new activities and keep up with "daka" trends – some trending "sports" activities are especially popular because they look good on social media, including things like ziplining, "sky cycling", rainbow slides, and glass walkways.
However, while the report's data shows that friends are the most common companions for sports tourism, at 39%, comparing 2019 to 2021 actually shows an increase in solo activities since the pandemic from 21% to 28%, and a slight decrease in almost every other companion category.
6. Sports tourism has become more local, short-term, and cheaper
There's actually been a big reduction in the length of an average sports tourism trip since 2019 – pre-pandemic, only one-third of trips were three days or less. In the first half of 2021, 71% of sports tourism outings lasted three days or less. Weekends are the most popular time for these activities, with most participants staying in the local area. As an example, the report cites groups going to run together in the Beijing Olympics Park on weekends. Spending on sports tourism has also decreased by 33% compared to 2019, with travelers opting for shorter trips, closer destinations and cheaper activities, such as walking and hiking.
7. Chinese women and young people lead the way
Sports tourism in China is very much dominated by women, according to Mafengwo's data, with 70% female travelers in 2021, up from 66% in 2019. Young people are also driving the trend, with 70% of sports tourists in the first half of 2021 born in the 80s, 90s, or early 2000s – although it's worth acknowledging that Mafengwo users generally tend to be in this age range.
8. One more area to watch: Marathons
There's rising interest in marathons and running groups. In 2019, four out of the top 10 international cities for marathons for Chinese travelers were located in Japan. The remaining six marathon cities were: Berlin, Pyeongyang, New York City, Prague, London, and Sydney. When outbound tourism returns, destinations with their own marathons should consider including information on these events in their marketing to Chinese consumers.