From May 19-21 in Beijing, Dragon Trail held its inaugural summit, China – The Future of Travel. The event featured keynote speeches and panel discussions with China's leading online travel platforms, social media channels, travel agencies, and other Chinese tourism experts.
Over the coming weeks, we will publish a blog series on some of the major learnings from the summit. To start, here are nine stand-out takeaways on the development of Chinese tourism, online media, and digital marketing, shared by our speakers.
1. Short video is the keyword for 2019
We'd already noticed a major shift towards video content on WeChat from top travel brands in 2019, but the importance of short video was emphasized by a number of speakers. Car rental platform Zuzuche managed to raise Georgia's Baidu Index search ranking six-fold in one day by posting a single video promoting self-driving in the European country on Douyin, said Brand Manager Dannie Wu. On WeChat Moments, the platform's social feed, 68 million videos are posted every day, reported Tencent Senior BD Manager Silvia Zeng. On Weibo, short video has been driving growth for years already, and Director of Sina Weibo's travel channel Chris Li revealed that short video views increased 175% in 2018. This hasn't been missed by travel companies, and leading online travel platform Mafengwo is releasing a new product based around short-video guides this year, announced their Associate Director, Maggie Yang.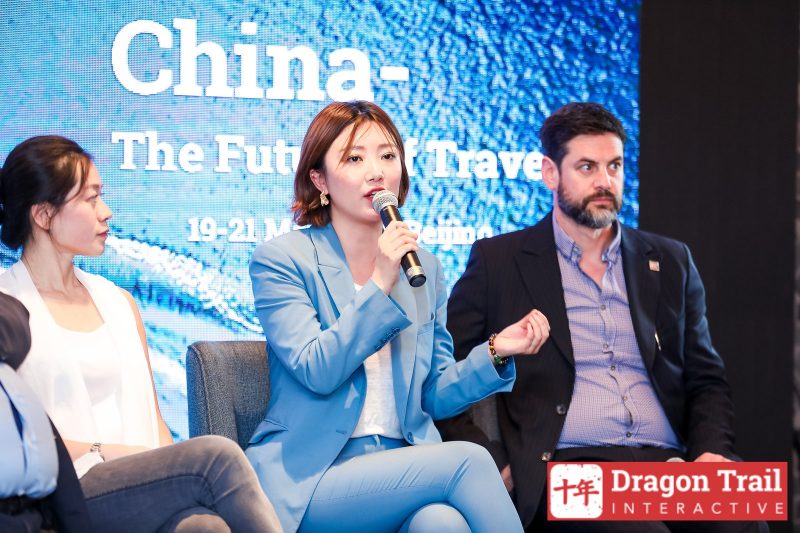 Mafengwo is launching a new short-video tourism guide in 2019, announced Associate Director, Maggie Yang
2. What's next? In-destination geo-targeting
As travel companies and travel marketers move beyond the inspiration and pre-trip booking stages, and into in-destination activities, LBS and geo-targeting are making it easier to reach the Chinese traveler while they're on the road. WeChat has rolled out in-destination geo-targeting for Moments ads, which tourists are likely to be checking and posting photos on throughout their trips, and Weibo has already collaborated with Airbnb on promotions based on users' overseas locations.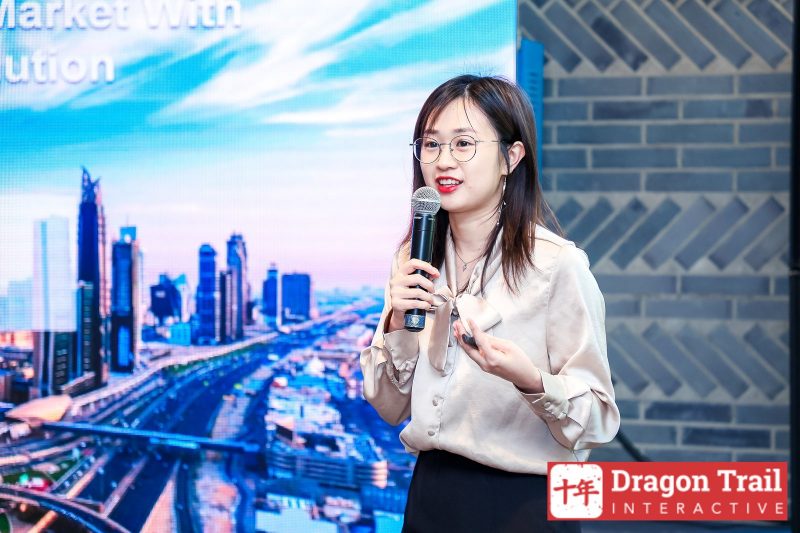 WeChat Moments ads now offers an overseas geo-targeting option that can be used to reach tourists in-destination, explained Senior BD Manager Silvia Zeng
3. Children change travel
Family travel is one of the most important growing Chinese market segments. There are around 300 million preschool and school-aged children in China, and family travel makes up around 30% of the clientele for leading Chinese travel agency Caissa Travel, reported the company's Vice President, Ge Mu. Here's what we didn't know: Young Chinese children often prefer to eat Western-style fast-food, such as pizza or French fries, so this needs to be considered when catering for family groups. Less surprising, but equally useful information is that families prefer starting their itineraries later in the morning, having more free time on the agenda, and staying in the same hotel for multiple nights instead of having to move often with young children.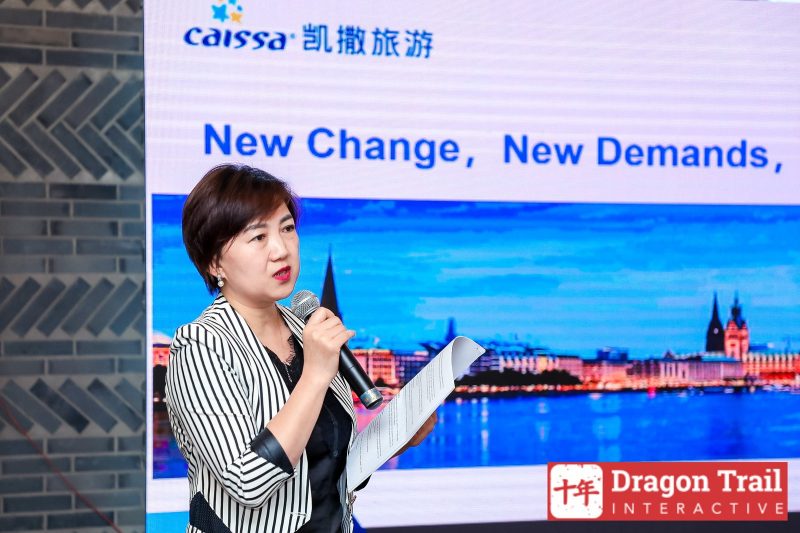 Caissa Travel's Vice President, Ge Mu
4. Marketing musts: Segmentation and cross-promotion
To market to Chinese travelers today, you need a deep understanding of your target market segments, and a strategy aimed specifically at them. Silvia Zeng from Tencent and Chris Li from Sina Weibo offered practical examples on how to do this successfully through digital media. On WeChat, Tencent works together with leading travel brands to help them target a diverse selection of market segments at once, by defining content with different design, themes, and KOLs – for example, Dubai Tourism (the no. 1 DMO account on WeChat in 2018) uses different celebrities to promote "boys' trips" vs. "girls' trips", as well as further segmentation for families and couples. The Weibo Travel channel targets specific markets by cross promotions with other Weibo content channels – for example, a hashtag like #WorldCupTravel# will be promoted through both the sports channel and the travel channel, while #GraduationTravel# targets travelers, together with students
5. Low-tier, high-potential
While first-tier cities still make up the core of the Chinese outbound tourism market, higher growth and future potential comes from lower-tier cities. Our summit speakers were very much in agreement on this point, offering their own data to confirm the phenomenon. Citing a Mafengwo report, Tencent's Silvia Zeng showed that the cities with the largest growth rate in outbound tourism are Xi'an, Chengdu, Shenyang, Changsha, and Wuhan. On Weibo, said Chris Li, just 19% of the platform's travel channel subscribers come from first-tier cities. 27% are from second-tier cities, 24% from third-tier cities, and 28% from fourth-tier and below, indicating strong interest in travel from these regions. Caissa Travel's target market is older than Weibo's (Caissa's clients tend to be aged 30-50, while 78.6% of Sina Travel subscribers were born in the 1980s and 90s), but the shift to lower-tier markets is reflected here, too. Only 45% of Caissa's clients currently come from first-tier cities. 35% are from second-tier cities, 15% from third-tier cities, and 5% from fourth-tier and below. Read more on marketing to Chinese from lower-tier cities here.
6. The opportunities for self-driving are striking
As independent travel from China grows, so too does the potential for self-driving tourism, with travelers seeking out greater freedom, new destinations, and access to natural beauty. From 2013 to 2017, self-driving as a proportion of Chinese outbound travel grew by 36 times, according to leading online car rental platform Zuzuche's Brand Manager, Dannie Wu. But even by 2017, only 5% of China's outbound travelers rented cars, compared to 40% of Japanese outbound tourists, and 46% of tourists from the US. Read more on self-driving Chinese tourism here.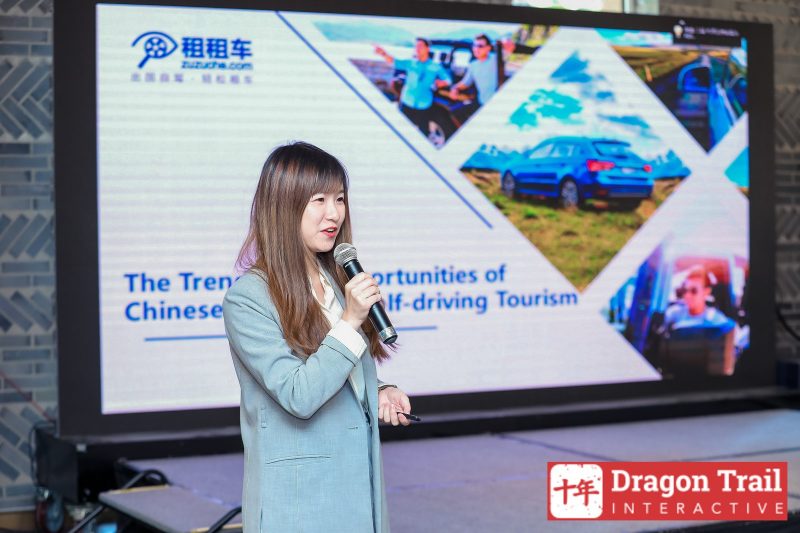 Zuzuche's Brand Manager, Dannie Wu
7. Rise of the micro-tour group?
Customized tours, or semi-independent travel, has certainly been a buzzword in the past year, and Ge Mu says that Caissa Travel is seeing an annual growth rate of 300% in this area. This is even larger growth than has previously been reported by OTA giant Ctrip. What's really interesting here is the size of the groups – 58% of Caissa's customized tours are for parties of just one to three people.
8. Dedicated destinations are choosing comprehensive marketing strategies
If you know your destination or business appeals to one specific market segment, then you can tailor everything just to them. But chances are, you'll want to cast a wider net. On WeChat, showed Silva Zeng, leading travel brands like Visit California and Tourism Dubai target a basket of different market segments by investing in different design, content, and even KOLs to match each one, resulting in a comprehensive yet specific marketing approach.
Another destination that has adopted a truly comprehensive, multi-channel marketing strategy is Norway. We already knew they'd arranged a visit to China by their king and queen to correspond with the November 2018 announcement of the first-ever direct flight route between Beijing and Oslo, and that this was accompanied by popular WeChat content. But what we didn't realize is that Norway was simultaneously running extensive campaigns on Weibo – the #MeetingBeautifulNorway# campaign ran during the week of the royal visit, resulting in 80 million impressions; and a 'Lord of the Fjords' competition on the Weibo Travel channel in November attracted over 1,000 KOLs; 195,000 posts; and over 50 million impressions. The flights launched on 15 May, 2019, and we'll look forward to seeing how the promotions translate into visits.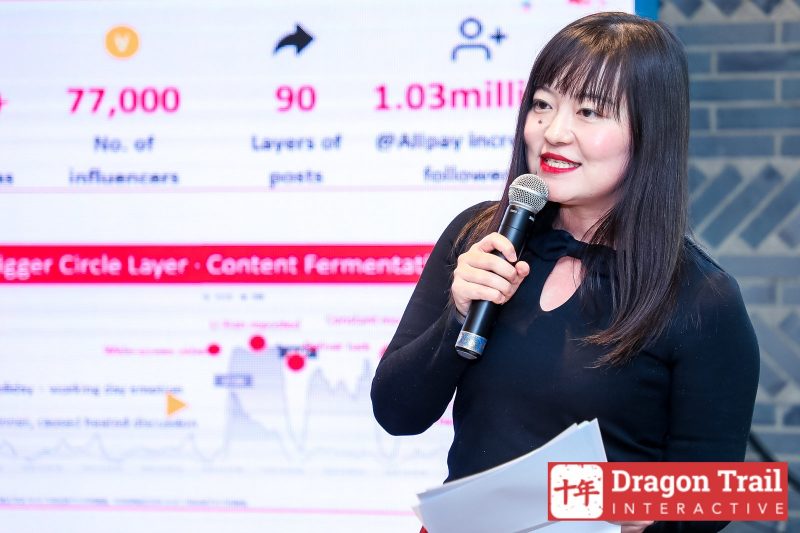 Director of Sina Travel and Weibo Travel channels Chris Li shared examples of high-impact travel campaigns
9. Opportunities to promote sustainability are everywhere
Looking to the future of travel, sustainability is vital, and this includes both environmental sustainability and the prevention of overtourism collapse. What sparks optimism is just how many different avenues there are to address these issues. So many, in fact, that we'll devote a whole feature article to it in the near future, but suggestions include: encouraging dispersion to off-the-beaten track destinations (Prof. Dr. Wolfgang Arlt, COTRI), educating travel agents (travel consultant and tour leader Sylvie Chen), environmental conservation programs for families (Ge Mu, Caissa Travel), cooperation with international organizations (Roy Graff, Dragon Trail), KOL thought-leadership (Maggie Yang, Mafengwo), and educational content and official programs lead by online travel platforms including Qyer.com and Mafengwo.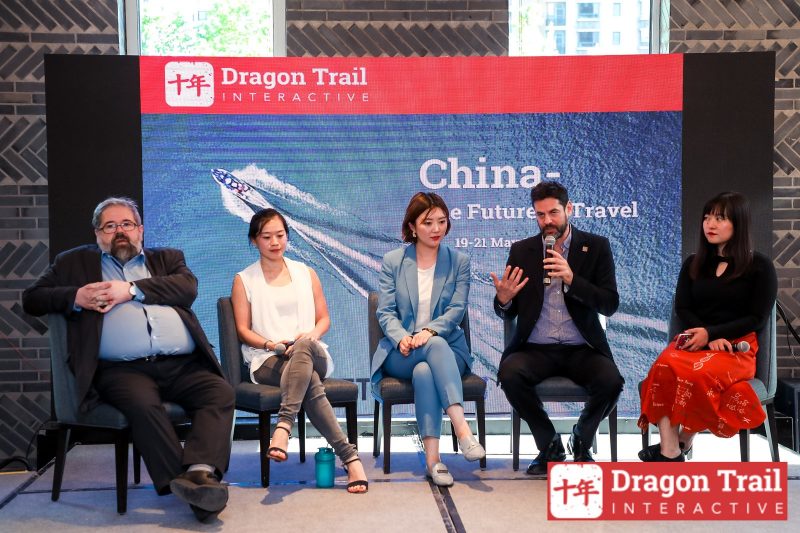 The summit's final panel discussed issues of environmental sustainability and combatting over-tourism. (From left to right: COTRI's Prof. Dr. Wolfgang Arlt, Sylvie Chen, Mafengwo's Maggie Yang, Dragon Trail's Roy Graff, Sina Weibo's Chris Li)