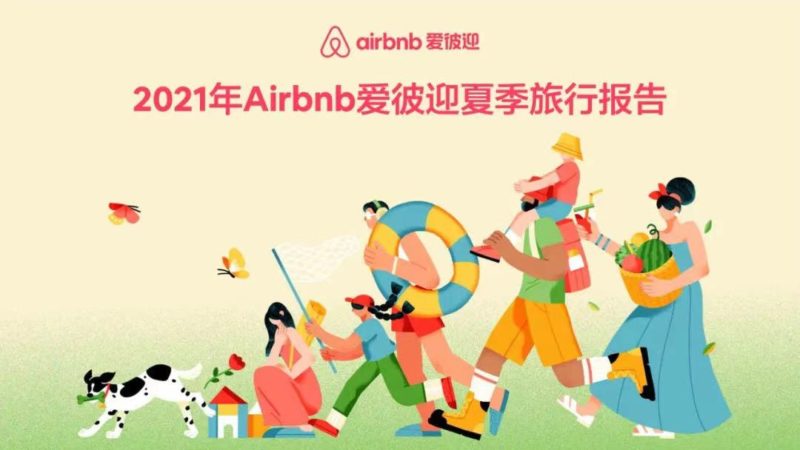 On 16 June 2021, Airbnb released its latest report on summer travel trends, based on a May survey of 1,500 Chinese travelers aged 18-50. Click here to access the full original report (in Chinese).
The survey findings showed that 94% had already booked travel for the second half of 2021, with 98% of respondents confident about the control of COVID-19 domestically in China. The report includes travel trend forecasts for the rest of 2021, with focuses on the rise of Gen-Z, family travel, and sports travel.
Travel Plans and Considerations
– 74% will travel with people who are close to them, compared to 12% who want to travel to make new friends.
– 73% want an in-depth local experience when traveling, compared to 12% who only want a limited local experience.
– 62% are seeking totally new destinations, compared to 22% who want to revisit old favorites.
Keywords for Travel Priorities
– "Personalized" was chosen by 70% of survey respondents. Only 16% said their priority was to visit wanghong (internet famous) attractions.
– "Small group" was chosen by 68% of respondents, with a clear preference for off-the-beaten-track destinations, compared to 17% who wanted to visit busy, popular, well-known destinations.
– "Safety" was a priority to 75%, more important than "price," which was chosen by 50%.
– "Flexibility" was chosen by 66% of respondents, with most leaving some space to adjust their travel plans.
Summer Travel
– 95% of survey respondents said they were looking forward to summer travel in 2021. Around 2/3 were in the process of planning or had already booked their summer travel when the survey was conducted in May.
– 87% planned to travel between 4-13 days this summer, with an average of 7.7 days.
– Around 70% were considering homesharing accommodation.
– 84% planned to travel outside of the province where they live.

71% want to be close to nature, driving the popularity of destinations such as Lijiang, Dali, Qingdao, and Sanya.
67% want to experience culture. Unique cuisine, historical cities, and the CCP centenary make destinations like Changsha, Chengdu, Xi'an, and "the cradle of the Chinese revolution" Jinggang Mountain summer hotspots.
39% are interested in being active during their summer travels, attracting travelers to Moganshan – a mountain near Shanghai with lots of outdoor activities – and surfing capital Wanning in Hainan.
Younger Travelers Lead the Way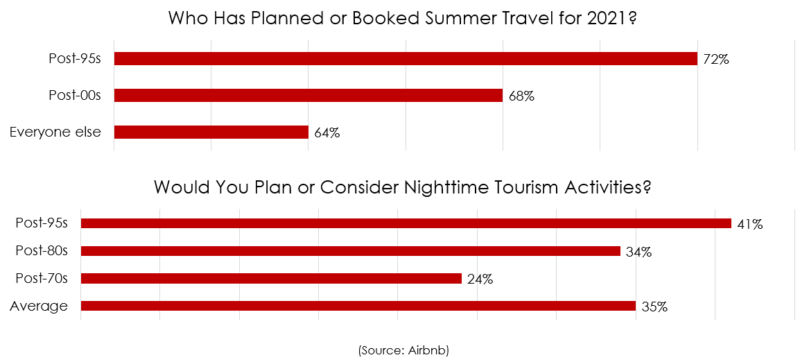 Family Travel
42% of survey respondents will travel with children this summer. 90% are three-person families – two parents and an only child. 25% will travel with three generations together. 70% of family travelers would choose homesharing accommodation, with half budgeting RMB400-999 per night.
Family travelers are more likely than those traveling without children to be interested in:
– Theme parks (53% vs. 34%)
– Ocean/beach vacations (52% vs. 47%)
– Historical and educational destinations (47% vs. 43%)
– Rural tourism (59% vs. 53%)
– Museums, historical sights, CCP centenary tourism (29% vs. 24%)
– High-end facilities and service at their accommodation (31% vs. 27%)
– Accommodation where meals are included (27% vs. 24%)
– Accommodation with recreational facilities such as a pool or a garden (24% vs. 21%)
Sports & Travel
The most popular sporting activities for travelers in China this summer are: rock climbing, cycling, boating, and surfing. 80% of survey respondents said they would actively follow the Olympic Games even while traveling.