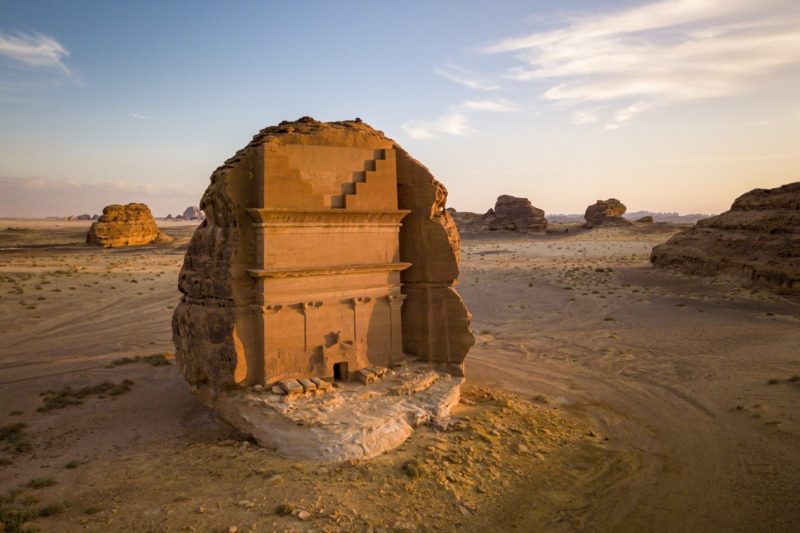 AlUla is home to Saudi Arabia's first UNESCO World Heritage Site, the ancient city of Hegra
In September 2019, Saudi Arabia opened to international tourism. In the three months that followed, China quickly became its largest source market, accounting for 22% of inbound visitors, according to the Saudi Commission for Tourism and National Heritage. For Chinese citizens, visas are available on arrival, or through Saudi Arabia's e-visa system.
A 2019 survey revealed that AlUla, a historic oasis town on the ancient Incense Road, located in northwestern Saudi Arabia, was the top destination choice in the Arab world for a third of Chinese tourists under the age of 35. According to James Huang, General Manager of Experience AlUla China, this destination is particularly appealing to Chinese visitors because of its historic heritage, immersive cultural atmosphere, luxurious hospitality, and the fact that it's "virgin territory" for most world travelers.
To grow AlUla's popularity even more with the Chinese market and ensure it remains one of the most attractive destinations in the Middle East for Chinese visitors post-pandemic, the Royal Commission of AlUla worked with Dragon Trail to launch the Experience AlUla International Rawi Program as a WeChat B2B mini-program at the start of November 2021. Within just a few weeks, the educational, interactive, and entertaining mini-program had attracted 10,454 page views, and participation by nearly 200 travel trade professionals.
"To establish the brand image and influence of this treasure in the desert of northwestern Saudi Arabia, and to welcome the recovery of international tourism, we need to go deeper with working with the travel trade. We are now providing additional destination knowledge, products, travel services, and commercial resources, to stimulate Chinese travel sales channels to promote and get ready to sell AlUla," says Huang.
"An always-on online training course was the most suitable solution, so we launched the Experience AlUla International Rawi Program. Rawi in Arabic means 'local guide' or 'storyteller'. This course is designed to give the Chinese trade and consumers a deeper understanding and familiarity with AlUla as a new and high-end destination, so they can achieve this 'local guide' and 'storyteller' level of expert ability, and help to promote AlUla's long-term development in the Chinese market."
The mini-program includes:
– A six-module course for travel trade professionals to learn about the area's history, attractions, hotels, activities, culture, and FAQs about traveling in Saudi Arabia. Among the activities promoted in the course are hot air balloon rides, horseback and camel treks, stargazing, helicopter tours, hiking, and cycling. Attractions include rock formations, archeological sites, and the lush AlUla oasis with its orchards and flowers.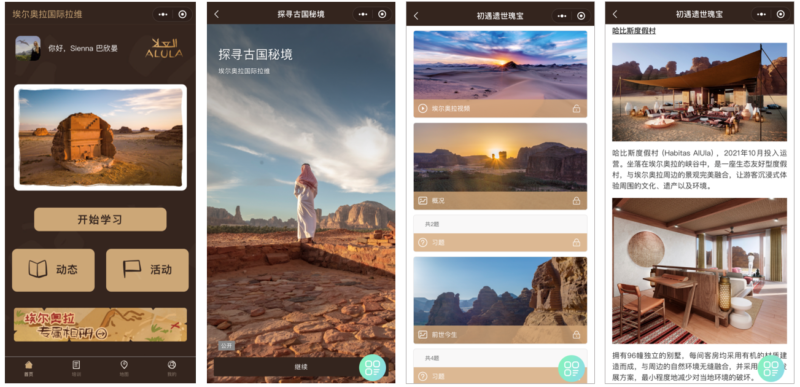 The mini-program's six-module course teaches travel agents must-know information on sites, activities, history, culture, accommodation and more in AlUla
– An H5 program to create a virtual photo album. This interactive activity allows travel agents to learn more about places to visit in AlUla in a fun way. Users upload their own photographs, and the system uses "face fusion" technology to create a personalized digital "photo album." Users can upload more photos to collect album pages featuring a total of eight backgrounds, including Saudi Arabia's first UNESCO World Heritage Site – an archeological site called Hegra, the Ottoman Empire's Hijaz Railway Station, the ancient city of Dadan, and the impressive Jabal Alfil Elephant Rock. It's fun to upload different photos of yourself and then even try it with photos of other people to see what the difference will be, leading to strong engagement, all while learning about places in AlUla. All images can be saved and shared to get others involved.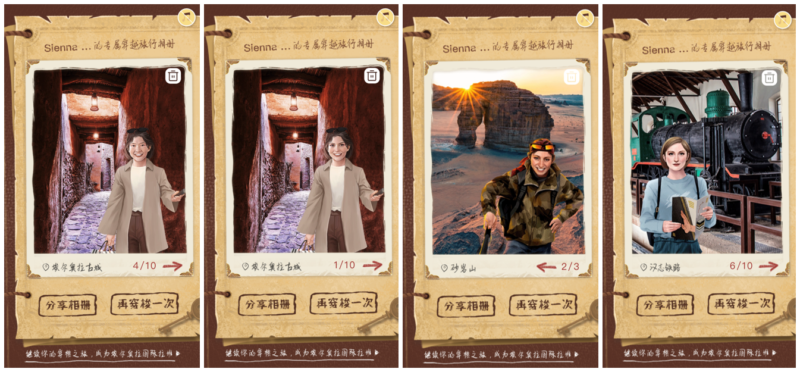 The mini-program's virtual photo album uses "face fusion" technology to create unique images, showcasing eight sightseeing destinations in AlUla. Compare the two images on the left to see the difference between two different user-uploaded photos.
– Quick links to WeChat articles from AlUla's account about offline events in China and AlUla's old town, including architecture, arts and culture, markets, and accommodation.
– An area map.
– Stunning video content to show the diversity and beauty of the destination.
AlUla Tourism Ambassador Challenge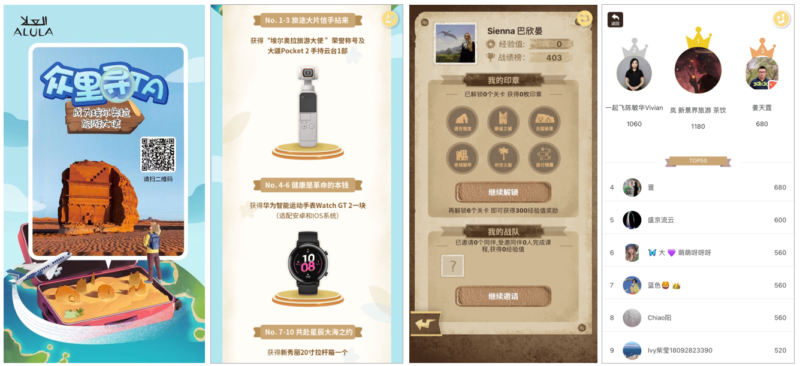 AlUla's December 2021 Tourism Ambassador Challenge incentivizes travel agents to learn about AlUla and invite colleagues to join in a competition to win high-value electronics and other prizes
Following the mini-program's November launch and initial promotional campaign, the AUla Tourism Ambassador Challenge kicked off on 2 December. The competition lasts through the end of 2021, and is aimed at boosting course completion significantly. Users are awarded stamps and points for completing modules in the mini-program's course, as well as successfully inviting colleagues to sign up, and when those colleagues complete course modules. The prize list includes high-value electronics like DJI Pocket 2 cameras, Huawei GT 2 watches, and smart travel mugs, as well as Samsonite suitcases.
Please click here to learn more about Dragon Trail's B2B marketing solutions, and contact us directly to speak about how we can help your destination or business organize training and other engagement activities with the Chinese travel trade.