With France always a top-choice long-haul destination for Chinese travelers, we spoke to Catherine Oden, Director at Atout France for Mainland China, Hong Kong, Taiwan, about maintaining appeal, anticipating the new needs of the Chinese tourism market, and the importance of digitalization for B2B and B2C communications.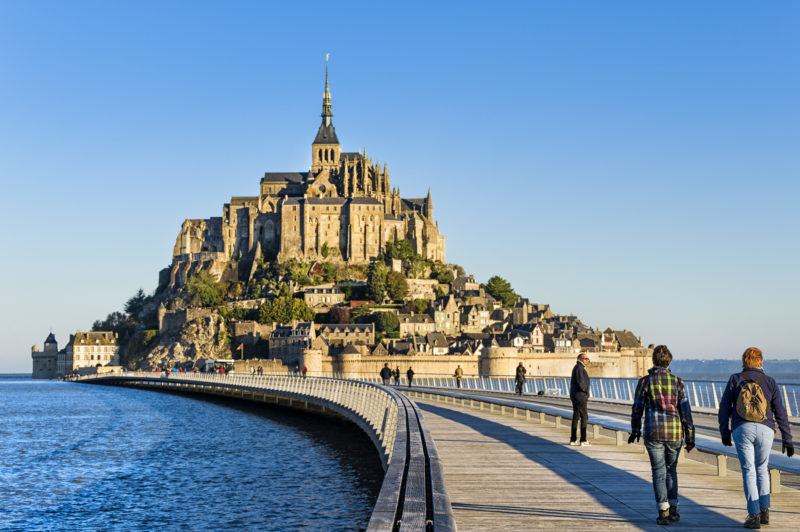 Mont St Michel. Photo courtesy of Atout France
In Dragon Trail's surveys, France is always the European country and usually the long-haul destination that Chinese travelers would like to visit the most. What do you think are the reasons for this popularity?
First, I would like to thank you for acknowledging such a good rating as there is always a fear of losing ground, and one has to keep the standard very high to maintain a top-ranking positioning. In 2019, prior to COVID-19, France was facing two major challenges: one was an increase in the number of destinations promoting themselves in China, which meant that France was losing its market share, and the second was that the Chinese potential travelers were looking for "new destinations". Not so easy to counter when you are a well-established destination but with a high potential to offer new and offbeat experiences. Therefore, we did our utmost to present a "new France", particularly with new destinations that are not so well known.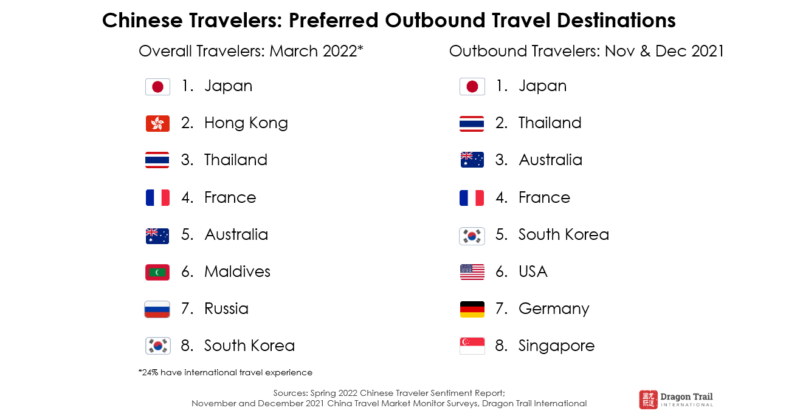 Paris is well positioned, and prior to the COVID-19 crisis had one of the highest air connectivity, with more than a hundred weekly flights. It is also a must visit with so much to offer. In fact, at times we feel France has too much to offer and it is an interesting challenge to present a bouquet of these myriad experiences, but I tend to say "you name it… we have it!". We are going to have to expand our communication strategy in order to present as many experiences as possible.
Beyond Paris, what are the most popular destinations or attractions for Chinese tourists in France?
Paris will always be Paris and we shall remain much involved in its promotion, but beyond the City of Light, France offers a variety of landscapes where mountain and seaside resorts are often not so far apart; so one can enjoy amazing contrasts.
In terms of destinations or attractions, the most popular are the Cote d'Azur with Nice and Cannes, Provence and its famous lavender fields, Burgundy with Dijon, Beaune and the verdant Burgundy vineyards, the chateaux of the Loire Valley, the Mont St Michel, and of course Bordeaux and its rolling vineyards
One city that had suddenly encountered great success prior to COVID was Colmar, popularized by the "Chinese Restaurant" TV program.
What does Atout France do to help Chinese visitors discover France beyond the most iconic sights like the Eiffel Tower?
Firstly, we try to be more attentive to the needs of our guests! We have been engaging with our potential clients and we know there will be new trends that will emerge when serious travel plans will be made. At this stage we are trying our best to showcase a new, rejuvenated France.
Secondly, we instill new ideas in the mind of people. As mentioned earlier, France was perceived as a classic European country, so our aim is to introduce a slew of new destinations, new attractions, and new accommodations – from Palaces to cabins in the trees to glamping.
Thirdly, we do our best to encourage the travel trade fraternity to promote France, to introduce new destinations and new activities.
What kinds of French food are most popular with Chinese visitors?
Beyond macarons and escargots (snails), our Chinese visitors want to try fresh local products. Beyond the Michelin-starred restaurants, France offers a very simple and savory cuisine. Our regional cuisine is very diverse but at the same time is simple and tasty and resonates well with Chinese regional cuisines. Too often, our cuisine has been perceived as too sophisticated, but in fact, there is so much more to discover: Boeuf bourguignon, salade Nicoise, oysters in Cancale Brittany, or the Provençal bouillabaisse…
We would also like to encourage a more experiential way of discovering our gastronomy by visiting markets. Some of my favorites are in Beaune in Burgundy or Les Halles Paul Bocuse in Lyon. As of 6th May, Dijon is now a proud host to the Center for Gastronomy and Wine in Dijon. Among the highlights of this eco-friendly area are the gastronomy and wine cultural and training center – featuring a Ferrandi Cooking school, new shops and restaurants, and a four-star hotel. This dynamic site aims to provide a comprehensive and interactive understanding of the "Gastronomic meal of the French," which was added to UNESCO's Intangible Cultural Heritage list in 2010.
Is the Chinese market a very significant demographic for wine tourism in France?
Bordeaux, Burgundy and Champagne are well known in China, and some of our wine experts have engaged in a strong relationship with wine growers in China. Those strong ties generate regular exchanges and travels of Chinese sommeliers in France.
However, although we have made much effort in the past in the promotion of wine tours in France, its development remains limited. Even if our Chinese traveler has developed a strong interest in French wines, we have observed that wine experiences form part of the journey and not the whole journey. We strongly believe that making it more experiential would develop "wine tourism". Beyond pure wine tasting, France has so much more to offer: discovery of the vineyards by some unique mode of transport (vintage cars, bicycle, barge, hot air balloon, horseback…) or unique experiences such as vinotherapy or running the Medoc Marathon. There is [also] a wine "temple" in Bordeaux in an amazing architecture building: The Cité du Vin Wine Museum.
Before the pandemic, what was the typical Chinese traveler profile to France? Do you anticipate this to change significantly once Chinese travel resumes? And if so, how are you adapting your marketing and products to meet the new demands?
Before COVID-19 we already had identified some new trends that the pandemic may have intensified. Traveling more independently will certainly be one of the most important, and travel trade professionals will have to take this into account. At this stage, we presume that traveling in very large groups may be less attractive and people will be looking for a more qualitative experience with fewer people traveling together.
Another trend was the development of the [self-driving] auto-tour, which has become quite trendy from a domestic standpoint and was very niche for Europe, but we feel this could further be developed in order to feel more secure in discovering a country in the safety of your vehicle. The repeat and more affluent travelers should be the first to start traveling and enjoying unique luxury experiences: our Palace hotels, Michelin starred restaurants, and private visits of iconic places. But if they aspire to have a simpler, more exclusive, more sustainable experience, we should also be able to satisfy those wishes.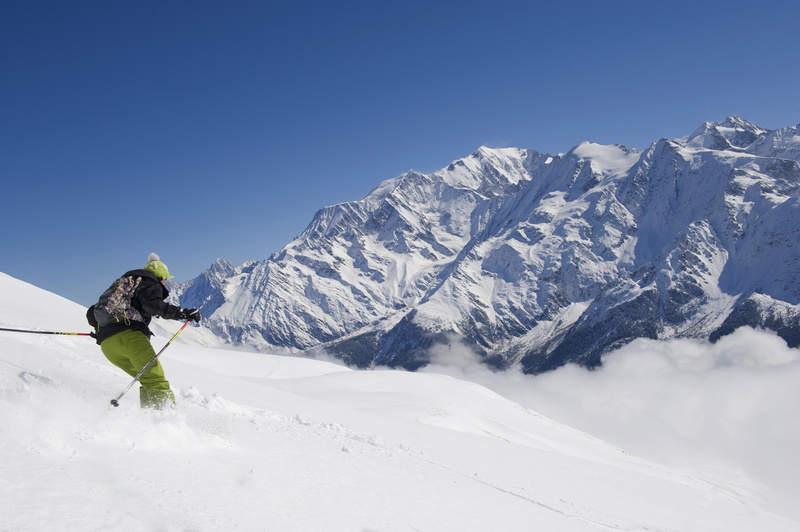 Skiing in the Alps. Photo courtesy of Atout France
The search for special experiences will definitely be at the top of the list, particularly for family travel. We had started to feature specific activities for families in France and of course we plan to intensify our communication on this. France is an ideal destination for families as it offers not only world renowned attraction parks but also natural parks, special theme parks, water parks. Our zoos and natural reserves are truly amazing. Nature will definitely be on the bucket list of our travelers. Fresh air, slow adventure – all this will have to be taken into account, and France is a fantastic place as we have numerous national, regional parks and even our cities or nearby areas of major cities offer special natural sites.
We definitely think that there will be a need of a more qualitative experience: slower pace discovery of a destination, less crowded areas, more qualitative meals, unique accommodations… and we encourage all our regional partners to accompany those truly needed changes by featuring unique experiences which are the essence of France. A key word is also wellbeing, so we would also like to feature our strong assets located all throughout France: spas, thalassotherapy, balneotherapy and more recently vinotherapy or even chocolate-therapy!
I don't believe that group travel will disappear, as there is a need for affordable travel and secured escorted tours. However, the number of participants and the pace may be different. COVID-19 may have changed the way of thinking for all of us – it has changed our way we see things and what is essential in our lives. We need to be creative to accompany this trend.
What has Atout France done during the pandemic to stay connected to the Chinese market?
We have had a very strong and long term relationship with the Chinese travel trade so we have tried to keep a very close relationship with key stakeholders. We also are fully aware that some may have had to give up and we are extremely saddened to see them go. Two years and most likely a third year without outbound travel is having a huge impact on the industry. When the time comes, we shall do our utmost to help the travel trade fraternity to present well-crafted itineraries. We feel now is the time to instill some good ideas for future travel to France, and ideally some off-the-beaten paths to cater to the new aspirations of our clients.
We have also seen the strong influence of KOLs and the phenomenal surge of live streaming. We have taken great pleasure in showcasing some of our most iconic places through live streaming and want to continue this effort. More recently, we were able to feature a lesser known destination, Amiens located in northern France. As Amiens is also our President's hometown, the live streaming was quite popular as we put forward the romantic side of our Presidential couple.
In the past two years, we joined forces with the European Travel Commission's efforts and could group together 20 destinations that participated in the European campaigns. Together we are stronger: the campaigns included numerous digital features, which are currently a good way to reach our potential customers.
Atout France has organized online roadshows through Dragon Trail's virtual events platform in both 2020 and 2021 – what are the reasons/positive outcomes that motivated you to run the event for a second year?
2020-2021 were indeed two very challenging years for all of us, particularly in the travel industry. But they were also very interesting years, as we had to find new solutions and reinvent ourselves. It is a time where creativity is highly needed and with the help of suppliers such as Dragon Trail we were able to find good solutions. One of our best solutions was the organization of our Virtual France Workshop. From a 7-day roadshow in Mainland China, Hong Kong and Taiwan with meetings, sales calls and gala dinners, we had to organize a 5-day virtual B2B workshop. In this brand new type of event for us, we welcomed more than 30 French suppliers and about 200 travel agents from the three markets. One webinar was dedicated to the presentation of the Chinese travel market to our French suppliers and three webinars presented our French suppliers to our Chinese travel trade guests. More than 1,500 appointments were successfully organized. Some participants have known each other for many years and it was an important moment to meet again, and for others to meet for the first time and plan future projects.
Would you plan to continue to hold annual virtual roadshows for the Chinese market after international travel with China becomes accessible again?
2022 is most likely going to be a copy of the two previous years, so we are planning to have a third edition of our virtual roadshow.
Online roadshows have been an indispensable tool for our French travel partners to stay in touch with the Chinese trade, to maintain relationships they had built over the years. However, our French travel partners are extremely keen to come back and participate in an offline edition of our workshop.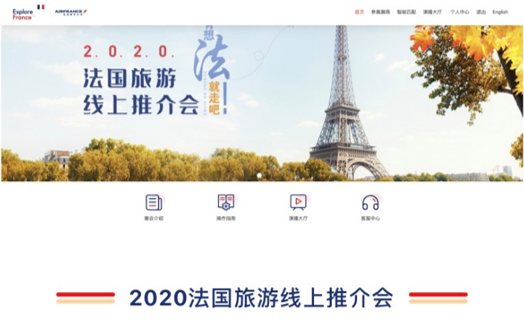 Will there be a need for a virtual roadshow in the future? Possibly, for example I would say for newcomers on the market. The question will be: will the Chinese travel trade remain receptive to virtual roadshows? In early 2021, we sensed that the travel trade was very keen to participate in offline tradeshows, but virtual tradeshows remain a viable option.
What are your biggest learnings or advice for exhibitors or organizers at virtual roadshows with China, after two years of experience?
The prospects for 2022-2023 remain very uncertain, but we stay positive and optimistic. We are actively preparing for a rebound. After such a long time without outbound travel, we feel that there will be a strong pent-up demand. However, we are well aware that motivations and ways of travel may have significantly changed. Therefore, the French travel trade has to listen very carefully to the market and to our customers. We are not yet in a phase of forceful promotional campaigns, but we feel it is a good time to feature some of our beautiful assets and encourage people to dream and plan a trip to France in the hopefully not so distant future.
Our lives have become more digital than ever… maybe in an excessive way. I sincerely hope that there will be more space for qualitative human interactions; however, we know the digitalization of our lives is there to stay. We definitely have to be well established on digital platforms. However, there is a true need to develop more targeted marketing in order to reach the individual traveler and identify specific travel segments with special community marketing. In the past years, we had started to develop this community marketing, notably around the French Art of Living, which is a very strong theme for France.
Traditional travel agencies will have to adjust and offer more personalized trips, even for larger groups. It is a true challenge as group travel was mainly based on affordability. Now people have changed and may be looking for a different pace and a more qualitative time, safety, and sites that are less crowded.
The way we promote our destinations is also changing drastically: we still want to accompany traditional brick and mortar travel agencies who play a wonderful role of informing and reassuring the traveler, but we have seen a strong surge of the OTAs who are growing at a faster pace than ever.
I believe all these are important trends that have to be taken into account and we shall do our best to keep France at the top of the list of our potential Chinese visitors. We have a wonderful rendezvous planned with the whole world: the 2024 Paris Olympic Games! Let's all meet in Paris and the eight other destinations where the Olympic Games will take place!