Mazzei Winery, Tuscany, Italy (Photo by Sienna Parulis-Cook)
As Chinese tourism transitions away from large, standardized sightseeing tours, this creates opportunities around the world for themed travel and niche experiences. More Chinese are now traveling to explore their own personal interests, either independently or on smaller customized tours.
One area with great potential is wine tourism. Who are China's oenophiles, and what can you do to attract them? We spoke to wineries in Australia, Germany, Italy, and the US to learn from their experiences welcoming Chinese visitors.
Who is the Chinese wine tourist?
The wineries we spoke to vary in size from the 24-acre family-run Oakridge Vineyard in Australia, to the world-famous Robert Mondavi Winery with 435 acres in California, but they all said that their Chinese visitors are mostly small groups of independent travelers. There was also consensus that Chinese visitors are equally balanced between men and women.
There is more variation in terms of age. At Robert Mondavi, Chinese visitors range anywhere from 21-60, says Director of Hospitality, Ainslie Bruneau. At Oakridge Cellar Door, "The average age range would be 35-50. Australian visitors tend to have a wider age range, with more younger and senior visitors," explains Rui Jiang, China Market Business Development Manager. But at Georg Breuer Winery in Germany, the age profile is quite different: "It's many young Chinese guests, many of whom are on discovery tours through Europe. European visitors are generally a lot older," says Theresa Breuer.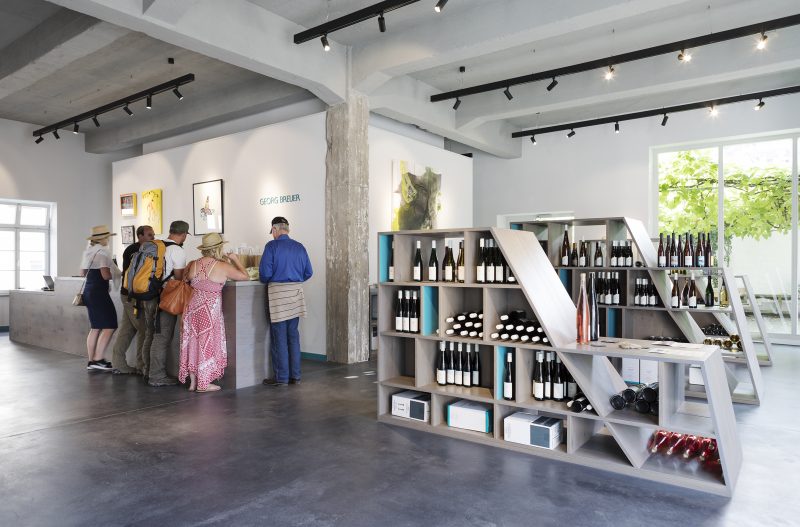 At Georg Breuer Winery in Germany, Chinese visitors tend to be younger than European ones (Photo courtesy of Georg Breuer Winery)
To anticipate the age of potential Chinese visitors, wineries should consider overall Chinese travel trends to their destinations – Oakridge Cellar Door receives many VFR tourists, and these tend to be older in Oceania than in other world regions, according to data from the China Outbound Tourism Research Institute. In Europe, the majority of Chinese tourists were born in the 1950s-70s, but independent travelers are more likely to be younger generations, born in the 1980s or later.
There is a cross-over between self-driving and wine tourism, especially as wineries tend to be located in rural areas that are potentially difficult to access without a car. Jacopo Pandolfini, Brand Manager Asia Pacific for Mazzei, explains that most Chinese visitors to the Marchesi Mazzei winery in Tuscany come by car – the winery offers a restaurant and accommodation for visitors who want to spend the night.
Oakridge Cellar Door benefits from its location in the center of Yarra Valley, on the Maroondah Highway. Jiang says that Chinese visitors are often doing self-driving trips, or being driven around by the friends and relatives they are visiting in Australia.
Long-haul independent tourists with a personal interest in fine wines are also likely to come from first-tier cities and be affluent, experienced travelers.
What are their tastes?
Chinese consumers are known for preferring red wines to white, and sweet wines to dry. At Robert Mondavi Winery, this holds true: "In general, I would say our red wines are more popular than our white wines with our visitors from China, with the exception of our Moscato D'Oro, which is a sweeter, dessert-style wine and very popular with all visitors. In the red wine category, the Maestro Red Wine, which comes in a distinctive black and gold bottle, is a frequent choice, as are the Cabernet Sauvignon Reserve and To Kalon Cabernet Sauvignon," says Bruneau. Pandolfini advises that Chinese consumers prefer wines with less tannins.
But with wine distributors in China reporting that white wine sales are growing at double the rate of red wines, it seems that tastes are diversifying. "Personal preference plays an important role! More or less all our wines are dry, and it seems like that is enjoyed and appreciated," counters Breuer. At Oakridge Cellar Door, "Shiraz and Cabernet Sauvignon are the most popular varieties. Chinese tourists appreciate the Oakridge 864 wines, which are the top range of the brand. Female tourists prefer white wines and sweet wines," says Jiang, noting that Australian and European visitors' preferences tend to be influenced more by the season and weather.
What services should you offer to attract Chinese wine tourists?
Ideally, wineries will be able to offer Mandarin-language tours and tastings to best attract and cater to Chinese visitors. Robert Mondavi Winery offers two of these tours every day. "We began our Mandarin tours in 2013, when it became clear that we were welcoming increasing numbers of visitors from China and that there was a demand for the tours," says Bruneau. "The tour follows the same script and tour route as our Signature Tour and Tasting. It is given by our Mandarin-speaking Visitor Center tour guides." Mondavi offers private tours in Cantonese by appointment.
Oakridge Cellar Door also organizes wine tastings run by Mandarin-speakers for Chinese visitors, and "if the Chinese employee is not [there], we have full Mandarin tasting notes available," says Jiang.
Oakridge Cellar Door in Australia offers Mandarin-language wine tastings, as well as tasting notes (Photo courtesy of Oakridge Wines)
Translated tasting notes and information about the vineyard and winery are a good option for places that don't yet receive a significant volume of Chinese visitors, especially those wineries in locations where it may be hard to hire Chinese-speaking staff. Publishing this information online also makes it easy for visitors to save and share – and doubles as marketing materials that Chinese tourists can find and read up on while they're still planning their trip.
Chinese wine enthusiasts will likely want to bring back bottles with them from overseas – especially wines that aren't available in China. Accepting Chinese mobile payments through WeChat Pay or Alipay, or card payments through China UnionPay, will make it easier for them to purchase wines during their visit.
What marketing can you do to attract Chinese wine tourists?
1) Digital Marketing
The fact that Chinese visitors to wineries are by and large independent tourists, makes having a digital presence all the more important. Information about Mondavi's Chinese-language tours is written in Chinese on the winery's website. In Germany, Weingut Georg Muller Stiftung has an entire Chinese-language website. Digital resources such as these, or an official WeChat account, can help you to stand out to Chinese tourists as they plan their trip and research wine tourism destinations.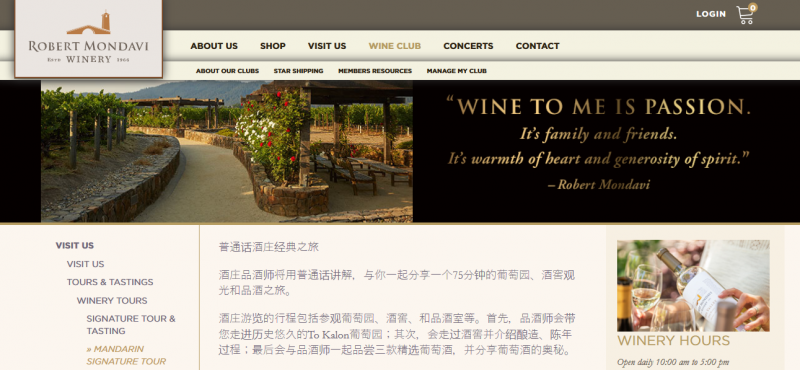 Robert Mondavi Winery's website offers information about its Mandarin Signature Tour in Chinese
2) Partnerships
Even bigger wineries may not have the resources to maintain Chinese social media accounts, and local tourism organizations can help to provide this kind of digital marketing instead. Mondavi promotes its Chinese-language tours "on a WeChat page which is focused on travel to the Napa Valley." Tourism organizations like Visit California, Visit Bordeaux, and Australian DMOs also provide helpful information to Chinese visitors about local wine tourism through their WeChat accounts. Georg Breuer works with local tourism offices as well, and is recommended in the city of Frankfurt's Chinese-language brochure for the Rheingau Region.
Partnerships can be created with local businesses, too – Robert Mondavi receives referrals from hotels, tour operators, and other wineries.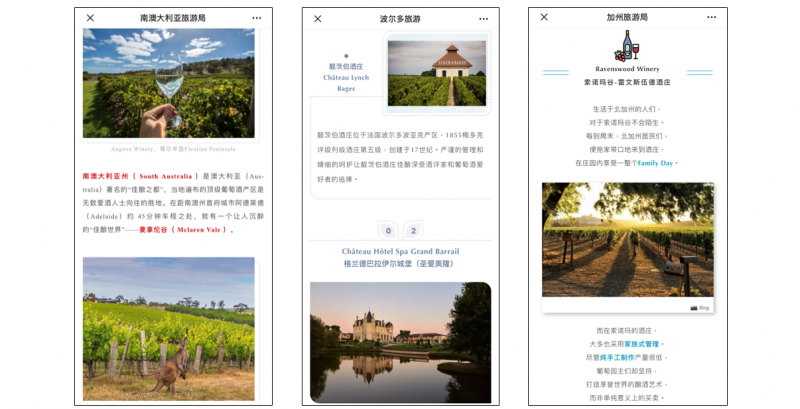 WeChat posts promoting wine tourism from (left to right) the South Australian Tourism Commission, Visit Bordeaux, and Visit California
3) B2B
Apart from Robert Mondavi Winery, none of the wineries we spoke to mentioned working with tour operators or other B2B marketing. However, with the rise of customized travel from China, this is an option to consider – especially reaching out to Chinese travel agents or tour operators who specialize in luxury travel. As with digital marketing, this is something that can be done in partnership with local tourism organizations.
4) Building the Brand in China
Most visitors to Marchesi Mazzei seek out the winery because they are already familiar with the Mazzei brand from drinking the wines in China, says Pandolfini. While Mazzei's marketing efforts towards China are directed at increasing exports rather than attracting visitors to the winery, the former has a direct and positive effect on the latter. Thus, organizing tastings and other promotional events in China can help build up brand recognition and entice travelers to visit where the wines are made later on.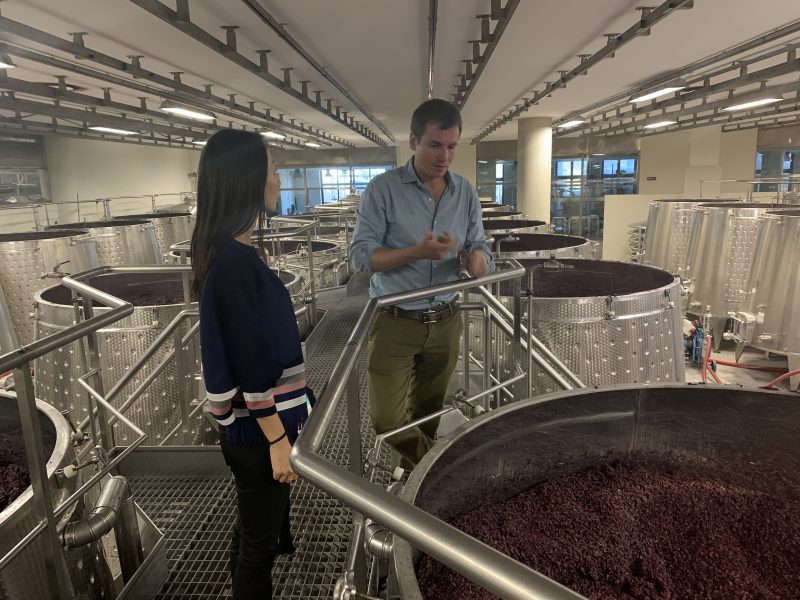 On a tour of the winery at Marchesi Mazzei in Italy (Photo by Sienna Parulis-Cook)
5) Local Reputation and Word of Mouth
Especially in destinations with significant VFR markets, such as Australia or the US, having a good brand reputation domestically can also help to attract Chinese visitors. "Oakridge has a good reputation in the Australian domestic market. We are always listed in the 'Must-go wineries in Yarra Valley' and 'Top wineries in Yarra Valley' articles on the internet. Friends' referrals brings lots of visitors as well," says Jiang.
Word of mouth (or "word of mouse") recommendations have a major influence on Chinese outbound tourists and wine drinkers, so encourage visitors to leave you a review online – and more importantly, offer them an experience that will earn you a positive WeChat Moments post and recommendations to wine-loving friends at home.