At the Whisky Emporium's Discovery Bar, shoppers can scan QR codes to view product information details and much more in the mini-program, offering a full O2O brand experience
Bacardi has launched a WeChat mini-program to help shoppers at the Hainan Whisky Emporium to discover brands and products on offer, and enjoy top whiskies and cognacs with duty free savings. Developed by Dragon Trail International, the mini-program was released just in time for China's 2021 October Golden Week holiday period.
The mini-program is designed to help consumers to discover products and brands within Bacardi's whisky portfolio, to educate, and to enable purchasing and personalization. It includes brand stories and product information for six brands of whisky and one cognac brand, with 19 products on offer from the Whisky Emporium – a permanent boutique opened by Bacardi Global Travel Retail to showcase their whisky portfolio in the Shenzhen Duty Group's retail complex in Haikou Mission Hills, Hainan.

Brand pages introduce shoppers to the brands' histories, specialties, locations, and distilling processes, through videos, photos, and text
More than simply a retail outlet, Bacardi's Whisky Emporium offers a full brand experience, and the WeChat mini-program complements that by extending the experience online. At the Emporium's Discovery Bar, shoppers can scan QR codes to open product information details in the mini-program, including videos about the featured brands, tasting notes, cocktail recipes, facts and stories, flavor profiles, and product awards. They'll also see additional product recommendations based on the type of whisky scanned. This can all be shared on WeChat with friends and family, boosting word-of-mouth recommendations, repeat purchases, pre-travel planning, and benefiting gift purchases as well.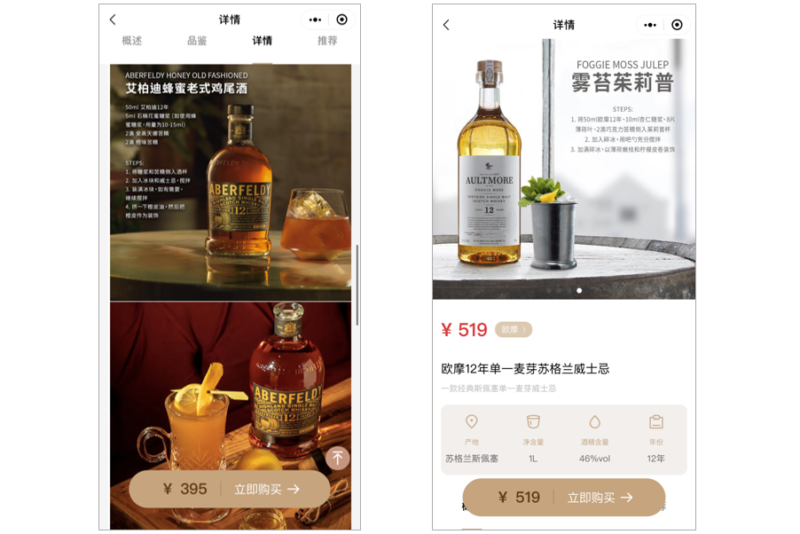 Product pages offer tasting notes and cocktail recipes
Users can search for and sort products by price, age, and brand, as well as categories like most popular, on sale, blended vs. single malt, and Highlands vs. Speyside.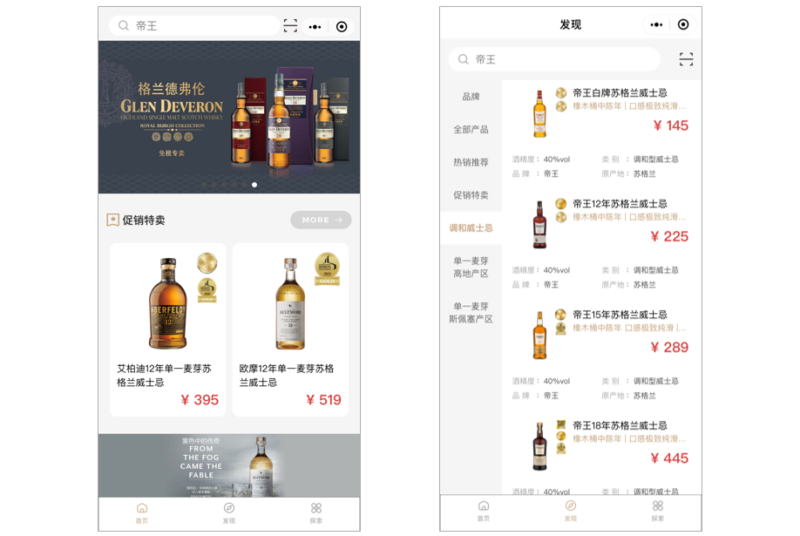 Products can be searched and sorted by brand, type of whisky, promotions and more
Once users have made their selections, they are connected to the Shenzhen DFS mini-program to pay. In addition to buying or picking up in store, shoppers can also pick up their purchases at the Haikou or Sanya airports, the Hainan cruise port, or the Haikou train station, making shopping convenient for every kind of traveler.
Phase One of the mini-program was launched for the October 2021 National Day holiday. Additional features planned for Phase Two include packaging personalization, gift wrapping, and a booking system for in-store tasting sessions.