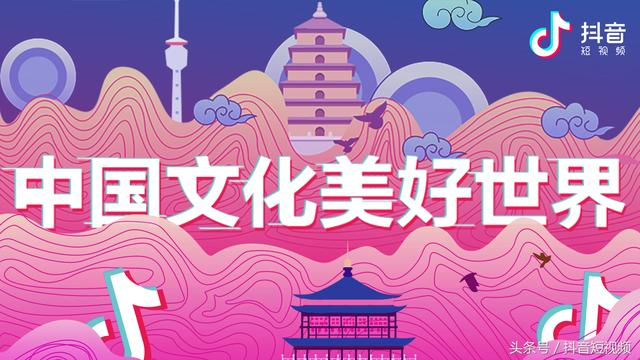 'Chinese culture, wonderful world' is Douyin's campaign to showcase Chinese culture, which includes a cooperation agreement with the Xi'an Tourism Commission
(This article was updated in January 2019 to reflect the fact that TikTok can now be downloaded outside of Asia, as well as new user numbers)
Douyin, aka TikTok, is the hottest app in China right now, but can this short video platform be used effectively by travel brands? We weigh the pros and cons.
What is it?
Douyin is a Chinese short-video streaming app that launched in September 2016, and has skyrocketed in popularity since the start of 2018, growing 52% between March and August 2018. In November 2018, Douyin reported 400 million monthly active users, and 200 million daily active users. It's owned by ByteDance and shares a founder with news-sharing app Toutiao (aka Today's Headline). The international version of the app, TikTok, was rolled out first to other Asian countries in 2018, and is now available to download for free from both the US and UK app stores.
Why is it important?
According to numbers released by Douyin in November 2018, the app has 200 million daily active users, and 400 million monthly active users — this is up from 150 million DAU and 200 million MAU reported in June. 72% of Generation Z (that's 'post-95s' in Chinese) open Douyin every day, and 32% spend more than an hour a day on the platform.
The platform started as a way to create short music videos, and still has lots of dancing and lip-synching, as well as babies and puppies, but the content has diversified, and there is an abundance of travel-related videos, mostly featuring attractions and food. For example, a search for 'Paris' brings up many videos of the Eiffel Tower, shopping, and fashion shows.
Douyin originally only allowed videos with a maximum length of 15 seconds, but now users with over 1,000 followers can create one-minute videos, and by the end of 2018, Douyin had also trialed some two-minute videos.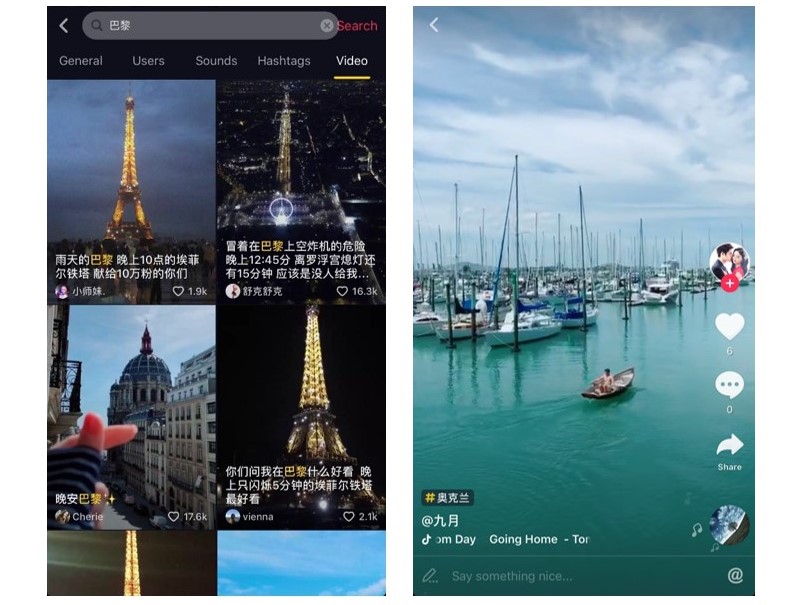 (Left) A Douyin search for 'Paris' brings up many user-created videos of the Eiffel Tower. (Right) A user-created Douyin video from Auckland, New Zealand.
Who is using it?
Like overall user numbers, this is changing quickly. But overall, Douyin's user base is very young. Currently, 40% of Douyin's users are aged 24-30, and this actually indicates that the app's audience is getting older than it used to be. While users are shifting from post-95s more to post-90s, they are also moving away from first-tier and second-tier cities, which used to comprise the majority of Douyin users. Now, more and more users are located in third- and fourth-tier cities, similar to China's other leading short-video platform, Kuaishou. Despite being young, Douyin's audience is relatively well educated, with over 40% having a bachelor's degree or higher.
How can travel brands use it?
Like many other social media platforms, Douyin has official, verified accounts that are marked with a blue 'v'. While currently there are no such official accounts for international airlines, hotels or tourism boards, the app is being used by many municipal and provincial Chinese tourism commissions, as well as Chinese airlines, including China Eastern and Xiamen Airlines.
At the end of April, 2018, the Xi'an Tourism Commission signed a cooperation agreement with Douyin to produce four video campaigns to raise awareness of Xi'an's culture, cuisine and attractiveness as a tourist destination. Even before the campaign was announced, one Douyin video on making roujiamo – Xi'an's specialty shredded meat sandwich – had received over 100,000 views, and a student-made video featuring songs of Xi'an got over 180,000 views. In an interview with Chinese travel media Lvyou Kan, Brand Manager for CYTS (China Youth Travel Service), Hao Yu'ang said that Douyin was helping to bring a fresh, youthful appeal to a city known for its ancient history and traditions.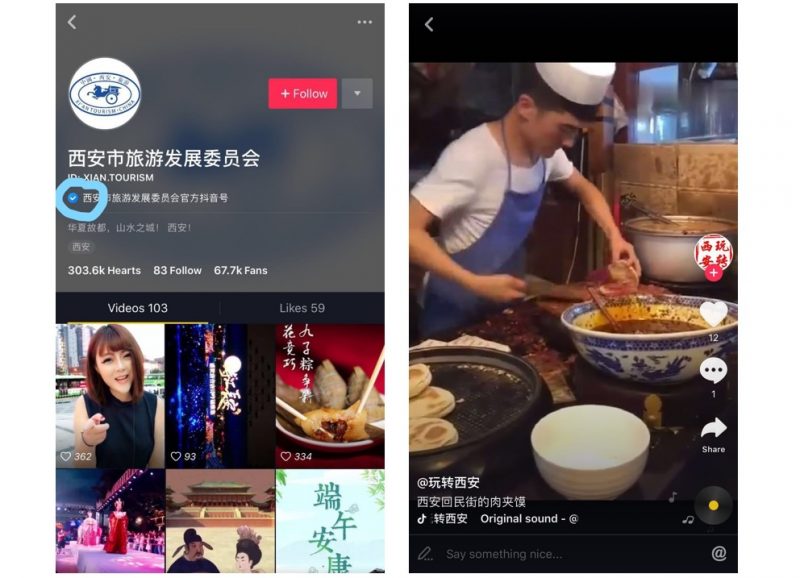 (Left) The Xi'an Tourism Commission's Douyin account. Note the verified check mark for an official account, circled. (Right) A Douyin video of roujiamo sandwiches being made in Xi'an.

Xi'an's videos will show off both the ancient and modern sides of the city, and also take advantage of Douyin's popular 'Challenges.' A Douyin 'Challenge' is essentially a hashtag that users create videos around, competing to get the most views – which is often incentivized. This is an excellent way to drive user-generated content, which can work particularly well for a travel brand (see Tourism Australia's 2017 #MeInAustralia WeChat campaign) and help stimulate positive word-of-mouth promotion.
Any Douyin user can create a Challenge, but to get the virality that pushes the hashtag to the Douyin Challenge homepage, it's best to work directly with Douyin or a KOL. Like many Chinese platforms – including travel sites Qyer and Ctrip – Douyin has an in-house team of KOLs, and this is a good point of entry to the platform, though just one video by a top influencer could cost you up to 120,000 RMB (over US$18,000!).
What are the advantages?
Douyin is growing at an astronomic rate, and it's a great platform for positioning your brand as young and trendy, and reaching and inspiring young Chinese. The app has received a lot of publicity lately, but in terms of travel – especially outbound travel, it's not overcrowded yet, and offers a fresh way of grabbing the attention of new consumers. And getting on a platform or into a market before it's over-saturated can bring benefits for years to come.
What are the drawbacks?
Considering that most Douyin videos are only 15 seconds, you don't have very long to send your message to users, and most will watch so many videos in one sitting, you can be easily lost among clips of viral dances, cute puppies and trending food. The young, short-term nature of the platform means that so far, the commercial success it's inspired has centered around fast food – so this might not be the best place to convince someone to plan a long-haul international trip.
Another complication is that while the international version of the app, TikTok, is now available to download outside of China, the two apps are actually separate entities, with different content on each. This has to do with Douyin's compliance with Chinese video censorship laws. The result is that to reach Chinese users of the app, you will need to open your Douyin account in China.
Douyin can also be fairly insular. Douyin videos were recently banned on WeChat, whose parent company, Tencent, sees ByteDance as a competitor. Weibo has also been accused of blocking Douyin videos. This means it won't be easy to publish a Douyin video and share it on all of your other platforms. And although this platform offers a great opportunity for overseas travel-related companies to inspire and attract Chinese visitors, the future of Douyin is still uncertain, as there have been many government crackdowns on short-video and live streaming apps in the past year.
So should you use it?
Opening an account to monitor hashtags and pick up on travel trends, or what's being said about your company or destination, can help reveal the preferences of young, up-and-coming travelers – but note that the app TikTok downloaded outside of China will not show you the same content as Douyin downloaded from within China.
If you have the resources and want to establish a presence on the platform early, your best results to maximize exposure will come from working with Douyin directly. In terms of being able to predict if this kind of campaign will actually attract more tourists, we'd recommend following domestic tourism accounts and monitoring their results – apart from Xi'an, the city of Chongqing and Yunnan Province also stand out for popular tourism-related content.
Because the platform is so new, and Douyin is still working on ways to make it friendlier to marketers, it might be too soon to dive in now, throw a lot of money at a KOL and hope for the best. But before you write it off completely, remember that the general consensus around WeChat mini-programs was very negative even a year ago, and they have since taken off as a really useful and valuable tool for both destinations and hotels. Especially if you're looking to go beyond WeChat to try something new with your social media marketing in China, and you want to appeal to post-90s, Douyin is the place to be.