China's Generation Z travelers have been a driving force behind China's domestic travel recovery, and when outbound travel starts again, they will definitely be emerging as a demographic group that's more important than ever. Get to know this generation, their top tourism trends, and the best ways of attracting young Chinese tourists.
How big is China's Gen-Z market?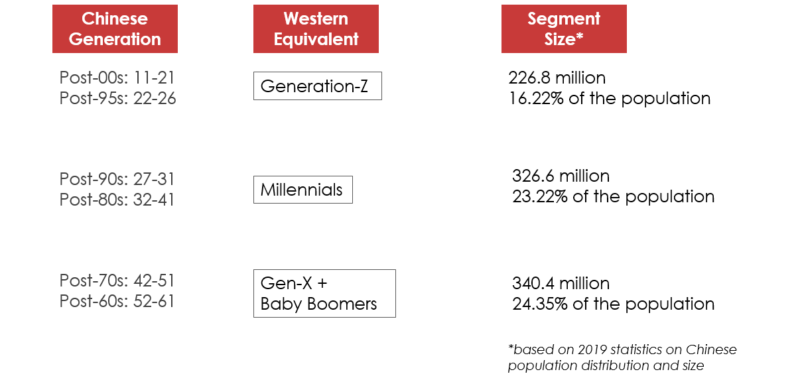 In China, generations are most commonly defined by decades or half-decades, with "post-95s" and "post-00s" born between 1995-2009, and corresponding with "Generation Z" in the west. Based on 2019 statistics on Chinese population distribution and size, there are around 226.8 million Chinese in this age group, or 16.22% of the population.
Younger travelers are the fastest-growing segment of China's travel market. Data from the China Tourism Academy and China's Ministry of Culture and Tourism showed that 28% of Chinese outbound tourists in 2018 were aged 24 or younger. In 2019, Gen-Z accounted for 21% of outbound travelers on OTA Trip.com Group (Ctrip).
Do Gen-Z Chinese like to travel?
China's older Gen-Zs, now in their early to mid-20s, are already an important market, with 87% saying that they like or love traveling. Since the pandemic began, younger travelers have been key to China's domestic tourism recovery, accounting for more than half of the bookings on Ctrip for the 2020 May Labor Day holiday. In the summer of 2021, travelers under 30 made half of all flight bookings on OTA Qunar, and close to one third of hotel bookings.
The post-00s segment is really starting to come into its own, too. During the 2021 May Labor Day holiday, post-00s showed significant growth compared to pre-pandemic travel, with bookings two and a half times higher than in 2019. Trip.com Group forecasts for 2021's Dragon Boat Festival weekend show bookings among post-00s a whopping nine times higher than in 2020.
In 2020, a study by Euromonitor revealed that travel was one of the top 5 things that Chinese consumers aged 20-34 planned to increase spending on, so the appetite for upgrading and increasing travel is definitely still strong, even after COVID.
While young Chinese have played a big role in domestic tourism recovery, plans for outbound travel have naturally dropped off considerably. A major question for destinations and brands outside of China is, will this be a long-term trend? Should we expect post-2000s Chinese to be less enthusiastic about traveling abroad than the post-80s generation was, even when the risk of COVID infection has been eliminated through vaccines? The answer will be at least partially up to tourism boards and tourism businesses outside of China – If we continue to look for fresh ways to inspire and welcome young Chinese travelers, and do so effectively with the right digital channels, creative content, and peer recommendations through KOLs and UGC, we can play a big part in enticing this generation to explore the world once travel restrictions allow.
What are the biggest travel trends for China's Generation Z?
Personal interests have a bigger impact on Chinese Gen-Z travel behavior than for other generation. Apart from relaxation, travel is seen as a way to explore one's interests, broaden one's horizons, and experience other cultures. TV shows, film, and celebrity idols all have a significant impact on younger travelers' destination choices.
The pandemic has pushed interest in outdoor activities and independent travel to new heights, and glamping and campervan travel has emerged as a major trend, made especially popular by KOLs. During the Labor Day holiday earlier this month, searches for "camping" on Xiaohongshu – a platform dominated by post-90s women – were up by 230% compared to the year before. Outdoor adventure activities such as hiking, paragliding, and water sports are all currently trending.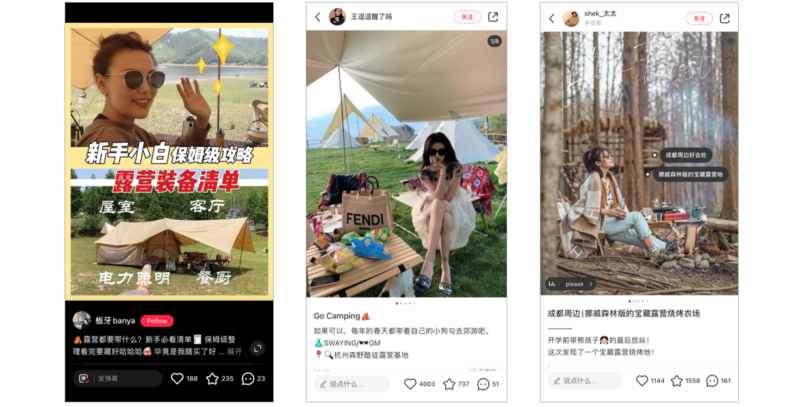 But while natural scenery was the top feature of a destination among China's Gen-Z surveyed during the summer of 2020, reflecting early post-pandemic travel trends, historical and cultural destinations were also popular.
Theme parks are another hit with China's Gen-Z. Shanghai Disneyland in particular has emerged as one of the country's most popular destinations and a daka hotspot – according to the China Tourism Academy, nearly half of visitors are aged between 20-30 and visit without children.
What is daka tourism?
Daka is the biggest overall travel trend for Chinese born after 1990. It translates literally as "punch card," and it's a kind of check-in style travel that is tied to online sharing. You go to a must-visit place, then post photos or a video online to show off that you were there.
According to Mafengwo data, more than 87% of Chinese Gen-Z travelers have a daka list. Daka destinations can be famous places like Tian'anmen Square or the Eiffel Tower; they can be "internet famous" places like a pop-up shop or art installation, for example, or they can be trendy places that are tied to the traveler's personal interests, including theme parks, bookstores, or cafes. Daka can also add a ritual experience to travel – the kind of social media equivalent of collecting a Starbucks mug or a magnet from each city you visit.
In some ways, daka seems like a throwback to the old fashioned kind of Chinese tourism that's all about checking off the major sights and taking a photo there. But what's different about it is that it's very social media-oriented, very Instagram-worthy in terms of aesthetics, and often influenced by personal interests – so one traveler's daka list could be quite different from another's.
What differentiates Chinese Gen-Z tourists from older travelers?
Because of the extraordinary growth in China's outbound travel market from the end of the 1990s until the pandemic, that meant that the younger the generation, the earlier the average age when they first traveled outside of China. And not only were younger travelers traveling overseas earlier, they were also traveling more often. So this generation has had a head start in becoming experienced as travelers.
In terms of reasons for traveling, while leisure and shopping are quite important at any age, they're less important the younger the traveler is. Conversely, traveling to explore one's interests becomes more important for each generation.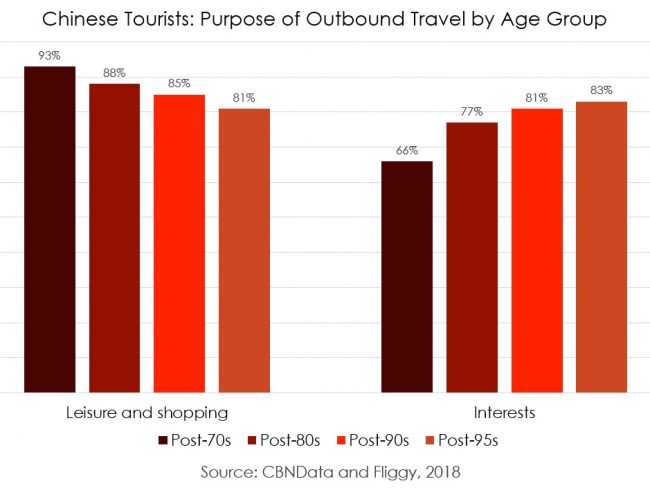 Following on previous trends, China's Generation Z strongly favors independent over group travel, and they're even more likely to travel solo than older generations – Mafengwo found that nearly 25% have travelled alone.
What differentiates Chinese Gen-Z tourists from other nationalities?
Skift's Millennial and Gen Z Traveler Survey 2019 revealed some important differences between young Chinese and those in the US, UK, and Australia, particularly in digital behavior. First, Chinese respondents were nearly twice as likely to follow travel-related accounts or influencers on social media than their western peers were. Second, the social media platforms used to access this travel content were totally different for China and the rest of the world. Instead of Instagram, Facebook, and YouTube, for young Chinese, Weibo was the most popular, with WeChat very close behind, and short-video platform Douyin in third place.
Booking device was another major contrast between Chinese and western Gen-Z and millennial travelers in Skift's research, with 84% of Chinese saying they booked travel only or mostly on a smartphone – corresponding with the high mobile internet use of young Chinese, and the reason why it's so important to have mobile first resources and booking platforms for Chinese visitors.
How to market tourism to China's Generation Z?
While China's post-80s generation probably used internet cafes to first get online, now more than 60% of post-2000s have their own mobile phone by the time they're in middle school. Post-95s account for 19.3% of Chinese internet users, and they're the most active generation of internet users, with 72.6% accessing the internet via mobile device on a daily basis, and with the highest average screen time at over 5.5 hours a day (Fastdata, 2020). What this means for the tourism industry is that digital resources and marketing – and particularly mobile-friendly resources – are only becoming more important over time.
Social media is one of Gen-Z's most-used sources of travel information, alongside OTAs, and the good news is, they're on the same social media platforms that you're probably already using for Chinese marketing. The Communication University of China found that WeChat and Weibo were the two most-used social apps for Gen-Z by the end of 2020. According Kueclub's 2018 "Post-95s' Social Media Trends Report", this generation is actually more likely to follow official accounts on WeChat and Weibo than older Chinese are. Douyin is by far their most-used short video app, ahead of Kuaishou, and post-95s are also more likely that older generation to watch videos on Bilbili and Weibo. Click here to learn more about Chinese video marketing for tourism.
A survey of Chinese university students in the UK, published by the Copenhagen Tourism Board in 2020, found that Weibo, Mafengwo, and WeChat were the most prominent online sources for travel information when organizing trips within Europe. This is particularly relevant while travel restrictions are still keeping Chinese tourists at home – since students are going to be traveling overseas earlier than tourists, their word-of-mouth recommendations and online posts will have a bigger impact than ever.

In terms of travel booking, it's unsurprising that nearly all Gen-Z travel booking is done online, and mostly through OTAs. Young Chinese also take pride in doing all their travel bookings independently, allowing them to customize their travel to fit their individual interests and show off their capabilities as travelers.
Another trend for China's Gen-Z travelers, and one that relates to outbound tourism, is "cloud travel." This is a way to simulate the travel experience online, notably through live streaming and video, and it emerged during China's lockdown period last spring, with broadcasts and tourism events streaming from within China and all around the world. With lots of experience using different formats and content for tourism live streams since launching a live streaming platform in spring 2020, Mafengwo has discovered that Chinese-speaking foreigners are the hosts that attract the most fans. Live broadcasts should also be timed to coincide when your target audience is online – for China's Gen-Z, the peak time for internet use is from 6-9pm, with after 9pm the second-most popular window of time (Communication University of China).
For more information on China's Gen-Z travelers, watch Dragon Trail and Mafengwo's May 2021 webinar.