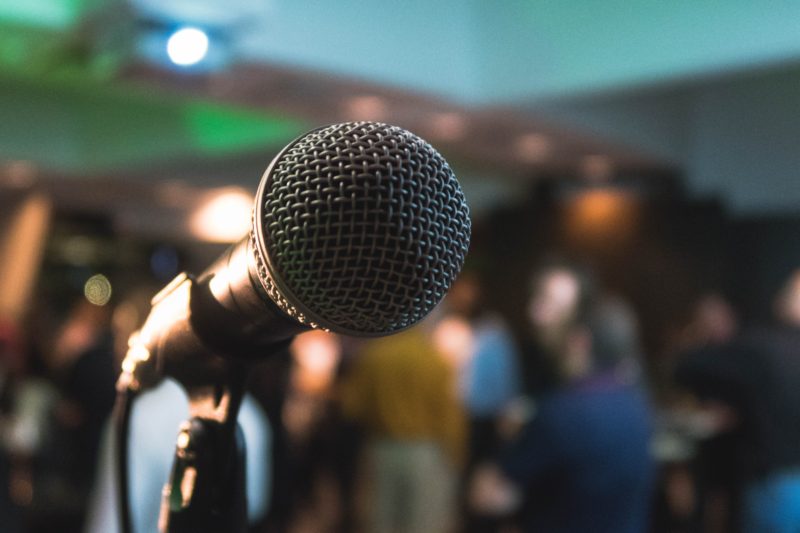 It's common to hear stories about public backlash against consumer brands in China – for example, Dolce & Gabbana's fall from grace after an offensive ad campaign, or Gap's apology for a t-shirt with map of China that omitted certain territories. But the opposite can happen, too. As two recent examples show, brands that catch public sentiment at just the right moment can be rewarded with an outpouring of support.
This is the topic of a recent article by Chinese media Ciwei Gongshe, which looks at how live stream broadcasts have become a new domain for the expression of public opinion in China. While the dramatic outcomes of these recent cases were unexpected, they do reveal a strong trend of Chinese consumers paying attention to social issues and voting with their wallets – an important phenomenon for any brand to keep in mind.
Erke and Flood Relief
Known as a sportswear brand for third- and fourth-tier cities, Erke announced the donation of 50 million RMB in supplies to help with flood relief in Henan Province in a 21 July Weibo post that at first received little attention – the brand account had few followers and no celebrity endorsements.
Then, one Weibo user posted about how the lack of recognition was unfair, and soon Erke was a trending topic. Fans thanked Erke and promoted it on other platforms like Douyin and Taobao. The original Weibo post has now been reposted more than 285,000 times, and liked by 9.4 million.
This translated into a major change for the company's live streaming broadcasts, too. In the six days before the company went viral for its donation, live streaming viewers amounted to just over 10,000. After, they attracted an audience of more than 2 million, with more than 10 million RMB in sales on 22 July alone – 168 times higher than the week before. Erke's sales volumes on Taobao were also 10 times higher than during the e-commerce platform's 618 "shopping holiday."
Almost overnight, Erke has become a competitive sportswear brand in first- and second-tier cities, according to the Ciwei Gongshe article.
KANS and Kris Wu
In early July 2021, Chinese-Canadian superstar Kris Wu was accused of sexual harassment and date rape. The former member of Korean pop group EXO then had 15 brand partnerships, including major international names like Louis Vuitton and Bvlgari. But the first to announce termination of their partnership was a small Chinese cosmetics brand called KANS, which saw which way public opinion was heading and took a risk. They are now doing far better than when endorsed by the disgraced celebrity.
The first live stream after the announcement attracted 3 million viewers, and nearly 3 million RMB in sales – an 868% increase compared to their previous average. From an audience of a few dozen, KANS live streams became some of the most popular online. Their last two live streams have each been attended by around 900,000 viewers, which is 50 times more than when the brand was working with Kris Wu.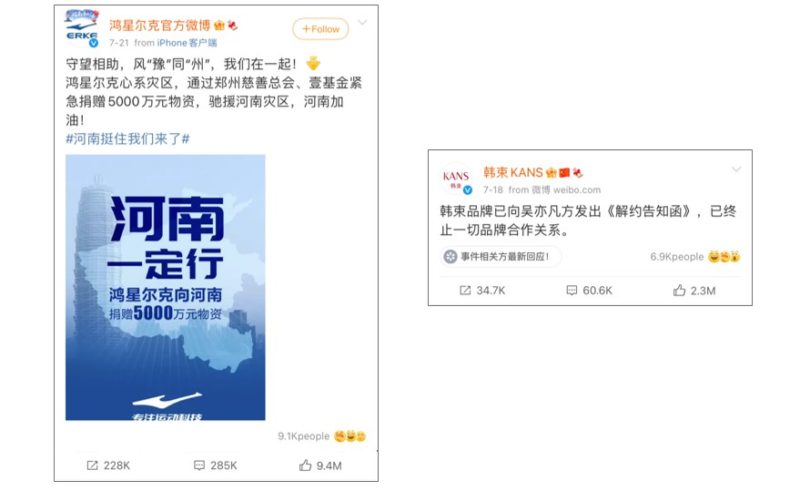 The Weibo posts that changed everything: Erke announces a RMB50,000 donation to Henan on 21 July; KANS ends their relationship with Kris Wu on 18 July
The Power of Relatability
Live streaming is big business, with e-commerce superstars, such as "Lipstick King" Li Jiaqi or "Livestream Queen" Viya, attracting billions of RMB. But in the cases of Erke and KANS, it was unpolished presenters that won over consumers.
KANS' new presenter was totally out of her depth when she found herself in front of 3 million viewers after the Kris Wu announcement. But while she may have been unpolished and nervous, viewers found her sincere and relatable – perhaps the perfect antidote to a smooth-talking but scandal-ridden celebrity.
Erke boss Wu Rongzhao joined the company's live stream to thank viewers for their support. Standing awkwardly in the live streaming studio and speaking with a pronounced regional accent, he was a hit with the audience.
It is perhaps because of their low profile that KANS and Erke have done so well this summer. Other Chinese brands donated to flood relief efforts without such dramatic results, and several celebrities were even criticized for trying to get attention by going to distribute supplies. Lancôme, L'Oreal Men, and Louis Vuitton also cut ties with Kris Wu, but instead of being praised, they face a boycott for not taking action until two days after KANS' quick decision. Public sentiment clearly rewards brands that are seen as the most sincere and proactive.
Live Streaming and Public Discourse in China
While Chinese e-commerce live streams can invite comparisons to home-shopping TV in the west, the interactivity of the broadcasts is key to understanding how different – and potentially powerful – they are.
China had 587 million live stream viewers in 2020, and the scale of e-commerce live streaming is expected to double this year. More than just a way to shop, the Ciwei Gongshe article asserts that live streams are a public forum and a way for Chinese consumers to vote. Unlike social media, live streams are condensed in real time, with the audience interacting with each other and the host while they make purchases over a few hours.
In the case of Erke, people who were moved by the images of flooding in Henan saw a way to help by supporting this small brand's live streaming session. One consumer profiled by Ciwei Gongshe even bought a pair of shoes a size too big, just to contribute.
But live streams are also potential virtual venues to express negative sentiment – Chinese consumers joined Zara and H&M live streams to voice their displeasure over the brands' announcements that they would stop using Xinjiang cotton earlier this year.
Top Takeaways
– Chinese consumers are sensitive to and impacted by social issues when making decisions about which brands they buy from. But getting this right can be tricky. It's important to act quickly and decisively, but be careful about looking like you're only taking action for self-gain.
– While celebrity endorsements and live streaming stars can help brands to attract viewers and visibility, authenticity, sincerity, and relatability go a long way with the Chinese public.
– Not just a sales platform, live streaming has become a virtual venue for public discourse in China – this can be positive or negative, but it's a phenomenon that brands need to be aware of and prepared for.