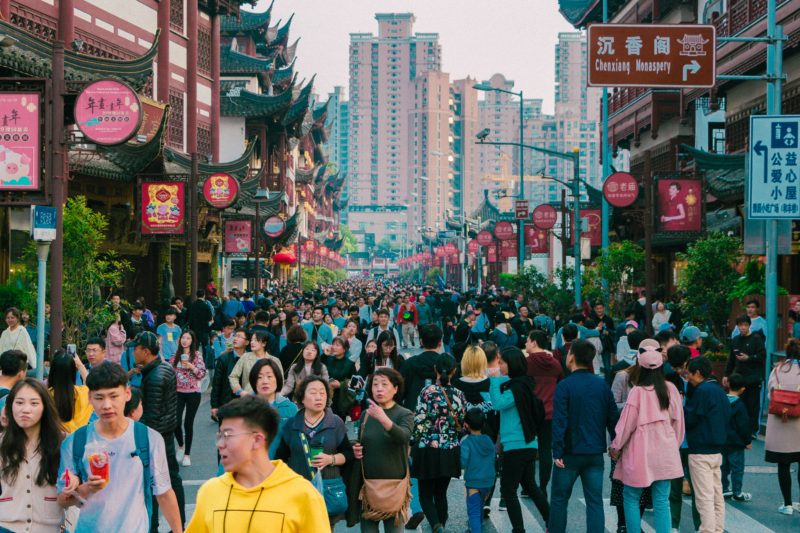 Photo by Javier Quiroga on Unsplash
China's tourism market was back and bigger than ever during 2023's Labor Day holiday from 29 April-3 May, with traveler numbers and bookings surpassing pre-pandemic levels for domestic travel. Outbound travel recovery showed a strong upward trend compared to the Chinese New Year period three months earlier.
Domestic Travel: Numbers
– According to China's Ministry of Transportation, there were more than 270 million trips taken between 29 April-3 May 2023. The daily average surpassed last year's number by 162.9%.
– Although the Labor Day holiday was two days shorter than the Chinese New Year holiday, travel was much more in demand, reported Fliggy. Bookings reached an all-time peak for the May holiday, with attraction tickets up by 127% compared to Chinese New Year 2023, hotel bookings by 95%, and train tickets by 117%.
– Qunar also reported historic highs for domestic travel bookings. Hotel bookings were up in volume, with stays 20% longer.
– Tongcheng reported that bookings for transport, hotels, and attractions all surpassed Chinese New Year. Recovery was the most pronounced in lower-tier cities.
– Lvmama reported that bookings for attractions, hotels, FIT and group travel products all surpassed 2019's levels. Mid-distance, cross-provincial travel was the most popular travel type, accounting for more than half of bookings.
– Like the other OTAs, Tuniu reported new highs for travel numbers. They also noted increases in both travel distance and the length of trips, as a developing trend.
– Haikou Customs, in Hainan, reported RMB 883 million in duty free sales over the holiday, and 109k shoppers, increases of 120% and 158% compared to 2022, respectively. The top shopping categories were makeup, jewelry, and watches. Meanwhile, total travelers to Hainan reached 3.2 million, up 14.5% on 2022, and 55.1% on 2019. Tourism spending in Hainan was RMB 4.23 billion, a 178.8% increase from last year.
– WeChat reported that daily spending on retail, F&B, transport, and accommodation during the May holiday period all surpassed 2019's numbers, with retail up 212%.
Domestic Travel: Trends
– The trend that's swept China recently is barbecue in Zibo, made popular on social media. This drove travel to Shandong Province, where the city is located. (Click here to read more about the Zibo barbecue craze.)
– Youth and student travel was a major part of domestic tourism recovery. Lvmama noted an increase in Gen-Z travelers born from 1995 into the 2000s. These travelers adopt diverse itineraries, the travel platform reported, trying a bit of everything in a city, from food to live music to visiting temples.
– Camping was still popular over the May holiday, including stargazing and family camping products. But this market is becoming more differentiated and competitive as it matures.
Outbound Travel
– There were 6.26 million border crossings over the May holiday period, according to China's National Immigration Authority, peaking on 30 April with 1.38 million crossings. This was 2.2 times last year's number, reaching 59.2% of 2019's levels. To compare, border crossings during Chinese New Year only reached 23% of pre-pandemic levels.
– Overseas hotel bookings on Tongcheng surpassed 2019's numbers, and outbound flights recovered to 2019 levels.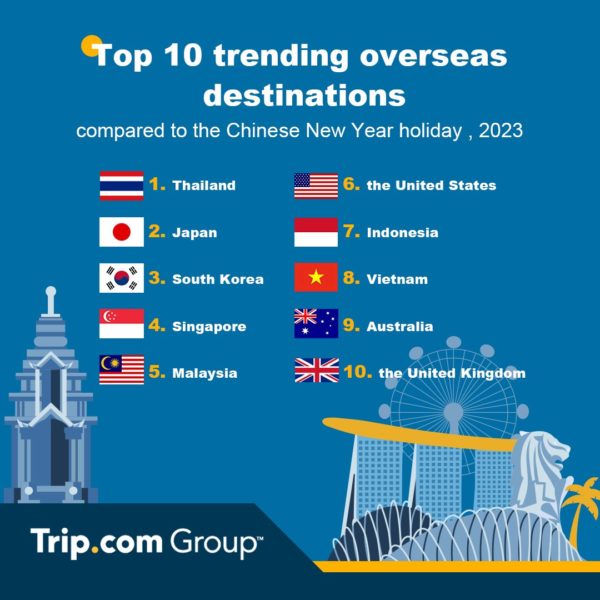 – Outbound flight bookings on Ctrip were up 900% year on year, reaching 40% of 2019's levels. Overseas hotel bookings increased 450% compared to 2022. The top 10 countries for overseas travel were Thailand, Japan, South Korea, Singapore, Malaysia, USA, Indonesia, Vietnam, Australia, and the UK. Compared to Chinese New Year, flight bookings to South Korea were up by 204%, with Japan flights up by 120%, Southeast Asia by 91%, and Europe by 40%. The OTA's post-holiday report noted that the May holiday saw a significant number of post-00s generation travelers leaving China for the very first time. The most popular destinations for first-time outbound travelers aged 18-23 were Bangkok, Singapore, Seoul, Tokyo, and Kuala Lumpur.
– International flights on Spring Airlines reached 50% of pre-pandemic levels over the May holiday, while domestic capacity was up 37.2% vs. 2019.
– Hong Kong received 625k mainland tourists over the holiday. The Hong Kong Retail Management Association said that thanks to high-spending shoppers, retail sales reached pre-COVID levels during the holiday period, and they are looking forward to the summer travel season and National Day Golden Week. The association expects Hong Kong's retail market to fully recover within nine months to one year. In their statement, they noted the diverse travel styles of May holiday visitors, with popular themes including in-depth travel and street food tours.