2021 has come to an end. For those who are still waiting to travel outside of China, the future seems to be paved with obstacles – expensive flight tickets, limited visa options, new cases, vaccine acceptance, etc. The reality is that Chinese outbound travelers' willingness to travel remains high, but they are constantly weighing the benefit of seeing the world and the risk of time, money and health.
Dragon Trail's China Travel Market Monitor survey collects insights from more than 1,000 Chinese outbound travelers each month. Let's follow the 1,045 outbound travelers* that we surveyed in December 2021 to see how ready people are regarding outbound travel.
*Survey respondents have all traveled outside of Greater China since 2015.
Want to run a survey with your own questions via Market Monitor? Click here to get started.
Click here to download the results as a PDF
1. First of all, let's see how many are willing to travel outbound
Dragon Trail Research found that 72% of Chinese outbound travelers have thought about outbound travel. A small additional percentage have started planning and booking.
When we look into demographic differences, it's not hard to notice that experienced travelers are more willing to travel outbound – post 80s and 90s generations, those from T1 and new T1 cities, and higher income groups.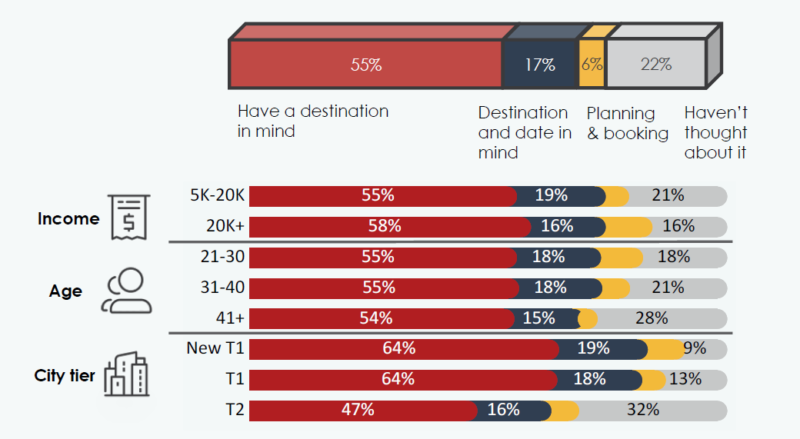 2. Which destination is most preferred? Spoiler alert: it's not correlated with safety perceptions!

Travelers were asked to choose their first-choice travel destination in the December Market Monitor survey. Not surprisingly, Japan is still the most preferred destination. What's interesting about it is that Japan, along with the US, were notably identified as the least "safe" destinations in previous surveys. This means safety perceptions shift with development of COVID, but do not influence destination preferences in the long run.
More than half of travelers interested in Japan, Thailand, South Korea, the US, and Macau are repeat visitors. The US is the only long-haul destination with a high repeat visitor interest, meaning there is still a close tie between Chinese outbound travelers and the US.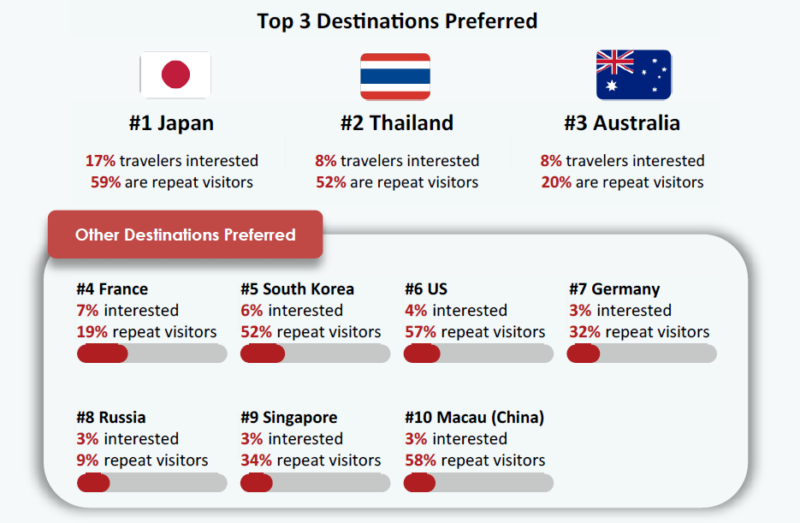 3. Other insights

Readiness to travel outbound depends on a range of policy-related measures such as quarantine, and Chinese travelers are aligned with current policy to maintain strict quarantine-on-arrival in China.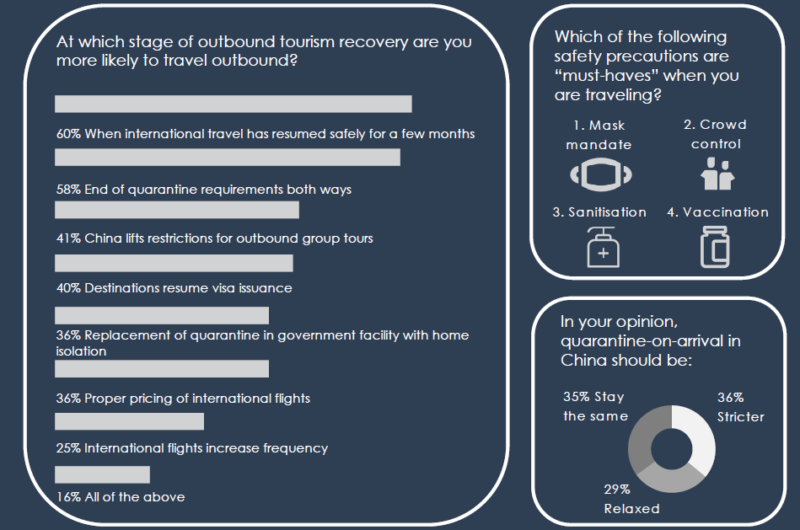 DATA
China Travel Market Monitor
Contact us to join next month: info@dragontrail.com
ICONS
Iconfont via www.iconfont.cn