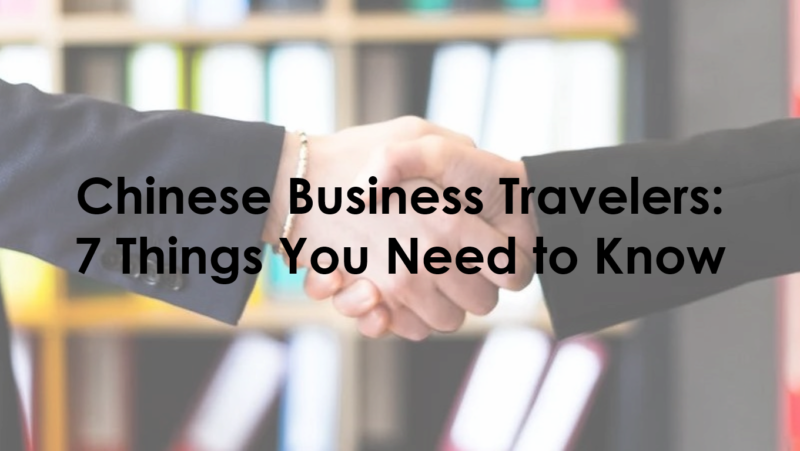 The recovery of Chinese outbound travel is already beginning – with business travelers. For an essential overview of the Chinese business travel market, don't miss the recording of Dragon Trail's November 2022 webinar with Trip.Biz, the corporate travel arm of the Trip.com Group, China's no. 1 OTA. Here, we've summarized seven key points from the webinar to prepare you for the return of this market.
1. China is the world's largest business travel market
Since 2015, China has been the biggest business travel market in the world in terms of spending, according to the Global Business Travel Association (GBTA), growing from US$32 billion in 2000 to US$347 billion in 2017. China continued to lead the world in business travel spending in 2021, with 31.7% year-on-year growth – double the global growth rate. The GBTA projects that China's business travel market will recover and surpass pre-pandemic levels by 2024, reaching US$400 billion in spending.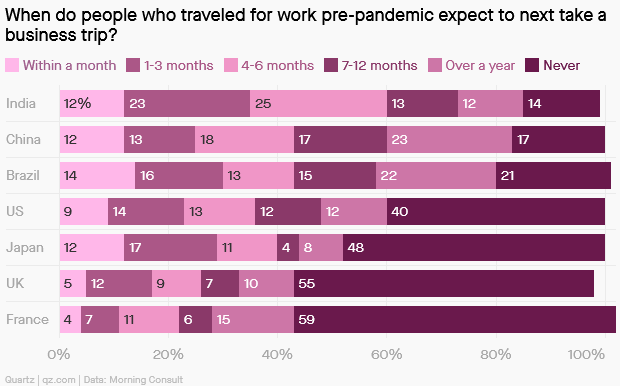 Source: Quartz 2022
The potential for China's business travel recovery is significant, compared to other global markets. In a Quartz survey of more than 16,000 people around the world who used to travel for work three or more times a year before COVID, two out of five Americans said they never expected to travel for work again. The proportion saying they never expected to travel again for work are even bigger in Japan, the UK, and France. Meanwhile, China was closely behind India as the market with the highest expectations for continued future business travel.
2. And they're back!
With outbound tourism still officially discouraged, and tourist visas to China still unavailable, China's recent changes to international travel restrictions are very much aimed at making things easier for the business community.
Recent months have seen a major increase in international flights to Asian destinations, opened in large part to take Chinese business travelers and students to countries like South Korea, Singapore, and Thailand. With the end of China's circuit breaker policy for international aviation from November 2022, these flights now no longer risk being canceled due to COVID. In addition to these commercial flights, Chinese airlines are also offering chartered flights for business groups, such as a 160-person delegation of entrepreneurs who recently took a China Southern charter flight from Guangzhou to Singapore to attend a business event.
To share two other examples of the return of Chinese business travel in Asia: Since the Philippines reopened to international travel in April 2022, there have been 22,000 Chinese arrivals – and these are mostly long-stay business travelers. Recently at WTM London, Dragon Trail heard from a hotel in Thailand that they've already seen the first return of Chinese MICE travel, hosting a 70-room delegation from mainland China for four nights.
3. Traveler profile: Male, millennial, married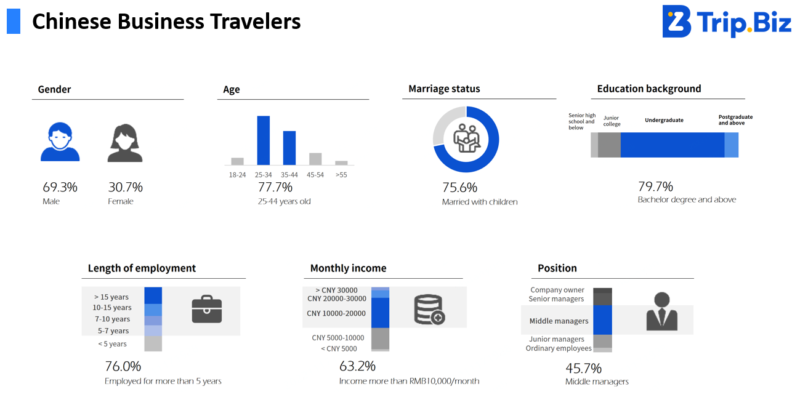 According to data from Trip.Biz, the average Chinese business traveler is a man between the ages of 25-44, married with children, and with a bachelor's degree or higher. He is also most likely to work in middle management or above.
4. A digital-first market
Like China's tourism market, the business travel market is very digitally savvy, and very mobile first. We can see that for flight and hotel bookings, China leads the way with digital bookings. But interestingly, China is the market least likely to prefer checking in for a flight via digital tools, so this is something for airlines and airports to keep in mind.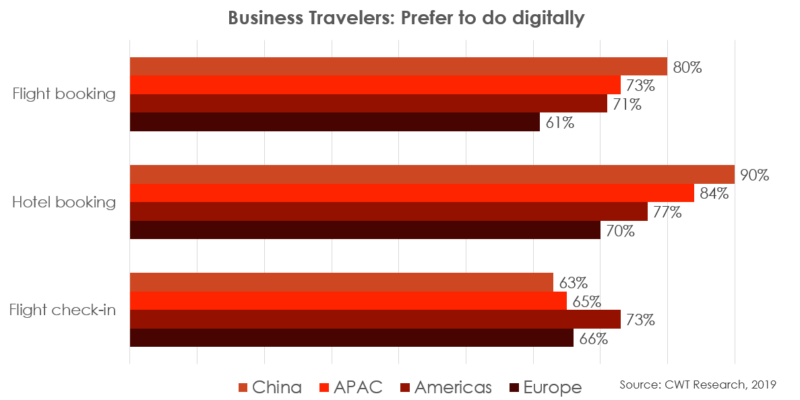 Unsurprisingly, China is also a mobile-first market for business travel bookings, with 62% accessing travel booking via a mobile device. Digital tools are also preferred for dealing with travel disruption, at a much higher rate than the global average.
There's also a desire for increased digitalization in business travel, according to Trip.Biz's surveys. They found that among all areas at work, business travel was identified as the most suited to digital transformation (68.3%).
5. What are they looking for in a hotel?

Based on Trip.Biz data, between 2020 and 2021, there was a significant increase in business travelers with a preference for gyms and recreational facilities in their hotels, and focus on room furnishings, extra services, and amenities. At the same time, while infection control measures were still important in 2021, this was seen as a far smaller concern than in 2020.
Chinese business travelers overseas are more likely than other market segments to book high-end accommodation. One reason for this is the idea that staying at a high-end hotel will project a positive image of the traveler's company. This creates a good opportunity for luxury hotels.
Before the pandemic, Chinese business travelers often requested private meeting facilities or dining rooms in order to conduct business. The availability of private areas has potential to be even more important now, with COVID still circulating around the world.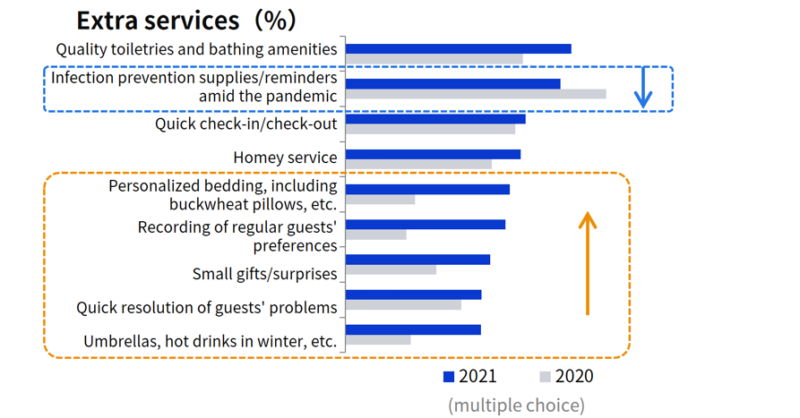 Source: Trip.Biz surveys
Now more than ever, with Chinese business travelers potentially more comfortable ordering room service rather than eating in restaurants, and looking for other ways to avoid unnecessary contact, we would recommend that hotels offer Chinese-language room service and concierge via WeChat mini-program or app. This also allows the hotel to easily collect data on the guest that can be used to further personalize future stays – something that Trip.Biz's surveys show is increasingly an expectation among Chinese business travelers.
6. Bleisure: A key opportunity
Trip.Biz data shows that 68.5% of managers approve of their employees taking time for themselves as part of a business trip. In terms of what priorities these business travelers would have, trying local foods was the top choice (62.9%) according to Trip.Biz's survey, followed by sightseeing (52.2%).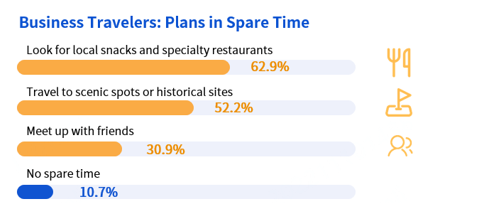 Source: Trip.Biz surveys
In the past, business travel was often the first opportunity Chinese people had to travel abroad, acting as a formative experience. Now, with Chinese traveling internationally on business before tourism resumes, the experiences of these business travelers – especially bleisure – could have a big impact in terms of influencing future tourism.
7. Growing awareness of sustainability
Survey data both from Trip.Biz and from OTA Tongcheng's recent white paper on Chinese business travel shows that the majority of Chinese companies are currently taking steps to decrease their environmental impact. The most common steps to reduce environmental impact thus far focus on reducing the use of paper, with digital tools for travel, and digital invoices for reimbursement.

Source: Trip.Biz surveys
89% of Chinese business travelers surveyed by Trip.Biz said they were concerned about environmental protection. In Tongcheng's survey, 97% of business travelers said they would be willing to increase travel time if it significantly decreased their environmental impact, and 54.2% of businesses would propose an eco-friendly hotel for business travelers. It's very clear that there is demand and opportunity for more sustainable travel within the Chinese business travel market, not just among leisure travelers.
Dragon Trail's services and solutions for business travel include hybrid and virtual events, WeChat mini-programs, virtual concierge programs for hotels, and digital marketing. Contact us to discuss how we can help you achieve your goals in attracting China's business travel and MICE market.