Up until a few years ago, China was still a cash-based economy, but the situation has transformed with the proliferation of mobile payments. Especially in urban areas, mobile payments have taken over, to the extent that many city-dwellers no longer carry cash with them at all – mobile payments can be used for both large and small purchases, from airplane tickets and luxury goods, to taxis and street food. In the first 10 months of 2017, mobile payment transactions in China surpassed US$12 trillion, up 38% from the $9.3 trillion spent the year before. This contrasts starkly with Western economies – just $112 billion in mobile payments were made in the US in 2016.
As mobile payments have taken off in China, and competition between the main platforms has intensified, the battle is now increasingly international, with Alipay, WeChat Pay and other Chinese mobile payment systems accepted in new locations around the world on a close to daily basis. Chinese tourists are now able to pay with their mobile phones on every continent, and this has major benefits both for them and for retailers and other businesses overseas.
The platforms
The two dominant mobile payment platforms in China are Alipay and WeChat Pay. Alipay is the larger of the two, with a 54% market share in 2017, and 600 million users. But WeChat Pay has been catching up quickly, with a 40% market share in 2017 – up from just 20% in 2015 – and at least 688 million users as of Chinese New Year 2018.

Created by the Alibaba Group, Alipay is the default payment method for e-commerce sites Taobao, Tmall and Alibaba.com, and this has helped to drive its dominance. E-commerce has been crucial to the growth of mobile payment platforms in China, where 74% of online payments are done via mobile platforms. Alipay is also accepted on Alibaba's travel marketplace, Fliggy.
WeChat Pay is accepted on WeChat stores and in WeChat Wallet's travel booking platforms for flights, trains and hotels. WeChat's parent company, Tencent, also owns over 20% of JD.com, China's second largest e-commerce platform after Tmall. Naturally, JD.com accepts WeChat Pay exclusively.
Finally, though it's much smaller, China UnionPay has been promoting its mobile payment platform abroad quite aggressively in the first several months of 2018, with some significant results. As China UnionPay card payment capabilities are nearly ubiquitous in many overseas destinations, there is potential for this to become a formidable competitor.
How do they work?
In addition to being used for online payments on e-commerce sites and WeChat stores, Chinese mobile payments can be made when a user scans a QR code in a shop, or when they generate a QR code on their phone, which the merchant can then scan to collect payment. Mobile payment accounts can be easily linked to apps, such as those to order taxis or food delivery. Through WeChat Wallet, WeChat Pay users can top up their phone credit, pay parking fees and pay for utilities such as electricity and gas, among other services. Finally, users can send money directly to their contacts through mobile payment apps.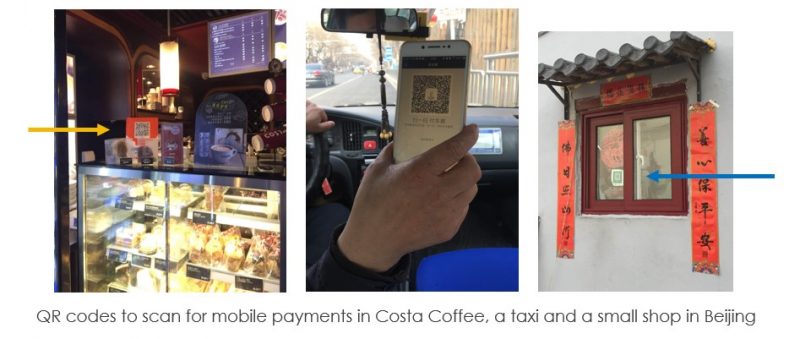 Mobile payments abroad
The number of countries and businesses where Chinese mobile payments can be used is already immense, and has grown consistently throughout the start of 2018. For this reason, we will not attempt to list every single place that accepts Chinese mobile payments, but instead give an overall picture of the situation.
Within the first quarter of 2018, Alipay had added the following places and companies to its repertoire: Italy; Israel; Canada; Davos, Switzerland; 16,000 Comfort Taxis in Singapore; 22,000 CabCharge taxis in Australia; Centara Hotels in Thailand; Schipol Airport in Amsterdam, and Apple Stores in China. Finland was also declared the first 'All-Alipay' foreign country in February 2018, after eight Chinese tourists completed a challenge of using only Alipay for a week there. In the US, over 170,000 businesses have started accepting Alipay in the last two years, including retailers, restaurants, hotels and taxis.
UnionPay also made significant progress in the first months of 2018. It added Nepal, Kenya, Djibouti, Mauritius, Vietnam, and Taiwan to the places that accept UnionPay mobile payments in the lead up to Chinese New Year, joining established markets in Singapore, Hong Kong and Macao. UnionPay also encouraged use of its app with a promotion over Chinese New Year 2018 where users had the chance to win 'red packets' of money for using the app. The results were impressive, with the volume of overseas mobile payments made with UnionPay tripling over the 2018 Chinese New Year period. UnionPay has also partnered with mobile phone company Huawei to launch the Huawei Pay mobile payment platform in Russia.
Retail
Retailers have been the leaders when it comes to overseas businesses adopting Chinese mobile payment platforms, especially high-end department stores. Harrods was one of the first UK businesses to accept Alipay in 2016, and they got WeChat Pay capabilities just before Chinese New Year 2018. Selfridges also accepts Alipay. In Paris, Galeries Lafayette and Le BHV Marais both accept Chinese mobile payments, as does Finland's largest department store chain, Stockmann, and Spanish department store chain El Corte Inglés.
It's not just luxury retailers, either – Camden Market was actually the first place in the UK to accept WeChat Pay, in November 2017. WeChat Pay is accepted at many small shops across Asia, including most Japanese convenience stores, and Russian supermarket chain Dixy has just started accepting Alipay.
Airports and airlines
Alipay became available at 10 international airports in 2016, including Frankfurt Airport in Germany. WeChat partnered with an airport for the first time at the end of 2017, launching their service at New Chitose Airport in Hokkaido, Japan. Other airports where Chinese mobile payments can be made at retail shops include JFK and Dulles in the US, Dublin Airport, Helsinki Airport, Christchurch Airport in New Zealand, and Charles de Gaulle in Paris.
Accepting mobile payments can be a good way for airlines to drive sales, too, and WeChat Pay integration is one of the reasons that AirAsia's WeChat account is so dominant among airlines. Other examples include KLM, which also allows direct booking and payment through WeChat, and South Africa Airways, which accepts UnionPay mobile payments. Finnair became the world's first airline to accept Alipay for in-flight purchases in January 2017, on its Shanghai-Helsinki flights.
One more opportunity for mobile payment platforms at airports is partnerships with global tax refund services. Chinese tourists at Singapore's Changi Airport can have tax refunds sent straight to their Alipay accounts, and the same is available with WeChat Pay at Barcelona Airport. This arrangement is very convenient for Chinese shoppers, who are much happier to receive their refunds immediately in RMB rather than receiving foreign currency right at the end of their trip. WeChat Pay is now working to start doing instant, in-store tax refunds, which is likely to significantly boost Chinese tourists' already high amount of tax-free shopping.
Hotels
The penetration of Chinese mobile payment platforms in the hospitality industry has been centered on Asia, but is expanding slowly to Europe and North America as well. Marriott accepts Alipay for both hotel payments and at F&B venues at select properties in mainland China, Hong Kong, Macau, Thailand, Singapore, Japan and South Korea, with intentions of further expansion. Dusit Hotels in Thailand accept Alipay, and Centara Hotels & Resorts is introducing Alipay to all of its Thai properties in 2018, with plans to expand to their global network afterwards.
IHG has been an early adopter of Chinese mobile payment platforms, first announcing their partnership with Alipay in 2016, with global expansion planned to start in 2017. One of their European properties, the Crowne Place Berlin City Centre, started accepting Alipay as early as December 2016, and their Holiday Inn Helsinki City Centre was recently featured in the 'All-Alipay' Finland challenge in February 2018. The Louvre Hotels Group, which is the world's fifth largest hotel group, was the first in Europe to start accepting China UnionPay cards and has also been an early adopter of mobile payments, accepting Alipay on its booking site from May 2017.
In the US, only a few properties so far have started accepting Chinese mobile payments. Caesar's in Las Vegas became the first in 2016, and accepts WeChat Pay for online hotel bookings and for other non-gambling services at the hotel and casino. Two Luxe Hotels properties in Los Angeles started accepting Alipay and WeChatPay at the end of 2017. Millennium Hotels & Resorts, which first introduced Alipay payments in their Asian properties, have also recently announced that they will start accepting Alipay at their hotels in New York, Boston and Los Angeles.
Other venues
There are many other kinds of businesses around the world that accept Chinese mobile payments. To name a few examples: Starbucks across Malaysia accept WeChat Pay; McDonalds in Macao and Thailand accept Alipay; a number of taxis in Las Vegas and NYC accept Alipay; the London Eye and London Dungeon both accept Alipay, and offer discounts to tourists pre-paying through the Alipay app; tourist attractions in New Brunswick, Canada are set to start accepting both of the two leading Chinese mobile payment systems this year; and Toronto's CN Tower and Ripley's Aquarium just adopted Chinese mobile payments in March, 2018. This goes to show how the platforms can be used for both large and small purchases, and are applicable for a wide range of businesses and services.
The benefits of mobile payments
Being equipped with Chinese mobile payment capabilities provides an easy, comfortable payment gateway for Chinese tourists and also encourages them to spend more. Nielsen's recent study reveals that 91% of Chinese travelers said they were more willing to spend if Chinese mobile payments are accepted. Their top reason for using mobile payment is convenience, with 64% of survey respondents citing this advantage. Nearly half (48%) said it made them feel proud to see Chinese payment platforms accepted abroad, and 43% said they preferred mobile payments because they didn't have to worry about exchanging money, and were likely to get a better exchange rate, too.
Anecdotally, accepting Chinese mobile payments leads to greater spending. This was reported by several Chinese travelers interviewed for the Nielsen study, and has also been mentioned by businesses abroad.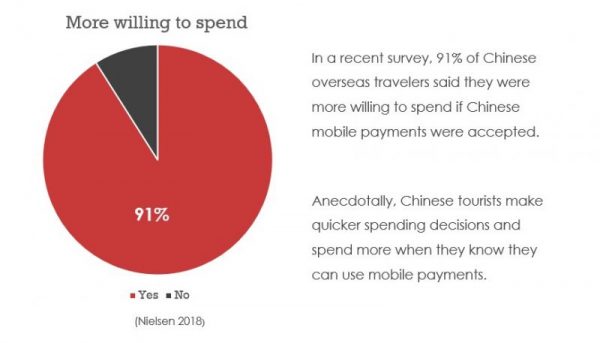 Chinese tourists might decide to spend more when they see the logo of a mobile payment platform displayed at a business, but Alipay provides an even better platform to drive sales: through their app. Here, Alipay users can easily find information on nearby sales promotions, recommendations, listings for businesses that accept mobile payments, and travel itineraries, significantly helping these businesses to stand out from those that are not Alipay-ready.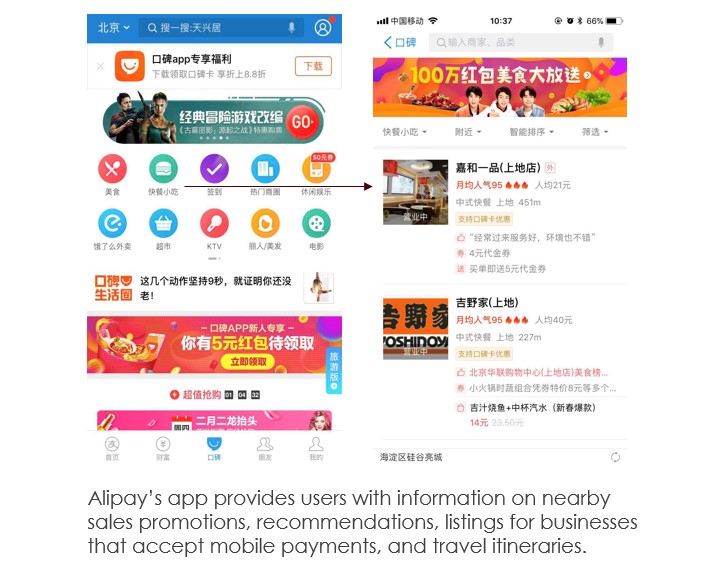 In China, WeChat Pay is often used to drive repeat purchases – after paying with WeChat, users are often sent a prompt to follow the business' WeChat account or join a loyalty program. They might also be sent information about the business' promotions, or be asked to fill out a brief survey, helping to provide the business with customer data.
How can you get it?
There are two ways to start accepting Chinese mobile payments abroad. The first is to work directly with the mobile payment platform, but this route is really only open to very large businesses, and it requires preparing a number of documents and applications. You can find out more about how to do this directly through WeChat Pay's and Alipay's international websites.
An easier way to get set up for Chinese mobile payments is through a third-party agency or financial services provider. Although you will end up paying a higher commission this way, they will simplify the application and set-up process. Another major advantage is that many of these services will be able to equip you with WeChat Pay, Alipay and China UnionPay all in one go, as opposed to needing to apply separately for each platform. The companies that can provide these services vary by country – for instance, Motion Pay provides this service in Canada; Stripe in the UK and Australia; and dLocal in Latin America. Some countries also have multiple Chinese mobile payment platform providers – in the US, these include First Data, as well as startups Citcon and FreedomPay. If you want to start accepting Alipay or WeChat Pay, you should first find out which financial service(s) provides this connection in your country. Chinese mobile payments are available in a number of major world currencies (15 for Alipay, in addition to Chinese RMB), but if your currency is not yet accepted, you can opt for US dollars instead.
Once you're set up to accept Chinese mobile payments, be sure to make this visible to Chinese visitors with signage at the entrance to your business and/or at payment terminals. It can also be helpful to train staff to mention these payment options when a customer is ready to check out.