China's week-long public holiday for Spring Festival/Chinese New Year begins on 11 February this year and it appears that the Year of the Ox kicks off with many keen families having to stay put due to the current travel restrictions. To help us understand China's current and future tourism market, ForwardKeys and Dragon Trail Interactive have teamed up to examine flight booking trends and travel marketing campaigns to ask: "What might have the Chinese New Year looked like were it not for these new outbreaks?"
Chinese New Year travel on pause
There were high hopes for travel during this typically popular period, especially after a strong travel recovery in the domestic sector by the end of Q3 2020. But local COVID-19 outbreaks have resulted in official policies throughout the country requiring people not to leave the areas where they live, and as such travel bookings have dropped dramatically.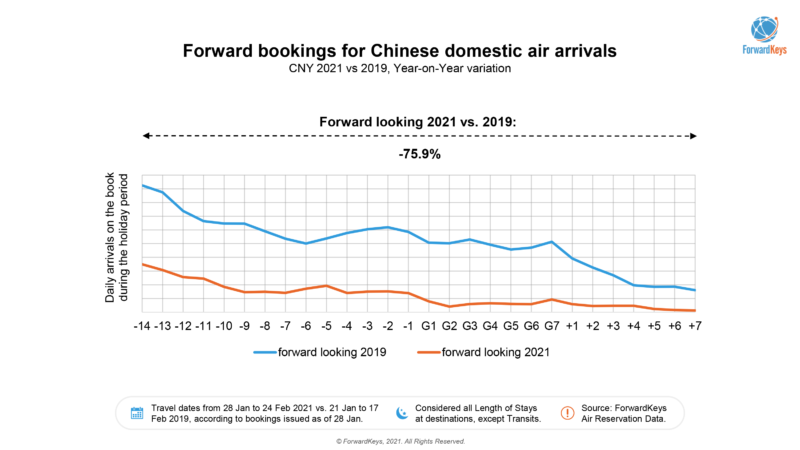 The outlook is quickly deteriorating for Chinese New Year domestic travel. "When we looked at the number of tickets issued to travel within China for the Chinese New Year monitored period last December, it was -57.3% down from the same period in 2019. Now, with all the tickets that have been issued as of 28 January, it is down -75.9%," says Nan Dai, China Market Expert at ForwardKeys.
Travel agencies have been restricted from selling group tours or packages to high- or medium-risk areas, and some tourism attractions have closed. "As of 18 January, air and rail departures from Beijing over the Spring Festival period were already down by 43% compared to 2020, and 69% compared to 2019. Last week, the National Railway Group reported that tickets for the three days from 28-30 January were only a quarter of what they were in 2020, and tickets for the 31st were down by 75%," says Sienna Parulis-Cook, Associate Director of Communications at Dragon Trail Interactive.
This is certainly disappointing news for both the travel industry and for travelers themselves.
What could have happened?
Looking at WeChat marketing for international hotel brands (as tracked weekly by Dragon Trail Interactive) over the past two months, the main promotional theme was "Sun or Snow." This means the very extensive promotion of wintry, ski-oriented destinations in north-eastern China, as well as the tropical island climate and tax-free shopping in the south, in Hainan.
This was demonstrated by the issued tickets leading up to the Chinese New Year before the new strains of COVID-19 appeared and authorities placed the travel restrictions between provinces.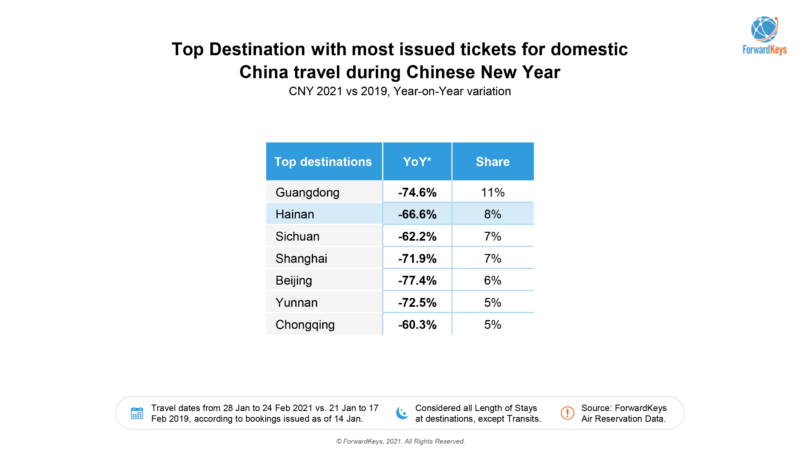 "Travel to southern parts of China with warmer weather and fewer new cases witnessed the most advanced bookings. Guangdong tops the list and Hainan jumps to the second place with 33% recovery in ticket volume as of 14 January," says Dai.
The team at Dragon Trail monitored online a host of activities by 5-star hotels promoting the south or north.
Marriott published an article on WeChat in January recommending the Harbin Ice and Snow Festival, skiing in Changbaishan and Chongli, and winter beauty in Changchun. A recent report by travel website Qyer.com listed Changbaishan, a mountainous area in Jilin Province, as 2020's 8th fastest-growing travel destination in China.
Shangri-la also promoted hotels in Harbin in December, and Ibis promoted Changchun and Harbin. At the same time, Hilton publicized its extensive selection of properties throughout China, as well as dreamy holidays in Sanya, Hainan.
The international hotel brand to promote this "Sun or Snow" concept most heavily for winter tourism was the InterContinental Hotels Group. In December, they published posts offering a choice between a tropical winter break in Hainan, and snowy travel in the north of China. Then on 4 January, they again integrated this concept into an interactive post showing how much better 2021 would be compared to 2020. In 2020, they showed through illustrations, you were stuck at home. In 2021, you'll be surfing in Sanya or learning to ski.
The optimism was unfortunately premature.
The Great Spring Festival Staycation
There's still some push for Hainan travel – on 1 February, the Sanya government announced that travelers from low-risk areas with a green Hainan health QR code won't need to take a PCR test before coming to the island.
At the end of January, Marriott was still promoting "little family reunions" in Hainan, and Shangri-la Sanya rolled out Chinese New Year family packages while stressing its high hygiene standards.
But travel from other provinces seems increasingly unlikely, despite the desire to do so. The most up-voted comments on an Agoda Chinese New Year promotion for Sanya published on WeChat travel blog @旅行雷达 in mid-January included: "Schools, work units, and organizations are all forbidding travel outside the city – who would dare to go?" and "It's so cheap! But we're not allowed to leave our area."
"The biggest Chinese New Year travel trend in 2021 will certainly be the staycation," says Parulis-Cook. As of 22 January, the Trip.com Group (Ctrip) reported that Spring Festival staycation bookings were up 260%, with searches for local travel up by 40%. 80% of their users will stay local over Chinese New Year, they said, with increases all over the country.
At the same time, OTA Tongcheng reported that cancellations had become more common, with a trend to stay local, stay isolated, and do slow travel in the area. They also identified a trend of staycations in hotels, with customers booking family suites and high-tech offerings like e-sports rooms or audio-visual rooms popular. They reported that in the previous 10 days, searches for local travel products had increased eight-fold, with a six-fold growth in searches for local accommodation + sightseeing packages.
Adds Dai: "Indeed, this is the holiday period when families most often travel together. Our issued tickets back this further by showing that on 13 February, passengers traveling in family size (2-5 persons per booking) represents around 60% of all departures, and the share of passengers traveling alone represents only 10%, down by 20% from the day before the holiday."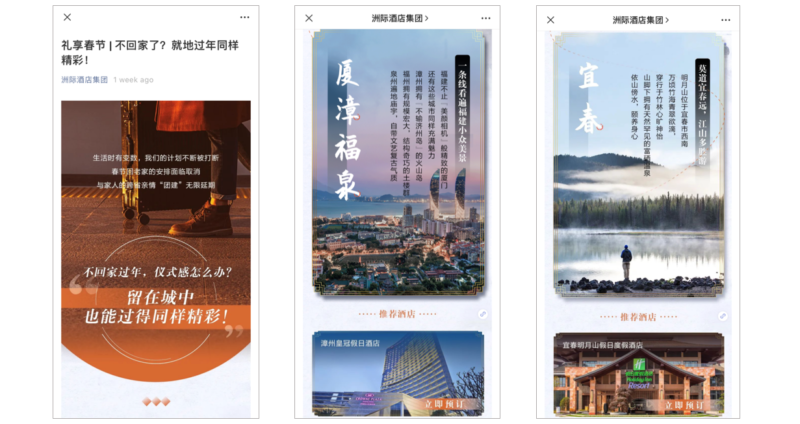 InterContinental Hotels Group's 27 January staycation promotion on WeChat
Hotels have had to be quick to adapt their marketing. As late as 19 January, IHG was still promoting skiing holidays in Jilin and Hebei. By 27 January, the messaging had changed. "Not going home for Spring Festival? You can still have a great celebration where you are," read the WeChat article's headline, with suggestions for short, local trips to quiet places if your travel plans had been cancelled.
The summer outlook for domestic China travel
"One thing we have learned from this pandemic is that the Chinese travel market is resilient and that the domestic travel market will be the first to bounce back when it can," says Dai
Looking at the second half of 2020 to predict the future potential for domestic travel in China in terms of issued air tickets, the most resilient destination provinces (or destinations with the fastest recovery rates) were: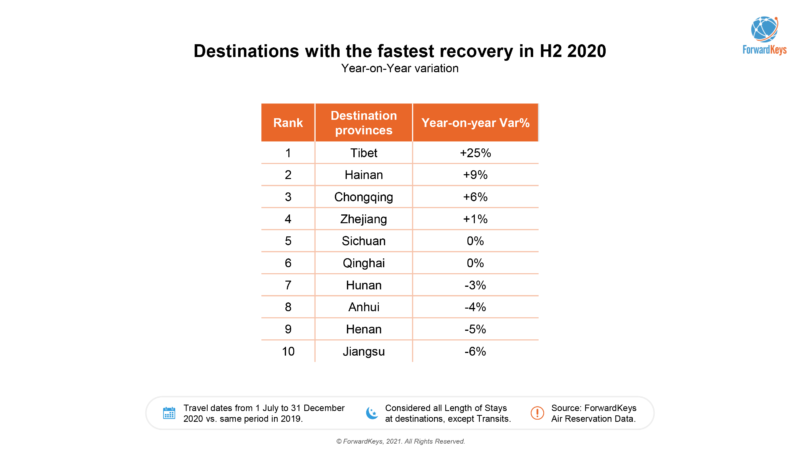 "Nostalgic travel is having a comeback. Strolling in ancient laneways, eating traditional cuisine typical to a region is really in amongst the younger generation at the moment," adds Dai. Another trend to keep in mind is "Red Tourism," particularly for the older generation as the Chinese Communist Party celebrates its 100th birthday this year.
Chinese New Year travel didn't totally stop this year, but has had to take a different turn. It's clear that pent-up demand is there, and many await the moment when the dormant Dragon awakens to shake up the travel industry, again.
"The Chinese government has more experience in dealing with the outbreak situation now and people have started to administer the vaccine… I believe when the winter's gone, the outlook for Chinese domestic travel in summer is still looking optimistic," ends Dai on a high note.
If you enjoyed this joint article with ForwardKeys, be sure to register for our webinar in March via the link below.