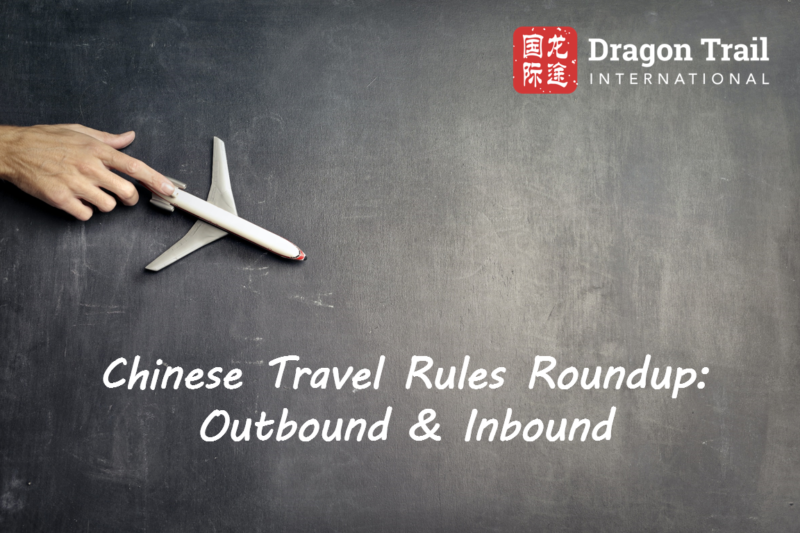 First published: 22 March, 2021
Last updated: 17 November, 2022
To help keep the travel industry up to date and informed, we're tracking all the latest developments and regulations regarding travel into and out of mainland China. This post will be regularly updated with any new or changing policies.
Have we missed something? Please feel free to send questions or comments to communications@dragontrail.com
For more updates, sign up for Dragon Trail's monthly newsletter, and follow us on social media:
– LinkedIn
– Twitter
– Facebook
All Dragon Trail clients receive an extensive Market Intelligence Report on China travel and digital news at the start of each month. Click here to learn more about the services we provide to help you effectively reach and engage with the Chinese consumer market and trade.
Inbound
– As of 11 November 2022, quarantine for international arrivals has been cut to 5 days in a designated quarantine facility, plus 3 days of home isolation. This follows a June 2022 quarantine reduction to 7 days in a designated quarantine facility, plus 3 days of home isolation. Previously, quarantine ranged anywhere from a total of 14 to 28 days, depending on the destination in China. Meanwhile, Hong Kong's quarantine policy dropped to a 3+4 model in August 2022, and 0+3 from 23 September 2022.
– As of mid-June 2022, foreigners can apply for visitor's visas for entry to China for the purposes of business or family reunion. From 24 August 2022, foreign students with a residence permit can enter China without a new visa; since 19 August, visa applications are being accepted for X1 visas for study of six months or longer. From 24 August 2022, holders of APEC business travel cards can also enter China without a new visa. Before summer 2022, entry into the country was only permitted for foreign residents with work permits.
– From 31 August 2022, China's General Administration of Customs has introduced measures to simplify and streamline the entry process, no longer requiring international arrivals to show their COVID test results, infection history, and vaccination status on arrival.
– Inbound arrivals to China are still required to do a number of tests before and after arrival, but as of 10 November, only one pre-departure PCR test is required. This must be submitted to the local Chinese embassy to be checked manually in order to issue an electronic "Green code", which is required for departure to China. You can find a country-by-country list of requirements here.
– Travelers to China can now transit through a third country on their way – although they will need to do another test in the transit country and apply for travel "Green codes" from the Chinese embassies both in the departure origin country and the transit country.
Outbound

– China's 20th National Party Congress, held in Beijing from 16-22 October 2022, did not include any announcements about policy changes or plans for China's reopening to foreign travel. Instead, Xi Jinping praised China's efforts and successes in the ongoing Zero COVID policy.
– The sale of outbound group and package travel (from a minimum of a flight + hotel package) was banned by China's Ministry of Culture and Tourism  from 27 January, 2020, and has not resumed. The ban was last reiterated on 16 November 2022.
– On 24 September 2022, plans were announced to restart group tourism from mainland China to Macau in November 2022. Group travel to Macau was planned to start first from Guangdong Province, followed by Shanghai, Jiangsu, Zhejiang, and Fujian. However, as of 17 November 2022, this is still on hold because of the COVID situation in China. Since the end of January 2020, Macau has been the only destination outside of mainland China to which Chinese citizens can travel for leisure, with no quarantine on arrival or return. Adjustments to this policy are made regularly, based on if there are any outbreaks of COVID-19 in mainland China – if there are, then travelers who have recently been in those areas are required to quarantine when they arrive in Macau.
– On 6 August 2021 a spokesperson from China's National Immigration Administration said that the issue or renewal of passports would only be prioritized for Chinese studying or working abroad, and those without the urgent need to travel internationally should postpone any plans to do so. (Source) This suspension of passport renewals for the purpose of leisure travel was confirmed again by China's National Immigration Administration in February 2022. Still, in Q3 2022, China issued 32k regular passports, a 49.5% increase compared to the previous quarter.
– On 19 September 2022, president of the China Tourism Academy Dai Bin expressed that with the accumulation of policies, stress testing, and accurate COVID prevention experience, China's inbound and outbound tourism market will usher in a period of steady recovery from the end of this year and the start of 2023, and the industry should start making preparations. (Source)
– In August 2022, chief researcher at Tongcheng Research Institute (related to Tongcheng Travel) Chen Chaogang said, "the reopening of international travel from the second half of this year to the first half of next year is worth looking forward to."
Vaccinations and China's Zero COVID Policy

In late September 2022, China's CDC released an article about the country's exit plan from COVID. The article stressed that everyone should get a fourth COVID vaccine, and that additional efforts should be made to reach the 10% of Chinese who remain unvaccinated (source).
By July 2022, China's vaccination rate is 90.2% (source). However, vaccination rates are lowest among those aged 80+, and also below average for the age group aged 60 and up. Campaigns are underway to encourage older people to get vaccinated, but COVID vaccination is not mandatory.
Destinations outside of China are mixed in whether they recognize WHO-approved Chinese vaccines, which could impact future outbound travel if travelers are required to be fully vaccinated. Many countries – including the US, Australia, and Finland, to name a few – accept all WHO-approved vaccines, but others do not, meaning that Chinese visitors would either need to quarantine on arrival, or might not be able to enter at all.
Effective 1 March 2022, the EU has recommended that member states accept all EU- or WHO-approved vaccines for non-essential travel. However, the EU has also stated that member states could choose to require negative PCR tests and/or quarantine for vaccines that are only WHO-approved, which includes Sinovac and Sinopharm. Ultimately, the decision will be up to member states, with Finland, Greece, Iceland, Ireland, the Netherlands, and Spain already accepting Chinese vaccines. Switzerland also accepts these vaccines.
Flights
On 11 November 2022, China's circuit breaker policy, which had suspended flights as a consequence for having positive cases on board a previous flight, was lifted entirely. International flights to and from China have more than doubled for the winter 2022-2023 season compared to the same period the year before, though flight numbers are still far behind pre-pandemic numbers.
At the end of October 2022, Tongcheng reported a 63% increase in searches for international flights to China, and a 28% increase in bookings in October, compared to September, thanks to increased international flight availability and lower prices. China CITIC Travel also reported that they are receiving increased queries about outbound travel.