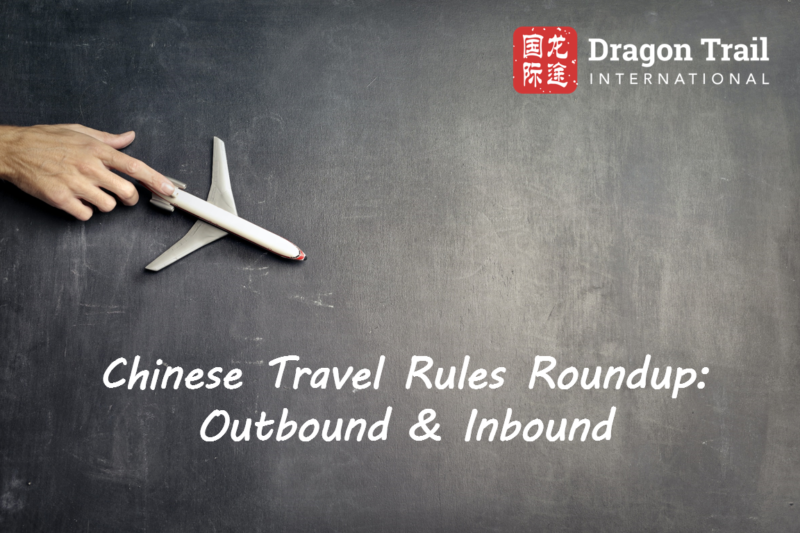 First published: 22 March, 2021
Last updated: 8 August, 2022
To help keep the travel industry up to date and informed, we're tracking all the latest developments and regulations regarding travel into and out of mainland China. This post will be regularly updated with any new or changing policies.
Have we missed something? Please feel free to send questions or comments to communications@dragontrail.com
For more updates, sign up for Dragon Trail's monthly newsletter, and follow us on social media:
– LinkedIn
– Twitter
– Facebook
All Dragon Trail clients receive an extensive Market Intelligence Report on China travel and digital news at the start of each month. Click here to learn more about the services we provide to help you effectively reach and engage with the Chinese consumer market and trade.
Outbound

– "China's top immigration authority announced on Thursday it will strictly restrict citizens from traveling abroad for 'non-essential reasons,' as the country expands its stringent virus-control measures under the 'zero-COVID' policy," reported Sixth Tone on 12 May 2022. Previously, non-essential outbound travel was strongly discouraged, but not restricted by the National Immigration Administration, except in the case of group and package tourism.
– China's Ministry of Culture and Tourism required Chinese travel agents to stop the sale of outbound group and package travel (from a minimum of a flight + hotel package) from 27 January, 2020. This ban was last reiterated in a press conference on 30 March 2022.
– In September 2021, the Civil Aviation Authority of China (CAAC) advised against international travel over the Mid-Autumn Festival and October National Day holiday period (source). This reiterated an announcement by the Ministry of Foreign Affairs, on 25 May, 2021, reminding Chinese citizens that they should not leave the country for any non-essential reason. (Source)
– On 6 August 2021 a spokesperson from China's National Immigration Administration said that the issue or renewal of passports would only be prioritized for Chinese studying or working abroad, and those without the urgent need to travel internationally should postpone any plans to do so. (Source) This suspension of passport renewals for the purpose of leisure travel was confirmed again by China's National Immigration Administration in February 2022.
– In a mid-November 2021 interview, leading Chinese pulmonologist Zhong Nanshan predicted that Chinese would be able to travel abroad independently by the end of 2022.
– In December 2021, Ctrip Chairman James Liang said the OTA predicted that China would relax international travel restrictions in six months.
– As of 10 January 2022, the China Tourism Academy is projecting a 20% growth in outbound and inbound tourism in 2022, recovering to 20% of 2019's level. This is the most official source of information indicating that a reopening is planned for 2022.
– On 15 February 2022, Chief Epidemiologist at China's CDC, Wu Zunyou, said that Chinese scientists were looking at ways to adjust China's COVID prevention policies to allow for the resumption of international exchange. He said he was cautiously optimistic about the pandemic ending in 2022. (Read more)
– Another leading epidemiologist, Zeng Guang, has called for China to start thinking about opening up. He posted about this on Weibo on 28 February 2022, and in a later interview with Caixin, expressed that "In the near future, at the right time, the roadmap for Chinese-style co-existence with the virus should be presented." However, speaking to Beijing News, he said there was "no need to open the country's doors at the peak of the global pandemic." (Read more)
– As of March 2022, state media in China have also started referring to a "dynamic zero-COVID policy", leading to speculation that some changes may be on the way. March policy changes in epidemic control and prevention include: 1) The requirements for recovered COVID patients to be released from hospital or quarantine have been eased. 2) Patients with mild cases will now be sent to quarantine facilities rather than hospitals; 3) Those released from hospitals can now complete their 7 days of post-infection quarantine at home rather than in a quarantine facility.
– These other factors and events all have potential to affect China's reopening: COVID cases in China; the spread and severity of the virus outside of China; the 20th National Party Congress in October-November 2022. Previously planned for September 2022, the Asian Games in Hangzhou are now rescheduled for September 2023.
– Macau is the only destination outside of mainland China to which Chinese citizens can travel for leisure, with no quarantine on arrival or return. Adjustments to this policy are made regularly, based on if there are any outbreaks of COVID-19 in mainland China – if there are, then travelers who have recently been in those areas are required to quarantine when they arrive in Macau. Travelers to Macau are allowed in through the Individual Visitor Scheme, so group tourism from mainland China is not operating yet as of March 2022.
– Plans to reopen the Hong Kong-mainland border for quarantine-free travel in December 2021 were put on hold indefinitely with the arrival of the Omicron variant.
Inbound
– As of 28 June 2022, quarantine for international arrivals has been cut to a universal 7 days in a designated quarantine facility, plus 3 days of home isolation. Previously, quarantine ranged anywhere from a total of 14 to 28 days, depending on the destination in China. In late July 2022, the Chinese CDC said it was considering a further reduced quarantine time of just 3 days.
– As of mid-June 2022, foreigners can now apply for visitor's visas for entry to China for the purposes of business or family reunion. Previously, entry into the country was only permitted for foreign residents with work permits. On 19 July 2022, China's Premier Li Keqiang promised a relaxation of restrictions that would allow foreign students to return to China, but as yet there is no concrete timeline for this to happen.
– Inbound arrivals to China are required to do a number of tests before and after arrival. The changes to inbound policy announced on 28 June include the requirement to only take one PCR test before boarding a flight to China, down from two PCRs and one antigen test previously. The PCR negative test result threshold has also been lowered. You can find a country-by-country list of requirements here.
– Travelers to China can now transit through a third country on their way – although they will need to do another test in the transit country and apply for travel "Green codes" from the Chinese embassies both in the departure origin country and the transit country.
Vaccinations

By July 2022, China's vaccination rate is 90.2% (source). However, vaccination rates are lowest among those aged 80+, and also below average for the age group aged 60 and up. Campaigns are underway to encourage older people to get vaccinated, but COVID vaccination is not mandatory.
Destinations outside of China are mixed in whether they recognize WHO-approved Chinese vaccines, which could impact future outbound travel if travelers are required to be fully vaccinated. Many countries — including the US, Australia, and Finland, to name a few — accept all WHO-approved vaccines, but others do not, meaning that Chinese visitors would either need to quarantine on arrival, or might not be able to enter at all.
Effective 1 March 2022, the EU has recommended that member states accept all EU- or WHO-approved vaccines for non-essential travel. However, the EU has also stated that member states could choose to require negative PCR tests and/or quarantine for vaccines that are only WHO-approved, which includes Sinovac and Sinopharm. Ultimately, the decision will be up to member states, with Finland, Greece, Iceland, Ireland, the Netherlands, and Spain already accepting Chinese vaccines. Switzerland also accepts these vaccines.
Flights
Introduced in March 2020, China's "Five One" policy limited international air carriers to flying one route, once per week, with suspensions for carriers if any passengers tested positive for the coronavirus on arrival. This has been loosened for many airlines, with additional weekly flight routes added, but carriers are still being strictly reviewed and generally can only operate each route once per week.
China's circuit-breaker policy suspends flights as a consequence for having positive cases on board a previous flight. This policy has been loosened as of 7 August 2022. Now, for flights where 5 or more passengers test positive, if that number accounts for 4-7% of passengers, then the flight will be suspended for one week. If the number of positive cases is 8% or more of passengers, that flight will be suspended for two weeks.