If there's one trend that is defining Chinese travel marketing in 2019, it's short video content. Let's look at four leading online platforms that tourism marketers can use to publish video content in China, with examples and data shared by leading online travel platforms and social media companies at Dragon Trail's summit, China – The Future of Travel.
Weibo
The rise of short video content in China has been key to Sina Weibo's comeback in the past several years. The Twitter-like microblogging platform is the sixth most-used app in China as of November 2018, with over 4 billion short video views every day, according to Director of Weibo Travel and Sina Travel channels Chris Li. The official Sina Travel channel has seen a 175% year-on-year increase in short video views last year, she added. Weibo has diversified and defined the different kinds of videos available – currently, there are three major different kinds of videos on Weibo: 1) Weibo Stories, launched in 2017, are purely user-generated content. 2) Miaopai, the short-video app associated with Weibo, is used for more high-quality, short videos. 3) Kuran, introduced in 2018, is a professional video platform, for which accounts need to obtain a special license from Weibo to be able to use.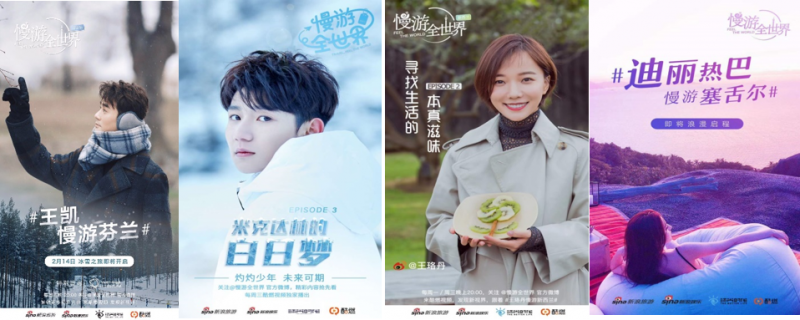 Sina Weibo's Travel Feel the World video series has four seasons and has reached 288 million views
Douyin
Micro-video platform Douyin took China by storm in 2018, and recently extended its maximum video length from 15 seconds to 1 minute for all users. But how do you use this popular app to reach Chinese tourists, especially if your product or destination is still getting established in China? Leading Chinese car rental platform Zuzuche provides a standout example, as introduced by the company's Brand Manager, Dannie Wu. With a 76.2% market share for Chinese overseas car rentals, Zuzuche is a well-known company, with 1.5 million followers on Douyin. Recently, they partnered with Georgia to help promote the country as a self-driving tourism destination. The video got over 10 million views and one million likes – and perhaps more importantly, the results could be seen beyond Douyin: just one day after the video was posted, Georgia's Baidu Index search ranking rose by six times. Click here to read more about Douyin.
WeChat
In her keynote speech, Senior BD Manager of Tencent International Business Group, Silvia Zeng, revealed that 68 million videos are posted daily on WeChat Moments, the social newsfeed part of the app, which 84% of WeChat's users open multiple times a day. More than just a trend for users, Dragon Trail has also noticed a remarkable increase in video content in published by travel brands' official accounts in 2019, including airlines, destinations, and attractions. Just to give one example: in late May, Tourism Australia achieved the number two ranking for national tourism boards, two weeks in a row, thanks to short videos of Australian wildlife.
Tourism Australia attracted thousands of views in May 2019 for its short videos of wildlife in Australia, shared on WeChat (left: cownose rays; right: kangaroos joining a soccer game)
Mafengwo
The busy pace of life in contemporary China means that effective content needs to become shorter and shorter, noted Maggie Yang, Associate Director of Mafengwo, one of China's leading online travel platforms. Without time to do thorough travel research, tourists need content that fits into their fragmented schedules. To meet this demand, Mafengwo is launching two new products this year. The first, the Official Media Travel Guide, will be destination guides made up of short video series. The second, Travel Notes, will offer mixed-media, KOL-produced content, including pictures and short videos, that can be consumed within one minute.
Multi-channel Approach
Ideally, travel brands should take a multi-platform approach to sharing short video content, which can include a number of different social media, as well as one's own Chinese website. Moreover, video content isn't just for B2C marketing – recently, Chinese travel agents have also started to request more video content about destinations and products, which they can learn from as well as share with their clients.
Click here to read about Dragon Trail's work creating award-winning video content for the Chinese market for PromPeru.