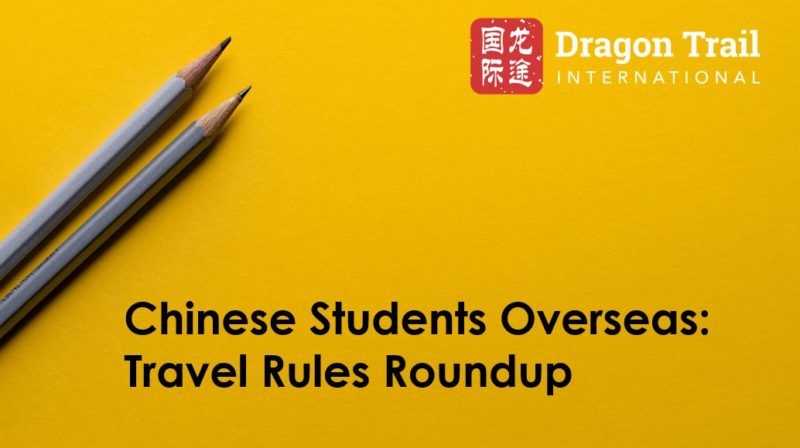 More than 700,000 Chinese studied overseas in 2019, but Chinese planning to travel abroad to begin or continue their studies in 2021 face travel rules and restrictions that vary wildly by destination country. We've rounded up the latest information on travel for Chinese students to the top 10 most popular countries and regions for Chinese studying abroad.
Have we missed something? Please feel free to send questions or comments to communications@dragontrail.com
USA
On April 26, 2021, the Biden Administration lifted a ban on students who already have valid F-1 or M-1 visas, whose academic programs start on 1 August 2021 or later. These visa-holders will qualify for a National Interest Exception (NIE), and can enter the US up to 30 days before their program starts. Previously, students would have needed to spend 14 days or more in a third country before entering the US. (Source)
US consular services in China began taking student visa application appointments again from 4 May, 2021. Prior to this, student visa application services in China were effectively closed from February, 2020, resulting in a significant backlog. It is not clear if Chinese students who plan to begin their studies in the US in the 2021 fall semester will be able to obtain visas in time.
China is the top source country for international students in the US. In the 2019-2020 academic year, there were 372,532 Chinese studying in the US, accounting for 34.6% of international students. (Source)
UK
There are no restrictions preventing Chinese students from entering the UK, and visa offices in China have remained open with some safety restrictions in place. As of June 2021, China is categorized as an "Amber" country on the UK's traffic light travel system, meaning that all arrivals must test negative for COVID-19 before departure, and quarantine at a place of residence (not in a quarantine hotel) for 14 days after arrival. They must also take two further tests on arrival, with an option to take an additional test in order to leave quarantine after just five days. A number of UK universities are actually offering to pay for any testing and quarantine requirements for international students, and international students are eligible to receive COVID-19 vaccinations in the UK.
Chinese applications for undergraduate study in the UK for the 2021-2022 academic year actually rose by 21% year on year. (Source)
In the 2018/2019 academic year, there were 120,385 Chinese students in the UK, making it by far the largest source country, and accounting for 24.8% of all international students. (Source)
Canada
Chinese students are free to travel to Canada, but they need to complete three days of quarantine before boarding their flight, do mandatory testing, and quarantine at a government facility upon arrival. From 5 July, full-vaccinated travelers to Canada will be able to enter the country without these conditions, but the Canadian government does not yet recognize any Chinese vaccines, so this policy could only benefit Chinese students who have received Pfizer, Moderna, AstraZeneca, or Johnson & Johnson vaccines in a third country. (Source)
Canadian visa centers in China are open and processing applications from students, stating that applications made by 15 May would be processed by 6 August. However, due to COVID and rocky political relations, the number of Chinese obtaining permits to study in Canada dropped by 44% in 2020, a bigger decline than the average of 31% for all international study permits.
At the end of 2019, there were 141,400 Chinese studying in Canada, making China the country's second-largest source market behind India, and accounting for 22% of Canada's international students.
Australia
International students are currently not allowed to enter Australia. As to when they will be allowed back, this could start by the end of 2021, or even earlier on a limited scale, with other reports saying borders won't open for students until well into 2022.
As of January 2021, 61% of Chinese holders of Australian student visas were living outside of Australia, compared to just 18% of non-Chinese holders of Australian student visas (Source). While students can continue their coursework online, it's not clear how this could impact future enrollment.
In 2019, there were 212,264 Chinese students in Australia, comprising 28% of all international students, and strongly in the lead for top source country. (Source)
Hong Kong
From 3 June, 2021, fully vaccinated arrivals in Hong Kong need to quarantine for 7 days and take 3 COVID tests. All Chinese vaccines are on the approved list. Non-vaccinated arrivals must quarantine for 14 days and take 5 tests. (Source)
Major Hong Kong Universities are implementing testing and residential policies that will strongly incentivize students to be vaccinated, though vaccination is not officially mandatory. (Source)
In the 2019-2020 academic year, mainland students accounted for 12,912 – or 67.2% – of non-local students at Hong Kong's eight UGC-funded universities, including the University of Hong Kong, Chinese University of Hong Kong, and Hong Kong Polytechnic University.
Germany
International students, including those from China, are permitted to enter Germany for the purposes of studying. They will need to present a negative coronavirus test, and self-isolate for 10 days on arrival. Travel restrictions for all Chinese arrivals to Germany will be lifted as soon as there is a reciprocal policy in place in China. (Source)
China is the leading source country for international students to Germany. In 2019, there were 39,871 Chinese students at German universities – 10.1% of the total international student body. (Source)
Japan
Although China is not on the list of countries from which arrivals to Japan are prohibited, and students from China could enter Japan for a brief period at the end of 2020, Japan stopped issuing new student visas at the end of 2020. In 2021 it has only been announced by the Japanese government that they are discussing the situation for allowing international students to enter. When international students are allowed to re-enter Japan, it's likely based on the previous 2020 arrangement that Chinese nationals will be among the first allowed to do so.
As of May 2020, Chinese students account for 43.6% of international students in Japan, the largest source country, with 121,845 Chinese students. (Source)
Singapore
On 6 November 2020, Singapore lifted all restrictions on arrivals from China. This is reviewed and adjusted as needed based on local outbreaks in China, and arrivals must quarantine until they receive the results of their PCR test on arrival.
Statistics on international student enrollment in Singapore are harder to find than for other countries, but it seems that more than 45% of Singapore's 10,000 international students in 2015 were Chinese. (Source)
France
China is currently classified as an "orange" country, requiring that students arriving in France present a negative PCR test and proof of vaccination. However, as the only vaccines accepted are Pfizer, Moderna, AstraZeneca, and Johnson & Johnson, students fully vaccinated in China will need to provide additional documentation and an extra PCR test, and to self-isolate for seven days after arrival. (Source)
For the 2019-2020 academic year, there were 28,436 Chinese studying in France. China is the third largest source country, behind Morocco and Algeria, accounting for close to 8% of international students. (Source)
New Zealand
Similar to Australia, New Zealand's borders remained closed to international students in 2021, with "no promises" about 2022. (Source)
32% of New Zealand's 117,276 international students in 2018 were from China, making it the leading source country. (Source)