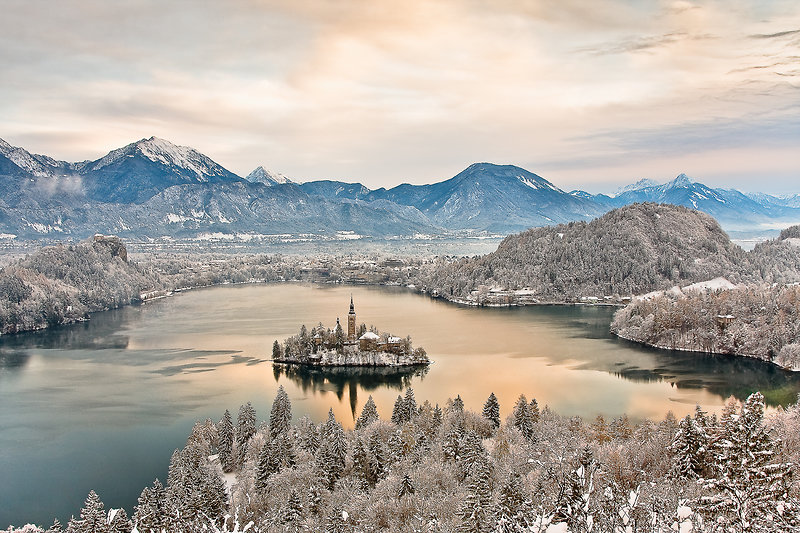 Bled Castle is one of Slovenia's iconic destinations (Photo courtesy of the Slovenian Tourist Board)
Southeastern European countries like Serbia, Croatia, Montenegro, and Slovenia have seen some of the world's highest growth rates for Chinese tourism in recent years. What's behind this development, and what can other destinations learn from the phenomenon?
Growth
Chinese arrivals to Serbia doubled in 2018 to 102,000 for the year. Another 92,000 Chinese visited in the first eight months of 2019. China is Serbia's second-largest tourism source market, after neighboring Bosnia-Herzegovina, which has also experienced a boom in Chinese tourism, with a 118.7% increase in Chinese visitors to the capital of Sarajevo in 2018.
According to European Travel Commission data, Montenegro more than doubled its Chinese tourism numbers in the first nine months of 2019, and Serbia, Croatia, and Slovenia were all among the other European countries with the highest growth rates. Tour operator Montenegro Tourist Service expects 250-300% growth in Chinese clients in 2020, based on their experience over the past three years.
In the first half of 2019, the Statistical Office of the Republic of Slovenia recorded 46,032 arrivals and 71,571 overnight stays by Chinese tourists, with growth rates of 22.5% and 37.6%, respectively.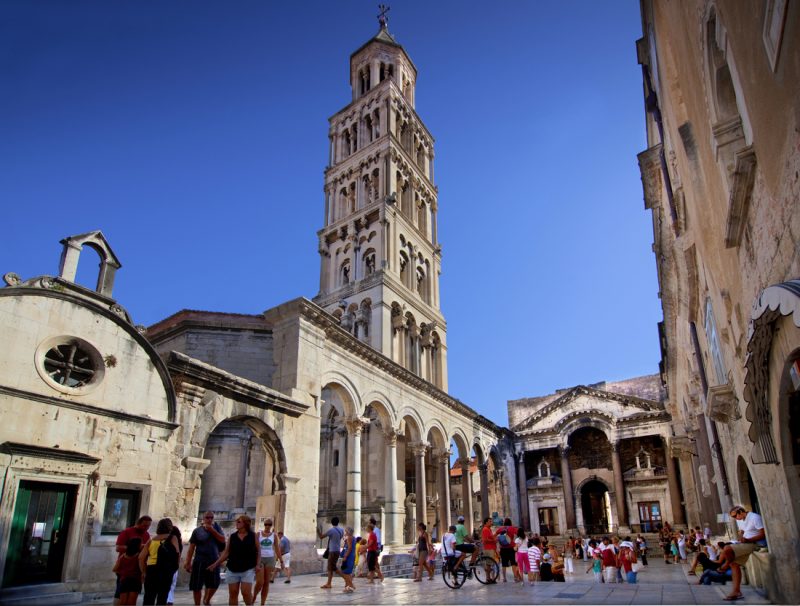 Split, Croatia recorded over 30% growth in Chinese arrivals and overnight stays in 2019 (Photo courtesy of the Tourism Board of City Split)
As of November 2019, the Croatian city of Split had recorded 12,859 arrivals and 15,972 overnight stays by Chinese tourists – respective increases of 32.4% and 36% compared to the numbers for all of 2018. As a whole, Croatia welcomed 234,118 Chinese arrivals and 345,293 overnight stays in 2018. These numbers represent a 46% year-on-year increase, and a further 25% growth was projected for 2019.
According to Ctrip, there was triple-digit growth for travel bookings from China to Bulgaria in the first half of 2019, as well as between 2017 and 2018.
Why? Visas, Politics, and Novelty

How can we explain these dramatic increases, when the overall Chinese outbound tourism market "only" grew 12% in 2019? Usually, new flight routes can spur significant growth, but there are no direct flights between China and any of the countries mentioned above. However, these destinations are benefiting from relaxed visa policies and warm government relations with China, as well as being a new and exciting part of the world to explore for China's increasingly experienced travelers.
In January 2017, Serbia became the first European country (other than San Marino) to offer visa-free entry to Chinese passport holders. Bosnia-Herzegovina followed suit in May 2018. Croatia and Montenegro both allow holders of valid Schengen visas to visit without an additional visa, and Slovenia is part of the Schengen zone. Chinese tourists are still required to apply for a visa to visit Bulgaria, but 15 new Bulgarian visa centers were opened in Chinese cities in 2019 to help facilitate this process. In contrast, neighboring Romania still has strict visa requirements for Chinese tourists, and has not been part of the Southeastern European tourism boom.
Friendly governmental relations have also helped to this part of the world to stand out. Many of these countries are key to the Balkan Silk Road, an infrastructure project that's part of China's Belt and Road Initiative (BRI). Serbia is a "government recommended" travel destination, explains Miloš Grče from the Tourist Organization of Belgrade. Bulgaria celebrated the 70th anniversary of becoming second-ever country (after the Soviet Union) to establish diplomatic relations with the People's Republic of China in 2019, with President Rumen Radev was invited to China on an official state visit by Xi Jinping in July. As part of his visit, Radev traveled to Shanghai to meet with Ctrip CEO Jane Sun. Also in 2019, the chairman of Chinese travel agency UTour joined a delegation to Montenegro, and met with their Prime Minister, Duško Marković.
While perhaps "government recommended," Southeastern Europe is also appealing to Chinese tourists because it is something new and different. "An increasing number of individual Chinese visitors are willing to visit lesser-known destinations, because they want to be different from other travelers and travel to places off the beaten track. They want to visit a place nobody has visited before and experience a destination in their own way," says Ana Špik, who works in the research department for the Slovenian Tourist Board. She explains that after first seeing Asia, and then visiting "Europe's icons," Chinese travelers are looking to explore new destinations.
Southeastern Europe provides a different kind of travel experience to Western Europe, and this doesn't appeal to everyone, explained a representative from the Zagreb Tourist Board at WTM London 2019. Croatia, she said, doesn't have the high-level shops or European luxury experience that Chinese are looking for. But luxury shopping isn't actually what many Chinese tourists are looking for from an overseas travel experience anymore – there is growing emphasis on culture, outdoor adventure, and visiting off-the-beaten-track destinations. In these areas, Southeastern Europe excels.
Nature, such as that found in Slovenia's Julian Alps, is a draw for Chinese tourists to Southeastern Europe (Photo courtesy of the Slovenian Tourism Board)
This part of the world has also been put on the map for Chinese tourists through film and TV. For older tourists, this means Yugoslav films that were hits in Cultural Revolution-era China. For younger visitors, as for tourists from around the world, Game of Thrones has helped to popularize Croatia. Chinese travel website Qyer's Game of Thrones travel guide has been downloaded more than 14,000 times since it was published in October 2019. The South Korean reality TV show, Sisters Over Flowers, filmed five episodes in Croatia, including a visit to Montenegro, which aired at the end of 2013 and start of 2014. (The 2015 Chinese spin-off, however, was shot in Turkey and Italy.)
Who Is Visiting?
Group travel is still more common than FIT, according to tourism professionals in Slovenia, Croatia, and Serbia, but independent travel is growing quickly, and in some places has already become the leading form of travel for Chinese visitors. "[The] majority of Chinese tourists in Split are between 25-34 years, and most of them book the trip individually. The second group is between 55-64 years, and they prefer booking agencies," says Nevenka Mariani from the Tourism Board of City Split.
Demographically, Chinese tourists to Southeastern Europe are diverse. According to the Zagreb Tourist Board, Chinese visitors are getting younger and younger, and also include family groups. Špik comments that Slovenia is popular for Chinese pre- and post-wedding photography, so it's also on the radar for couples. Then there's the contingent of older Chinese tourists, who travel as part of a group, and who are drawn to the Balkans' "rich communistic heritage," in the words of Montenegro Tourist Service's Sales Director, Miloš Bulatovič.
Activities and Attractions
What do Chinese tourists enjoy and focus on in their travels around Southeastern Europe? There's a consensus that they'll want to see all of the major sightseeing icons, as well as explore their own interests. Culture is one attraction – Chinese visitors here are likely to be experienced travelers who have already been to Western Europe and are probably looking for in-depth, localized experiences at this stage in their travel careers. "[They] will visit 'must see' destinations and try local, traditional food. They are really fond of our Mediterranean cuisine and they want to know about traditional customs and habits of locals," says Mariani. This cultural interest includes trips to fresh food markets.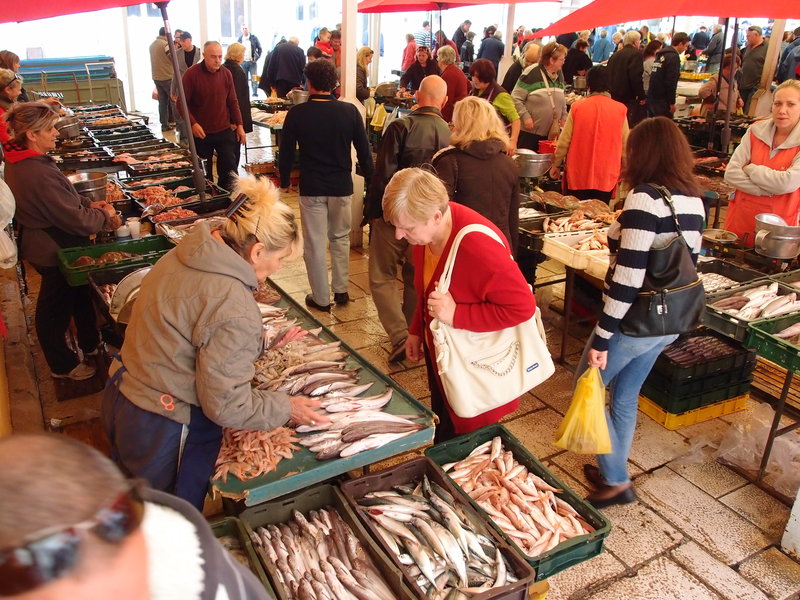 Split's fish market is a popular attraction to visit for Chinese tourists who want to see how locals live (Photo courtesy of the Tourism Board of City Split)
In Serbia, the popularity of mock weddings in the holiday village of Gostoljublje for Chinese tourists – who dress up in traditional costumes, join in folk dances, and try Serbian wedding foods – has been well covered in the media.
Nature is another draw. In Croatia, Plitvička Jezera National Park is one of the country's most-visited attractions for Chinese, especially in the shoulder seasons. The park has a partnership and joint promotion with the Chinese national park, Jiuzhaigou, and has assisted with knowledge-sharing and restoration efforts at Jiuzhaigou following damage to the park from the 2017 earthquake.
Older travelers are excited to see places featured in Yugoslav films that were wildly popular in China in the 1960s and 70s. These include 1969's Bridge, featuring Montenegro's Đurđevića Tara Bridge; 1972's Walter Defends Sarajevo; and the Serbian village of Drvengrad, built by actor and filmmaker Emir Kusturica.
Marketing
What marketing activities are these destinations doing to encourage the sustained growth of Chinese tourism? There is significant B2B work, as we can see from the meetings between government leaders and Chinese travel agencies. In addition to traditional B2B engagement with travel exhibitions, road shows, and fam trips, digital B2B marketing channels have also been embraced. The Slovenian and Croatian tourism boards partnered together in 2019 to present two webinars to the Chinese travel trade through Dragon Trail's CTA Live platform.
On the B2C side, apart from campaigns with Chinese OTAs, there is some Chinese social media marketing. Slovenia has a Chinese website, half a million followers on Weibo, and is active on WeChat. Croatia just launched a WeChat account in November 2019. Serbia has more than 45,000 followers on Weibo, but has never opened an official account on WeChat. However, the Tourist Organization of Belgrade is working with the city government to launch an official website, Weibo, and WeChat this year.
What's Next?
The Chinese tourism boom to Southeastern Europe could just be getting started. When asked "What's next for Chinese tourism?" at London's World Travel Market (WTM) in November 2019, Editor in Chief of China Daily Europe, Yu Yilei replied: "Croatia."
While growth rates may be extremely high for this part of the world, the overall numbers are low compared to other European destinations – Paris alone attracted more than 1 million Chinese visitors in 2017. A direct flight route would certainly have a major impact, but continued promotion, especially with the help of China's travel agencies, should continue to grow tourism in 2020.