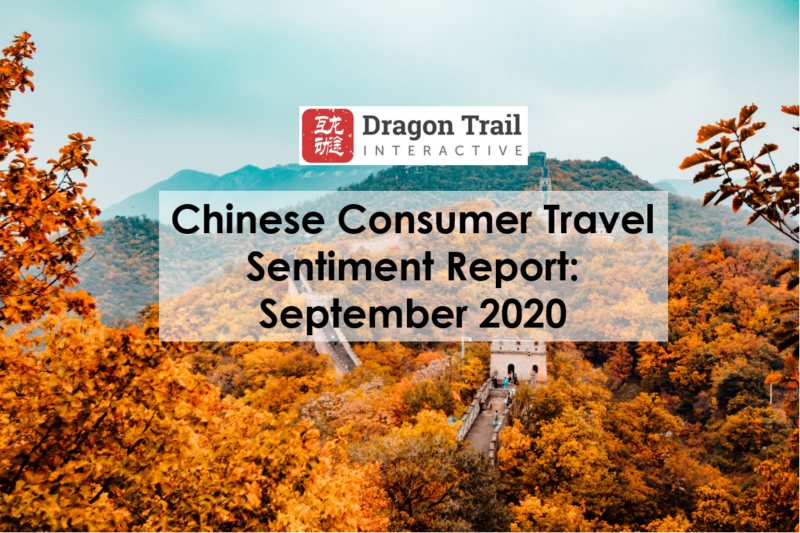 Dragon Trail Research's September 2020 Chinese Consumer Travel Sentiment Report examines Chinese consumers' plans and preferences for both domestic and overseas travel, leading barriers to and incentives for travel, and the top digital channels used for travel information and booking.
These are the key findings of the report:
1. In contrast to our March 2020 sentiment survey, respondents were much more optimistic, with increased travel plans for the rest of the year. This travel is largely domestic, with less than 25% of respondents saying they would travel overseas for leisure before the end of 2020 if travel restrictions were relaxed.
2. China's eight-day national holiday will see another wave of return for domestic tourism. Families and FITs (fully independent travelers) are the dominant travel groups for upcoming domestic trips. Self-driving and train are the preferred transportation for within-province and in nearby provinces, while flying is the preferred transportation for long-haul travel spanning more than two provinces.
3. 71% of respondents hope to travel for domestic leisure in 2020, but concerns around overcrowding and risk of a second outbreak are top barriers. Outbound travel is shadowed with a high level of uncertainty at the time of this survey, with over 1/3 of respondents unsure when they can travel outbound for either business or leisure.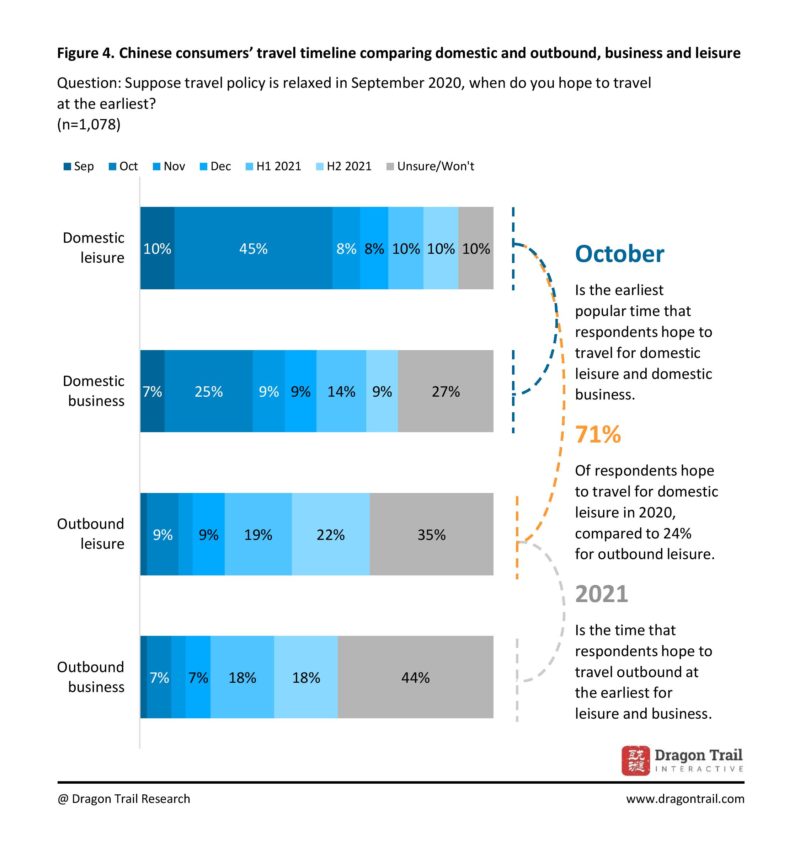 4. APAC and European destinations will be top-of-mind for Chinese outbound travelers, as perception of safety will strongly influence preferences for each destination. Supposing travel policy is relaxed for outbound travel, Chinese consumers will be looking for information related to destinations' coronavirus situations, accessibility and clear guidelines around pandemic control, including testing, vaccination (if available) and quarantine.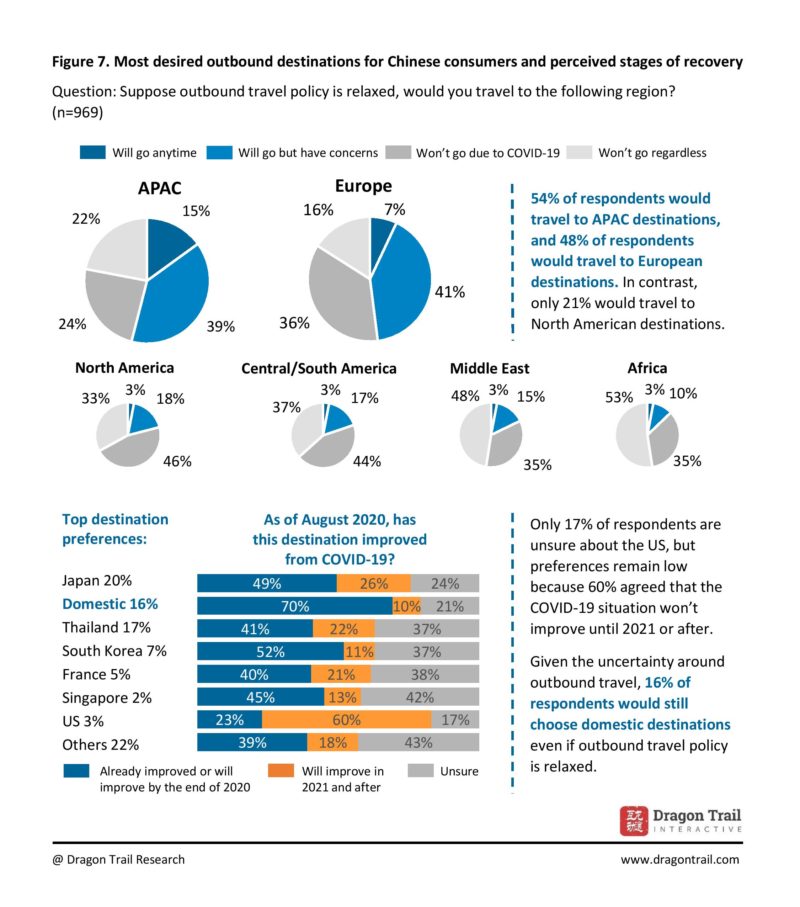 5. With the potential return of cruises, preventing COVID-19 from sneaking on board is a pivotal step when shaping travelers' perception of safety. Daily checkup and testing at boarding are top incentives, while capacity control or dedicated quarantine space are less effective.
6. Mobile channels such as WeChat and travel apps are equally important for inspiring Chinese consumers to travel. Content that resonates with Chinese consumers are local food, tourism activities, price, self-driving trips and preventative measures. OTAs (online travel agency) are the top channel for booking trips, followed by friends and family.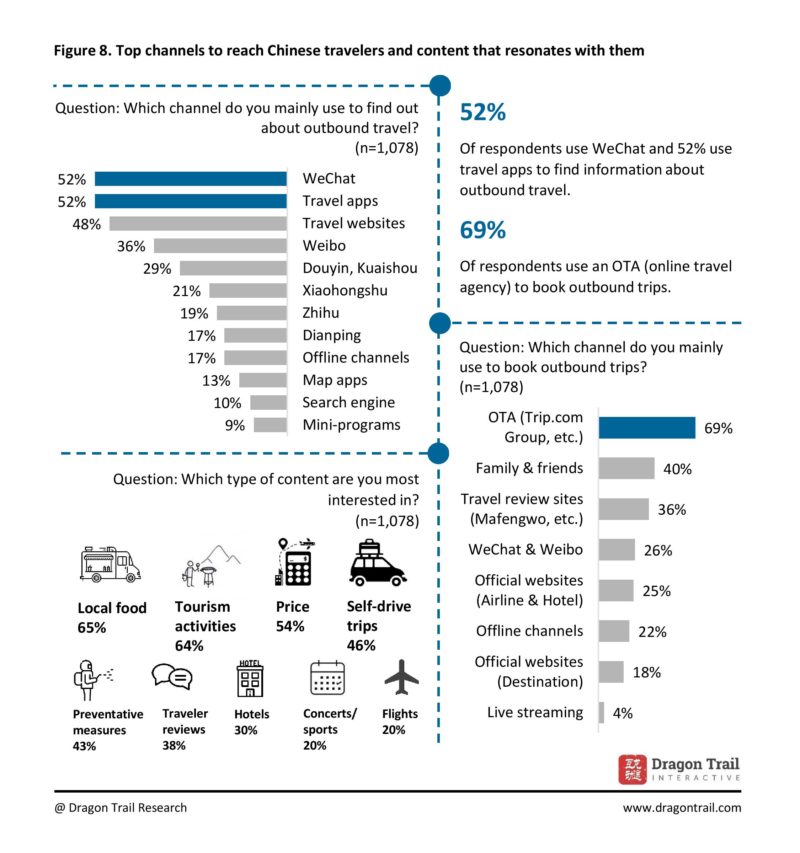 7. Being cautious is the leading sentiment from Chinese consumers. To the travel-ready consumers, safety means carefully selecting destinations, traveling close by, and avoiding crowds. Consumers aged 50+ are the most cautious group, followed by post-95s (those aged 25 and below).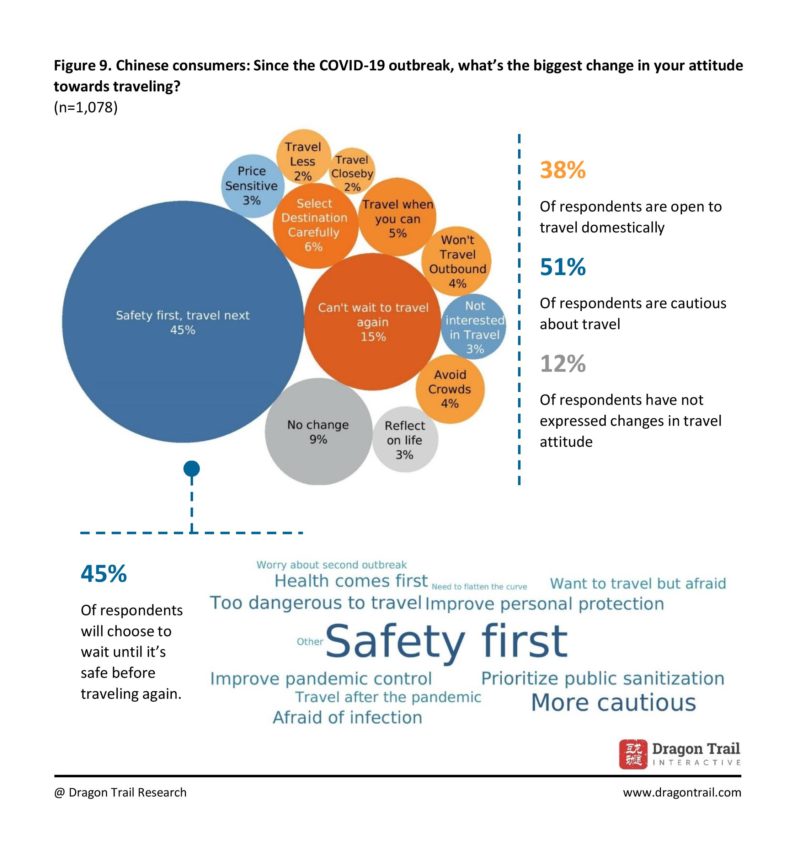 To request your free copy of the full report, please email communications@dragontrail.com.