On 13 March, 2017, Colombia became the first country in South America to launch an official account on China's number one mobile social media platform, WeChat. Alongside the official WeChat account, ProColombia has also created a course for Chinese travel agents to learn more about Colombia on the China Travel Academy, a WeChat-based, interactive mobile training program developed by Dragon Trail Interactive.
Although long and complicated travel, difficult-to-obtain visas and lack of knowledge have all posed major challenges to promoting Chinese tourism to South America in the past, Colombia's WeChat launch shows a real interest in and commitment to proactively courting this niche market, even in its early days – Chinese tourists to Colombia already outnumber those from any other Asian country, with a 13 percent year-on-year growth in numbers of Chinese tourists reported in October 2016.
ProColombia officially launched its new WeChat platform at the Colombian Embassy in Beijing, at an event attended by the media, airline and tourism industries. Within the next year, the account aims to attract 1,500 WeChat followers, as well as 1,000 followers of the complementary China Travel Academy program.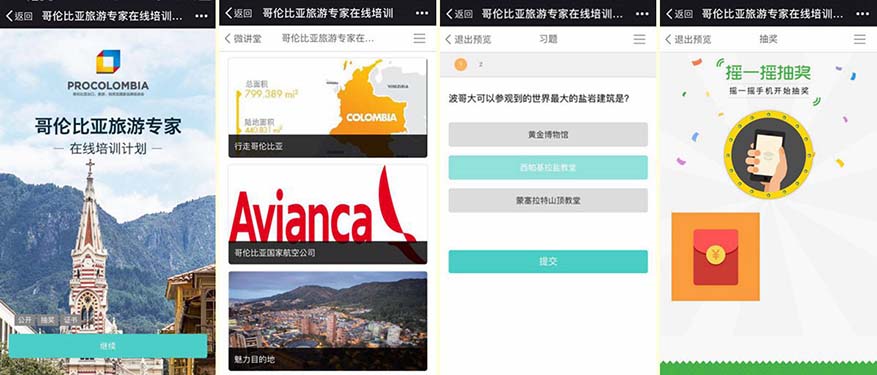 As of its first week, the ProColombia account offers a brief overview of Mandarin-language information on Colombia's cities, natural sights, cultural events such as Carnival, products like coffee, and salsa dance – an activity that has been hugely popular in major Chinese cities for over a decade. The account also guides users to links to visa information, Colombian weather and climate, and a festival and holiday calendar.
While the ProColombia account aims to reach Chinese consumers on their mobile devices, the accompanying China Travel Academy program targets professional travel agents. The China Travel Academy already hosts similar programs for Germany, Canada, Visit Sweden, Los Angeles, Israel, Greece, France, Thailand and more, with additional launches planned in the near future for Finland, Poland and Wallonia. This is the first such program to be created for a Latin American country.
The training course, aimed at Chinese travel industry professionals, includes modules on the basics of getting to Colombia, including visa information, airlines, destination cities, culture and natural landscape. As with previous China Travel Academy courses, there are quizzes to pass at the end of each module and incentives offered throughout the course to ensure completion. Upon finishing the course, travel agents will be officially certified as Colombia travel experts. The better they understand the country, the better they are equipped at selling Colombia as a destination.
Colombia's launch of a WeChat account and training platform also signals the country's acknowledgment that social media such as WeChat – which boasts 889 million monthly active users, is one of the main channels that Chinese tourists use to find travel information. And although Colombia and other South American countries are still seen as niche destinations for Chinese tourists, China is perceived as a growing market that is worth investing in sooner rather than later.