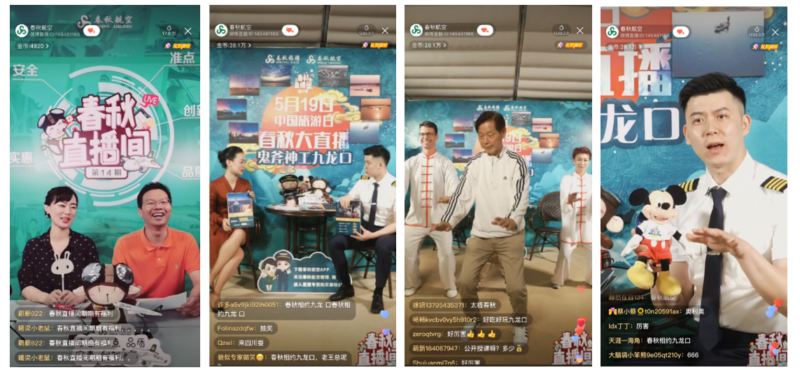 Since April 2020, Spring Airlines has been broadcasting a weekly live streaming session to sell flight tickets, hotel rooms, and other products
Chinese travel recovery is well on its way (at least, domestically), and by now it's clear that biggest new trend for tourism marketing in China to come out of the COVID-19 crisis is live streaming. While live streaming itself is definitely not a new phenomenon in China, what is new is its popularity and relevance for travel.
In this essential guide, learn how the Chinese travel industry fell in love with live streaming in the spring of 2020, why COVID-19 was the watershed for this medium, and how you can start reaching a Chinese audience through live streaming, too.
Live Streaming Before COVID-19
Live streaming has been incredibly popular in China for years, especially for e-commerce sales for products like cosmetics – Chinese e-commerce sales through live streaming reached US$4.4 billion in 2018. The number of live stream viewers in China had already increased by more than 10% in 2019, reaching 504 million. This surged again during lockdown, to 560 million live streaming viewers by March 2020, 62% of the country's internet users (CNNIC).
In addition to e-commerce, there's also a major phenomenon of Chinese people rising to fame by live streaming their daily lives in rural areas – their fans can send them virtual gifts that translate into actual income, and this has given a number of live streaming stars an entirely new way to make a living. In both entertainment and e-commerce, live streaming is very much driven by engaging personalities who become celebrities for their screen presence.
With Chinese consumers used to a live streaming format both for buying things, and for getting to see new places and different lifestyles, it was only a matter of time before it took off for travel. Live streaming and vlogging for tourism had been growing slowly already, but the virus crisis has been a watershed moment for the medium.
Live Streaming for Travel: 2020 Developments
OTAs
In an attempt to recover from a disastrous first quarter, in the spring of 2020, all of China's leading OTAs started live streaming. These online broadcasts not only attracted huge audiences, but they also turned the revenue taps back on, marking the first stage in China's tourism recovery.
The chairman of the Trip.com Group, James Liang, has become somewhat of a live streaming celebrity, dressing up in different costumes and selling hundreds of thousands of hotel rooms in weekly sessions. Likewise, the CEO of Qunar has been live streaming from domestic destinations since April, bringing in an average RMB16 million per broadcast. Alibaba's online travel marketplace Fliggy has seen a surge in businesses and influencers live streaming through the platform, and Lvmama is holding a monthly live stream event after their first session in March attracted 630,000 viewers. This is really a never-before-seen phenomenon for China's online travel market.
Tourism Businesses
It's not just OTAs that have jumpstarted frozen revenue streams and engaged Chinese consumers through live streams. One of the ways that hotels generated so much attention on social media during the crisis was through live streaming sessions. This included Marriott's cooking classes, which gave live viewers opportunities to win and get discounts on hotel vouchers. Other major hotel groups like Shangri-la and IHG also got into live streaming, with cooking classes, fitness classes, and even parties with live DJ sets.
The chairman of Spring Airlines made more than 1 million US dollars from a live stream in late April, and now the Chinese airline does a weekly live stream. The shows are shot in a studio, with a professional host, and various airline employees joining as co-hosts. The style of these live streams is very much like a home shopping TV channel – they offer discounts on flights, hotel rooms and other products, hold frequent giveaways to keep the audience watching, and spend a lot of time discussing and promoting their products and services.
Mafengwo
Leading Chinese travel website Mafengwo launched a live streaming platform in March and saw 108% growth in April. The broadcasts include overseas destinations as well as domestic ones, and the quality ranges wildly depending on the live stream. At the top end, you have a professional, bi-lingual guide working with a camera crew for the German National Tourism Board. There are also tour guides and influencers who use their phones and selfie-sticks to give entertaining and well-informed tours of European cities. In contrast, one regular live stream on Mafengwo is a young woman in Dubai who broadcasts from a chair in her living room. She talks about living in Dubai and takes questions from the audience, occasionally showing photos on her tablet. But even here, there's an authenticity that's part of live streaming's appeal, and anyone live streaming now – even from their living room – can start to experiment with the medium while building a follower base and experience that can bring opportunities for expansion and monetization when international tourism returns.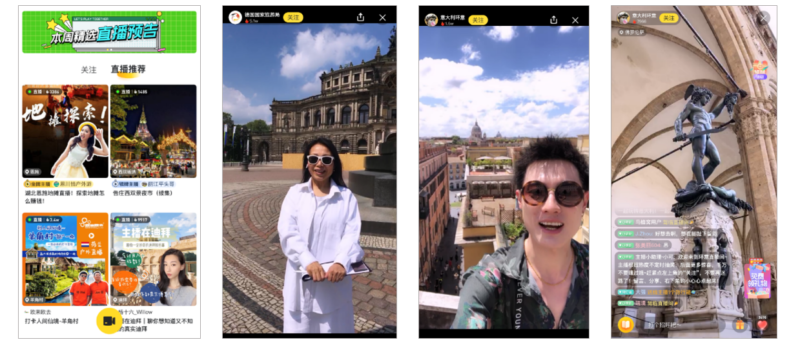 (Left to right) Mafengwo's live streaming platform homepage, a broadcast from the German National Tourism Board, and two guided live streams around Rome
Why Now?
Live streaming was probably going to take off for Chinese travel marketing eventually, given how important and popular it is as a form of media in China, especially for selling things. But why was COVID-19 the tipping point?
First, Chinese consumers are spending more time looking at their phones and on social media than ever. When it comes to e-commerce, Chinese consumers like live streaming because it helps them get to learn about a product more thoroughly and trust it before they buy it. At a time when travelers need more assurances than ever about the quality of travel products like hotel rooms, for example, live streaming can give them that trust – especially when hosted by a figure of authority like the CEO or chairman of a major company.
Age demographics are another reason that live streaming was on its way anyway, but has picked up for travel now. Live streaming is particularly popular with younger Chinese. For example, more than half of Mafengwo's live streaming audience was born between 1985 and 1995, with another 20% even younger than that. These younger Chinese are most likely to start traveling first – 56% of customers who bought travel products on Ctrip for China's May holiday were born in 1990 or later, and our own research shows that this generation is the most optimistic about when they will travel again.
Live streaming has also been fully embraced and promoted from the supplier side – tourism businesses were desperate to try anything that might help them start selling again, leading them to experiment with new formats and discover how successful they could actually be. Meanwhile, tour guides and influencers are out of work and looking for things to do to grow their follower bases for the future.
5 Tips to Get Started with Chinese Live Streaming
Live streaming for the Chinese market is here to stay, and its impact on jump starting domestic tourism spending shows high potential for international travel later in the year. So what do you need to start live streaming for a Chinese audience?
1) First, you need to pick a platform – there are more than 200 to choose from in China, but an easy option is Yizhibo, which is integrated into Weibo, and you can sign into it through an existing Weibo or WeChat account. Mafengwo's platform also has an easy application form to fill out to add your live stream.
2) Next, you need a host. This should be a native or totally fluent Chinese speaker, preferably with experience live streaming, presenting, guiding, and/or selling. This is important first and foremost on a linguistic level – presenting in a foreign language will make the live stream much less accessible, and proficiency in Chinese is needed to read and respond to questions and comments sent in by the audience during a live stream. Moreover, a Chinese host is also going to have the best understanding of the style of live stream presenting that Chinese audiences expect and respond to, and they'll know how to present a product, attraction, or destination in a way that's most relevant and interesting for Chinese viewers. (For more on this topic, check out our interview with UK-based live streamer Feixue Huangdu.)
3) Live streams might be presented on the spot, but good ones require a lot of planning and content preparation behind the scenes. Plan your route and talking points carefully, and experiment with your equipment to make sure you optimize light and angles and don't run into unforeseen technological issues.
4) To attract viewers, you'll need to promote your live stream in advance. This includes promotion on your own Chinese social media channels, and potential media buy to boost the broadcast. If you choose to work with Mafengwo, for example, you can also partner with them to promote your live streaming through their channels to a large audience of engaged travelers. If you find a Chinese live streamer or other KOL to host your live stream, you'll benefit from their established audience and promotional reach, too.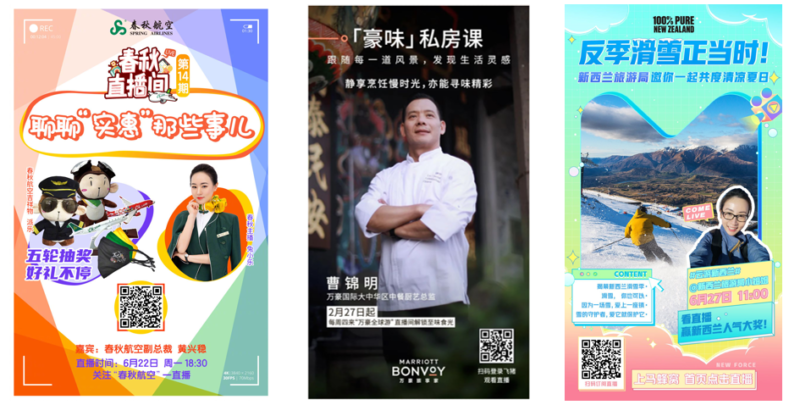 Promotional posters for live streaming broadcasts (left to right): Spring Airlines on Yizhibo; Marriott on Taobao; Tourism New Zealand on Mafengwo
5) As a final consideration, don't forget the importance of timing for a live broadcast. Tourism live streams in China work best at around 7pm or 8pm on weekdays. This may prove challenging for certain time zones – in the case that this is too early in the morning or late at night in your destination, you might consider a weekend live stream to broadcast during the day in China.
A digital marketing agency focused on outbound Chinese tourism, Dragon Trail Interactive can establish and run Chinese social media accounts for tourism brands and businesses, and coordinate influencer/KOL marketing – including live streaming. Please contact us directly at info@dragontrail.com to discuss how we can help you reach your Chinese marketing goals.