As Chinese travelers venture further and seek out more adventurous destinations, Peru has committed to a multi-faceted marketing effort to raise awareness and promote the country as the first-choice South American destination for Chinese tourism. In the past year, PromPeru, the country's tourism board, has actively reached out to Chinese travel agents and consumers through both digital and more traditional methods. It's the perfect case study of how a national tourism board can help the travel industry in its country with both B2B and B2C initiatives. In the first article of our two-part series, we'll look at PromPeru's B2B China marketing program.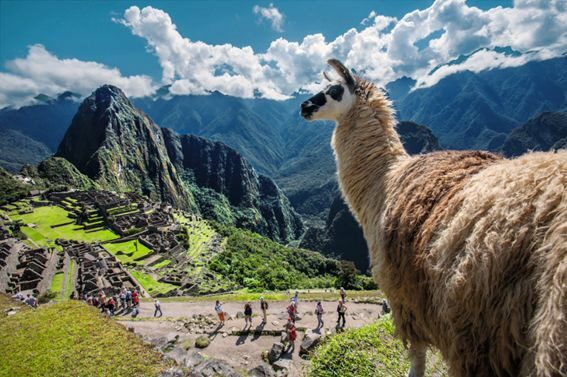 B2B: Awareness building in China and Peru
Chinese travel agents are still vital when it comes to destination marketing, above all for niche destinations that are not yet well established for Chinese tourists. Despite the rise of OTAs and independent travel, travel agents in China play a major role in consumer education; they are more likely to be consulted and used for off-the-beaten track destinations; and they are also popular among the kind of high-end Chinese consumers who have the time and money to travel halfway around the world.
PromPeru kicked off its major marketing push last year with a WeChat-based live webinar for Chinese travel agents, and the launch of an official WeChat account that combines B2B and B2C content. Other 2017 events for the Chinese travel trade included a FAM trip and matchmaking session with Peruvian travel suppliers in Lima in November. Bringing together the Peruvian and Chinese travel trade in this way has benefits for both sides. "We appreciate meeting suppliers suggested by PromPeru, as normally those are more trustworthy and reliable, and this is a major challenge for local Chinese travel agencies," explains Li Peng from Uthing.com, a Chinese agency that specializes in customized travel.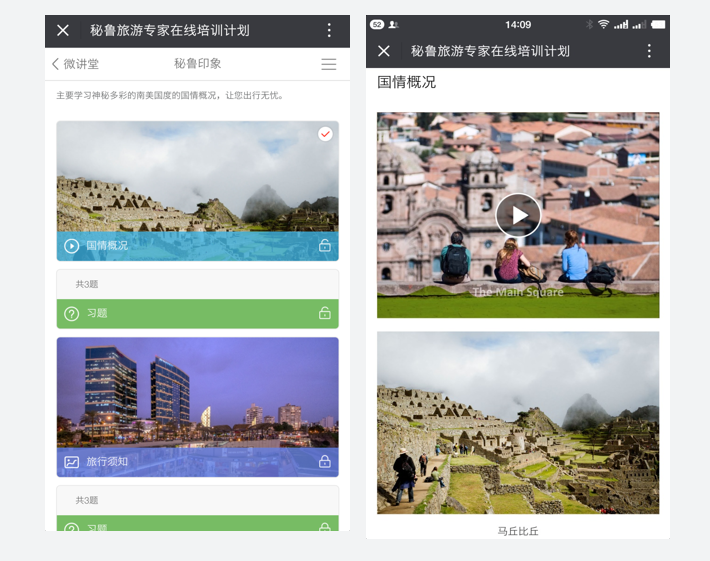 Chinese travel agents can learn about Peru through the WeChat-based China Travel Academy
On the digital side, PromPeru launched a China Travel Academy (CTA) training program on WeChat in June 2017, which has attracted over 2,000 users. The course covers topics from major tourist attractions and typical itineraries, to shopping and eating. "What we liked about CTA are the detailed itineraries, as those are key to understand what to propose to clients," says Li Peng. To complement CTA and serve as a resource for Chinese travel agents, an online product catalogue was launched in April 2018, with detailed listings for Peruvian tour operators, hotels and other suppliers. The catalogue is easily searchable by destination, product category and customer category (e.g., family).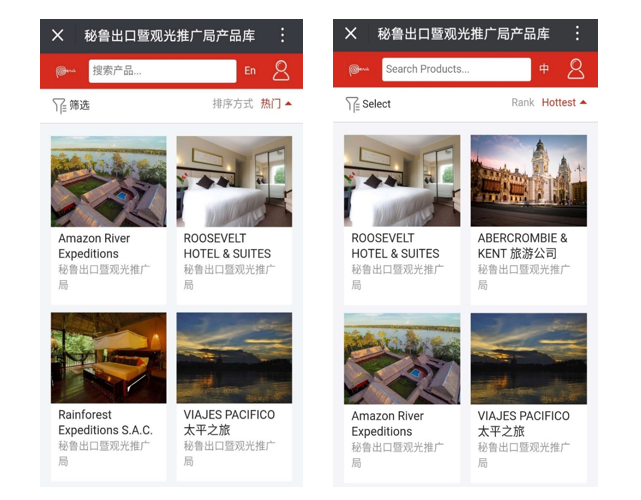 The online product catalogue showcases Peruvian tourism businesses to the Chinese travel industry
PromPeru has recognized that there is also work to do on educating Peruvian tourism suppliers about the Chinese market, to prepare them for the increase in Chinese visitors. In the past year, the tourism board has arranged two live webinars run by Dragon Trail for the Peruvian tourism industry, and distributed a handbook introducing best practices for working with the Chinese outbound tourism market and travel trade. Peruvian suppliers were also given access to an online CTW course, based on COTRI's global training program, but translated into Spanish and with an additional module on digital. "Understanding the Chinese market is not easy, and this course helped [us] to have a better idea of how things work in China," said Pablo Aurelio Galvez Villar, General Manager of Peruvian tour operator Calypso.
Tour & Travel Senior Manager for Marriott in Peru, Eduardo Martin Subauste Wong sent the course to all Marriott properties in the country, and says a consistent portion of the staff studied it and found it helpful. "The course helps the trade understand Chinese customs as well as needs when traveling overseas, such as the kettle in the room, offering Chinese catering at the buffet and other arrangements to make Chinese travelers feel more welcome."
"The course was very accurate and the information was well organized. The content allowed us to really understand the changes in the Chinese outbound market," reports Annie Rodriguez, Account Executive and Markets Development for tour operator Viajes Pacifico. Rodriguez says their most important learning from the course was the need for flexibility with Chinese travelers and to accommodate changes in the itinerary, which they did not previously realize was a characteristic of the Chinese market. "Understanding and being patient with this market is very important," she says, explaining that it's not uncommon for travel agencies in China to contact them at 3am and need quick responses to avoid losing potential clients. WeChat, she says, has made it easier to communicate.
Elson Ervin Espinosa Estrada, General Manager of Peru Travel & Adventures (PTA), committed several hours a day to the CTW course, and completed it in less than two weeks. He says he found the videos and case studies particularly helpful, as well as the practical content of webinars conducted last October. These resources, he says, are "very important to understand the 'fit' – the Chinese market requires a high commitment, so it's important to be interested and appreciate the market before deciding to operate in it."
While the course and webinars were a valuable foundation, Estrada maintains that "ultimately, it is important to be able to come to China to really get the market." PromPeru understands the importance of this first-hand contact, too, and worked together with Chinese PR company Create Consulting to organize a one-week roadshow in China from 8-14 May, 2018. Together with a delegation of 15 Peruvian companies, PromPeru visited Beijing, Guangzhou and Shanghai, meeting with the Chinese travel trade in each city.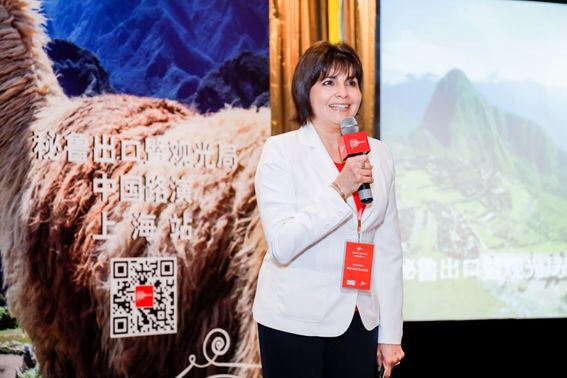 PromPeru's Director, Marisol Acosta, speaks in Shanghai during the May 2018 road show
"Traveling to Peru is like a unique treasure hunt, and on this road show, we are giving the Chinese travel trade a map to the hidden treasure. Shanghai is a very important market for us, because this is where China's explorers set out on their expeditions, and a starting point for exploring Peru's mysterious nature and cultural treasures. Shanghai has developed convenient flight connections to Latin America, it's fast developing, and it's the center of a maturing travel market that has increasing interest in adventurous destinations like Peru," said Marisol Acosta, Director of PromPeru, during the road show's final stop in Shanghai.
Overcoming challenges
Although Peru has a rich offering of tourist attractions and the growing Chinese outbound travel market is increasingly interested in fresh and exotic destinations, there are still many challenges. Here, the national tourism board can do a lot to help overcome difficulties. PromPeru has made ground breaking progress in reforming the visa process for Chinese tourists over the past several years, and this has had enormous results. In 2016, Peru started a visa waiver program for Chinese citizens with valid visas to the US, Canada, UK, Australia or Schengen area. Since then, says Carlos Tang, representative of Tika Tours for the China market, their Chinese clients have increased by 50%. "Chinese tourists are still niche, but are becoming a more prominent segment for the tour operator," he says.
Most other challenges are addressed through PromPeru's educational program. Though new to the market, Calypso has already hired Chinese-speaking guides, as they realize that language and cultural misunderstandings are both major obstacles. "The key is to find someone who can really convey Peruvian culture to the tourists," says Galvez Villar.
Echoing some of the insights shared by Viajes Pacifico, Marriott's Wong says, "The main challenge with China is to be able to adapt to cater for Chinese travelers, and secondly is being flexible, as Chinese tourists might change confirmed itineraries at the last minute – for example, switching from a tour to going to the shopping mall."
Chinese tourism to Peru
What kind of Chinese tourists are visiting Peru, and how is this changing? Overall, Peru received over 31,000 Chinese tourists in 2017, a 22% year-on-year increase. And compared to 2017, the first two months of 2018 are already up an impressive 34%. The operators and agents we spoke to all agreed that the market is developing both in terms of numbers and the kinds of travelers. Wong reported that a few years ago, the Marriott in Lima might get five Chinese guests a month, but the number has now increased to 30.
Carlos Tang from Tika Tours reveals that in his experience, "Chinese travelers going to Peru are very experienced and normally have been to 20 destinations." Li Peng from Uthing.com says that South America, Iceland, the South Pole and Africa are all among the hottest destinations for the super wealthy, and that "Chinese HNWI prefer visiting the Amazon in Peru to the portion in Brazil, as the area is more pristine and less explored."
There is also greater segmentation as the market grows and matures, thus creating more opportunities for different kinds of businesses and operators. "In 2012 and 2013 we started receiving requests for Chinese travelers living in Australia, the UK and Canada, handled by international tour operators. Then slowly, we started seeing more requests from Chinese travelers living in China, and now Chinese travelers are getting quite segmented, with older tourists going for fully planned itineraries, whereas younger people leave more room for purchases in destination for local activities, restaurants etc.," explains Espinoza Estrada.
Future plans
Especially given the push to educate the Chinese travel trade, the Chinese outbound tourism market is expected to continue to develop in Peru, and the assistance of the national tourism board will need to be sustained. Alongside the other operators we spoke to, Wong agrees that PromPeru has been very helpful and supportive with their China initiatives, adding that they "should keep up the effort in the future, as the market requires a long-term commitment."
This is definitely part of PromPeru's plan, and in many ways, the work they've done over the past year is just the beginning. In addition to a full-fledged B2C strategy which has been gaining traction over the last months, with a Chinese KOL trip to Peru in April and an upcoming short video series, there are also new developments planned on the B2B side to keep the momentum going.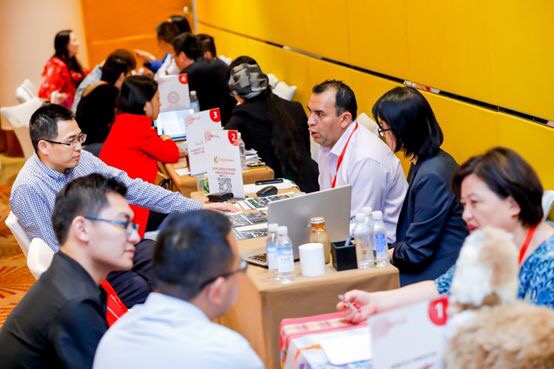 B2B meetings during PromPeru's China roadshow, May 2018

Just announced during PromPeru's China roadshow is the launch of a CTA Live WeChat webinar series, which will be promoted to over 25,000 verified Chinese travel agents, and include topics such as luxury, family travel, adventure, gastronomy, cruises and visas.
There are also plans in place for another FAM trip for Chinese travel agents to Peru, tentatively scheduled for April 2019. Twelve companies will be hosted, chosen from lucky draws held in Beijing, Shanghai and Guangzhou, as well as participants from the CTA Live webinar series.
The Chinese outbound travel market is full of potential for destinations around the world, but knowing how to approach it can be difficult and overwhelming for just one tour operator or travel supplier on its own. PromPeru's work shows how travel businesses working together as a partnership, supported by their national tourism board, can make sure that they are not only reaching the Chinese travel trade, but also ready to welcome and work with the sought-after Chinese market.