Lucerne's Christmas market is increasingly popular with Chinese tourists (Photo courtesy of Lucerne Tourism)

Christmas may not be traditionally celebrated in China, but growing awareness of the holiday, increased interest in cultural activities, and low-season prices are just some of the reasons that Christmas tourism is on the rise for Chinese outbound travelers. Focusing on a few northern European destinations, let's look at why Christmas is appealing to Chinese tourists, and three best practice tips for incorporating Christmas festivities into destination marketing.
What's the Appeal?
"As Christmas is now well-recognized and well-celebrated across major cities in China, we're not surprised to see increasing number of Chinese visitors coming to Edinburgh to enjoy the authentic Christmas market, mulled wine, and most importantly, the romantic, festive atmosphere," says Alice He, Chinese Social Media Manager for the Edinburgh Tourism Action Group (ETAG). Christmas markets in Switzerland are also attracting a growing number of Chinese visitors, says Lucerne's Market Manager Asia Pacific, Mark Meier.
With cultural experiences an increasingly important factor for Chinese outbound travelers, Christmas markets provide the opportunity to enjoy Western cultural traditions and see European cities in a new way. "When [Edinburgh] has transformed to 'winter festival mode', it does look like a magical winter town from a fairy tale," says He. As a less common travel experience outside of peak periods like October's 'Golden Week' or Chinese New Year, there's also something special and different about traveling at Christmastime – and the opportunities for photos it provides.
Food is another area of increasing importance for Chinese travelers – 'local cuisine' tied with 'safety' as the most important factor that Chinese tourists consider when picking a travel destination in the 2018 Chinese International Travel Monitor. Christmas markets are very food-oriented, and regional festive specialties featured prominently in the German National Tourism Board's 2017 'advent calendar' series on WeChat, with a post every day from 1-24 December about Christmas in a different German town or city.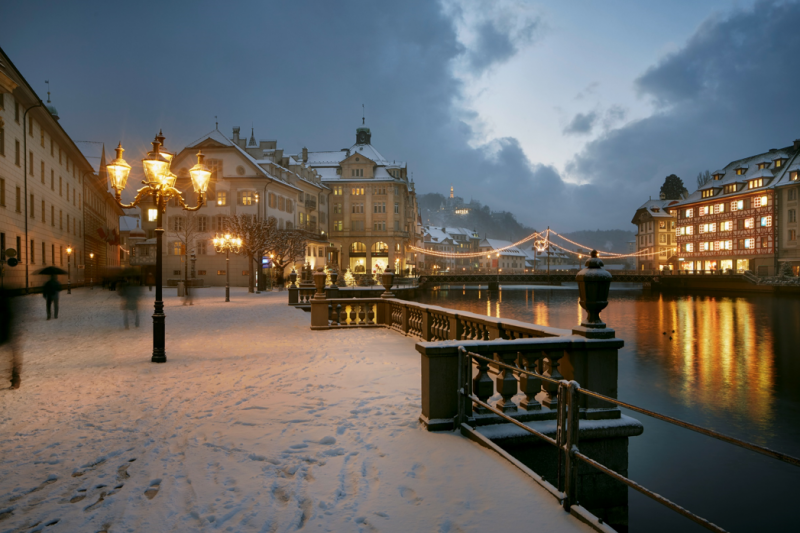 Winter in Lucerne (Photo courtesy of Lucerne Tourism)
Moreover, as a low season for Chinese tourism and tourism in general, winter is also a cheaper time to travel. "For the city of Lucerne, December is low season and our hotels offer lower rates than in summer," Meier offers as a selling point for Christmas travel.
Who to Target?
Last year, Jing Travel reported that group travel to long-haul destinations including Finland and Iceland surged around Christmastime. For more adventurous, remote destinations – such as Lapland, which is home to Rovaniemi aka "Santa Claus Village", and where Chinese make up 70% of wintertime overseas tourists – working with agencies to create Christmas packages for groups is one way to target the Chinese market. The German National Tourism Board ran a CTA Live WeChat-based webinar about Christmas travel in Bavaria for Chinese travel agents at the end of October 2017, which has been watched nearly 400 times.


The German National Tourism Board's 2017 CTA Live WeChat webinar for the Chinese travel trade on Christmas travel in Bavaria
Individual cities like Lucerne may instead choose to focus on FIT Chinese to attract the kind of tourist that will spend more and potentially be more receptive to the cultural atmosphere as well.
Perhaps the easiest target market for European – or North American – destinations is Chinese students, who will be on holiday but won't have the obligation to return home and spend Christmas with their families. These students will naturally be looking for something to do, and may even have family visiting them during their time off. "Local and UK-based students are a target group for Edinburgh's winter festivals. Edinburgh's Christmas and Hogmanay celebrations are accessible, attractive and unique experiences to the student community," says He, adding that "there are over 3,000 Chinese students studying in Edinburgh each year, and more than 100,000 Chinese students in the UK."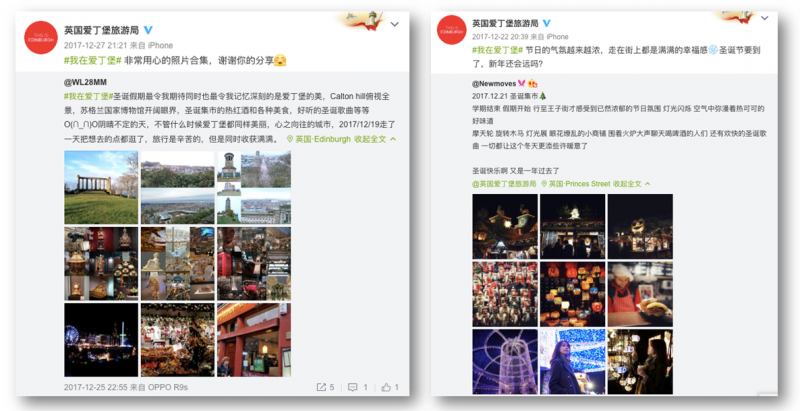 Weibo posts about Christmas in Edinburgh from UK-based Chinese students

Three Tips for Marketing
 1) Start early
Edinburgh promotes Christmas and Hogmanay festivities extensively on their Weibo and WeChat channels, and has also included these holidays in their recently launched online destination campaign on Chinese travel website Mafengwo. A strategy that's worked well for Edinburgh is starting this kind of Christmas marketing early, before students have already made their Christmas holiday travel plans, and while there's still time for those in China to book long-haul travel. In 2017, Edinburgh's October WeChat posts on Christmas and Hogmanay received more views than those in December. This year, they started promoting Christmas in Edinburgh with a 23 October WeChat post, followed by an article on Hogmanay on 7 November – both have received over 2,400 views as of mid-November.
Though the German National Tourism Board started B2B promotion of Christmas tourism in October 2017, they took a different approach on B2C social media, with posts up until Christmas Eve in the advent calendar-style WeChat article campaign. This can grab attention of WeChat users who are already in Germany and looking for recommendations, as well as inspire travel for the next year. In 2018, however, they published their first Christmas-related post – opening dates and hours for 70 German Christmas markets – on 16 November.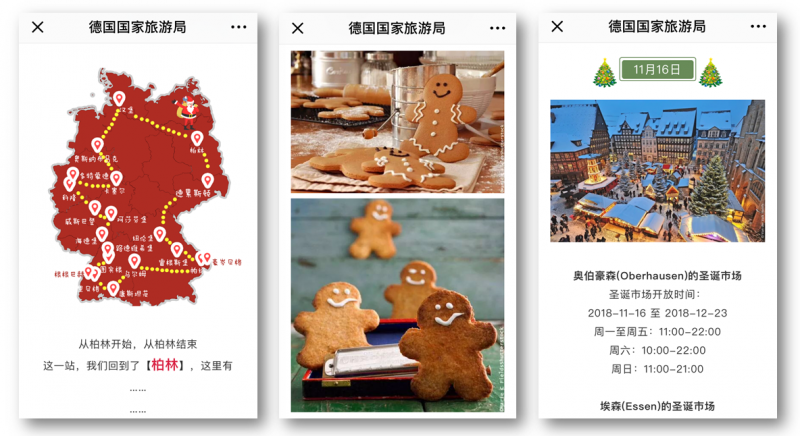 In 2017, the German National Tourism Board posted each day from 1-24 December on a Christmas route across Germany (left and center photos). In 2018, they kicked off their WeChat Christmas marketing in November.
2) Leverage word of mouth
Posting about Christmas at Christmastime allows destinations to leverage user generated content and word of mouth in their marketing, establishing the destination as an attractive place to visit at Christmas in years to come. Edinburgh has seen a rise in Chinese social media activity about Christmas in the city in recent years. "A Chinese girl flew from New York to Edinburgh last year on Christmas Eve and shared her experience of Edinburgh's Christmas on Weibo. Many Edinburgh-based Chinese students have enjoyed and posted about "Christmas in Edinburgh" on Weibo, [and] we've also seen UK-based Chinese students come to visit Edinburgh during their winter break. A Weibo user has described Edinburgh as 'the best city to enjoy Christmas in Scotland' in her article last year," says He.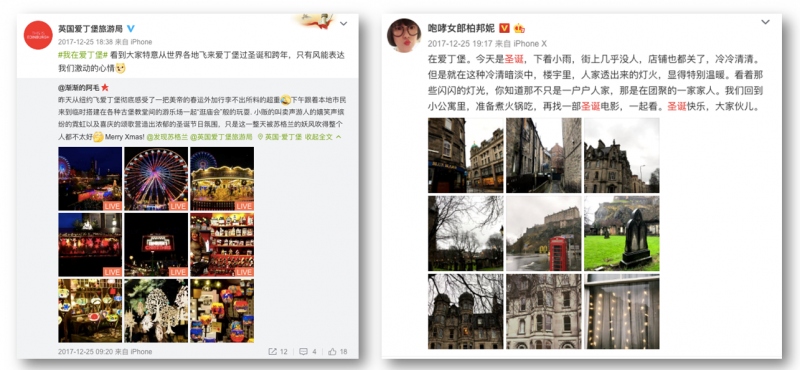 Edinburgh leverages word-of-mouth marketing to promote Christmas tourism, sharing Chinese tourists' posts on Weibo (left), and inviting a Chinese travel blogger KOL to spend Christmas in Edinburgh in 2017 (right)
KOLs can also be engaged to promote Christmas tourism. Last year, ETAG invited Bonnie, a Chinese KOL, to come to Edinburgh for Hogmanay, "but in fact, Bonnie herself proposed to make her trip prior to Hogmanay so that she could stay in Edinburgh to enjoy Christmas," recounts He. A very different sort of KOL from a travel blogger, Chinese President Xi Jinping is credited with putting Lapland's "Santa's Village" on the map for Chinese tourists, after he visited in 2010.
3) Package Christmas with other activities
Chinese travelers want to be busy on their trips and know beforehand that there are lots of things to do and reasons for visiting a destination, so focusing exclusively on a Christmas market or seeing Christmas decorations may not be enough. Meier explains that Christmas markets are just part of Lucerne Tourism's promotion of winter activities in China. Lucerne's partner, Titlis Rotair Cableways, Engelberg, "offers special 'first ski experience' packages to Asian tourists, including a Chinese-speaking ski instructor," he says. This resonates with our interviews with marketers from skiing destinations in Switzerland and Canada, who note that Chinese tourists will want to do lots of other activities in addition to skiing, such as shopping and site seeing.
Finland ranked no. 1 on Ctrip's list of trending cold climate Christmas destinations in 2017, but "Santa's Village" is just one attraction – Lapland's popularity is also tied to seeing the northern lights and crossing into the Arctic Circle, which are both major travel trends.
Stressing the number of different activities available is a good way to market Christmas in urban areas – Germany's WeChat series last year included site seeing attractions that weren't Christmas-oriented in the various cities on its Christmas route, as well as different kinds of festive activities. Edinburgh's WeChat and Weibo posts this year "mention not only Christmas itself, but also attractions with Christmas decorations such as Royal Yacht Britannia, things-to-do during Christmas etc.," says He. In addition to a Christmas market and decorations, the Scottish city also has a 60-meter-high Star Flyer ride, outdoor ice skating, musical events and more.